On Thursday, April 26, 2019, even as people fell over themselves to catch the first day first show of the latest action adventure fantasy flick Avengers:Endgame, another Superhero - Print - emerged in the Media & Entertainment industry, growing consistently stronger and showing off its fabulous numbers. The release of Indian Readership Survey (IRS) Q1 2019 data by the Media Research Users Council (MRUC) showed dailies adding 1.8 crore additional readers since IRS 2017, and magazines increasing readership by 90 lakh – together taking the total number of readers in the country up from 40.7 cr to an impressive 42.5 crore.
Though the launch event itself was devoid of the hype and hoopla of the mega launch of the new and improved IRS 2017 in January last year, the numbers and improved methodology gave the industry enough reason to cheer. IRS Q1 2019 is a Moving Annual Total combining Q2+Q3+Q4 data of IRS 2017 and Q1 data of IRS 2019 – as MRUC moves from annual publication of readership data to a quarterly cycle. The next data release will have two quarters of 2019 data along with the last two quarters of 2017 IRS data. "All media is growing, and Print continues to grow despite the general belief that Print is declining. Readership is largely influenced by two things - literacy level and your disposable income. If you have money, then only will you buy a newspaper. Luckily in India, both those things have moved upwards," says Ashish Bhasin, CEO - Greater South and Chairman & CEO - India, Dentsu Aegis Network and Chairman, MRUC. "Now the intent is to make the data automatic, ongoing and quarterly," he adds.
HOW THE RESEARCH FARED
IRS Q1 2019, with a reporting sample size of 3,24,000 households, did not turn up any major skews in terms of any publication's numbers or overall trends. The only surprise was that data for English daily Hindustan Times and Hindi Hindustan were not included in IRS Q1 2019. The reason given by MRUC is that the re-checking of data for the publication is still pending, and it would be updated and included in a short time.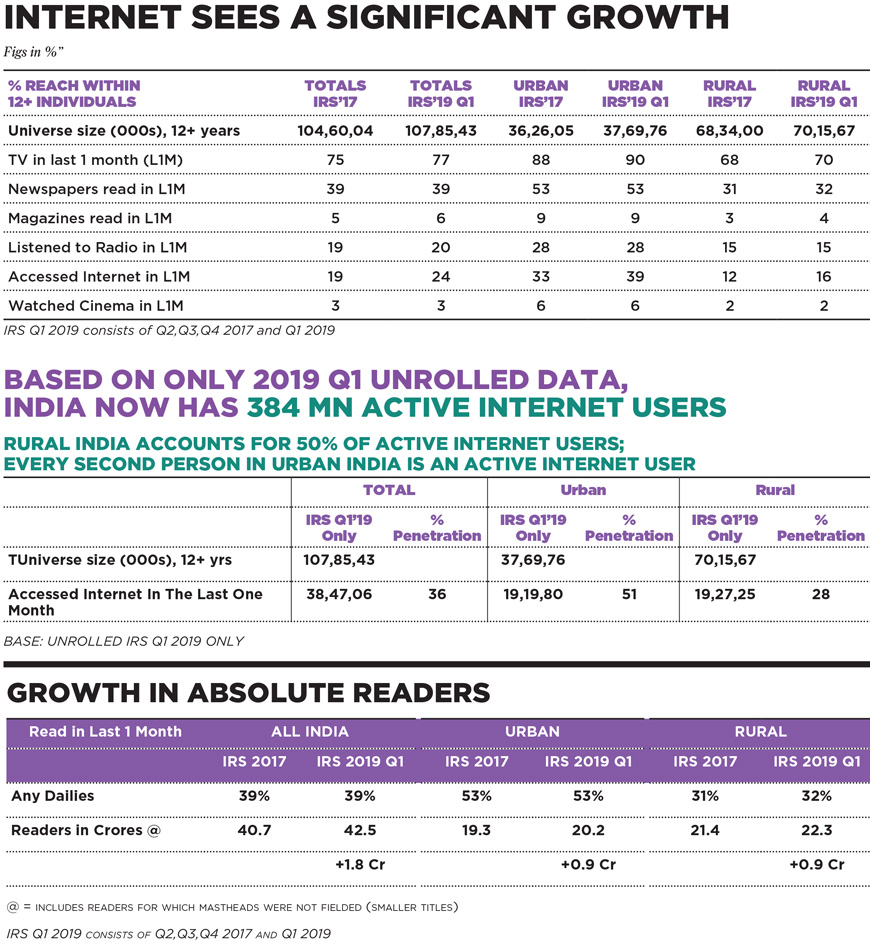 Post release of IRS data last year, no field work was undertaken and there was a gap of almost a year before research work re-started in November-December 2018 and went on up to March-April 2019. According to industry sources, MRUC this time wanted to ensure that they recovered enough funds from subscribers and stake-holders before embarking on field work.
"We didn't start the research until we had the funding. Once the funds were in, we went ahead," confirms Bhasin. According to him, there were other on-ground issues too, because of which the survey could not get under way.
So how robust would the current IRS data be for publishers and media planners? "The media had found the IRS 2017 survey robust. This time, three rounds from that survey have been taken along with data from one new quarter. If the last IRS was robust, surely this one cannot be different. But as we move to a rolling study, we will see stability as opposed to spikes which result from delayed data gathering and release," says Hormusji N Cama, Director, Mumbai Samachar.
HOW TR FARED VERSUS AIR
The MRUC had made a major shift in the way it would report readership numbers in IRS 2017. While earlier Average Issue Readership (AIR) collating the last one day of readership data was the currency used by media planners and advertisers, the new system moved to Total Readership (TR) that captures readership data over a period of one month. As TR went up from 36.8% in 2017 to 37.3% in Q1 2019, the AIR was almost flat from 16.6% in 2017 to 16.1% in Q1 2019. Similar figures were seen for both AIR and TR in Hindi and Regional dailies, but for English publications, AIR stood at the same figure as in 2017, while TR went up from 2.7% to 2.9%. "English is a special call-out, because last time there was a drop in AIR of English publications; this time it seems to be holding or growing," says Vikram Sakhuja, Group CEO Madison Media & OOH, Madison World and IRS Technical Committee Chairman.
With respect to the Top 20 dailies (All India) while Dainik Jagran, Dainik Bhaskar and Amar Ujala take the top three spots in terms of TR and AIR, Malayala Manorama (Daily) which is in No. 7 position in terms of TR, climbs to No. 4 spot in terms of AIR. Daily Thanthi, which stands at No. 4 in terms of TR, goes to No. 7 spot in terms of AIR. Lokmat goes from No. 5 in TR to No. 9 in AIR and Rajasthan Patrika climbs one spot from No.6 of TR to No.5 of AIR.
Among Top 10 Hindi publications, positions in terms of TR and AIR have not changed much. Dainik Jagran takes the top slot with 73,673 TR followed by Dainik Bhaskar at 51,405 (a massive jump from 45,105), and Amar Ujala and Rajasthan Patrika follow. In AIR, the rankings remain the same, except for the AIR of Amar Ujala sliding marginally from 11,166 to 10,183.
Among Top 10 dailies, All India, English, while the top four positions remain the same in both TR and AIR with The Times of India, The Hindu, The Economic Times and Mumbai Mirror holding fort; The Indian Express, The New Indian Express and The Tribune which are placed 5th, 6th, 7th, respectively give way to The Telegraph to take the 5th spot in AIR.
Regional publications have seen the most upheaval in their top 10 rankings with reference to TR and AIR. While Malayala Manorama (Daily) is third in terms of TR with Daily Thanthi and Lokmat taking top two positions, in terms of AIR, Malayala Manorama is in the top slot followed by Eenadu at second position which in terms of TR is fourth. Lokmat drops to fifth spot in AIR, while Mathrubhumi which is fifth in TR, stands fourth in AIR.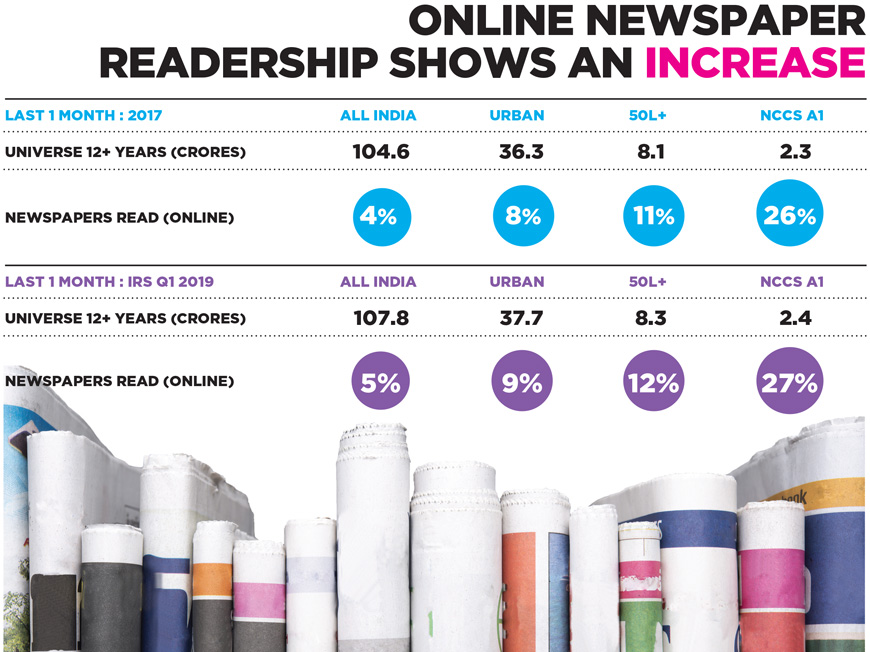 NO SIGN OF ABC DATA YET
During the launch of IRS 2017, the MRUC office-bearers had mentioned that they were working on aligning the softwares of research company Nielsen, used for IRS, and that of the Audit Bureau of Circulation (ABC) so that both readership and circulation data can be placed side by side for better comprehension. However, it appears that this initiative is still work-in-progress. "Nielsen software for IRS is very complicated and to make any change in it is a huge task. We still have to wait for the stage where the two databases can be made compatible and can be put on a single software. It is our intent to put them both together and we are working on it," says Bhasin.
"It's actually a question of priority. We were really prioritizing field controls, and we brought in a whole lot of new measures. I would love to see ABC and IRS figures together. It requires a couple of things. One, the entire algorithm to map the editions with the districts into studies. And two, a software which allows a contiguity of data of these two. Both these require some work. So it has just been a question of prioritizing in the last six months where we have gone completely for digitization of the research process. But it is on the agenda," adds Sakhuja. On being asked how soon we can expect to see ABC and IRS data together, he says, "I won't set a date, but I would love to say the next reporting quarter… at least we should have some distinct progress by then…"
IS DIGITAL GROWTH AIDING PRINT NUMBERS?
IRS Q1 2019 shows a total of 384 million active Internet users, which is a growth of 24% of the total universe. However, the question arises as to whether digital consumption of newspapers or magazines lends a halo effect to Print readership numbers.
"It is important to understand that these numbers could also be a reflection of the digital amplification each of the media companies have done for their platforms. So, it is also possibly a reflection of that. I suspect the IRS has not been able to segregate who is a Digital reader and who is a Print reader and that is possibly one of the reasons why there is a huge skew with some media organisations and their numbers, which is absurd in some cases," points out Indranil Roy, CEO, Outlook Group.
Meanwhile, another consumer behavioural factor coming out from the data is the skew towards NCCS (New Consumer Classification System) A, B and C category consumers and shrinking of D & E strata. Especially in urban areas, the NCCS - ABC consumer strata formed 81% of NCCS distribution. This perhaps calls for a relook at the basic parameters for NCCS classification on the basis of owning certain household goods which have become all too common nowadays.
'The industry needs to make sure that the IRS comes out quarterly'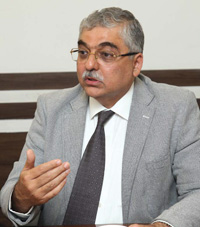 ASHISH BHASIN
CEO - GREATER SOUTH AND CHAIRMAN & CEO - INDIA, DENTSU AEGIS NETWORK & CHAIRMAN, MRUC
Q] Coming to the timing of this study, why was the field work done only from November 2018? Between January 2018, when you released IRS 2017 data, to November, why did not things move?
The research started towards end of October-early November. It takes a couple of months of planning before you get into the field because earlier, we were doing it on an annual basis and not on a quarterly basis. So, if the report has to be released in the first quarter of 2019, then that was roughly the time-frame. It got a bit delayed because of certain extraneous factors, such as the Kerala floods. We could have started a little earlier. We should have, but for various operational reasons and also we needed to get everybody aligned. We wanted to make changes, to digitize the whole process versus what it was earlier. So, that took time, which is why it started in November.
Q] How reliable is the readership data for planners just now, taking the annual moving average for Q2+Q3+Q4 2017 and Q1 2019 numbers?
That is completely statistically sounded off… and happens anywhere that you take a rolling average… because you are moving from an annual study to a quarterly study, there's a gap. Hopefully now, that issue will not be there because every quarter, one quarter will get added up and one quarter at the back will get dropped. Once it falls in that pattern, it should be streamlined. This is a readership survey, unlike a survey of television viewership or Internet usership, etc., numbers. It doesn't vary significantly dayto-day, minute-to-minute. For example, if you are a newspaper reader and read a particular newspaper, it's unlikely that your habits are going to change every day or every week or every month on that. There is much more stability in habits of readership than there is in viewership or listenership. That's why the Tech Com worked hard on finding out what's the best way of doing it because you are transitioning from an annual to a quarterly reporting system.
Q] Did you receive enough funding from the industry for IRS 2017? How is the funding scenario looking right now?
MRUC is a not-for-profit body, which also means that if it doesn't have funding, it can't do anything. So, while we would have liked to receive more funds, we did receive just enough to go on. It was a big task because the study was coming out after about four years. I think I can take the credit or discredit for this - as chairman of MRUC, I insisted that we will not start the study unless every stakeholder commits the money. We started the study only after the money came in. So, there was no problem in terms of funding because money was in the bank before we began the field work.
Q] Was that the reason why it got delayed?
Maybe marginally, but not significantly. It was more or less according to plan. When you have a large body with different stakeholders, and a hundred things to do, you have to manage all the constituencies, and that takes time. But that wasn't the key reason.
Q] What are the challenges you faced this time in terms of adaptability of the software, gathering data points, industry feedback et al?
One feedback that came in from the last report was that we need to do something about niche publications - English publications in areas which are not their strong points. So, for example, let's say a publication may be a Madras-based English newspaper but it will also be selling some copies in Delhi. The Chennai part will be picked up well because it has big enough sample of readers, etc., but because it has a small bit in Delhi, as an example, it may not be picked up well enough, or may not be represented. We did not report data if it was below a certain threshold. So, it would technically show zero, or not usable. The Tech Com, Nielsen and MRUC teams found a solution to that. We invested a lot in it too as now the entire process is digitized using CAPI, using C-forms that are digitized, etc.
Q] You had established a code of conduct last time. Did the industry follow the code of conduct? And what actions were taken in case of noncompliance?
I would say it was very good compliance, though not perfect compliance. In instances where people were not compliant, we set up a disciplinary committee, which called them, explained the status to them. In 95% of the cases, they understood and withdrew their deviant communication, as most of these cases were about how they communicate the research. I am very pleased with the publisher community! However, in instances where the disciplinary committee had to issue censure notes to somebody, we did. Technology is also a big enabler. If you do not agree to the code of conduct and do not click on that, your software won't open.
Q] What are the challenges you see going ahead, and what does the IRS need from the industry right now?
The industry needs to make sure that the IRS comes out quarterly. It's a huge study – one of the world's largest - but the strength of the study will lie in consistency of data publication. There is no point in having a great study which comes out once in four years. It would be of little use. Our aim is to release data every quarter, and it is a challenge to make that happen because of the sheer size, the cost involved, the number of players involved, the number of stakeholders that you have to carry through, but almost everybody seems fully aligned and we are moving well in that direction. I think it's the first time perhaps after many years that 20 days of field work for the next quarter of IRS is already done. Continuity now seems to be coming in as a process.
ADDITIONAL DATABASE FOR NICHE PUBLICATIONS
"What is disappointing is the fact that niche publications that serve an important segment have consistently been ignored. Different methodology must be used to ensure correct findings for such publications, but sadly both Nielsen and the MRUC Technical Committee have so far not done this," says Hormusji Cama.
To address the issue, the MRUC has now come out with a third data set – in addition to Household and Individual databases - which will give users an idea of penetration of publications having a small pick-up at the reporting unit level. "This data can be used as a directional purpose and at the aggregate level but not for detailed analysis as it will be unstable," explains a Nielsen spokesperson.
'CLUBBING Q2, Q3 AND Q4 OF IRS 2017 DATA WITH Q1 2019 IS A PRACTICAL SOLUTION'

I am very happy that Print is growing across all languages, and that Print titles in Digital are doing well too. The Print industry in India is still robust and effective, unlike in the Western world. As for IRS Q1 2019, clubbing last three quarters of IRS 2017 data with first quarter of IRS 2019 is a sensible and practical solution. Of course, the Tech Com has examined this in detail and ratified it.
SHASHI SINHA
CEO, IPG Mediabrands, India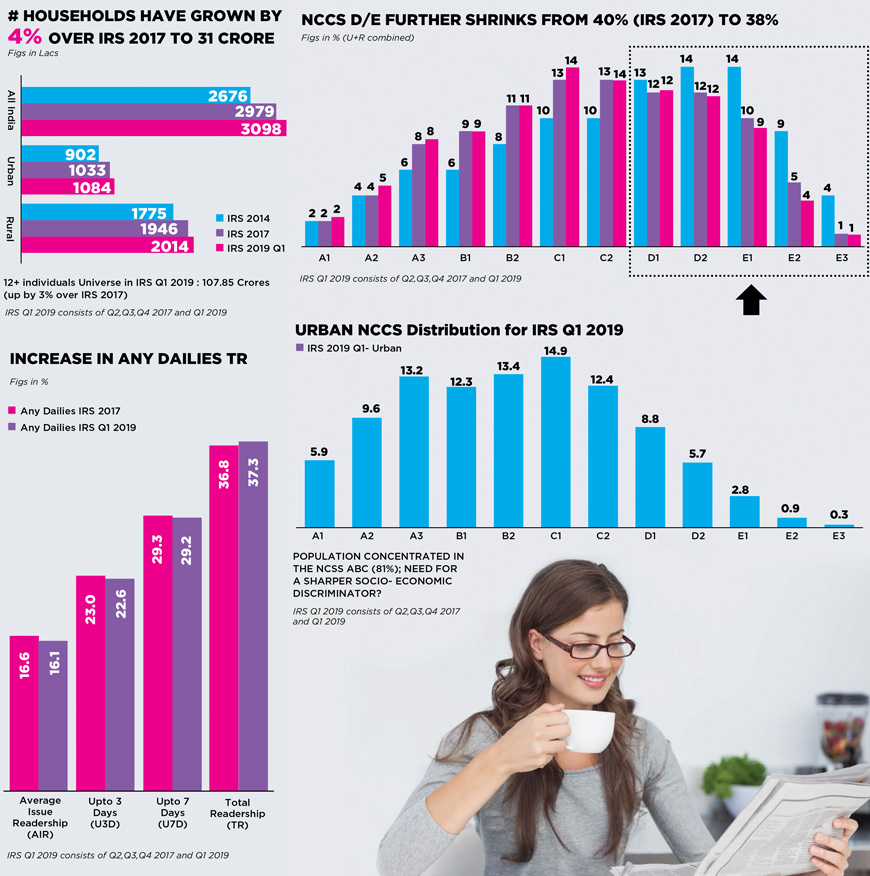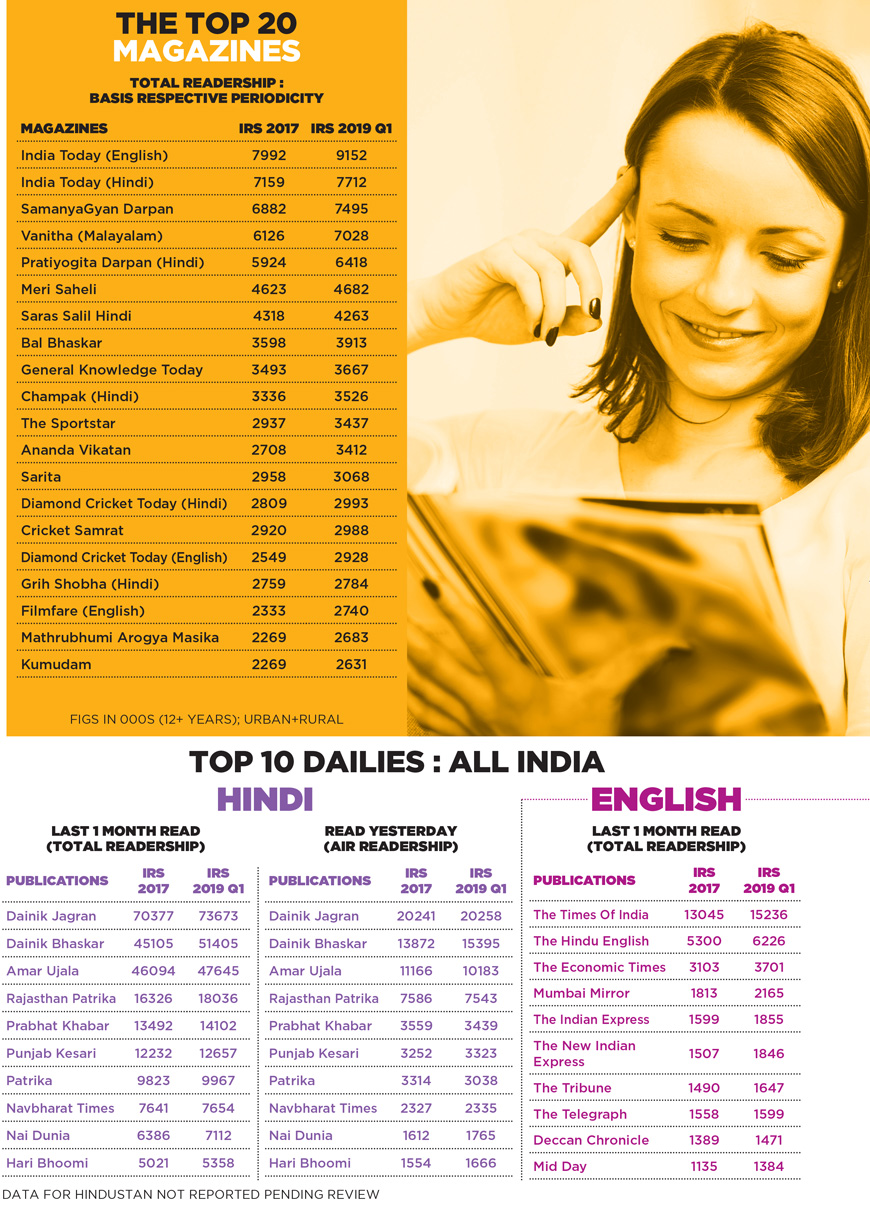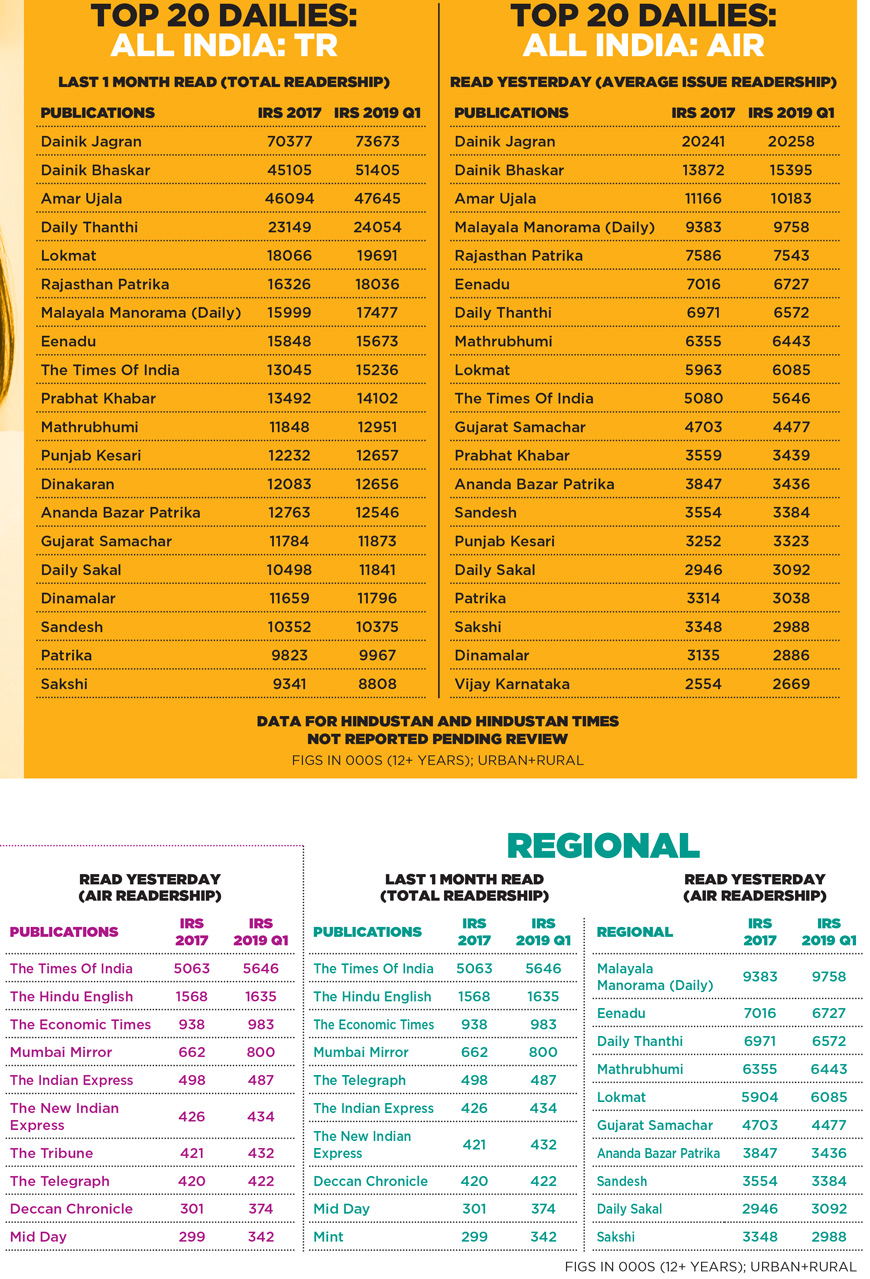 'Field work has been a whole lot better this time, aided by automation'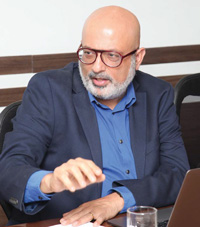 VIKRAM SAKHUJA
Group CEO, Madison Media & OOH & IRS Technical Committee Chairman
Q] What changes or corrections have you made in this IRS technically as compared to last year?
We brought in a lot of tech to increase controls. The clear measures that we took were to make sure that the reliability and validity of the data is unbeatable, automation of the contact sheet, and ensuring quality in the process of fieldwork.
Also the way we treated upscale interviews on the basis of feedback received. We tried to figure out what could possibly go wrong in the field, and then tried to address it systematically.
Q] Did any aberrations come to your notice? And if yes, how did you deal with such aberrations?
In any field work there are controls; Nielsen has its own field controls. So, there is a system of back-checks and audio checks. In this dual CAPI, if any of the readers are being interviewed, it's all being recorded by a machine also. Now, we are able to go back and listen to each and every interview. So, if it turns out that you read newspaper 'x' and newspaper 'y' has been recorded, obviously that cannot be taken. These kind of errors happen. Some of them are just normal human errors. Some of them could be motivated. But, regardless of the origin, we are now able to check that.
Q] Did accounting for variants in the last IRS put an end to the controversies around variants in the Print industry?
The variant issue is not a research issue. It's basically a management issue of the newspaper owner. So, if in a survey we show mastheads to people and say 'Have you read this or not?' misattribution of a main masthead to the variant or vice versa is likely. Now, if you by design made your masthead so difficult to differentiate, then you are trying to create confusion. We do have some controls; some follow-up questions to make sure there is no misattribution. I don't think we can do much better in the field in terms of actually detecting a variant versus main edition.
Q] The last IRS created an opportunity to compare apple to apple numbers of total readership, total viewership, total listenership. How has this worked out, and what is the kind of feedback that you received?
I think it's been favourable. People like this apple to apple piece. It gives you a better idea of the general media consumption landscape which is arguably different frequencies across different mediums… I would like to see that. Print continues to be a very close number 2 to TV. So that's nice, in terms of just number of people exposed to it. Digital now seems to be coming up too. So, it's a good metric.
Q] Internet penetration has increased from 19% to 24%; how has this impacted IRS?
If you look at the reported four quarters, and three quarters are of 2017, Internet penetration has gone from 19% to 24%. If you look at it just for the Q1 2019, it is 36% because of the post Jio boom - which means close to 390 million people who are actually exposed to Internet in one form or the other. In urban India, the latest quarter number is 51%. These are very sizeable numbers. I don't like it when people say that the Tech Com is not doing a very good job of measuring the entire digital boom. I think we have captured a pretty good picture; quite representative of the reality right now. I am actually very pleased with the way we captured this. In surveys like these, 80% is field work. In this case, we put in a lot of effort to make sure that the quality of the field work is good. There was criticism that we weren't capturing upscale homes very well. We put a lot of effort into that. I think field work has been a whole lot better this time.
'The reinvented India Today magazines have made their mark in both English and Hindi'

Delighted to see that IRS validates our unshakeable belief in credible content. The discerning consumer today, more than ever, seeks transparency, facts and well-researched perspective. The reinvented India Today magazines have made their mark in both English and Hindi. I'm happy that they stand apart as the medium of choice for the intelligent Indian.
AROON PURIE
Chairman & Editor-in-Chief, India Today Group
'Extremely delighted that Dainik Jagran is topping the readership charts once again'

We are extremely delighted to be topping the readership charts once again in an extremely competitive market. We believe that this is an outcome of the huge trust that crores of readers place on us every day as they start their day. To be able to earn their trust consistently is a matter of great pride for all of us at Dainik Jagran. We hope to continue growing stronger.
SHAILESH GUPTA
Director, Jagran Prakashan Limited
'IRS results strong vindication of the unassailable leadership of TOI across the country'

The latest IRS results are a strong vindication of the unassailable leadership of TOI across the country. The growth story is an important factor advertisers should take note of. In a growth-oriented economy, English literacy, affluence, consumerism are on the rise. And the growth of English dailies, particularly TOI, makes us a critical component of any media mix for brands that want to ride this wave.
SANJEEV BHARGAVA
Director - Brand, The Times of India
'Dainik Bhaskar has added over 63 lakh readers in Total Readership'

I am delighted that the IRS Q1 2019 data has been released on time and high credibility standards have been maintained. The data from the ground has been scrutinised and strong action has been taken against any wrongdoing. I congratulate MRUC for the great work. Dainik Bhaskar's circulation drive has given us the results in the readership numbers and our strong progress is in evidence. We have added over 63 lakh readers in Total Readership and over 15 lakh in Average Issue Readership, which represents an 11% growth, the highest among Indian language newspapers.
Our big growth - 18% - has come from the State of Rajasthan.
Since this is 2019 Q1 data, the impact of Bihar circulation drive is not reflected. We will need three more rounds to see the full impact of our circulation drive in Bihar. In Gujarat as well, we have reduced the gap with the competitor.
The additional readers - 1.8 crore for dailies and 90 lakh for magazines since IRS 2017 - is testimony to the fact that Print is growing not only in Hindi and Indian languages, but in English as well. This is great news.
GIRISH AGARWAAL
Promoter Director, Dainik Bhaskar Group
'ARE YOU SAYING THAT ONE COPY OF INDIA TODAY IS READ BY 17-18 PEOPLE?'

I am happy to see that Print numbers are growing because it also proves the point that everything is not wrong with Print, and Digital is not the only way to go forward. It justifies the argument that Print has an established sort of acceptance. While there is a huge consumption that's happening on Digital, the flip side of it is that there is too much of fake news, and less reliability. Another factor is that we put out content, both on the Digital and Print platforms. Even if a consumer is consuming that content on the Digital platform, he is consuming it because it is 'Outlook Magazine' content. However, that factor is not getting segregated in the survey. The only thing which is bothering me a bit is that there are some unreasonable numbers levied on some brands, which according to me, is absolutely rubbish. Look at the India Today figures - are you saying that one copy of India Today is read by 17-18 people? It has a circulation of 5.5 lakh and the readership stands at around 91 lakh. It is absurd. This needs to be checked.
INDRANIL ROY
CEO, Outlook Group
'Glad to note that New Indian Express has registered 22.49% growth in total readership'

It is heartening to note that the Print media growth story continues in India and has expanded to 42.5 crore readers. We are happy to note that our flagship brand -The New Indian Express - has registered 22.49% growth and Dinamani 15% growth in total readership (TR). This mark is the highest in the respective newspaper categories among the popular dailies. This growth reflects the efforts that our Print brands have undertaken to reiterate our commitment to truth and the resonance that our core value of impact through activism had amongst the discerning readers. We are also excited about the prospects and opportunities that the digital space is throwing up.
LAKSHMI MENON
CEO, The New Indian Express
'Happy that Amar Ujala has kept its growth story intact'

With MRUC releasing the first quarter results of IRS 2019, we would like to congratulate the team for the efforts and quality checks that were followed to release such massive data. For the Print industry, our belief has been re-emphasized that the Print story in India is robust and going strong, adding almost one crore readers in Hindi print media, maximum amongst languages. Being a prominent player in the Hindi market, we are happy that Amar Ujala has kept its growth story intact.
PROBAL GHOSAL
Director, Amar Ujala Limited
'Mathrubhumi improved its ranking from 15 to 11 among Top 20 dailies'

It is most encouraging to see a spurt in readership for Mathrubhumi in the IRS 2019 Q1 data. It indeed is quite promising that we added 11 lakh readers and improved our ranking from 15 to 11, among Top 20 dailies, which is commendable.
M V SHREYAMS KUMAR
Joint Managing Director, Mathrubhumi
'Individual rankings have remained stable, with no surprises thrown up'

The numbers show Print across all segments is as robust as ever. Individual rankings have remained quite stable, with no surprises thrown up. Advertisers should be reassured that Print remains a viable medium which continues to deliver value.
HORMUSJI N CAMA
Director, Mumbai Samachar
'Going by average issue readership, Malayala Manorama is No.4 in India'

If you look at the average issue readership, which I consider as the currency for measuring the readership, we are fourth in the country and among the regional publications, we are at No. 3. This is a moving average.... threefourths of the readership belongs to a three-year-old report. So growth for us looks really good, but then it will be even more prominent when the new quarter reports come. Otherwise, it is more or less in line with our growth in circulation. Print readership overall is still growing and is actually a good sign.
VARGHESE CHANDY
Vice President, Marketing, Advertising Sales, Malayala Manorama
'Glad that Lokmat is the only Marathi publication listed among Top 5 dailies in India'

I am glad that Lokmat has jumped to 5th position from last year's 6th, the only Marathi publication listed in the Top 5 dailies in India (all languages). It clearly shows our readers' trust, confidence and faith in true journalism. We at Lokmat have always had a pulse of our audience and that is reflected in the fact that we are the No.1 Marathi newspaper in India, No.1 newspaper in Maharashtra and extremely happy to retain the No.1 position in Pune, this IRS Q1 2019. I take this opportunity to congratulate Team Lokmat for believing in themselves and thank all our readers, advertisers and partners for their trust and continued support.
KARAN DARDA
Executive Director, Lokmat Media Group
'We knew readership of Daily Thanthi would definitely go up'

Daily Thanthi has been a leader in terms of circulation and readership for the last 76 years. So we had all the confidence with our content and circulation; we knew our readership would definitely go up. We are pretty happy to note that our readers have shown so much support for the publication. We are happy that we have grown from the last IRS to this IRS.
KRISHNA SHETTY SKANDRAAJ
COO, Daily Thanthi