Even as thousands of fans were on tenterhooks, following each ball of the grand finale of the Indian Premier League 2018 being played at Mumbai's Wankhede Stadium on May 27, for the more than 125 advertisers betting big on India's Superbowl equivalent, it was time to assess if the big bucks spent – particularly if they were on board as a sponsor – had reaped the desired dividends.
When Star India won the global media rights for the IPL with a staggering bid of Rs 16,347.50 crore for a period of five years, the first thought on everyone's mind was how would Star recover its hefty investment? In addition to looking to increase its distribution revenues, it is estimated that Star hiked the advertising rates for the latest season of IPL by at least 35-40% over rates of the last season. In addition, advertisers were promised a 25% increase in viewership. So, did this happen? It must be kept in mind that Sony broadcast IPL on its mass movie channel, Sony Max. Star, on the other hand, bet on its Sports portfolio. It did telecast on Star Maa Movies (Telegu feed), Jalsha Movies (Bengali feed) and Star Suvarna Plus (Kannada feed). However, the initial reports indicated that the reach of IPL was on the lower side. This probably prompted Star to telecast the final on 17 different feeds – up from the initial 10 – and it also added two new language feeds, Marathi and Malayalam, in addition to the earlier six languages; besides the digital platform Hotstar. Star India's intent was clear: expand the reach.
With big ticket Bollywood stars brought in to add glamour and an extra element to the cricketing extravaganza, it was clear that the network was pulling out all stops to get maximum viewer engagement. While estimates peg the revenue raked in by Star India at Rs 1800 to Rs 2000 crore in IPL 11 - a significant jump from the Rs 1300 crore revenue figure of IPL 10 - the question that arose was, did Star India deliver on reach to advertisers invested in IPL, as promised at the outset of the tournament?
A BIGGER, BETTER IPL
Right from the time Star India won the global media rights for the Indian Premier League in September 2017, it had embarked on building up the tournament to make it bigger and better than earlier. But it was no easy feat, says Basabdatta Chowdhury, Managing Partner & Head of Trading, Publicis Media. "IPL has always been a big property, so making it bigger and better was always going to be tough. I could be wrong, but I do not recall seeing such ratings earlier in cricket or the IPL. Sony did a great job in the previous years, but it is commendable that Star is taking the property to a bigger, better level. We are yet to see the data from the finals, but the data we have so far indicates that ratings across India grew by 30% this year," Chowdhury points out.
Star's language feeds proved to be a game-changer, especially in markets such as Tamil Nadu and West Bengal, where viewership is said to have grown by close to 50%. But at the heart of everything Star did was the IPL fan. Explains Saurabh Jain, Vice President, South, Havas Media, India who handled the media duties for Swiggy this IPL season, "This year's IPL was focused on the cricket and the quality of the game, more than entertainment. For example, the special commentators on Star Select 2 in the Dugout, highlighted the importance given to cricket lovers."
THE QUESTION OF REACH
Reach was key this IPL, especially since advertisers had huge expectations from Star. While the performance seems to have been maintained in the Hindi-speaking Markets (HSM), what really drove up the numbers was the South markets. Data from the final games is still awaited, but Jigar Rambhia, National Director - Sports and Entertainment Partnerships, Wavemaker India, says that the network definitely delivered in terms of reach and TV rating points as the tournament progressed. "Though the final numbers are not yet out, you can clearly see that the event this year was very closely followed. There is a 10%-12% increase in TVRs, and while the reach is kind of maintained across the country, I am sure with the finals being telecast on a GEC as well as a movie channel, the reach will be almost the same if not more than last year, once the final numbers come in. Moreover, all this time, the performance in the South markets was always a question mark because Sony didn't have the kind of reach that Star does there. So we have seen excellent growth in the South markets."
The apparent lack of growth in the HSM belt may also be attributed to the fact that Star chose to telecast its games initially only on its Sports channels, unlike Sony, which chose a mass channel like Max. Vanita Keswani, CEO, Madison Media Sigma, believes that the data from the finals might just make up for this gap. "On Star Sports 1, the Hindi platform, outperformance did not really happen to the extent we had envisioned. In fact, rural and some urban states underperformed as well, which could be attributed to the lesser reach of Star Sports in select geographies versus Max, a mass movie channel. Hopefully, the impact of the finals is expected to make up for this," Keswani says.
Even as advertisers and media planners await the data from the finals, one thing is clear: Star India may or may not have achieved the reach it envisioned, but it definitely has succeeded in creating a bigger IPL.
(With inputs from Simran Sabherwal)
BRANDS TALK ROI FROM IPL 11
More than 125 brands partnered Star India in IPL 11, compared to about 70 in IPL 10. This year, the co-presenting sponsors were Vivo, Coca-Cola and Jio and the nine associate partner brands were Future Group, Polycab, Parle Products, AMFI, MakeMyTrip, Vimal Pan Masala, Asian Paints, Dream 11 and Haier. While estimates peg ad spends this IPL at almost Rs 2,000 crore, we find out if brand marketers think it was worth their while in terms of return on investment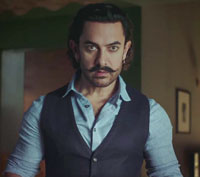 "India holds an important place in Vivo's global growth strategy. Given the diverse nature of the Indian market, we have adopted a 360-degree marketing strategy with presence across all touch points of our consumers. Cricket and entertainment are two big activities that unite India. IPL is at the intersection of cricket and entertainment, and therefore opens up a plethora of opportunities for us to connect with our target group – both male and female across age and income groups. Our association with IPL has catapulted our brand image and resonance across the length and breadth of the country."
NIPUN MARYA
Director, Brand Strategy, Vivo India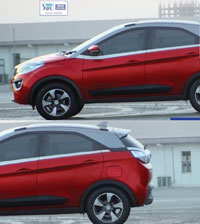 "This has been the best ever IPL, in terms of the quality of the matches and the various teams being equally matched. While the numbers are not out yet, the feeling is that in terms of reach, this was probably the best IPL. From a brand point of view, the impact has been tremendous. There has been a 200% increase in our website traffic, a 400% increase in online test drive requests and a growth of 120% in Nexon bookings. These are not incremental numbers, this is quantum growth. We also saw a huge number of people walking into our showrooms. IPL has been the perfect platform to drive a dramatic increase in awareness about our product across the country."
VIVEK SRIVATSA
Head - Marketing, Passenger Vehicle Business Unit, Tata Motors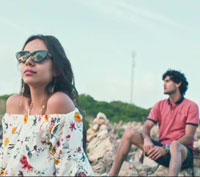 "This year, Star has taken the IPL across its regional language channels and Hotstar. So for us, the association has been extremely strong. The viewership has increased once again this year, and while the data from the finals is still awaited, we are looking for the final analysis to come in from Star. We were prepared this year with our forecasted numbers when we did this association, and we have seen double digit growth that was absolutely on expected lines. We were clear that the focus had to stay on the brand fbb, on creating share of voice, on driving growth and we have achieved that."
PRACHI MOHAPATRA
CMO, fbb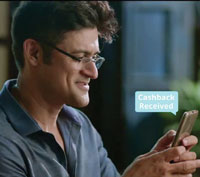 "We have been closely associated with cricket for over three years now. So when it came to being associated with the IPL, which is undeniably the single largest sporting platform in India with its unparalleled reach, the decision was a simple one to make. Our umpire branding, QR code screen branding, sight screen branding, etc., have worked very well. Paytm has emerged as the second most recalled brand this IPL season. For a first time central sponsor, this is a significant achievement. Also, Star, with its regional feeds, created a sense of excitement in the language belts, which was not the case earlier."
JASKARAN KAPANY
Vice President, Marketing Paytm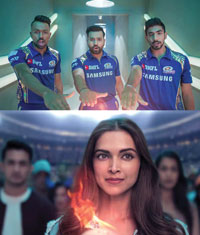 "This IPL season, we have received a phenomenal response for our GoCash campaign that brought together a powerful mix of cricket, Bollywood and travel through an innovative and engaging concept. With more than three million users signing up for this programme, we witnessed over 100% growth in organic app downloads resulting in significant growth in new users on the Goibibo platform. We witnessed high concurrent user engagement for all of the Mumbai Indians matches, which led to massive spike in traffic and a jump in day to day transactions, surpassing all previous records on the platform."
SAUJANYA SHRIVASTAVA
Group CMO, Goibibo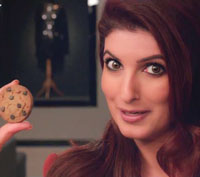 "Viewership during this year's IPL has definitely increased. So, if we talk about ROI on the investment, I think it is a decent ROI. Add to that, the reach that Star got in the South and from other regional channels was an added bonus. In various TGs, we have seen different impact, but in the generic 2+ TG, there was a growth of about 8 to 10%. On a TG like 15+ urban male, urban India, we saw about 20% plus increase in viewership. We are now eagerly awaiting the data from the sixth week to see how the finals did, after being aired on Star Gold and other GEC channels."
MAYANK SHAH
Category Head, Parle Products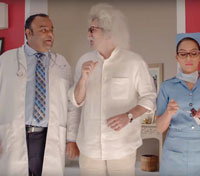 "Our campaigns on IPL have been very effective, and we have seen a positive response from consumers. In fact, even though the industry has seen a relatively flat growth, our sales have been really good especially in the AC and refrigerator categories. However, I would not credit our sales growth to IPL alone. Aside from the summer IPL campaign, our sales strategy, our penetration in the market, the product category and our marketing strategy have all played their part in helping us grow. Frankly speaking, if you want to spend money during the summer season and if you want to get noticed, you have to get into IPL."
ERIC BRAGANZA
President, Haier Appliances India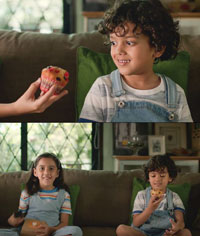 "We are extremely happy with our first IPL campaign. Our IPL campaign helped establish Swiggy's proposition and make it a part of every household's IPL viewing culture. While Swiggy sees extremely strong week-on-week and month-on-month growth as a norm, irrespective of the occasion, we witnessed a 25% growth in orders during IPL. Besides delivering strongly in terms of business performance, feedback from consumers has also been extremely positive with consumer love pouring in on social media. In fact, post these ads, Swiggy witnessed an increase in searches and orders for items like gulab jamun, donuts and khichdi that were a part of these ads. "
SRIVATS TS
VP, Marketing, Swiggy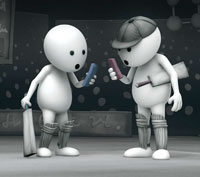 "This IPL, we have broken tradition of the last 10 years and have opted to buy spots and not pay a huge sum of money for being a sponsor in IPL. However, based on our marketing understanding, our consumer understanding and our marketing mandate, we have pulled together a campaign that has been the most loved and shared on social media, a campaign called the 'Unofficial Sponsor of Fans'. We saw value in using our money judiciously in order to work towards our market objectives, which we thought we could do at a fraction of the cost as opposed to being an official sponsor."
SIDDHARTH BANERJEE
Executive Vice-President, Marketing, Vodafone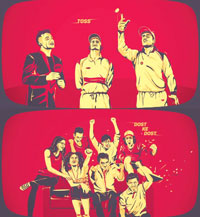 "The IPL has emerged as one the largest sporting events in the country in the last decade. This IPL season, like those in the past, was extremely rewarding for us and we were the ultimate go-to destination for fans for their cricket action. With over 2 billion page views in a month, we ran targeted and data-driven marketing and promotion campaigns on our own platforms, and partnered with players like Payzapp, Amazon Pay, Ola, MakeMyTrip and Goibibo to line up exciting offers for fans of our franchise partners. Moreover, there was further engagement with the fans via our on-ground team, while our fantasy gaming platform Fantain ensured we had them engaged online too."
ALBERT ALMEIDA
COO, Non Movies, Bookmyshow.com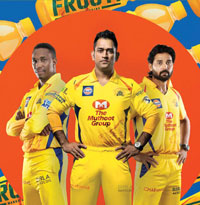 "We have been able to drive almost a 2.4x ROI from our IPL and CSK association. The highlight of the investment will of course be MS Dhoni and his daughter Ziva sharing a Frooti, which adds immense qualitative value as well to the association. While Frooti has been growing at 20% which is far ahead of the category, we have also seen a phenomenal sales increase in Appy Fizz that is growing at 50%. During the IPL, Frooti also had the highest share of voice within its category at almost 46%. With the CSK association along with multiple other marketing initiatives, Frooti grew at 20% while increasing distribution in South India by 26% through the campaign."
NADIA CHAUHAN
JMD & CMO, Parle Agro Pvt. Ltd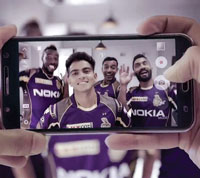 "The IPL tournament represents both reach and affinity and offered us a strong platform to not only build awareness around the new Nokia portfolio, but also re-ignite our association with one of the most loved franchise teams, Kolkata Knight Riders. Our campaign has scored high on likeability and share-ability and we were able to reach out to cricket fans and Nokia fans everywhere, making it a great platform for us. As we welcome the next generation of fans and script the next chapter for Nokia phones in India, this association with a game that is universally loved in India, tells consumers that we are here to win their hearts and minds once again."
JYOTSNA MAKKAR
Head of Marketing - India Region, HMD Global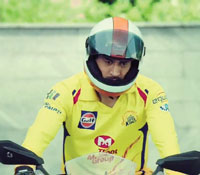 "Gulf Oil has always believed in forging strong sports partnerships which bring to life the core brand values of quality, endurance and passion. The association with Chennai Super Kings in IPL 2018 has furthered strengthened the brand in the minds of our channel partners, suppliers and end consumers. The campaign involved innovative strategies on Digital including the Gulf Fan Bus which took the CSK team from their hotel to the stadium in Chennai and was cheered along the route by delirious fans. We have also featured repeatedly among the top 10 brands on Twitter through the course of the IPL."
RAVI CHAWLA
Managing Director, Gulf Oil Lubricants India Ltd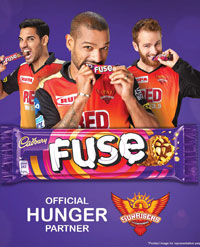 "This year, our tie-up with IPL has been specifically with Hotstar because a large part of our target audience is on Digital platforms. We have been part of the IPL right from the first season, and it has been an important property for us. This time around, we wanted to leverage the functionalities that Star was offering with the regional feeds, especially in the South markets. We had a targeted focused association for our Fuse brand with the Sunrisers Hyderabad, and a customized creative for Fuse running on Hotstar. Aside from Fuse, we also advertised during the IPL for our other products like Lickables, Oreo and 5 Star 3D."
ANIL VISWANATHAN
Director - Marketing (Chocolates), Mondelez India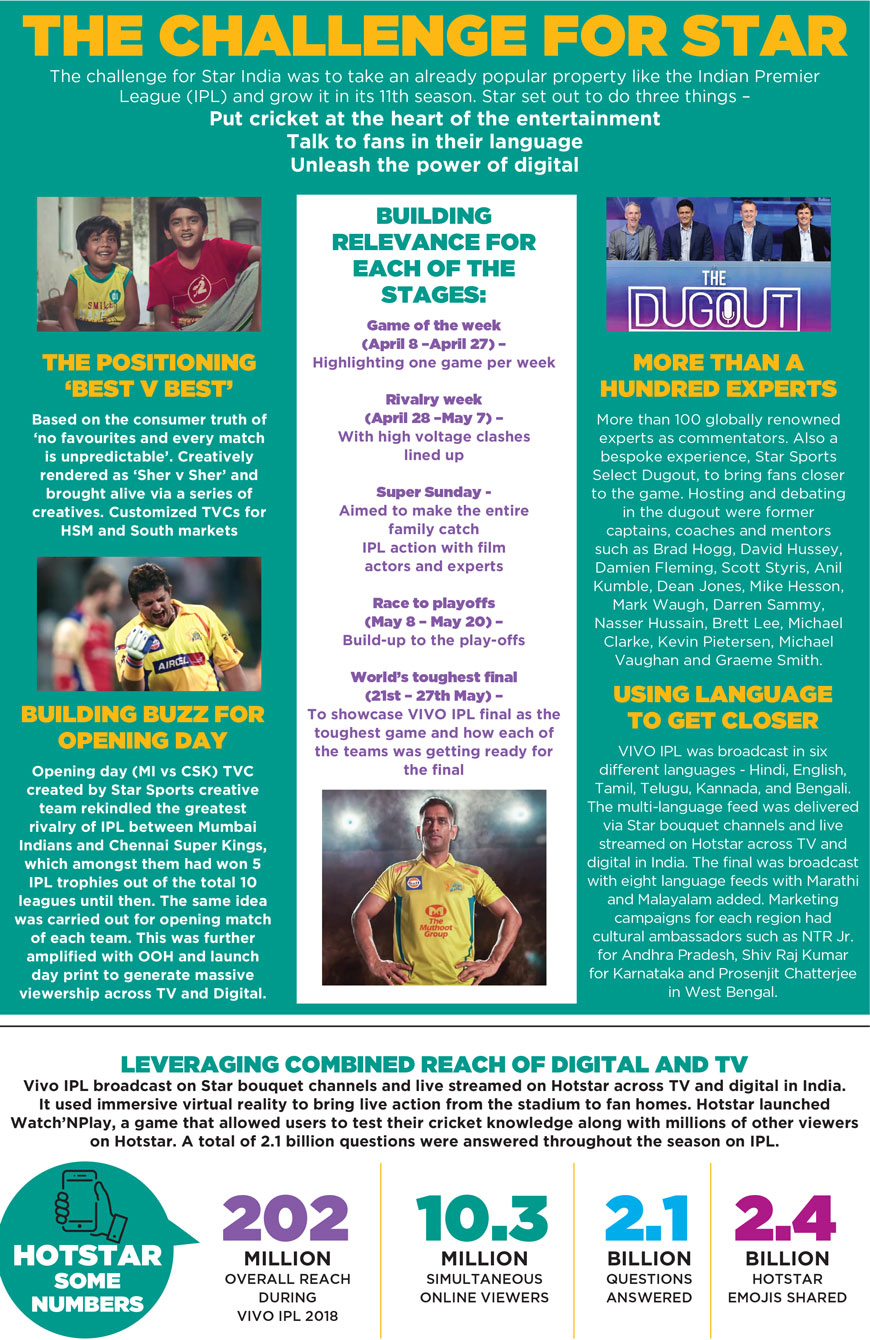 DID STAR DELIVER ON EXPECTATIONS?
While numbers from the IPL finals are still awaited, of all the markets the IPL was broadcast in, the South India story is perhaps the most powerful one

Ad rates for a 10 second spot in IPL 11 reportedly ranged from Rs 8-9 lakh in the league stage to Rs 15 lakh for play-offs to around Rs 20-25 lakh for the finals. And within that spectrum, there were many packages based on the advertisers' choice of market and time of booking. Senior media planners we spoke to had diverse viewpoints on the ROI brands derived from the money they invested in IPL 11.

The market's sluggishness did not in any way impact the IPL this year, says CVL Srinivas, CEO, GroupM S Asia & Country Manager, WPP India. "Star put a lot of effort into packaging IPL across TV and Digital media. The engagement levels remained high on TV, while the digital numbers skyrocketed. There were several innovations unleashed especially on Digital. Despite the sluggishness in the market, IPL has proved its worth yet again by attracting a variety of advertisers," Srinivas states.

Shashi Sinha, CEO, IPG Mediabrands India, says, "What worked very well for us is the multiple markets covered by IPL. Not only have the overall ratings gone up, but you could also customize to each market. Then, Hotstar has done really well, so the numbers on Digital are very high. Since the broadcaster was the same for TV and Digital, there was greater flexibility to do various things in various ways. Some interesting innovations, such as the 'Share a Coke' campaign on TV, also did really well on Hotstar. Though reach has suffered slightly, I expect the final ratings to be good because they used mass channels like Star Plus towards the finals."
SOUTH REIGNS SUPREME

According to Vikram Sakhuja, Group CEO Madison Media & OOH, it has been a "middling IPL" from a TV media standpoint. "Decent if you look at it stand alone, and falling short from the expectations set," says Sakhuja, adding, "Overall ratings in an All Adult ABC TG went up 11% driven by the South (+26%) and 6 Metros (+ 23%) and HD homes. Star can also thank the return of Chennai Super Kings – their matches rated 10% higher than the tournament average. Two matches CSK vs Mum and CSK vs RCB rated more than 9TVRs in their respective markets. The disappointment was Rural India which went a little down in ratings and lower SECs too didn't perform that well. The expectation built up was that of a 20% rating growth, so from that standpoint it fell short."
Saying the reach has been a disappointment, Sakhuja adds, "We had expected the numbers (2+ U+R) to go up to 500 million Indians, but that fell even marginally short of last year's 400 million. I am giving you numbers based on Matches 1-52. I expect that with Star broadcasting the finals on virtually their entire network, the final's reach will spike, and they may have a growth story for the full tournament. In short, advertisers with a South and Metro focus would be delighted. Those with a HSM Rural focus less so."
Basabdatta Chowdhury, Managing Partner & Head of Trading, Publicis Media, confirms that the IPL has seen tremendous success in markets like Chennai, Hyderabad and Kolkata. "Tamil and Telugu feeds have been excellent, and in the East, West Bengal saw a growth in ratings of almost 50%. However, the Karnataka market didn't do as well as the other Southern markets. Kannada saw a growth in line with the all-India numbers, but the expectation was 45%-50% because that's the trend we have seen with most other language feeds. The Hindi speaking markets haven't really dropped, my data tells me in terms of ratings, viewership grew by 30% here, but we still have to see the data from the finals," she says.
By all accounts, the general consensus is that this was a successful IPL season, and advertisers definitely got the ROI they were looking for. "Despite being the first season on Star, IPL fared decently well from the point of view of creating buzz, building increased visibility for brands especially on Digital, better viewer experience and better integration between offline and online campaigns for brands. There were several closely contested games too, which helped Star's case," says K Srinivas Rao, National Director - Buying, Mediacom.
HITTING THE DIGITAL JACKPOT
Hotstar raised its game this year, enhancing viewer experience and engagement, and delighting advertisers in the process. "One of the best things Star did was to tie up with Jio and Airtel TV which helped them increase the Hotstar reach exponentially thereby creating records in live streaming & concurrency," explains Rao. This season of the IPL has featured multiple high points for Hotstar as it broke world records in concurrent viewership, hitting a peak of 10.3 million simultaneous users during the final. With initiatives like 'Play Along', audience engagement grew on the Digital space. While there may have been user fatigue given the fixed format of the game, Star India used its Digital platform as an opportunity to reach more viewers. Kunal Jamuar, Managing Partner West and South, Havas Media India, adds that cheaper data rates have also helped Hotstar's case.
"As data rates have reduced, Hotstar has garnered record audiences this season. At the end of the day, while one may see an incremental reach this year, advertisers would do well to remember that from here on it will be difficult to show an increase year on year in viewership," he says pointing out that reach may not be everything when it comes to ROI.
In the future seasons of IPL, benchmarks will have to be recalibrated and Digital platforms will have a key role to play. "What we are seeing is possibly a higher rating on account of additional platforms, higher unpredictability (on who would qualify) leading to more interest, and hence, viewership," explains Jamuar. "However, going forward, growth will be driven more on digital platforms than on the channels by themselves."