The explosive nature of social media has inadvertently given birth to a new style of marketing campaigns. Its forerunners, a class of people whose identity oscillates between, 'public figure,' and 'creator,' have managed to revolutionise marketing tactics, leaving behind popular celebrities, who were once the preferred choice for brands. Today, both traditional and Digital-first brands have bee-lined for branded content to reach the right target audience. These message carriers, whom we call social media influencers, duly deliver brand messages to their followers, in a more organic, and efficient manner. As per Statista, the value of influencer marketing industry in India in 2021 was Rs 900 crore, and this is expected to grow at CAGR of 25% by 2025, to Rs 2200 crore.
Interestingly, one of the earliest examples of an influencer dates back to 1760s, when Josiah Wedgwood, a potter, made tea sets that got the patronage of the then Queen of England to be called the 'Queen's Ware.' Marian-Webster added the word "influencer" to its dictionary in 2019, legitimising an all-new era of digital marketing, and here we are today, at a time when the lines between a celebrity and social media influencer have blurred to a great extent.
The 'Omnifluence 2022 Report' released by Omnicom Media Group reveals that only 13% of Gen Z follow celebrities, while 86% prefer to follow Instagram influencers. While millennials follow 52% of Instagram influencers and 47% of celebrities. The weight has shifted in the favour of influencers at a time when consumers are a lot more aware, and getting disillusioned by the charm of celebrities.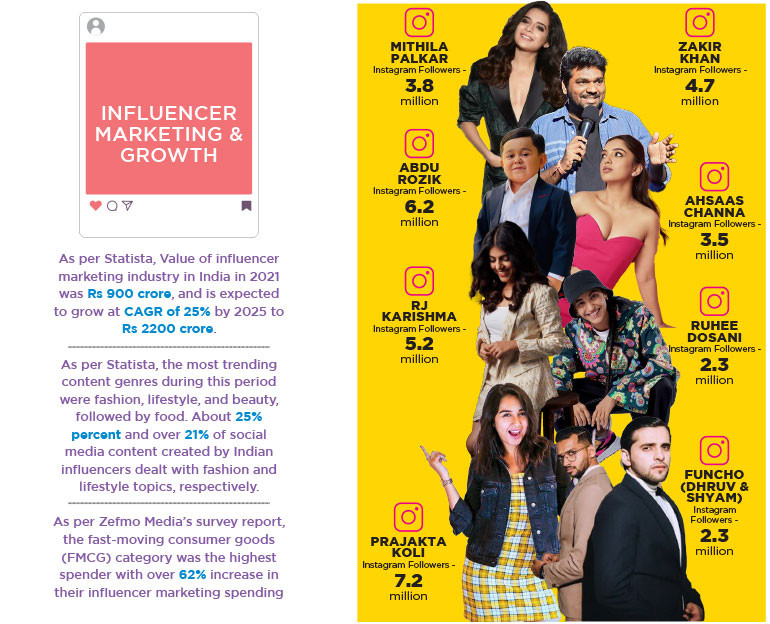 Describing how the influence of celebrities have started diminishing, Shudeep Majumdar, Co-founder and CEO of Zefmo Media said, "There is surely a dip in the sphere of influence for celebrities. The recent spate of Bollywood flops has not helped the case of celebrities at all. Instead, the macro and micro influencers have seen excellent brand resonance over the recent years. Brands are finding macro-influencers more bang for the buck as compared with celebrities."
While on one hand not everybody can become a celebrity, on the other hand, anybody with a decent number of followers can become a social media influencer. It may seem as though only those with 10000+ followers stand a chance to become influencers, the truth is that people with 1000+ followers can also become nano-influencers. If what you are offering is niche, there is a good chance that a brand will come and sweep you off your feet with a lucrative offer.

According to experts, celebrities fail to convince consumers to shell out their hard earned money on brands they don't believe in. An example of this would be when superstar Shah Rukh Khan endorsed both Pepsi, and Thums Up (a Coca-Cola brand) in different stages of his life. Abhishek Singh, Senior Vice President of Marketing, Hirect India says, "Social media influencers have definitely democratized influence with the ever changing consumer mindset. Today, consumers want social proof of everything and that is where Bloggers, YouTubers and social media content creators bring in front their unbiased opinions on products and brands."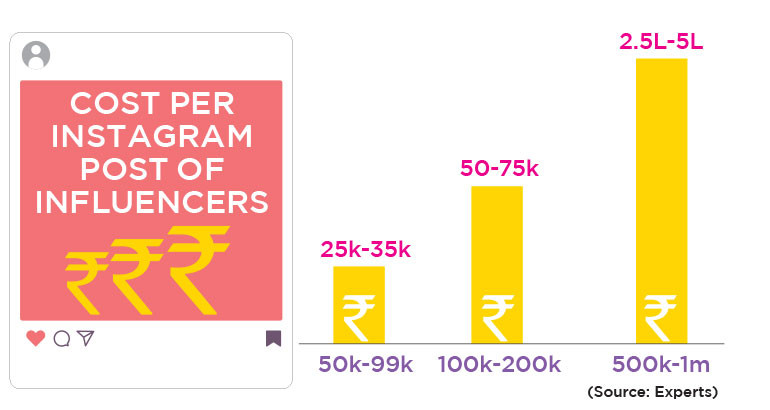 Strangely, the mega celebrity influencers are also knocking on the doors of social media influencers during new movie releases. As one can often see on Instagram, this trend in itself is an indicator of the pivotal role that social media influencers play. Experts suggest that today, brands want a collaborated branded content to gain higher ROI and the buzz around a product launch or a film release.

Ahsaas Channa, a top social media influencer, actor and content creator, affirmed that celebrities and social media influencers are now being treated as equal, she says, "Everyone is working hard and influencers are developing themselves as a brand. I am an actor, but I influence people through my social media content too. Influencers deserve as much attention and respect as everyone. It won't be long till we start seeing more content creators on the big Bollywood screens."

Lately, the influencer marketing trends have also gained traction in the Indian hinterland. Vernacular and hyper-local influencers are gaining huge traction with brands. Shahir Muneer, Founder and Director, Divo, says, "Brands are realising if they really want a pan India reach or reach to specific regions. Working with Hindi speaking creators alone won't suffice as their content do not come up on timelines or trend on platforms in regional markets. Hence it is imperative that they work with regional influencers. We have cases where for a leading edtech company, regional influencers have driven more ROI for them than some of the leading Indian/Hindi influencers."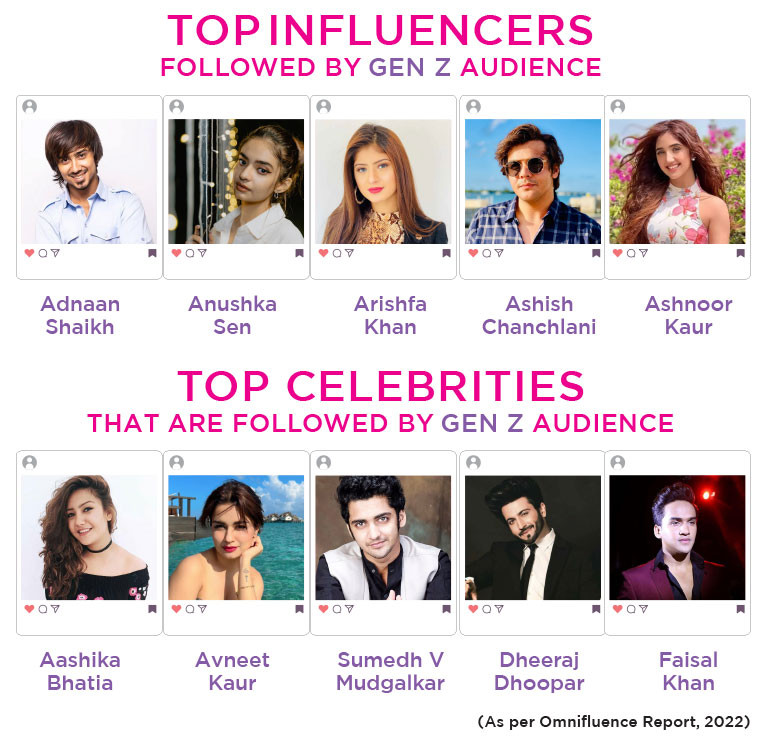 Brands spend heavy on influencers
Call it a Jio effect or the impact of lockdown, brands are heavily leveraging on the reach and engagement that social media influencers provide. According to experts, Digital first brands are allocating 40-50% of their Digital spends on social media influencers. While traditional brands allocate 20-25% of their Digital spends on social media influencers and content creators.

One of the greatest advantages of social media influencer marketing is the ability to pin-point a select customer base. Explaining how a brand like Godrej heavily utilizes social media influencers during product launches, Somasree Bose Awasthi, ex-Chief Marketing Officer, Godrej Consumer Products Limited said, "The spends on social media influencers have increased looking at the results they provide us. For example, there are a very specific group of influencers such as those who are into the environment related content, and they specialize in that and their follower or fan base is basically the people who really care about the environment. So, as I said, we are targeting people in the medium where consumers are present."

Echoing on the same lines as to how the spends have increased for social media influencers, Shailja Joshi, Director Marketing- Potato Chips Category, PepsiCo India, says, "A celebrity is an influencer. And when we closely studied how celebrities, and influencers are doing, our strategy in the recent past has obviously been a combination of the celebrities that we have on the brand. But we also very closely assimilate it with influencer strategies. But it is done for a very specific cause or a reason. When we use influencers, we utilize it to drive a very strong messaging."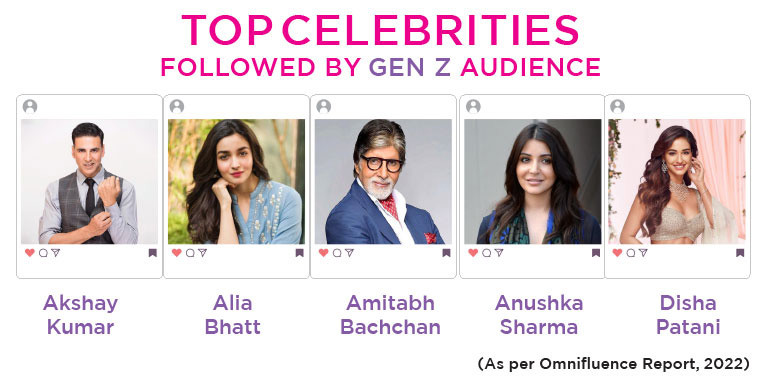 TIMEX on the other hand intends to enhance the number of influencers to lead the brand message for a longer period of time. Deepak Chhabra, Managing Director, TIMEX Group India Limited, said "Our conscious effort is to increase multi-fold of our influencer partnerships. Over the years we would like to have them with us for a long run exclusively for our watch brand. So, rather than spending much larger bucks and having 2-3 celebrity endorsement or celebrity influencers, we would like to focus on micro, nano, and mid-size influencers, in a larger number."

NIVEA India extensively utilizes social media influencers to promote their wide range of skin care products. Ajay Simha, Marketing Director, NIVEA India, said "We of course have a very strong mix of influencers across our varied product portfolio. Our several campaigns with different product categories make sure we tweak our influencer mix bases, the target group, and the audience of India that we are catering to. It is also important when it comes to influencers to have a good mix between mega and nano influencers across geographies in a vast country like India. Therefore, a combination of these two things helps us create a overall impact and surround sound to generate enough scale on our influencer campaigns."

While several experts debate on the ROI metrics while conducting major campaigns with social media influencers, Shailja Saraswati, Chief Content Officer, Omnicom Media Group India, says "The debate around the ROI on influencer marketing will continue until the time we find the most effective matrix of calculation for ROI across the business funnel. However, there are studies that show that influencers have the ability to affect the consumer's journey, right from the building awareness stage to the point where the purchase actually happens."

She further explains, "Many brands are readily embracing influencer marketing, especially the ones that have Gen-Z as their primary audience base. Brands are also adding influencer marketing to their arsenal to get better reach. The last two years, following the pandemic, have brought a huge shift in the digital landscape and increased the popularity of social media influencers."

Talking about Meta's penetration in rural areas, Manish Chopra, Director and Head of Partnerships, Meta, says, "Rural areas are where we've seen growth. We look at cities and towns and villages that are in tier two, tier three, tier four kind of areas, and our biggest growth comes from there. We launched reels first in India and it has been growing the fastest for the company." Explaining Meta's offerings to advertisers, Chopra says "Today, Facebook and Instagram is attracting advertisers. We have tools that help advertisers target very specific audiences. They can create their custom audiences and target them. Most advertisers, especially on Instagram and Facebook, want the authentic voice that creators can bring to the table. Today we enable our advertisers to drive growth."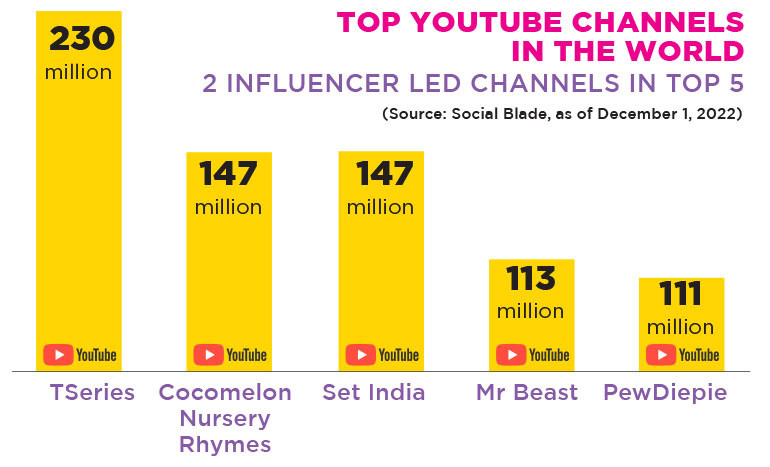 Influencers Face Pay Disparity
According to experts, Indian social media influencers normally make between INR 10,000 and INR 50,000 for every social media post, while those with a larger following can make up to INR 2 lakh, and for deals involving numerous postings per month, they can even make up to INR 5 lakh per post. The three main sectors that are benefiting the most from influencer marketing are healthcare, fashion & beauty, and travel & lifestyle. But can we certainly say that social media influencers are slowly taking over celebrities when it comes to promoting brands? After all, the number here seems miniscule when compared with big budget superstar deals, such as the one that Coca-Cola had with Salman Khan, its costliest celebrity, at Rs 18 crore for two years.

Navin Khemka, CEO – MediaCom South Asia, says, "Celebrities and sports personalities are still in demand due to their instant familiarity with masses, and larger than life image. However, by nature, they have limited exposure with brands, reduced to few days of shoot, and couple of social engagements, and come with high entry ticket price. Currently around 30% of all campaigns still have heavyweight celebs."

He further explains, "Social media influencers on the other hand play a different role and are not seen as direct replacements to a celeb but more as complementary. About 75% of all campaigns have influencers. They are great to amplify an existing celebrity endorsement and to carry forward the engagement into more day-to-day slice of life situations. Demonstrations, conversations, challenges, contests, are all better done by influencers extending the brand storyline and adding depth to the communication message."

Talking about the pay disparity, Channa says, "Currently there definitely is a disparity. But that is also because Bollywood stars have been around for ages and have established themselves. They deserve it. I am pretty confident that through OTT, social media and other platforms, we will soon see influencers bridge the gap to a large extent."

Surely, if a social media influencer is providing the same or even better results, then why not?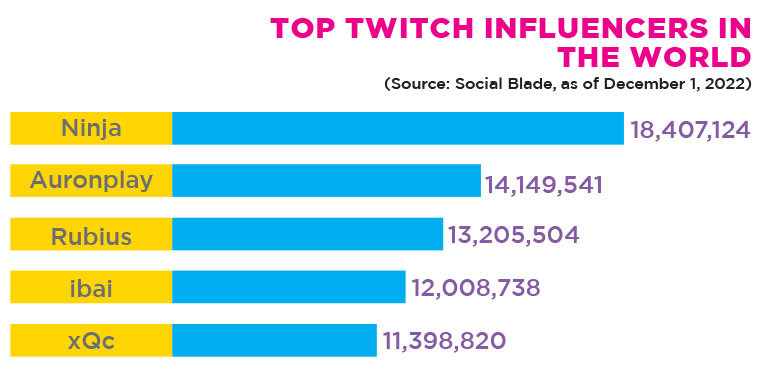 Describing how social media influencers today are considered at par with B-Town celebrities, RJ Karishma, one of the fastest growing social media influencers with 3.5million followers on Instagram says, "Social media influencers have now become household names just like celebrities, and hence film promotions with us generates a lot of interest in viewers. It is a win-win for both sides basically. It is very important for an influencer to keep the brand essence intact, while remaining true to the genre they have expertise in. Obviously the number of followers and engagement plays a big factor too."

Talking about low pay packages meted out to social media influencers as compared to top notch B-town celebrities, Vinay Pillai, Head of Clout, and Head of Strategy, Pocket Aces has a completely different perspective, he says, "There might be some outlier events where there is a disparity, but in reality, over time the market self-corrects. I think that some of the top creators right now are charging at par with the celebrities that have similar reach and similar deliverables. But I think there is a self-correction, I think that the top creators now are definitely challenging or commanding a similar kind of monetization as some of these celebrities."

Talking about the reason behind pay disparity between celebrities and social media influencers, Suhani Shah, Influencer and Content Creator says, "Today movies are a bigger art form than an Instagram account. So, it is going to take time for an influencer or a creator to get the credibility of a Bollywood actor. But also, movie making is a larger process that involves a lot of people."

Shah adds, "But I feel that the bridge is getting smaller. The gap is getting filled slowly. It is going to take time but we also cannot dismiss that movie-making is a larger art form. I'm not saying that social media is easy, but the difference comes from the way things are being made, and they need to be respected in their own way."

Looking at the current trends, experts say that a brand's approach towards promoting a product via influencers should be creative and must have an innovative touch.
"Authenticity is key when it comes to Influencer Marketing, it cannot be ad-y in nature. Innovations in Influencer Marketing will happen on the back of creativity and data. Creative guerrilla campaigns like when Burger King liked 8 year old tweets by influencer Casey Neistat to reintroduce a menu item they had discontinued when the tweet was published. Second, using data driven discovery and advanced AI tools that allow you to find the perfect influencer and manage the campaign more efficiently," said Mehak Jaini, National Strategy Head, 22feet Tribal Worldwide.

The world of social media is getting more and more populated with the passing of each day, and it is important to understand that with more people joining in, brands have direct access to more potential consumers. In such a scenario, social media influencers are looking at a lucrative career option. It is estimated that in 2022, there are 3.2 million to 37.8 million influencers in the world, which goes to show that brands are in fact relying on social media stars, and in the process, creating even more of them.