In 2022, the Indian ADEX grew by 21 percent, despite a soft festive quarter, in a world affected by political and health turmoils. In the last three years, India's ADEX saw a 33 percent growth, effectively battling adverse conditions such as the COVID-19 pandemic, and the Russia-Ukraine war. A pleasant surprise, and a promising trend for businesses in the country.

But that is just the first-half of the surprise, as we now know that the global ADEX in 2022 grew only by 8 percent. In fact, India's ADEX for 2022 is the second highest gain in the last two decades, growing from Rs. 74231cr to Rs. 89803cr. Out of the Rs. 15572cr added to the ADEX last year, Digital of course stood out with 58 percent contribution, doubling its individual ADEX from Rs. 16974cr in the year 2020 to Rs. 34405cr in the year 2022. Print, whose epitaph we have been preparing for quite some time, has registered a growth of 11 percent, and has recovered to 92 percent of its pre-COVID level. TV, however, has lost four percentage of share when compared to 2022.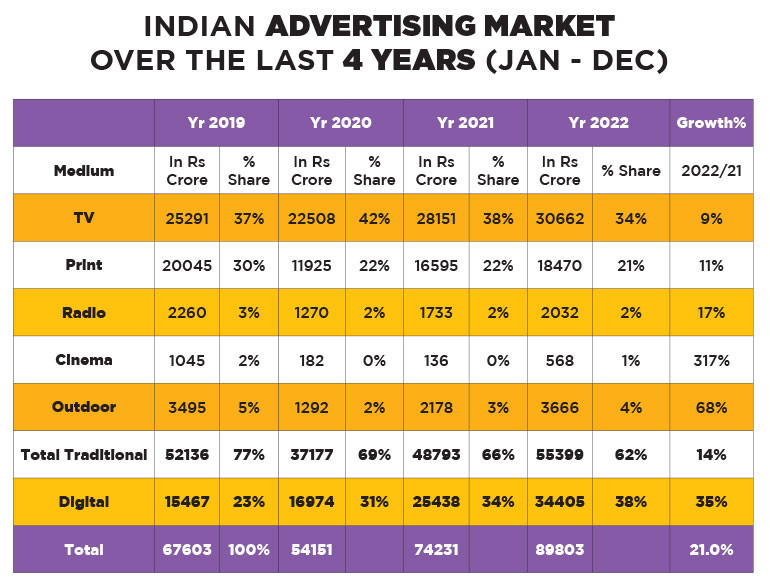 ---

"Despite all the setbacks that the world and India has faced, our GDP grew by 6.8 percent, and last year, the Indian ADEX, in our estimate, grew by 21 percent. In absolute terms, ADEX has grown from 740000 cr to 89800 cr, a significant gain of 15000 cr, the second highest gain in the last two decades. This was also the second consecutive year that the Indian ADEX registered more than a 20 percent growth, after a dismal 2020, when the pandemic hit us, and knocked virtually three years out of ADEX's life. It is significant to know that as much as 58 percent of total ADEX growth has been contributed by Digital, which has grown by as much as 35 percent. But, traditional media's role and performance in India, unlike in other parts of the world, is no less noteworthy. It continues to grow year-on-year, and has grown by 14 percent last year, which is the second highest growth rate in the last seven years. So, in spite of the two COVID years, and the Russia-Ukraine war last year, Indian ADEX has grown by 33 percent over these last three years. If this is not resilience, what is?
Compared to the Indian ADEX's growth of 21 percent, global ADEX, according to WARC, grew by just 8 percent. Similar to the CAGR of about 7 percent that it had established over the previous five years. But what is more significant is that the top 11 nations of the world, you could call them the advertising capitals of the world, US, China, Japan, Germany, France, Australia, Canada, Brazil, India, and Italy, which collectively account for almost 70 percent of the global ADEX, grew in 2022 by only one percent. So, now compare that with our 21 percent growth.
In today's world, every country is interconnected with one another because of trade and commerce, and therefore India is bound to get affected by the global gloom. Because of that our estimates for growth in 2023 is a bit subdued at 16 percent, compared to the 21 percent growth, achieved in 2022. For perspective, WARC's forecast for global ADEX in 2023 is a growth of only 3 percent. With a 16 percent growth rate, Indian ADEX will cross the landmark one lakh crore number, and settle at 104230 cr. We expect traditional ADEX also to grow at a good rate of 10 percent in 2023. Of course share of Digital ADEX will continue to lead, and now be almost ten percentage share points higher than TV, with Digital at 41 percent, and TV at 32 percent."
---
A Category-wise Study of ADEX 2022
Digital
The conversation around Digital is not in vain, it is the future, as proven from its performance and contribution to the Indian ADEX 2022. Digital saw a whopping 11-fold increase from Rs. 3050cr in 2013, to Rs. 34405cr in 2022. It has overtaken TV to become the number 1 medium, backed by the phenomenal rise of Digital video, which continues to dominate the Digital ADEX.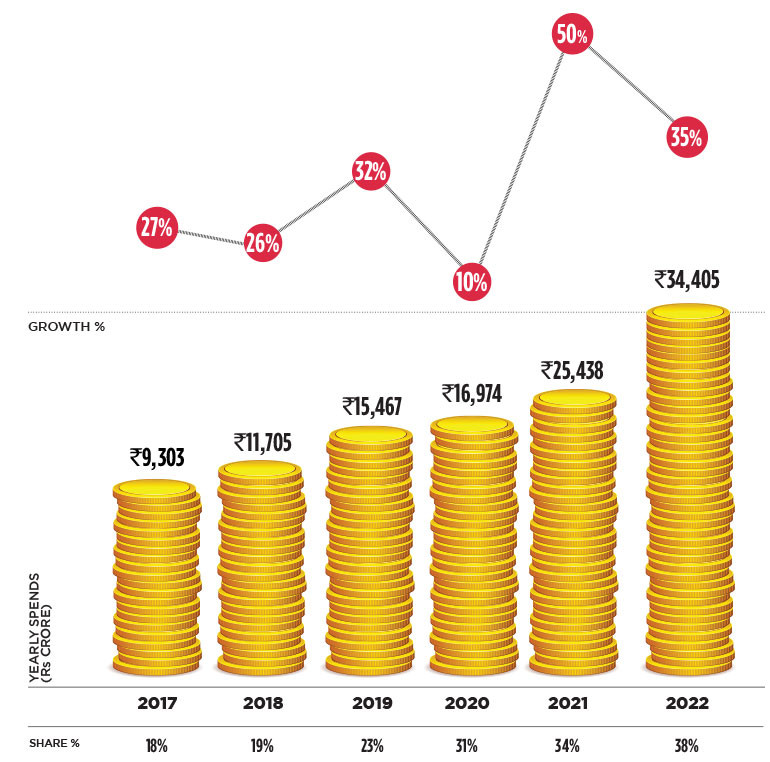 Television
Television grew by only 9 percent, as opposed to PMAR's predicted 14 percent growth, thus showing early signs of slowdown. 2022 marked the seeming start of a downfall for Television as for the first time we saw signs of stress in Linear TV. Its share has come down from 42 percent in 2020, to 34 percent in 2022. Television also saw an 8 percent decline in viewership from the last year, and a marginal drop in advertisers from 11000 in 2021 to less than 10500 in 2022.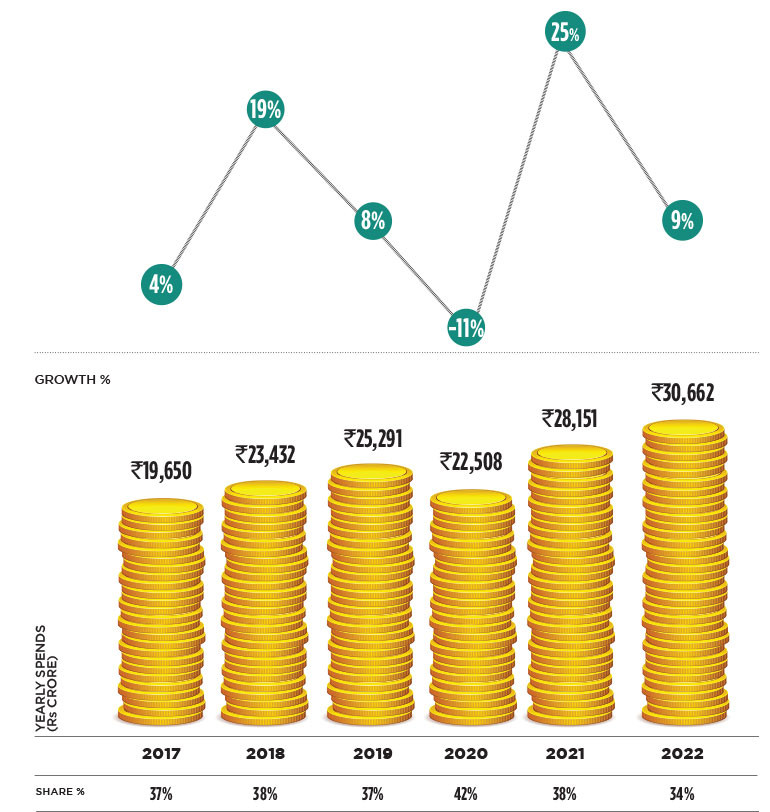 Print
Print in India has surprised and surmassed all expectations. WARC's global estimates for Print stood at a meagre 4 percent of global ADEX, while in India, Print had a 21 percent share in ADEX in 2022. Print ADEX grew last year by 11% to reach a value of Rs. 18470cr, almost equalling its pre-covid figure of Rs. 20045cr. It has been noted that a lot of SMBs use Print as their only Advertising medium.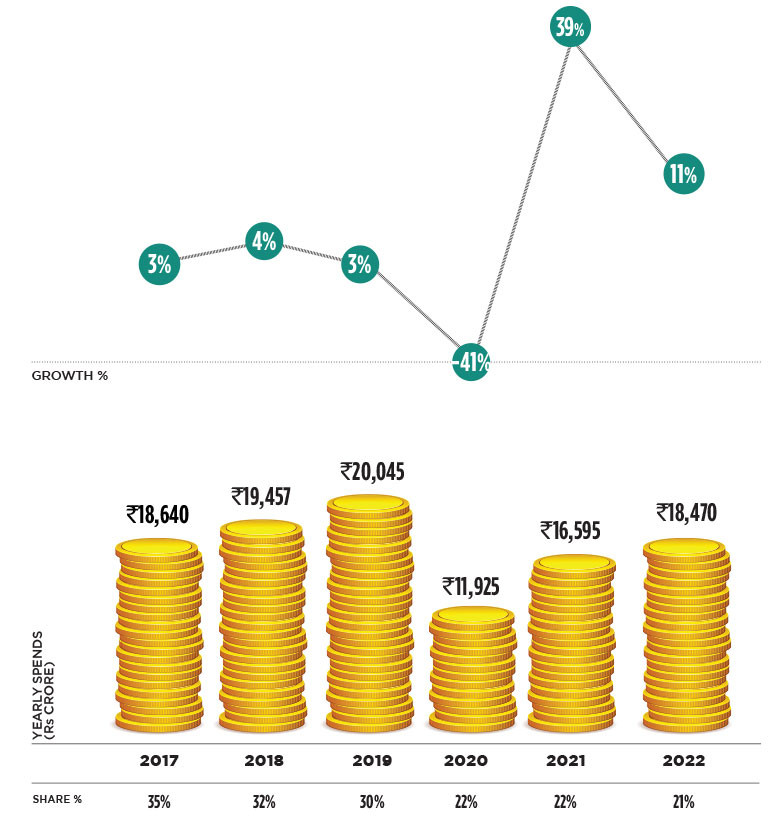 OOH
Out-of-home advertising has crossed pre-pandemic level, matching its growth rate of 69 percent in 2021. In 2022, OOH became a Rs. 3600cr+ medium, and grew at 68 percent over 2021. It recorded a 4 percent share of the ADEX, with Digital out-of-home (DOOH) continuing to be the growth driver. DOOH screens have grown from 26,940 in 2020, to 57,690 in 2021, to 89,700 in 2022.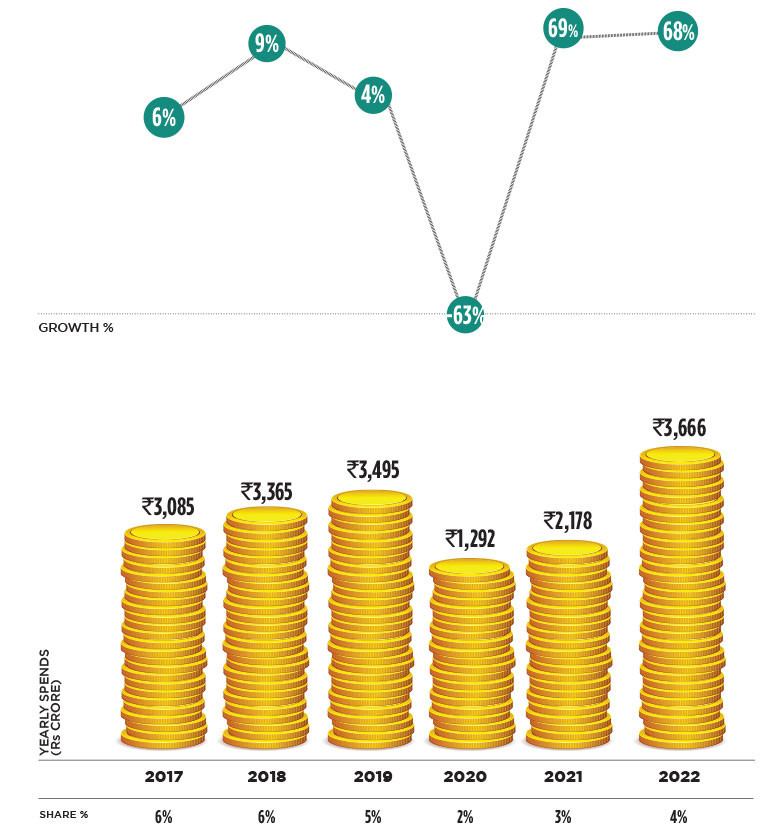 Radio
Achieving 90 percent of its 2019 level, Radio has shown promising growth. Radio has crossed the revenue threshold of Rs. 2000cr, however, its importance in the total ADEX has halved, with just 2.3 percent today. Ad volumes increased for Radio in 2022 by 38 percent, but its ADEX increased by only 17 percent.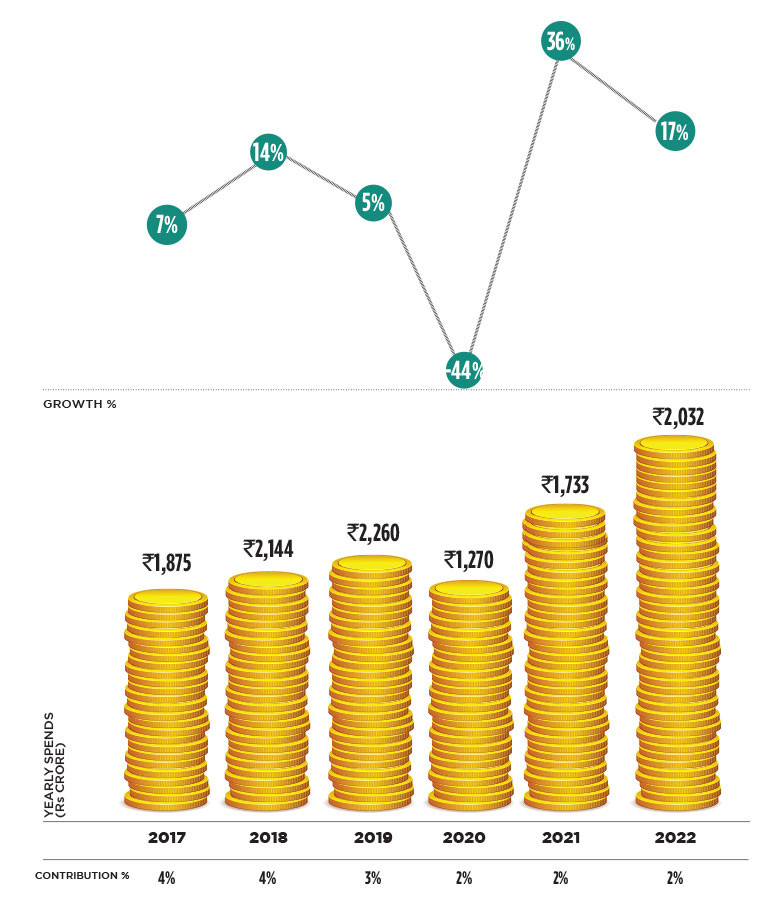 Cinema
Cinema has failed to make an impact on the ADEX, even after theatres opened up for full occupancy. It managed to reach the halfway mark of Rs. 568cr, when compared to Rs. 1045cr achieved in 2019, during pre-pandemic days. The film industries in the South, however, reached new heights with blockbuster releases such as RRR, Pushpa, and KGF 2.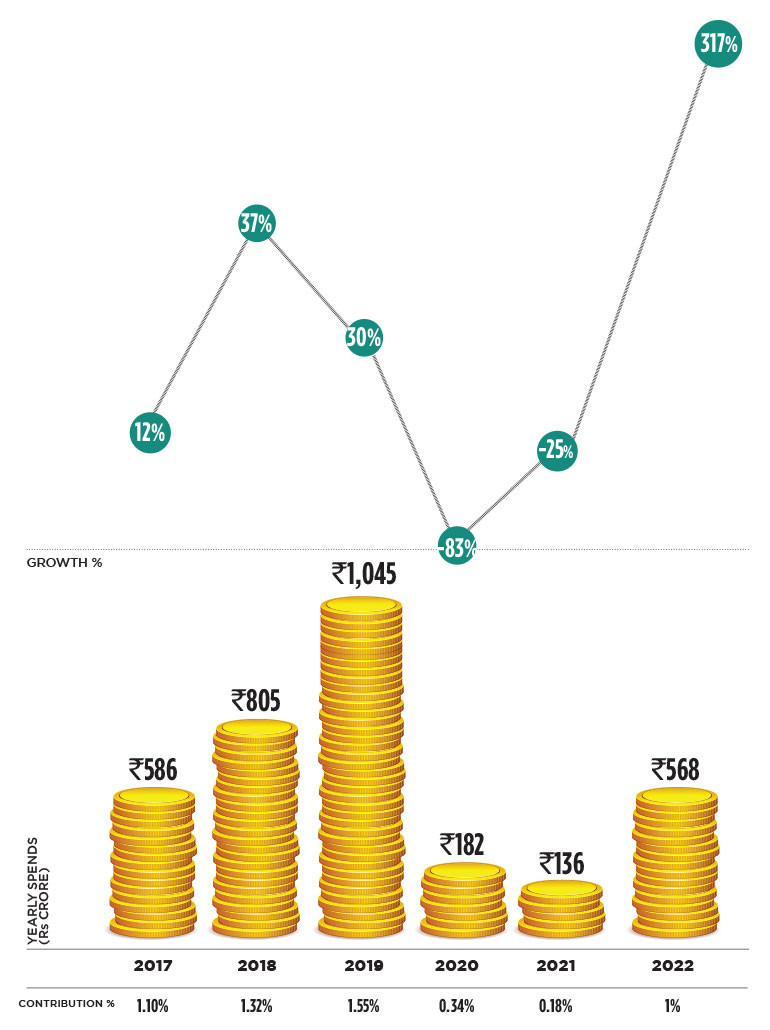 ---

ADEX Forecast for 2023
In 2023, we are predicting an ADEX growth of 16 percent, five times higher than global ADEX, which is expected to grow only by 3 percent. Digital will continue its run as the top driver for ADEX growth. The Indian ADEX is expected to cross the landmark of Rs. 100000 crore, and settle at Rs. 104230 crores.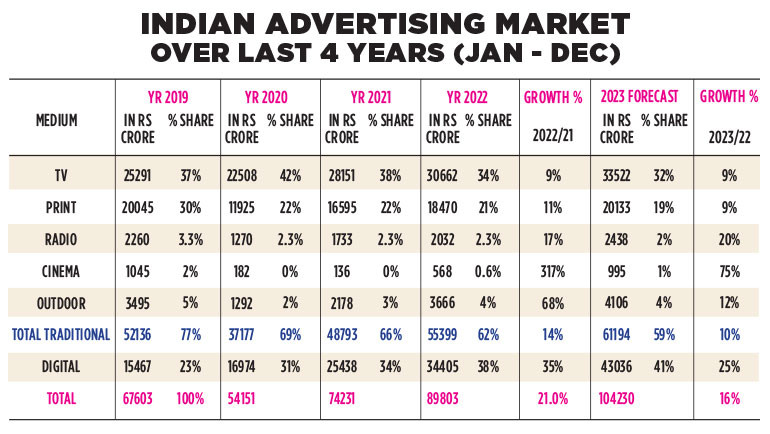 A Category-wise Forecast for ADEX 2023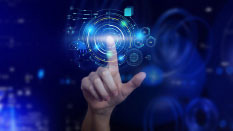 DIGITAL
The numero uno of 2022 will continue to drive growth in the Indian ADEX. Indian Digital share is expected to rise to 41 percent of ADEX. Digital ADEX will add Rs. 8600cr, and is expected to reach Rs. 43000cr by the end of the year. E-commerce will continue to grow on the back of aggressive Advertising by Amazon and other smaller players.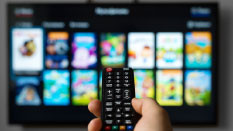 TELEVISION
Linear TV Advertising is expected to continue its growth streak in 2023, but at a rate of 9 percent, to become Rs. 33500cr. TV, however, will lose further 2 percent share points to Digital. TV's share will further reduce to 31 percent of the Indian ADEX. Major cricketing tournaments in the coming days however are expected to fuel TV ADEX growth.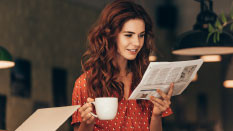 Print
Print's promising run in 2022 has led us to believe that in 2023, Print ADEX will continue to grow at 9 percent, taking Print ADEX to Rs. 20133 crore, reaching the pre-COVID levels. Then again, the Print share of the ADEX is expected to fall further, and could go lower than 20 percent for the first time. The volume of English dailies could increase if the current market rates of English Publications continue in 2023.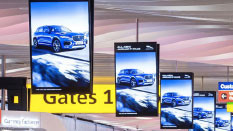 OOH
Much like 2022, 2023 is also expected to be another great year for OOH ADEX. We can expect OOH ADEX to grow further by 12 percent, and reach a value of Rs. 4106cr, which would be Rs. 600cr higher than the ADEX in 2019. DOOH will make all the difference in the coming years. India currently has 89700 screens, and is expected to grow to 150000 in 2023, and 450000 in 2025.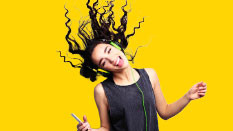 Radio
Radio can turn its fate around to achieve pre-pandemic levels in 2023, after settling at Rs. 2438 crore. Radio ADEX on the other hand will only have a share of 2 percent in the Digital world, as radio stations start creating social and Digital properties, alongside audio stories.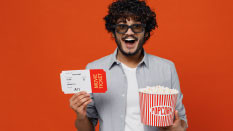 Cinema
Cinema ADEX is slowly and surely returning to normalcy, and the Hindi film industry has already seen a major hit in the Shah Rukh Khan starrer Pathan. Cinema is expected to reach its pre-pandemic level, but its share will reduce from 2 percent in 2019 to 1 percent now.