Five years ago, when Star Sports introduced the Pro-Kabaddi League (PKL), there were a lot of naysayers who believed the league couldn't possibly thrive in a cricket-crazy nation. Yet, here we are in 2019 with the seventh season of PKL set to begin in a couple of months. This is proof of one thing – there is a future in India for sports, with cricket and sports beyond cricket set to provide the required momentum. There are eyeballs for non-cricket sports and where there are eyeballs, there is advertiser money. The latest 'Sporting Nation In The Making' report from ESP Properties (the Entertainment & Sports division of GroupM), records a double-digit growth of 12% in 2018 in sports sponsorship and a whopping Rs 7,762 crore value attached to sports advertising - indications that India is well on its way to becoming a true sporting nation.
BEYOND CRICKET: INDIA'S SPORTS MARKETING SCOREBOARD
Overall on-ground sports sponsorship in India grew at 20% in 2018, while cricket especially witnessed an increase of 34% with IPL central sponsorship revenue soaring beyond Rs 600 crore last year. The IPL franchise fee, valued at approximately Rs 291 crore, was done away with last year, making a year-on-year comparison irrelevant in this area. IPL team sponsorship also saw a healthy, double-digit growth of 20% reaching a value of Rs 300 crore. While cricket was the obvious big winner last year, it was also a good year for other sporting properties like the PKL which registered a 31% growth over the previous year in on-ground sponsorship and the Indian Super League, which has grown into a strong property with a calendar spread of six months. Things are also looking up for hockey with the Odisha government announcing a five-year deal with Hockey India. The 12% growth in 2018, while lower than the 14% figure in 2017, is still a big plus for sports sponsorship in India, believes Vinit Karnik, Business Head, ESP Properties. "The year 2017 had a World Cup. It had the Under-17 FIFA tournament coming to India; 2018 was a little bit muted from that standpoint," Karnik points out. "Now, in a muted year where India also never played in India, with no World Cup tournaments both in football or cricket, and in a year when India played less than 15 matches in India, a 12% increment is a fantastic story," he insists.
With the ICC World Cup coming up and with the ongoing IPL, 2019 is already gearing up to be the year for cricket. Despite the prominent role that cricket will play this year, other sports will not see a decline in growth. What works in India's favour is its diversity. A sport like football sees great traction in markets such as West Bengal and Goa, while the recently introduced volleyball league has done well in regions such as Tamil Nadu and Kerala. Broadcasters too are taking note of the eyeballs these sports attract, as do brands. Therefore, there is definitely scope for growth when it comes to sports that do not necessarily see national interest. This is also evident from the athlete brand endorsement value in the ESP Properties report. Of the Rs 482 crore spent by brands on sports stars acquisitions, 66% of all athlete endorsements went to Virat Kohli and MS Dhoni. Nevertheless, 2018 also saw badminton player PV Sindhu bag 11 brand deals amounting to Rs 35 crore, making her the leader among non-cricketing sportspersons and among female sportspersons in India.
While the three-year picture has a tale to tell, let us take a look at how the media game was played out last year. 2017 saw Sony Pictures Network ending its 10-year run as the India broadcaster for IPL. In spite of the post-demonetization drag that was felt in the advertising world, they ended the IPL association on a veritable high with increased media rates. With that elevated base already in place, Star India acquired the broadcast rights for the IPL and came up in 2018 with a media rate that was at a steep increase over 2017; leaving brands without enough budgets to spend on other sporting properties after being part of Indian cricket's golden goose. Consequently, on air TV that has been riding a wave in recent times; delivered lower growth in 2018 at 12%. Print advertising, which was a shade higher that digital in 2017, shrunk to half of its own figure in the previous year, as many brands shifted out of it. Digital grew at 44% triggered by Hotstar and SonyLiv as OTT continued to drive adoption and carved a niche for itself.
HOW THE GROWTH PANNED OUT
The year 2018 was when India's foremost sports league, the IPL, saw major growths in Central Sponsorship values. Vivo secured the title sponsorship for 2018-2022 at a whopping Rs 2199 crore, which was an unbelievable 455% jump from the previous deal. While Vivo played the lead role, brands like Tata Motors, Future Group and Star India played their roles to perfection as official partners. In addition, it was payment time for Paytm in return for the Umpire Sponsorship rights while Ceat Tyres sponsored the ubiquitous Strategic Time Outs. At an overall level, IPL Central Sponsorship contributed to a revenue of more than Rs 600+ crore in 2018.
The IPL upswing more than compensated for the absence of blue-chip events in India for the men in blue. There were no ICC marquee events in 2018 and to make matters more challenging for the business of cricket; the Indian cricket team played only 11 home matches last year, as against 34 in 2017. The year also witnessed Indian brands investing in series away from home. While India clinched the Nidahas Trophy with a dramatic last ball six, also hitting the ball out of the park was Hero Moto Corp as the title sponsor, ably supported by other on-ground sponsors Amul, Syska, Prayag, Servo, Dalmia Cement, Wild Stone and Skoda. The Asia Cup held in UAE saw on-ground investments from BYJU'S, Skoda, Royal Stag, Haier, Dalmia Cement, Hero Moto Corp and NetMeds.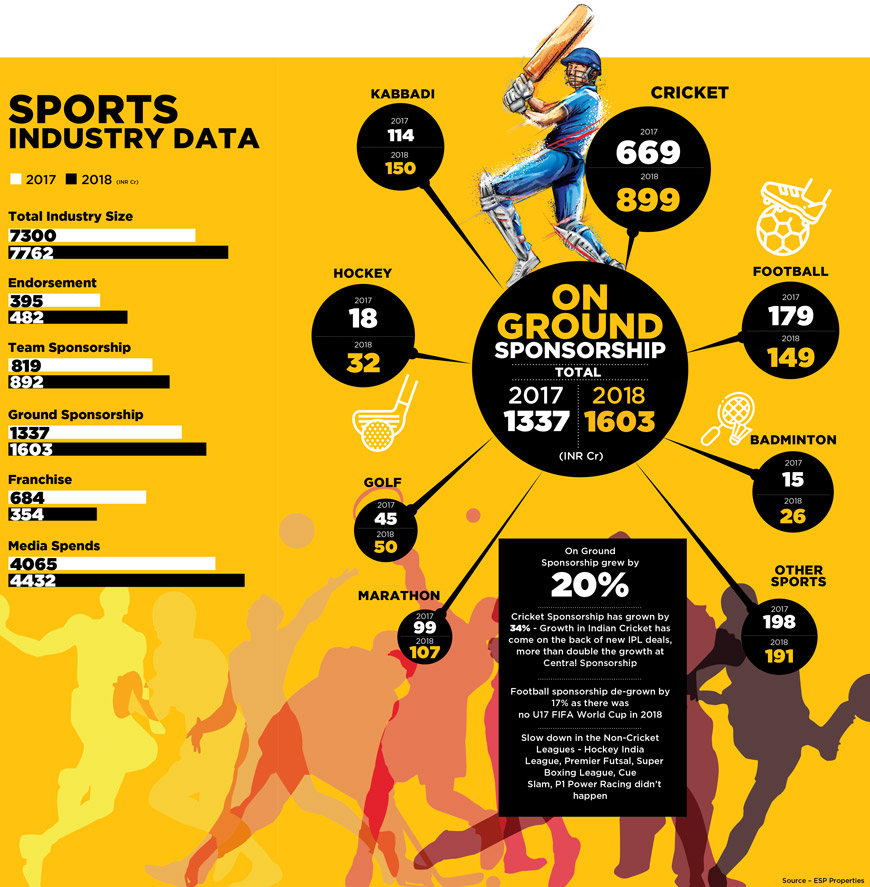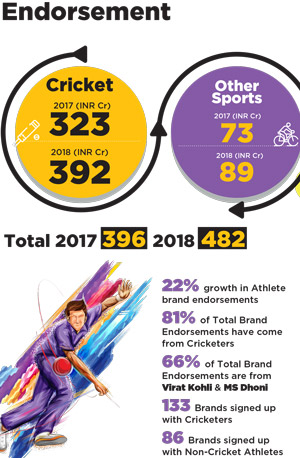 While the IPL was the vanguard for similar formats in other sports in India, its also inspired the creation of T20 leagues in other cricketing nations too. The fact that Hero Moto Corp continued its association with the Caribbean Premier League as the Title Sponsor bears testimony for the marketability of overseas cricketing events not only in local markets but also with the Indian fans of the game. 2018 also saw two domestic T20 leagues growing in stature. The Karnataka Premier League (KPL) in its 7th season took giant strides in TV viewership with Star Sports providing coverage in English as well as Kannada. The 3rd season of Tamil Nadu Premier League (TNPL) also showed that the event has a lot to look forward to in the future. The success of these domestic leagues bears testimony to the fact that cricket as a sport enjoys enough depth for even domestic properties to become viable; case in point being T20 Mumbai League.
A tale of missed goals
The world's most popular team sport could not push the ball forward in 2018. Football dipped by Rs 30 cr in 2018 which was a de-growth of 17%. If this data doesn't seem to be following the run of play, then there is a reason for it! India had hosted the Under 17 FIFA World Cup in 2017 when the ground sponsorship amount it generated was a good Rs 40 crore. This gap was difficult to bridge, as there was no other event of that magnitude last year. Hero Moto Corp strengthened its association with Indian Football by continuing to be the Title Sponsor for the ISL through an investment of around Rs 50 crore. Other than the Title Sponsor, the ISL Central Sponsorship kitty got its much-needed fillip by participation from their other partners. Maruti and DHL were Associate Sponsors while Imperial Blue, Bisleri, SF Sonic Batteries, Britannia, Apollo Tyres, Nivea, Zeven and Dream 11 were the Official Partners of the ISL. It is worth mentioning here that football did deliver 17% more on ground revenue than it did in 2016. After all, it is not every year that you get to host a FIFA event!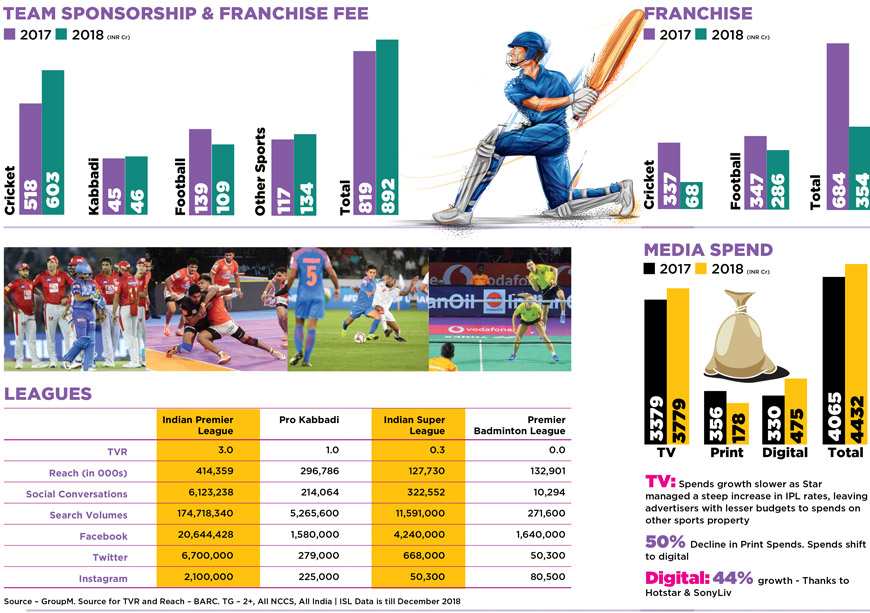 Grabbing opportunities, the Indian way
Kabbadi had a good year in 2018 registering an overall growth of 31% over the previous year. Vivo continued its association with the Pro Kabbadi as Title Sponsor. Starting 2017, Vivo had secured the title rights for PKL for Rs 262 crore for a period of five years. This was at a 100% incremental value from the right holder's previous ask. While the PKL was Powered by Thums Up, the brands that took on the role of Associate Sponsors were Bajaj Electricals, Tata Motors, Gillette, Dream 11, Honda and R R Kabel. The rights of Official Partners went to UltraTech Cement, Britannia, McDowell's No. 1 and HDFC. All these brands contributed to around Rs 90 crore to Central Sponsorship in PKL. This considering the fact that Pro Kabaddi, which was usually a July phenomenon, was moved to October in 2018 courtesy the Asian Games is no mean feat. Cricket no doubt has the biggest money spinner league, but the home-grown contact team sport has shown its potential by surging ahead of football yet again in terms of having the grounds covered.
Miles to go before the tape
Distance running is a trending activity in India that is influencing more and more of us towards a fitness conscious lifestyle. While, it did cross a significant landmark this year – breasting the Rs 100 crore tape for the first time, growth in this area was restricted to 8% over 2017 contrary to the disproportionate performance one might have envisaged. The enablers for this were the entry of new sponsors as well as increase in prices. Tata Sons had hit the ground running ever since it took over the title rights at the prestigious Mumbai Marathon. That's not all, the Tatas are determined to leave a strong footprint on the Indian Marathon scenario as is evident in the group's presence in other prominent running events in the country. The Title Sponsorship of Kolkata 25K was taken by Tata Steel and the 10K Run of the tech-city Bangalore was sponsored by the IT giant Tata Consultancy Services.
Airtel supported the Delhi Half Marathon while the Amity Group took on the title rights for the Gurugram Marathon. Banking on the growing popularity of long distance running in India, IDBI Federal Life Insurance threw in their hat by organizing Full Marathons in New Delhi and Kolkata and Half Marathon in maximum city - Mumbai. All things considered, Distance Running is here for the long run and the course ahead for it looks set for a faster pace than the growths we witnessed in 2018.
Some drag even as you flick
Once the symbol of India's sporting glory, Hockey did face a major disappointment in 2018. The Hockey India League that started in 2013 could not be held in 2018 ostensibly because of a conflict of dates with another event; though financial viability to stake holders was also an issue. However, the silver lining to this debacle is that there is a clear promise that the event will be back in 2019; if that happens then 2018 could well just be the period of quiescence in what could turn out to be a typical 'hockey stick chart'. However, the hockey headline of 2018 is the fact that India had hosted the Hockey World Cup in 2018; the event was successfully held in Odisha with a total of approximately Rs 20 crore ($2.9Mn) being invested by the National Sponsors Hero, BYJU'S, Dream 11, Odisha Tourism, Tata Steel and Sahara. The galleries were packed and great levels of excitement was generated amongst hockey lovers, but it gave a realization that what was at one point of time our golden sport, is now being played out on a smaller canvas.
Emerging leagues – A mixed bag
India had enjoyed great success on the international scene in Badminton in recent years, hence public interest in the sport is on the up. The fourth season of the Premier Badminton League was held successfully with a longer schedule compared to the previous year. This edition saw Pune 7 Aces marking its entry as a new franchise into the PBL. In 2018 the league had 30 matches as against 18 in 2017. Vodafone continued to be the Title Sponsor for the event and paid extra for the additional matches. The league was Powered by Indian Oil and had Spice Jet, Bisleri and Red Bull as Offical Partners. All these brands added around Rs 10 -11 crore ($1.6Mn) to the league.
The second season of the Ultimate Table Tennis coincided with the World's largest sporting event - the FIFA World Cup. It had a leaner format this year and had Ceat continuing to be the Title Sponsor. Kellogg's was the Powered By Sponsor and along with Myntra, Servo and Stag, all these brands contributed Rs 5-6 crore (around $0.8Mn). Fighting with these popular sports for public attention was the Pro-Wrestling League which had its 3rd edition in 2018. While the PWL enjoyed growths, The Super Fight League, however, happened without any major sponsorship support.
There was interesting development from the world of tennis with Pune getting an ATP 250 event- the Maharashtra Open Tennis Tournament. It was one of the preparatory tournaments for the Australian Open and Tata Sons gave its blessings to it as the Title Sponsor. 2018 also saw some golfing action too. The Indian Open was held successfully with Hero Moto Corp as the lead sponsor. The largest two- wheeler manufacturer in the world also supported the Women's Indian Open along with DLF, Castrol, Yes Bank, R&A, Asahi Glass, BMW, Calsberg and Ballantines. The PGTI Partners for 2018 were Incredible India, Rolex and WION.
Premier Futsal, which got kicked off amidst lot of fanfare in 2016, did not happen last year. The Super Boxing League, Cue Slam and the Procam supported P1 Power Racing were among the events that could not be held in 2018. It has been a decade since the inaugural IPL changed cricket for ever. While it changed the gentleman's game, it also showcased a business model that could be replicated in other sports as well. The growth curve that started with the IPL is still on the up and by all projections, will continue to be so. With 2019 having many important events in the sporting calendar, the view from the ground is brighter for the business of Indian sports.
DIGITAL VIEWING: CRICKET VS NON-CRICKET

By Uday Sodhi
Business Head – Digital, Sony Pictures Networks India Pvt Ltd
Digital streaming has shifted fortunes for multi-sport events in India. Last year, we had two of the biggest multi-sport events- the 2018 Commonwealth Games and 2018 Asian Games – which garnered a combined viewership of over 30 million. With 14 hours of daily content, six simultaneous feeds and 18 disciplines, SonyLIV ushered in a new generation of fans and tapped their widening interest for multi-sports.
"I have seen God, he bats at No. 4 for India" – Australian cricketer Mathew Hayden had once said this about our very own Sachin Tendulkar. In hindsight, I believe this underscores the footprint cricket has had in the sports ecosystem. As of today, India's recent Australia tour that went live on SonyLIV emerged as the most watched overseas cricket series for any digital platform in the country with a whopping count of over 50 million viewers. So, to say, that cricket is the most popular sport on the web, isn't an understatement. Improved connectivity and smartphone penetration have altered sports consumption patterns in India and cricket continues to lead this change. With almost 3,000-4,000 live games every year spread across cricket, football, tennis, fight sports, basketball, etc, sports content is SonyLIV's most potential consumption driver. Interestingly, cricket leads this pack with over 70% contribution to viewership.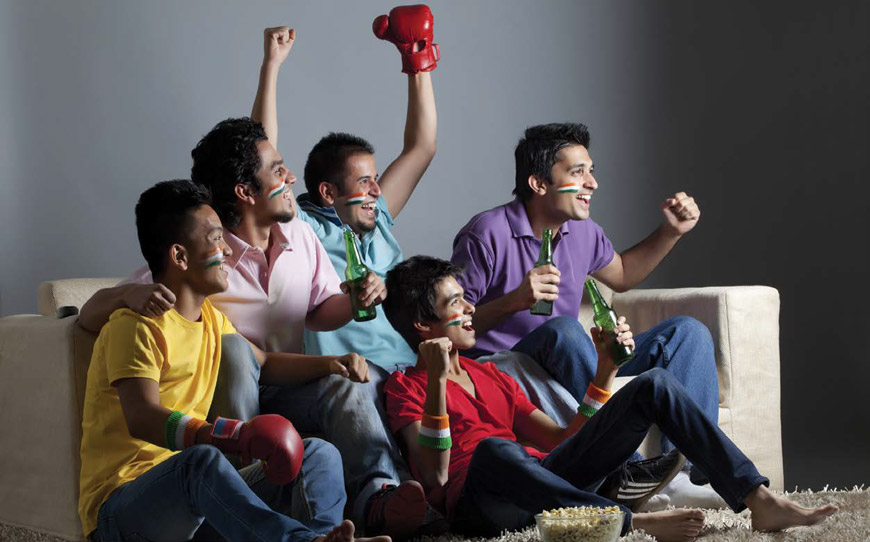 In the last two years, we had four landmark overseas series namely, India Tour of Sri Lanka, India Tour of South Africa, India Tour of England and India Tour of Australia which collectively accounted for a 5X jump in the time spent. While the South Africa tour was watched by 25 million people, the England tour fetched 30 million followed by the highest ever 50 million digital viewers for the India-Australia series. But there's more to this story. Over the last few years, we at SonyLIV have been able to bring mainstream attention to other sporting events like football, basketball and tennis. From bringing the biggest of international tournaments to curating impactful consumer engagement campaigns, we have garnered sizeable interest for 'Non-cricket' sports in the country. Football takes the lead in this category with an organic growth of 4X on SonyLIV. FIFA 2018 was a path-breaking tournament that clocked landmark 70 million viewers, the highest-ever football viewership in India. Not only was this a huge feat in a nation of cricket lovers, the tournament went on to break significant records in live sports streaming. Rise of female audience was a remarkable high which contributed to 17% of the viewership and they were as hooked to the game as their male counterparts.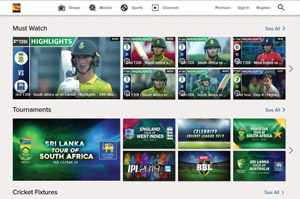 Our six multi-audio streams in regional languages like Hindi, English, Bengali, Malayalam, Tamil and Telugu worked for the consumers who poured in large numbers from metros like Kolkata, Cochin and even cities like Ahmedabad, Lucknow, Pune and Jaipur. This re-instated the fact that sporting events like FIFA are popular across geographies and should be experimented with. Basketball follows in line next. Despite not being as massy a sport as football or cricket, digital trends reflect a rising viewership for basketball. Over the last year, we witnessed a 1.6X jump in viewers and a 7X jump in time spent on the sport with 80% of the target audience being youngsters and professionals within the age bracket of 18-35. Though male audience dominates the category accounting for 90% views, there are indications of a rising female viewership on the radar.
While it's too early to predict its impact, the Pro Volleyball League also made an impressive start in its debut season in terms of viewership. The numbers for the inaugural season of PVL were far better than other sports leagues such as wrestling which proved to be more spectator-friendly. It's interesting to note that 35% of the viewership came from Hindi commentary which is a rarity for a sport that's popular in the South. Similar is the case for World Wrestling Entertainment (WWE) event that witnessed a 3X growth in viewership.
In a nutshell, I feel that the digital landscape is reshaping and more importantly re-telling India's sports culture. And, we at SonyLIV feel proud to be front-runners in this development. Breaking the gender bias in sports viewing, ensuring traction from smaller towns and connecting with the audience through second screen initiatives are some of our milestones in this journey. But there's a long way to go and I reinstate our promise of emerging as the biggest sports destination in India committed to building a new sports environment for one and all.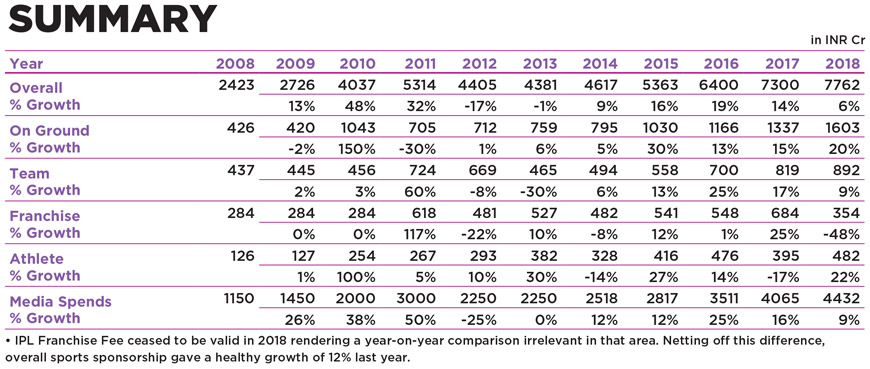 'Brands can create a robust sports fan engagement system, even off season, to get true value'
Vinit Karnik, Business Head, ESP Properties talks to Christina Moniz about the recently released report on sports sponsorship in India by ESP Properties, and outlook for the sports sponsorship and advertising ecosystem in India
Q]

Your report shows a 12% growth in sports sponsorship in 2018, as compared to 14% in 2017. What are the reasons for this?
In 2017, we had a World Cup. Also the Under-17 FIFA tournament coming to India. The year 2018 was a little muted from that standpoint. Now, in a muted year where India also never played in India, with no World Cup tournaments both in football or cricket, and in a year when India played less than 15 matches in India, a 12% increment is a fantastic story. In fact, 2019 will see 15% or perhaps even more growth. You have an IPL this year that is bigger and better, and you also have the ICC Cricket World Cup. Add to that the fact that India is playing almost 25 matches in India this year. So, we don't want to get into projecting a specific number but I am saying it will be definitely higher than 12%.
Q]

Looking at the future of sports sponsorship in our country, what are the three big points that you would like to make?
The first big thing I would want to point out is the significance of the e-sport business. Today if you look at IPL on TV, you have Dream 11 and Mobile Premiere League very active, apart from a couple of other players. This indicates clearly that India is playing a lot of mobile-based sport. Therefore we would want to believe that 2019 will see some kind of an upward trend in the e-sport economy in India. Secondly, the report also points out that some of the non-cricket leagues have already taken a hit and that could be because most of them have followed the IPL model. Some of the sports which have a potential to grow need to re-think the way they would want to structure their leagues. They cannot blindly adopt the IPL model for their leagues. The structuring will need to be more sports dependent than anything else. Thirdly, I don't know whether we will see this in India in 2019, but what is currently missing is fan engagement. That is definitely the need of the hour because there is no structured fan engagement, not even in IPL. That may be something that will shape up this year.
Q]

Looking at 2019 then, what is the overwhelming trend that you foresee in the area of sports sponsorship and advertising in India?
So, growth in 2019 without a doubt is going to be driven by cricket, because of the two massive events – IPL and the World Cup. Moreover, the sporting calendar is event related. So, you might see the numbers of a kabaddi or a football or other sports muted compared to cricket, but they will keep growing. However, cricket is going to be so exponential that 2019 without a doubt is going to be the year of cricket.
Q]

You mentioned that there is a universe of over 200 brands that are looking at endorsement associations with sportspersons. What are the trends that you see among brands leveraging sports in their communication?
So, sports celebrities are partnering with advertisers more than endorsing them only. A plain vanilla endorsement is not something a Virat Kohli or a Dhoni in cricket, and to some extent PV Sindhu in badminton are doing. We have seen them investing in extensions of sporting products and merchandise. For example, you've seen that with certain apparel or perfume brands they endorse. Therefore, what is emerging is more than just endorsement of brands. Today, sports celebrities are a good combination of entrepreneur, endorser, and influencer.
Q]

How could brands better leverage sports to build themselves up?
Brands actually can contribute big time to the whole fan engagement story. So, a great combination of a right holder or a federation working together with an advertiser eventually can create a robust fan engagement system. There are advertisers in sports, which means there are eyeballs in sports. Now, if brands can extend their horizons from plain vanilla advertising on-ground and on TV, and extend to engagement with fans over time in a non-season environment, they will probably see true value.
Q]

We have seen a slowdown in some of the non-cricketing leagues. What would you say are the reasons for that?
Firstly the people who are investing in leagues or launching leagues, must have a long term view. You can't get tired of investing into a league in three to four years. You need to have a 10-year visibility, because any business you possibly invest in, your visibility is long term. Some businesses might give you value back in three to five years, but newer sporting leagues would start giving you value in 10 years. We saw that with the IPL also – it took four to five seasons for it to really take off and show value. Secondly, you need to find certain unique elements in every sport that you can build on. These leagues need to look beyond the IPL model if they have to sustain. They cannot blindly follow the IPL model. Then it's also about marketing that league. These leagues also need to a build a robust fan engagement mechanism, because if there are no fans, there is no sport.
Q]

With so much cricket happening in 2019, will we see lower growth for the other sporting leagues?
I don't think it will get worse, for sure. In a worst case scenario, it might just plateau.
Q]

In the non-cricketing leagues, which ones really look set to grow this year?
Some of the leagues have already created a clear, positive mark. If I had to look at the sports outside of cricket that can really do well this year, they would be the kabaddi, football, wrestling and badminton leagues. These definitely have a high potential to scale up.
Q]

What are the challenges you see in sports sponsorship and what are the areas of improvement in this space?
I would not call them challenges. The emerging sports economy, which largely covers the leagues that are not cricket, are growing at a steady pace in the team sponsorship space. That's the reason why cricket has reached where it has today. So if you look at on-ground, cricket grew by 34% but overall growth is 20%. So what is bringing that growth down from 34 to 20? It is the emerging leagues because they are not scaling up as much as cricket is scaling up. Cricket today has reached where it has because of almost four decades of investment. Many of these leagues have been around only for six or seven years. Therefore, you have to give them at least 10-12 years. The very fact that they are even attracting some advertising dollars is an encouraging sign. As far as improvement is concerned, broadcasters today are also doing their bit as is the Government. This means that we have finally realised how important sports is to the development of the individual and the nation.
Q]

What are the other sports that may yet be brought into the sponsorship ecosystem?
There is the Kho Kho League coming up. It's too early to say if it will work or not. But we need to keep in mind that India is culturally a very different nation from any market in the West. If you look at the Volleyball League this year (we haven't covered it in the report since it has happened now in 2019), it took place only in two States – Kerala and Tamil Nadu. India could very well be a story from a sporting standpoint. Look at the ISL too! It does extremely well in States like Goa, West Bengal and the North-east but not really in places like Mumbai and Delhi. And if you think about it, since we are such a large, densely populated country, the numbers in a Goa and West Bengal could very well be the equivalent of a smaller European country. This is also why our broadcasters are going regional too. There could be sporting leagues aligned to certain markets in India and that is fine. Not everything needs to be of national interest.