As an industry, there are multiple awards that felicitate the individual achievements of young talent, as well as super-achievers with decades of experience, who are the stalwarts of the industry. But, there is a level of achievers in between – people who have significantly made their mark and are still below 40 years of age. These are people who have experience under their belt and are already emerging as leaders, either heading their organisations or being in the senior management. They are clearly on the trajectory of stepping into the category of the industry's top leaders. Many among them are young entrepreneurs, as the growth of Digital has seen a spurt of entrepreneurship with new age companies being headed by people in their 20s and 30s. Therefore, the IMPACT 40 Under Forty list.
THE JURY DELIBERATIONS
A shortlist of 114 names was presented to the jury and this comprised comprehensive profiles of each nominee on the list. While deliberating on the nominees, the jury members looked at people who went beyond what was their job profile. For instance, while a great campaign was applauded, the jury members looked to understand whether it was just a part of the normal job profile or whether the person was innovative, had taken a well-calculated and educated risk and done something out of the box. The jury also took into account the differentiator - how had the person's work added back to the industry? Explains Jury Chair Apurva Purohit, President, Jagran Prakashan, "We didn't reward people who are excellent at their jobs because that is very much the expectation. We rewarded people who have done something beyond being excellent at their job, which is either developing a new way of working, being innovative in the creative or media space or even being entrepreneurs and setting up a new business."
Talking about variety in the nominee list, jury member Hemant Mehta, Chief Strategy Officer, Kantar South Asia & MD, Media|Digital, Kantar IMRB says, "We saw entries from a wide range of fields - creative, digital, account management, brand management, you name it and we had it. That was the beauty of it. It was not driven by the known names alone, we had a variety of companies of various sizes, promoters, founders, start-ups and established brands. It was a fantastic mix."
The jury looked at people who had been persistent and consistent over a period of time, how they had built their brand or company and the difference they had made to it. Says jury member Agnello Dias, Co-Founder & Chief Creative Officer, Taproot Dentsu, "It was an interesting jury process with a lot of deliberation with other jury members. The conversation we had was beyond the merits or demerits of the work. In this age group, we saw a lot of entrepreneurship, particularly in the Digital space." Adds another jury member, Zulfiqar Khan, Managing Director, Hooq India, "The first thought that came to my mind was that there should be more such initiatives as this helps us invest into the future. These are the people who are going to shape the tomorrow that we will live in. It was very interesting to see the different entries – entrepreneurs, people in the corporate space, people from media and marketing. It was a great mix."
As for the process, jury member Yashaswini Samat, Chairman and MD, Grey Group India comments, "The jury meet gave us enough time to assess all the people on the list, figure out some key attributes on how are we going to judge them and we had a very democratic system of judging by numbers first. After that, we layered it with a lot of qualitative discussions on people who were at the top or bottom of the list. It was interesting to see the kind of talent we have in the country." Jury member Sanjay Tripathy, Co-founder & CEO, Agilio Labs says if the list was compiled a few years earlier, it would be very different: "The first thing which struck me was that the list is very divergent. If this has been done five years back, the list would have comprised people from the agencies and the marketing community. However, now for the first time, we have a lot of founders, self-made people. It was tough to judge as there was work from the agency side, the client side as well as entrepreneurs who built their company from scratch." The most significant insight in the inaugural issue of IMPACT's 40 Under Forty list is the fact that more than a third of it is made up of entrepreneurs. "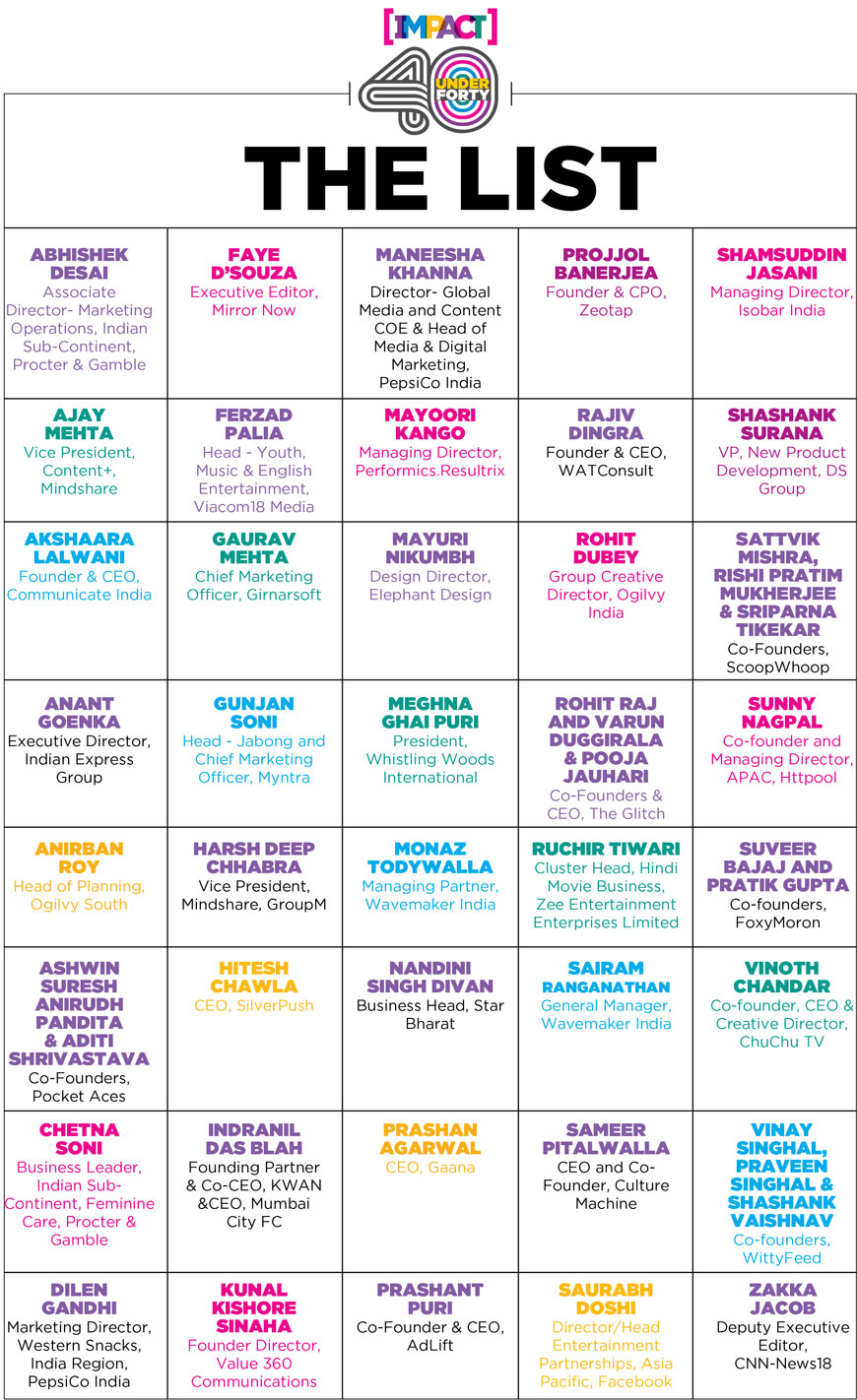 THE MAKING OF A LEADER
With an increasing number of young leaders and entrepreneurs making their presence felt in the industry, we take a look at the persona of a young leader and analyse what older leaders can learn from the younger lot and vice versa

Tradition dictates that the person at the helm of any organization or business is someone who has substantial experience under his belt. However, this age-old paradigm has seen a dramatic shift in the start-up era, with young blood now not just at senior management positions but also occupying the corner office. The last decade has seen many youngsters donning the entrepreneurial hat and launching their own companies, growing them and even selling out at a huge profit in some cases. So, in the fast-changing world, particularly in the media space, we pose the question – 'What does each generation bring to the table and do Young Turks have an edge in an era where Digital has become all-encompassing?' Finally, what does one generation learn from another?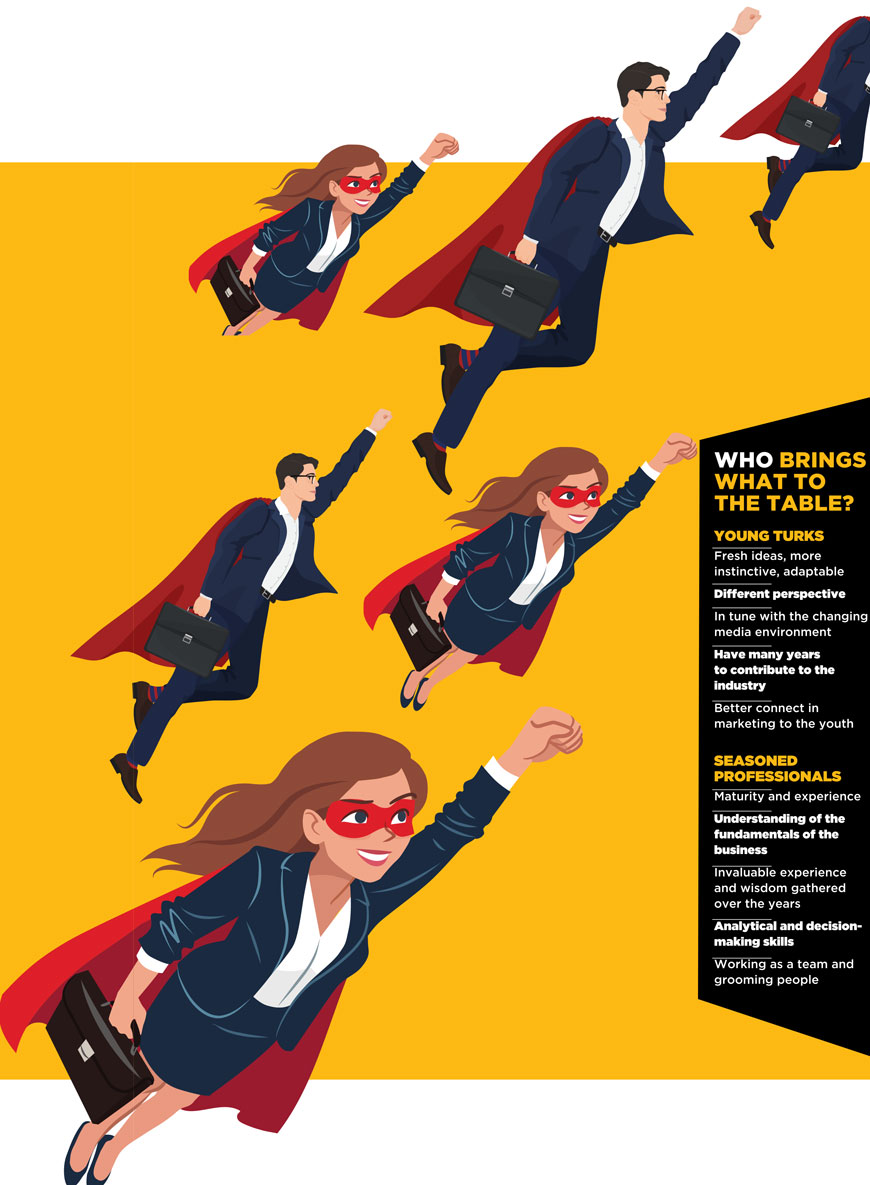 THE YOUTH CONNECT
What must be highlighted right at the start is India's youth demographic, as data from the 2011 Census (the latest available) shows that India is overwhelmingly young, as 41% of its population is below the age of 20. This is a point raised by Hemant Mehta, Chief Strategy Officer, Kantar South Asia & MD, Media|Digital, Kantar IMRB who says that as we are marketing to the youth, young leaders are at an advantage. "The key is that we are a very young nation. We are marketing or talking to the younger consumers. Therefore, a young leader is able to connect much better with customers and employees," he adds.
Hiren Gada, CEO, Shemaroo Entertainment says that many young leaders have created a big impact today and they are capable of taking any business ahead. He adds, "People who are in the under-40 age group are at a cusp, as they have adequate experience backing them and still have many years ahead of them. This is a potent age group."
This is a sentiment that Malay Dikshit, Chief Communications Officer, Tata Sky echoes. He says, "A young leader has got more time on his side, more time to learn, to unlearn. This is a time when there has been a rapid technological change and changes in media, marketing techniques, and in people's consumption. In this scenario, to learn and unlearn is a virtue. In that sense, the younger guys stand to gain, and the older guys bring in their maturity, steadiness and wisdom which the younger generation can quickly imbibe."
Adds Sanjay Tripathy, Co-founder & CEO, Agilio Labs, "A young leader has got less baggage; so he/she generally tries to work more from intuition, optimistic about succeeding even under bad circumstances compared to older leaders who generally go more by their experience. A young leader also brings in a lot of energy and enthusiasm to the job. Also, many companies that are making news and are talked about are pretty young and the average age of an employee is coming down. So, young leaders connect with the workforce much better, and thus the youth too connect with them."
This connection also helps the younger generation adapt more quickly, says Avinash Pandey, COO, ABP News: "The younger lot is more adaptable than the older lot. Their high adaptability makes them master innovators. Though being innovative has nothing to do with age, unfortunately that's how it ends up."

LESSONS LEARNT
However, there is one fact that just cannot be debated - experience is invaluable and so are the lessons learnt on the way up. Agnello Dias, Co-Founder & Chief Creative Officer, Taproot Dentsu says that having an experienced leader on board means that you can be assured of reaching the stated goal. He says, "An experienced leader brings with him the pragmatism of having learnt from failure. A young leader is probably unafraid of failure compared to an older leader, so he is likely to go to newer places, but an older leader is likely to go to places where you are pretty much sure of reaching a destination. That's the difference between the two."
Talking of the value of sharing wisdom, Apurva Purohit, President, Jagran Prakashan, says, "Everybody comes with his or her own set of talents. The experienced leader has the wisdom of having seen the ups and downs and that experience and wisdom is something that he can share with youngsters. However, the younger leaders are easily able to straddle the new age digital world as well as the more traditional world."
BEST OF BOTH WORLDS
With the blurring of lines around who occupies the top chair, there is a lot that both young and older leaders can learn from one another, says Ronita Mitra, Founder, Brand Eagle Consulting, adding that the definition of old versus new has changed, as has the definition of the experienced versus the not-so-experienced. She explains, "The world is moving so fast that there are new areas coming up. You could have one generation experienced in a particular area, whereas the younger ones could be experienced in a completely different area. There is a lot of mutual exclusivity today and there is a need for both generations to imbibe what the other has. The experienced lot needs to learn some technical skills, and the younger ones will need to hone skills such as analytics, decision-making, working with people, grooming people, using people to be able to make decisions and not necessarily work independently."
Commenting on the marriage between experience and youth, LV Krishnan, CEO, TAM Media Research says, "The only difference between the two age groups is their level of experience. The older ones come with experience but that can also be baggage, while the younger ones are unexposed to the real world, and therefore they may have better creative ideas than the experienced person. But, I think a mix of the experience and youthfulness of new, beaming ideas can help brew a lot of innovations."
Yashaswini Samat, Chairman and MD, Grey Group India stresses on the balance of both generations of leaders. She says, "Both bring different things to the party and we probably need a good balance of both. The young ones are more familiar with today's environment and world such as Digital, how young people interact with brands and media. The youngsters are much more in tune with the need for change and disruption but, I think the older people understand the business a little better. The fundamentals of our business are not going to change, but the wrapping needs to be different. The combination of this is probably what would be best for success."
On his part, Dinesh Menon, Chief Marketing Officer, State Bank of India says, "I don't differentiate between young and old. It's about how much energy you bring to the brand and to the entire process of brand-building. While youngsters bring in fresh ideas, they may probably overlook steps in the process of brand development. The younger ones have a completely different perspective, as they are digitally tuned, they have a different world view on how brands should be developed."
SO, WHO IS A LEADER?
This leads to the question, what defines a leader and what are the qualities he/she should possess? For the young entrepreneur, Suveer Bajaj, Cofounder, FoxyMoron, it's all about the long-term goals. "Feeling overwhelmed, disorganization and the inability to make decisions are issues often faced by leaders. A strong leader requires a clear vision and strong capability to implement it for long-term success of any organization," he says.
For Gunjan Soni, Head - Jabong and Chief Marketing Officer – Myntra, leadership is a choice and not just a position. She says, "I believe leadership is a way of thinking and behaving that brings out the highest potential in yourself and people around you. While I can name many qualities of a leader, one that towers over all others is integrity. Without this, no success is really meaningful, no matter where you are - in a football team, Army or in an office. Most inspiring leaders tend to be visionaries and problem-solvers who are available to their teams. The day your team stops bringing you their problems is the day you have stopped leading them!"
However, apart from the professional skillsets and goals, one mustn't forget the importance of soft skills for a leader. Highlighting this is Shamsuddin Jasani, Managing Director Isobar India, Practice Head Media and Programmatic Isobar APAC, Exec Sponsor AMNET India who says, "The two most important qualities a leader must possess are empathy and selflessness. You need to have empathy for your team, to be able to put yourself in their shoes and think how you can inspire them to give their best. And one needs to be selfless too. The only way you can be a great leader is by making yourself redundant. How can you empower, inspire and work with your team to make sure that they are able to work and deliver without needing your constant help? They need to blossom and challenge you to improve and be better. If you are able to do that, you will be a great leader."
Agreeing with Jasani, Projjol Banerjea, Founder & CPO, Zeotap says, "In a fast approaching age of automation and autonomous decision-making, I believe there will be a shift in the skills required to be a successful leader. As some of the harder aspects of leadership give way to 'intelligent' machines, the softer elements will come to the forefront, including foresight, perspective, communication, creativity and adaptability. In particular, critical thinking and ethical fortitude will be fundamental to not just envisioning but leading the way to a better tomorrow."

BUILDING A NEW GEN OF LEADERS
A true hallmark for a great leader is not just building a team but mentoring and laying a foundation for the Next Gen of leaders. What's critical is understanding the individuality of every member, grooming them and then helping align their career goals with that of the organization. This will not only help the individual grow but also propel the growth of the company and for this, a leader has to assume the mantle of a mentor.
Explaining her approach, Mayoori Kango, Managing Director, Performics.Resultrix says, "There is no single way to mentor. You have to mentor on the basis of the mentee, their strengths and their weaknesses are unique… I tell them that it is not about buying media, but how you can solve a business problem using media. I also tell them not to be bogged down by titles and positions and if they have a valid opinion, they must voice it; be it to their seniors, clients or CEOs."
Another trait that a great leader possesses is encouraging the team to be decision-makers - in simple words, empowering the team. Indranil Das Blah, Founding Partner & Co-CEO at KWAN and CEO- Mumbai City FC says, "My style with my team is to empower them. It's okay if they make mistakes, the idea is to learn from them. So the people who work with me usually function with a lot of autonomy. And thus far, this style has worked well for me and them!"
Reiterating this is Hitesh Chawla, CEO, SilverPush who says, "Setting clear goals for the team, and not micro-managing them is important. They should know the bigger vision and how their work contributes towards achieving that. Also, provide them with a clear set of principles, which become like a roadmap for them to achieve their goals."
REVERSE MENTORING
While the concept of reverse mentoring has been in vogue in many companies for a while now, what's interesting is that many young leaders, who are below 40, also see the benefits of this. For instance Ferzad Palia, Head - Youth, Music & English Entertainment Viacom18 Media says that it is the youngsters in his team who mentor him. "I love to be mentored by them. They're often the ones with some great out-of-the-box ideas. The best way to mentor young people is to listen to what they have to say, help them develop the ideas they have by being a sounding board and encouraging them to explore all possible avenues to turn those ideas into successful projects."
Learning from the younger members of the team can aid in creating a learning environment says Ruchir Tiwari, Cluster Head, Hindi Movie Business, ZEEL. He says, "In today's day and age, I learn from young colleagues! Gone are the days of micro-managing youngsters. Instead of strong-arming them, I listen to their ideas, identify their core strength areas and provide them with the relevant opportunities to shine, grow and enable cross-training to foster a cohesive learning environment. It is also important to arm the team with the autonomy to make decisions, fail and learn." This also means that errors will be made, but as the old saying goes, failure is the key to success. Says Rajiv Dingra, Founder and CEO, WATConsult, "I believe in backing youngsters' ideas and beliefs even if they are contrary to mine. The only way you can lead is by backing others to take risks and challenge themselves even if it leads to mistakes."