We meet NP Singh, MD and CEO of Sony Pictures Networks India (SPNI), the same day that he has landed in Mumbai from a trip abroad. Jet-lagged and sleep-deprived but ever his good-humoured self, Singh jokes that the tagline #SonaManaHai (that urges viewers to stay awake to watch the ongoing UEFA Champions League on the network's sports channels) applies to him as well. If the sports portfolio, rather exit of the money-churner Indian Premier League (IPL) from it, kept Singh awake a couple of years ago, that is no longer the case. Today, having created a profitable multi-sport milieu on the back of premium sports properties, coupled with strategic moves across offerings in the entertainment space and creation of alternative revenue streams, the network has not only recouped its losses, but grown over it, and beyond, albeit in a quiet manner.

"We have rights to some premier sports properties, be it cricket or football, NBA, UFC, etc… All that put together, along with WWE which has a very consistent rating throughout the year, we have done well to not just make up the revenue of IPL, but more than that," says Singh. "The network's growth has been in high double digits, in the 20s year on year." Outside the bounds of cricket, SPNI has recently picked up the rights of Rugby World Cup and UEFA Champions League, and puts out its sports content in multiple regional language feeds as well. Interestingly, the sports network has managed to grow eyeballs even in Tier II and Tier III markets, along with growth of female viewership.



Meanwhile, SPNI's OTT platform SonyLIV has been backing the effort with a second screen option for consumers on the move. For the content that it offers, SonyLIV has crossed 100 million monthly active users (MAUs) in August. Though Singh doesn't see the OTT platform cannibalise television viewership, at least in the short term, he plans to make sure that there is enough on the SonyLIV platform to keep viewers occupied, and increase its consumption. "Our intent is to ramp it up quite a bit in the next 12 months' time. You will see a lot of new titles been launched on SonyLIV," he says. "We will continue to enjoy an edge over our competitors for the kind of content that we have exclusively on Sony LIV, which will not be available on other platforms."

Meanwhile, the network has also stabilized quickly in the changing regulatory environment after implementation of the Telecom Regulatory Authority of India's New Tariff Order (NTO), and that gives Singh reason to cheer.

BANKING ON SEASONED PLAYERS
Sony's flagship channel, Sony Entertainment Television (SET), has done well in the past couple of years. Non-fiction shows such as 'Kaun Banega Crorepati', 'Super Dancer,' 'The Kapil Sharma Show' and more recently 'Superstar Singer' are doing extremely well. Among the fiction shows, 'Patiala Babes', 'Ladies Special', 'Yeh Un Dinon Ki Baat Hai' have been significant contributors. "Now we have launched two new shows. 'Tara From Satara' has opened up well. So, it's been a good run for the flagship," says Singh.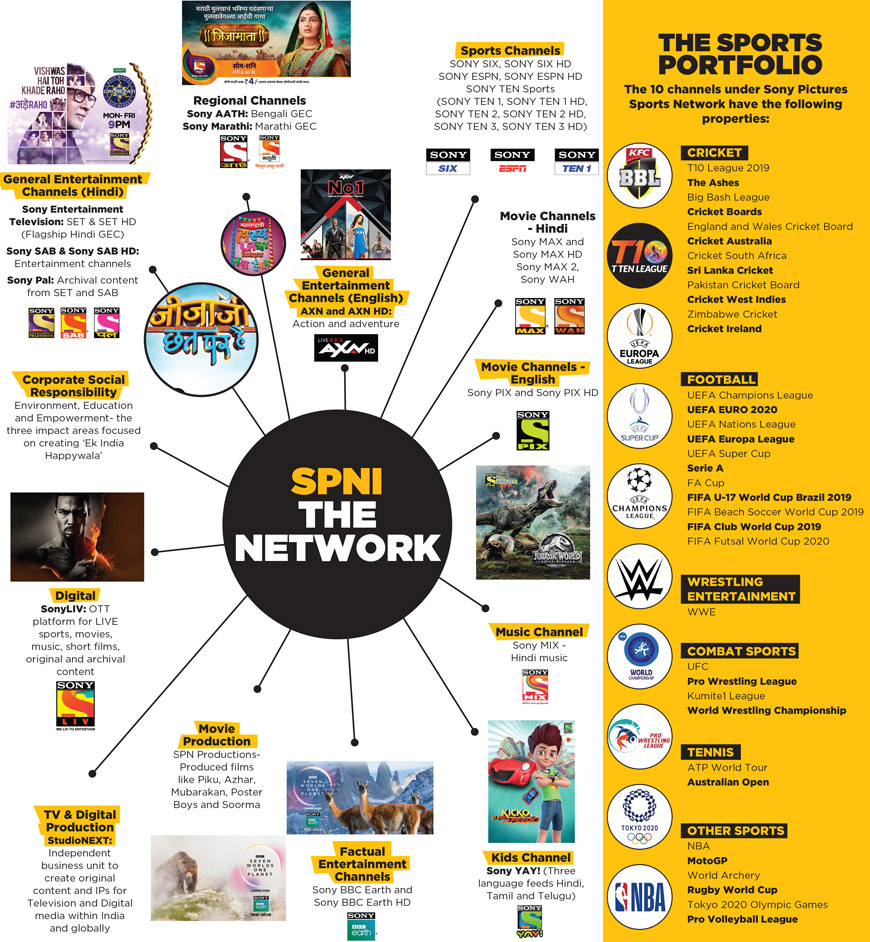 The other significant GEC, Sony SAB, has been at the forefront of bringing about newness in content, and according to Singh, is an extremely important asset. "Now it's among the top three and in a few weeks, it will reach No.2 in the Hindi GEC genre. It has a significant contribution to the topline, and fairly significant contribution to the bottomline as well," says Singh. As per last week's BARC viewership ratings – week 37, 2019 – SET and Sony SAB held second and third positions in the paid Hindi GEC (Urban) segment.

Relatively younger properties such as kids channel SonyYAY! are also faring well for the network; and with its focus on a younger audience, the channel has gained a position among the top 5 kids' channels, holding the third spot in the 37th week of BARC ratings. Singh calls out the names of original characters such as 'Honey Bunny,' 'Sab Jholmaal Hai,' and 'Guru Bhole' that have resonated well with kids and given rise to the demand for more IPs. "We are in the process of creating more IPs, and also in the process of acquiring a few IPs," Singh says.

LOOKING AT THE DEBUTANTS
While the going is good, team SPNI is not resting on its laurels and is constantly working on innovations, especially in the entertainment space, in a bid to generate new revenue streams for the 24-year-old network. One such initiative is a merchandising business with SonyYAY.

Elsewhere, SPNI's content production arm, StudioNEXT, launched in 2018, has given the network the ability to produce more in-house content, for instance Kaun Banega Crorepati (KBC) Seasons 10 and 11. Having produced KBC in Kashmiri language for the channel DD Kashmir, StudioNEXT is already working on multiple concepts for production, including fiction and non-fiction shows, meant for both Television as well as OTT platforms. "It started small, but very quickly it has ramped up. Very soon, it will become a significant part of our business," says Singh, adding that there would be a lot of activity from the content division in the next six months.

Another move that paid off last year was the gamification of content, a highly successful piece being KBC Play Along on SonyLIV, to increase engagement with viewers on the OTT platform. Plans are afoot to create games around many more shows across the network to gain more viewer engagement.

Also, a small but significant step has been closed captioning for some shows on the network to make them inclusive. "The Government had been thinking about it and now they have come out with directions on the subject, but we decided that it's important for us to appeal to all sections of viewers. We should not exclude any viewers from enjoying the content that we put up on our channels, which is why we decided to have subtitles on some of our shows, and we will continue to do so in future," Singh says.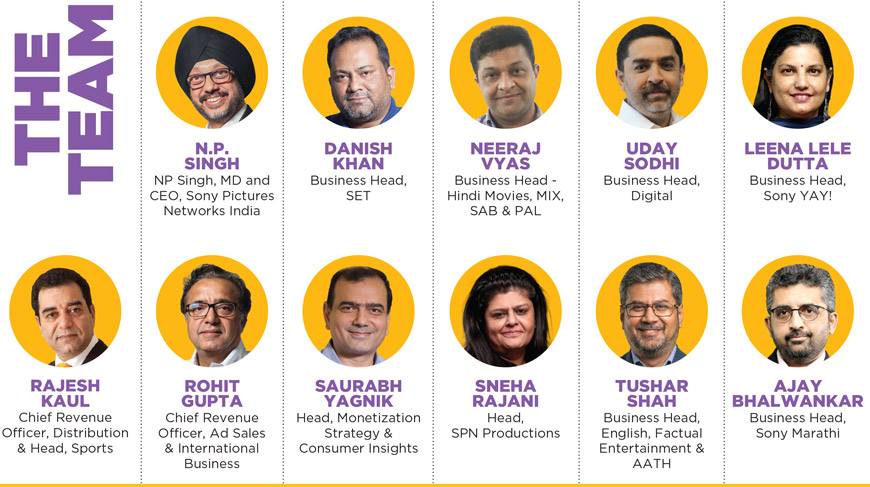 TUNING IN TO NEW TARIFFS
Like everyone else in the broadcast sector, it hasn't been roses all the way for SPNI this year, with implementation of TRAI's new tariff order that was meant to pass on the power of choice to the consumer, and help bring about transparency in the broadcast system. While consumers are still having a tough time grappling with the NTO, SPNI is beginning to see normalcy in terms of subscriptions and advertising revenues, even as its larger competitors are yet to figure their way around the new system.

"I would not say that we have grown tremendously from where we were, but from the pre-regime to post regime, first we saw a major decline, which you can expect in a major change like this, but now we have actually come up to where we were before NTO implementation and gone a little bit higher," says Singh, adding, "Transparency in the system was required, and NTO brought that transparency."

Sony SAB, especially, has had a great run in the post-NTO regime, and that Singh attributes entirely to its differentiated content. Sony Pix saw a bit of disruption in viewership, but it is expected to catch up over the next few months.

SPNI discontinued three HD channels - Sony Rox HD, Le Plex HD & Ten Golf HD – due to low viewership in December 2018, apparently following an evaluation of the overall channel portfolio to decide on the ones that it wanted to retain and carry into the NTO regime. "We have seen a huge uptake in consumption of HD content, not just in sports, but factual entertainment, Hindi general entertainment, Hindi movies, English movies across the board. That is also reflected in the subscriptions we got for our HD channels," says Singh. "But it was a considered call to shut down the three channels because they were already not resonating as well with viewers. Post NTO, it would have been difficult to get subscription for those channels."

In the post-NTO regime, some broadcasters have the view that if previous subscribers are deprived of the content they are used to watching, then they'll shift to pay TV. They're seeing how beneficial it is to have a subscriber base, because subscriptions have shot up. However, there is a broader slowdown that everyone's witnessing too... The festive season might bring back some advertisers, especially for the flagship channels. "Sony SAB has its flagship programme, Tarak Mehta ka Oolta Chashma, which has been running for years. It is different from all the other channels, so people will be willing to pay for it. And if you're paying for SET and SAB, then you might as well go for the entire bundle, because that ends up being more economical," an industry observer who does not wish to be named says.

In the current scenario, the one word describing the need of the hour for Singh is 'stability'. "All we are seeking at this stage is a stable regime where we can carry on our business, and get people to subscribe to our content," he says.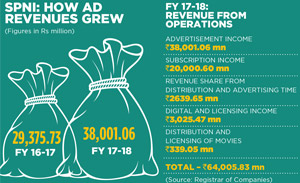 MAPPING THE ROAD AHEAD
Singh's plans for the network include consolidating SPNI's leadership position in the Hindi GEC and Hindi movies space, along with heavy investment on technology, content and marketing for SonyLIV. He is also keen to explore new revenue streams and new pathways for the business, and provide innovative solutions to advertisers. What made news recently was a deep integration of brand TikTok in the show Tera Kya Hoga Alia on Sony SAB, and Singh is keen that SPNI provides more such brand solutions to its advertisers. "Advertisers are looking for a deeper engagement with viewers, not merely pure play advertising, and that can come through brand solutions, but without being intrusive, without being in your face," he says. "We have a brand solutions team in-house that is constantly working with our clients. Our objective is to go meet the clients and understand their needs. And then convert their needs into executable ideas for their brands on our networks. We have been very successful so far, and will continue to work alongside our clients and make sure that their needs are fulfilled."
As for taking on more and more competition in the industry, Singh says, "More competition grows the market. So, it's good news for existing and new players."

ON GETTING INTO MORE LANGUAGES
Marathi is one language that we got into last year… And it's been a good start for the channel. Aath has been around for 11 years; it's No. 4 in Bangla language, and profitable. We have launched Tamil and Telugu content on SonyLIV. With Marathi content coming out of Television, plus the Bangla language content, we have four languages currently on SonyLIV. In addition, we have a lot of our other content on SonyYay! and on Sony BBC Earth in multiple languages, which also is available on SonyLIV. In future, we plan to get other languages as well on SonyLIV and also on the podcast network. There is tremendous growth in regional language markets, and we want to tap into that growth as well.

ON ALWAYS SEEKING THE NEXT BIG IDEA
We encourage innovation and risk-taking at SPNI. Wherever possible, I personally communicate this message across the organization, because unless you innovate, unless you take risks, you will not come up with the next big idea. And that next big idea is something that we are always seeking. We encourage a culture of empowerment in the organization where people are free to think and communicate their ideas to their managers and leaders including me. I personally reach out to people to get ideas on board from them. We are able to attract a lot of good quality talent to the company. The very fact that we have a lot of ex-employees coming back speaks a lot about the transparent culture in the organization, which also helps us deliver results to our stakeholders.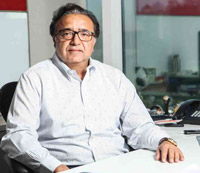 'We've maintained the pace of growing our revenue…'
Sony Pictures Networks India is doing extremely well on the revenue front on the back of strong performances of the channels. So, we lead despite the slowdown. We've maintained the pace of growing our revenue over the last 3-4 years. For example, KBC, the number one show on Sony Entertainment Television, commands Rs 3.5 lakh for a 10-second ad spot, compared to Rs 3 lakh earlier.

"We used to talk gross, now we talk net… We focus on smaller, mid-level brands and help them grow.

"Advertisers now know that the ratings are real…This has been a tough year post NTO. The industry is going through a major change. But our revenues are very stable. It's the first time that we are talking to a consumer directly where he/she has the option to pick one channel/bouquet or the other. Advertisers associating with you know that these are the real ratings, these are the actual people who subscribe and pay for channels. Sony has come out the best post NTO, and next year we will be in a far better situation. We will be able to ramp up our ratings.

ROHIT GUPTA
Chief Revenue Officer - Ad Sales and International Business, Sony Pictures Networks India