The 87-year-old Sakal Media Group, committed to its philosophy of giving back to society, is on the threshold of change. "We changed our media model, and started working on it about five years ago," says Abhijit Pawar, Chairman of AP Globale and Managing Director of the Sakal Media Group, mentioning the S.I.M.A.C.E.S (Skilling and Education, Impact Funding, Media, Advisory, Community, Events and Special Projects) framework that the company has adopted, to drive a purpose beyond business. "Now we're talking of a database and the ability to influence it; and then giving it as a curated platform to agencies and marketers."
ABILITY TO INFLUENCE

Upbeat about the fact that both Prime Minister Narendra Modi and Congress chief Rahul Gandhi chose to give their first interviews in Maharashtra to Sakal during the Lok Sabha Elections 2019, Pawar says, "The first regional newspaper interview that Modiji gave in the country was to Sakal. To reach out to Maharashtra, he reached out to us - not only No. 1 in terms of numbers (circulation), but also in the ability to influence. Rahul Gandhi also chose to reach out to Maharashtra only through Sakal, and not any other publication. The political parties know what's happening on the ground and have a better perspective of the media and the people than perhaps anybody else. This proves who is the true No. 1 media house in Maharashtra."
THE NUMBERS PARADOX

While Sakal tops the latest circulation charts of Marathi language newspapers put out by the Audit Bureau of Circulation, with 1.3 million circulation, the IRS 2019 Q1 data puts competition Lokmat at 19,691 (total readership) compared to 11,841 for Daily Sakal for the same period. But Pawar does not think the recently released readership survey presents an accurate picture of newspapers in India. To him, numbers are not important as long as there is clear evidence of reach. "Through our agricultural newspaper Agrowon, we reach about 80% of the progressive farmers in Maharashtra. If Agrowon publishes anything on agriculture, historically it has made a huge impact. Its ability to influence farmers is unprecedented. Unfortunately, the readership survey doesn't capture all this. When I look at the Agrowon numbers, it's hard to understand why the readership is less than the number of copies printed. On the contrary, Agrowon is a collector's item for the farmers and most of them retain the copies as well. In village after village, the papers are even read out loudly for public consumption. The Maharashtra Government and the National Skill Development Corporation (NSDC) recently gave us a project to train 3,00,000 farmers in the State as the first pilot in the country, for a large scale programme. Why would we be the only player to be approached by the Government for such a large programme, if we were not reaching almost all the farmers of the State?" asks Pawar. "It does not stop here. We are also helping them form farmer-producer companies (FPCs). These FPCs are going to receive funding from the World Bank as well as the Government. To any marketer, what better opportunity is there than this? You cover every corner of Maharashtra, where there's agriculture and a rural market."
Meanwhile, Pawar is emphatic that he will not reach out to farmers and sell them something that's not good for them; instead he will try to give them something that will benefit the entire ecosystem. "The Government and the people trust us and it speaks volumes about our credibility and reach that we're able to do a project like this. Today, we have the ability to influence and reach rural Maharashtra. Similarly, we have many opportunities on the urban side through products that we develop for municipal corporations of various cities of Maharashtra, for example the DigiThane project. We work closely with the corporations of Thane and Pimpri Chinchwad, helping them to provide intelligently active (beyond reactive and pro-active) services to all residents of those cities. This means that through the corporations, we can reach out to the legally allowed database and help strengthen the communication bridge between the Government and the people," Pawar says.
THE SOCIAL NETWORK

The Sakal Media Group has a young inspirators network in almost every college of Maharashtra. "To tap into that 18-24 age group, every year we have a massive network on the ground where we have access to over 20 lakh kids. We have Tanishka which is our women's network through which we have access to over 60 lakh women. We have done projects funded by the likes of Google and Tata Trust using these networks. The key is, if you want to reach out to the State, influence and do something socially responsible, and be a part of a positive impact ecosystem, we are the people you need to talk to. That's the message I want to give marketers. We'll create unique solutions, not just media, customised to individual requirements wherein if you have a good product or service which is needed by the consumers, we can collaborate to reach out and influence these audiences," Pawar says.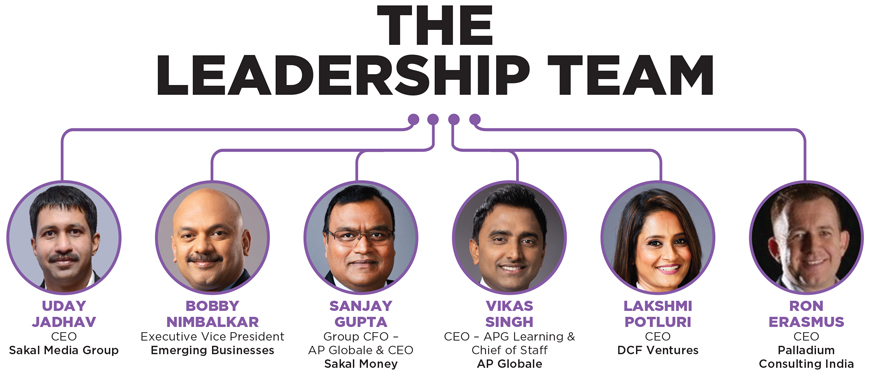 PAWAR-ED BY THE RIGHT PEOPLEAbhijit Pawar
operates with a core team of people whose philosophy matches his. He relates the extraordinary story of Vikas Singh, currently Chief of Staff, AP Globale, and how he came to be in the company. Born in a small village in UP, with no access to education, Singh had joined an all-girls' school set up by his mother. He went on to Allahabad University, and did well until his father asked him to take up a job to support the family. Thanks to a misleading ad, Singh ended up as a security guard at Reliance, and also had to sign a bond. Unable to pay off the bond, he started doing his job well and adding to his skills. He was noticed by his boss, and one day, when a Goldman Sachs company director asked for two research analysts, one of the people the boss recommended was Singh. He landed the job on condition that he would learn English in six months. Eventually, he became the first Goldman Sachs employee from India to get a scholarship of Rs 2 crore to study at the Booth School of Business, Chicago and one of the youngest directors in the company. "Vikas quit his top level job and joined us. The reason I love his journey is because there is a 'Vikas' in every village of India, waiting to be discovered…," says Pawar. "What I am looking for are stories like these. What can we as a group do to find these Vikas-es in the society, and then mould them to not become greedy money-hungry monsters. The reason I got to know of him was because he wanted to do something for his village in UP and take care of his parents; i.e., give back to society. There, he has created a food delivery business with a Rs 12 crore turnover! I need people like him. Otherwise, no matter what ecosystem I create, who is going to deliver on it?"

Pawar also talks of company CFO Sanjay Gupta, who too has turned entrepreneur, launching 'Sakal Money'. "Our aim is to take the privileges that we have and give it to our readers. Bobby Nimbalkar who heads our advisory business was a volunteer for one of our social activities. We have co-founder of Jabong, Lakshmi Potluri, who now heads our start-up division to identify impact companies. All these are highly qualified people, with their heart in the right place. Attracting talent is not a problem; but when placed in the actual situation, it's a fight that not everyone can survive," he adds. The latest addition to the team is Ron Erasmus, CEO of Palladium Consulting India, who brings a strategic yet practical acumen in organisational and cultural change for complex and challenging work environments.