The ban on TikTok was perhaps the biggest boon for homegrown apps hoping to traverse into the short form video space. The void left by TikTok was lucrative enough to incite a scramble for its share. Several players mushroomed and millions were pumped into the short-video ecosystem which is now fragmented. TikTok left an indelible mark on the ecosystem as it led to category creation for marketers wanting to tap new age India; it also brought people from tier II, III and IV cities into the mainstream fold thereby opening up markets hitherto untapped. By December 2020, as per a report by Redseer, 40% of TikTok's India market was captured by homegrown apps. So much was the demand in India that we even managed to beat China in content consumption. However the question is eight months later, can the homegrown platforms and some non-Chinese global brands who enjoy popularity in the short form video space supersede the success of TikTok within the country.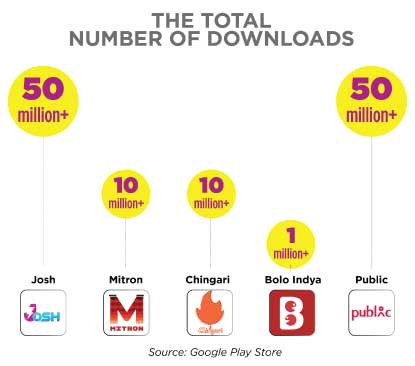 Walking in the shadow of TikTok
The platforms which have sprouted in the last eight months have their task cut out for them. With multiple players vying for the same pie, and TikTok influencers opting for YouTube or Instagram increasingly, they have no time to relax.
Prasanjeet Dutta Baruah, Vertical Head - Tech, Telecom, Education, Health and Automotive, Facebook India says, "It has just been six months since Reels came to India, but the traction we're seeing is incredible. People were telling us they wanted to make and watch short form, edited video on Instagram - and we thought there was an opportunity to build our version of this in a way that makes it even more powerful. India was one of the first markets where we launched Reels and it now has its own dedicated tab in the app."
For example, Reels has launched many updates. These include - extending the recording time limit up to 30 seconds; extending the countdown timer to 10 seconds while recording, and adding options to trim and delete clips from the timeline.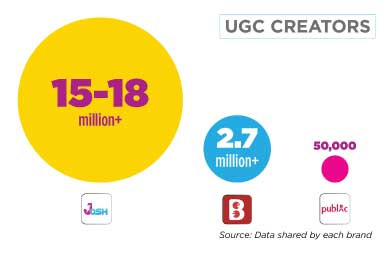 "We've made some changes to our audio features where you can now save audio clips, share audio pages, and browse for trending songs. We've also introduced the branded content tag for Reels," he added.
According to Baruah, these changes will provide more creative tools to the creator, make the experience for the audience more seamless and provide better opportunities to form brand-creator partnerships, "The emergence of everyday people as the new creators with national audiences on Instagram, using Reels, will also encourage others in the ecosystem."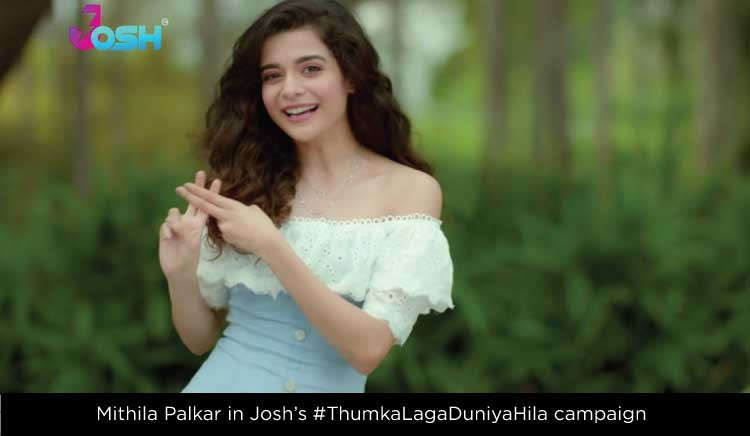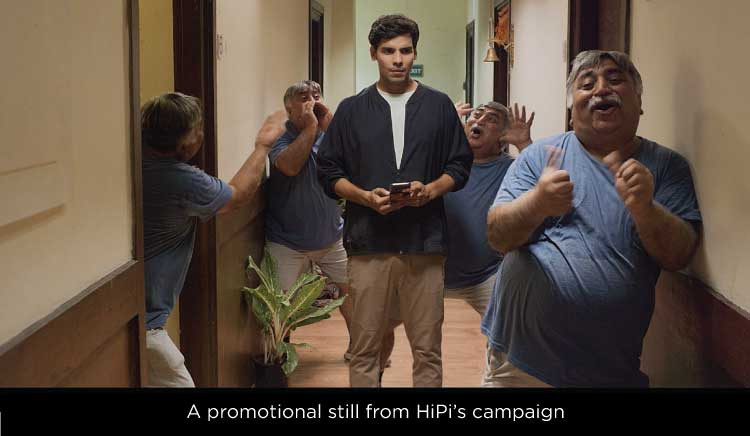 Rohit Chadda, Chief Business Officer, HiPi which is Zee's foray into the space said that HiPi offers a wide variety of features and enables users to create content of their choice by using interesting hashtags, adding catchy jingles from the audio library, using AR filters and special effects to make videos etc. "We are doing extensive work on creator tools to become the best and most useful platform for creators and influencers."
He adds that HiPi is working on providing creators their own dashboards that provide insights about the content, number of likes and followers they have added as well as the comments received, and the advertising revenue share earned through videos.


"Since the audience is habituated and accustomed to a particular format, the idea was to initially provide a similar user experience on HiPi to make it easy for users to engage with the platform. And to evolve the UX to provide a more meaningful experience to users in the medium to long term," Chadda says.
Deepak Salvi, Co-Founder & Chief Operating Officer, Chingari explains that the app was launched two years ago when Musical.ly was there and the focus of Chingari team was on making the technology in house. He says, "Our competitors are dependent on third party apps to do filters or any other technical changes. We are not depending on anyone."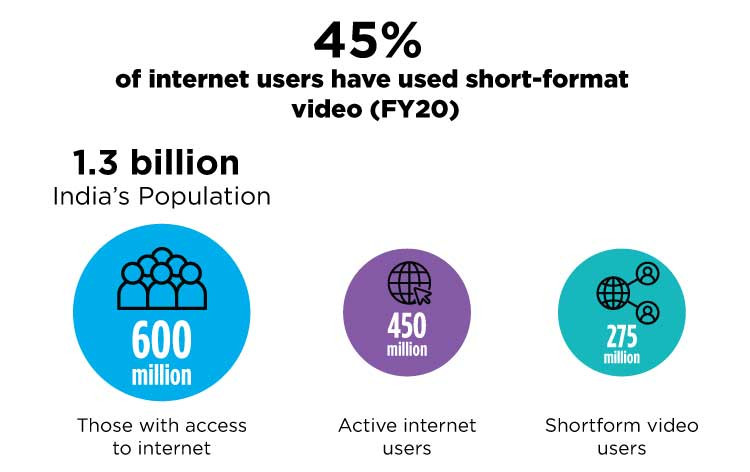 He believes that a lot of competitors are merely copying TikTok. But Chingari has always thrived on innovation. "We have 30-second or minute-long videos, but we also have news, and games. "Chingari Multiplex allows you to watch movies. People are bored of the same 30-seconder dancing-singing shots. Chingari wants content that aims to have a social impact on people," Salvi says.
One of the platforms which is gaining ground in that space is Public—a location-
based social network which boasts of 50 million active users. The app caters to the needs of people to stay connected with their locality. Azhar Iqubal, Founder and CEO, Public App, says: "The uniqueness of the app lies in the fact that it provides a digital platform, to the citizens of our country to communicate with their local community through videos and in their vernacular languages. Thus enabling people to stay updated with verified updates and important happenings and also connect with their local authorities, politicians and raise any issues/concerns directly through the platform and stay connected."
He comments that within six months of launching in April, 2019, the app saw exponential growth and the platform realised the gap in the society where people were looking for credible sources of information to stay connected with localities and their authorities. "Contrary to other video-sharing platforms which are entertainment-focused, our platform is centered around informative content. Also, Public App is a local social network, connecting communities in their vernacular language."
Advertiser's Ballgame


Social media has enraptured billions of users around the world. According to the Digital 2020 October Global Statshot Report by Hootsuite and We Are Social released in October last year, there were 4.14 billion social media users in the world spending nearly 2 hours and 29 minutes daily on various platforms. India is no stranger to this trend. Various estimates peg the number at nearly 400 million users which is expected to grow exponentially as internet penetration improves with each passing day.
American platforms like Facebook, Twitter, and YouTube have managed to capture the imagination of billions. They are the fulcrum driving the levers of digital communication. The dominance of American platforms is unmistakable on the social media landscape as most of these platforms have been around for more than a decade now.
As platforms attract more and more eyeballs, advertisers will follow invariably. In the absence of a clear leader, the advertising moolah is up for grabs but for Josh, it is not yet time to open the sluice gates. Umang Bedi, Co-Founder, VerSe Innovation, which launched Josh avers, "Josh is on its journey of user acquisition so we haven't opened the platform up to advertisers. The same ad tech technology that powers Dailyhunt is already working for Josh. We have about 9-10 experimental campaigns for which the traction has been fantastic but our plan right now is to grow the user base, and consolidate even further on the number one position that we have, and keep advertisers a little hungry to come on to Josh. We plan to open full-fledged advertising in the second half of the year."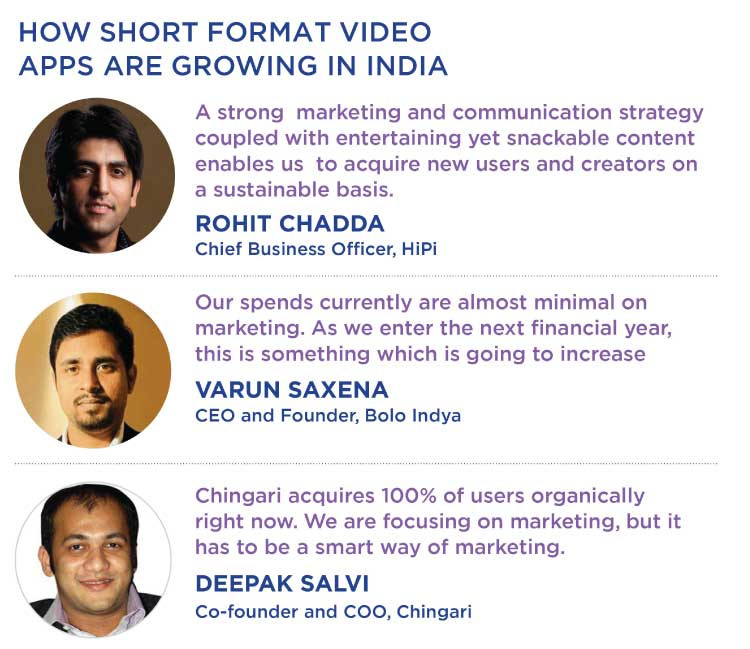 Virendra Gupta, Founder, VerSe Innovation, echoes his views by doubling down on the rationale behind the decision, "It is a choice we are making and not the market that we are not opening the floodgates for revenue. We have raised $200 million because we want to play a long game. And this is a unique opportunity in the moment of time to build and serve Bharat in a comprehensive manner."
As the category is in its nascent stage, even Shivank Agarwal, Co-founder and CEO, Mitron TV, explains that the idea was to not chase revenue early but there has been a huge interest even without the company looking actively for advertisers. He explains, "It is a cautious call to start monetizing from next financial year so from April 1, we will be launching advertisements in a manner which is algorithmically driven to the right audience."
Agarwal elaborates on how the platform is undertaking targeting differently with the help of communities of users as it gives a lot of confidence to the advertisers that whatever they're spending, it is on the right audience. The brand also plans to offer creative support in the future once they go ahead with this launch as Agarwal believes it is crucial to ensure the right content reaches the users and the message is amplified by the right set of influencers.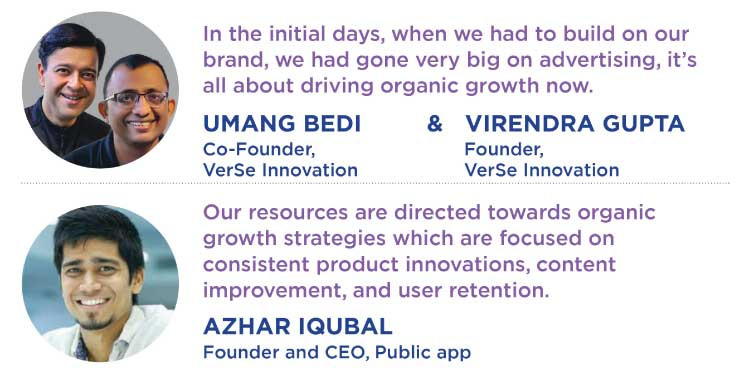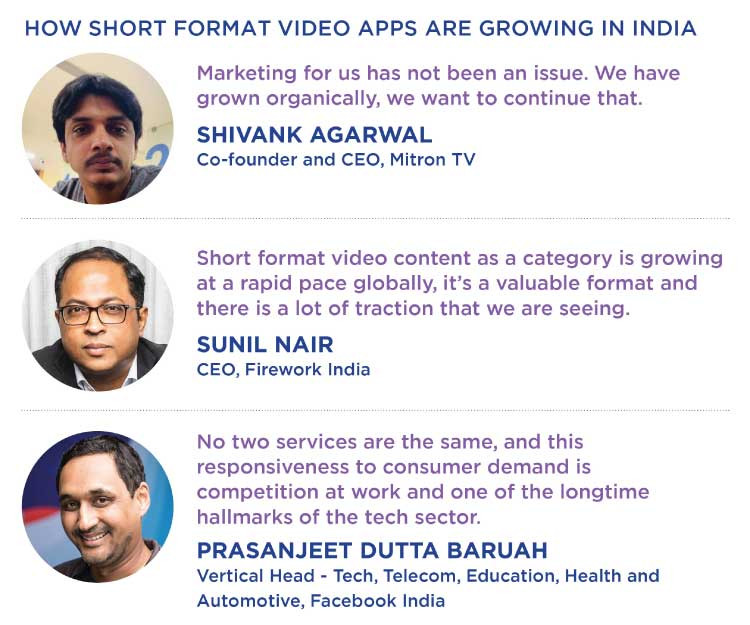 As per Varun Saxena, Co-Founder and CEO, Bolo Indya brands are still exploring which platform is going to leave an impact on their target audience. He says, "Bolo Indya has close to 90 brands who are active on the platform for different kinds of campaigns. It is the outcome of our engagement numbers, the daily time spent, primarily. And it's not just that we are growing the number of partners, but we're also increasing the revenue per brand."
The platform helps with content marketing by running branded campaigns on the platform. "All these campaigns will be driven by our UGC and the influencer base. People who have huge numbers on the platform, they will be coming in and working on integrated content with the brands to help them amplify their reach and get the kind of outcome they are looking at. In terms of the creative support currently, it's entirely up to the brand and the influencer to come up with a creative and the videos."
According to Sunil Nair, CEO & MD, Firework India, a short-video story platform for publishers and businesses through which they can integrate vertical short videos in story format on their websites, if 95% of India is consuming content on mobile phones, and if the video is not vertical-video friendly then the brands are missing out on something big. "One needs to look at this category more seriously. Brands are not going to be interested if your content is not up to mark. Nobody wants their brand to be seen next to somebody doing some silly dance."
He adds, "This particular vertical as a category is growing at a rapid pace globally. There is enough amount of work that has been done elsewhere. It's a valuable format."
User engagement
According to HiPi's Chadda, both Bharat and India are already hooked on to video, and short video is something that has higher reach and potential than your regular long-form OTT. "While OTT is viewing with a purpose or on appointment, short video is snackable and viewed anytime, anywhere even when you're waiting for your cup of tea or snack at the road-side vendor."
Chingari's Salvi reveals that the engagement time has increased to 59 minutes now on their platform, "It's more than 4x to 5x during the lockdown. AI/ML has helped Chingari to increase our retention and engagement time into 4x."
Saxena reaffirms the increase by divulging that the figure stands at 44 minutes today whereas it was around 17-18 minutes in October, 2019. "In April, 2020, we had users spending around 20 to 23 minutes on the platform. During November, 2020, this number went up to around 31 minutes," he reveals.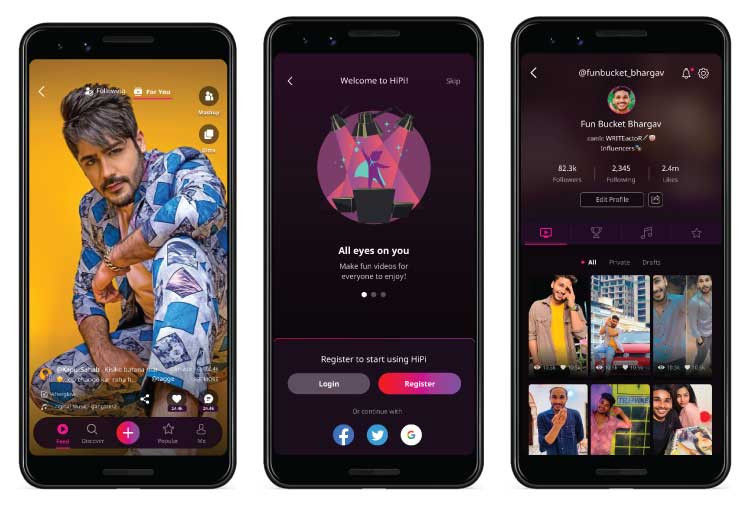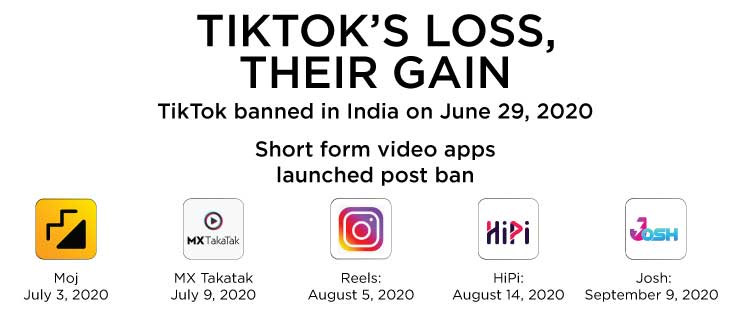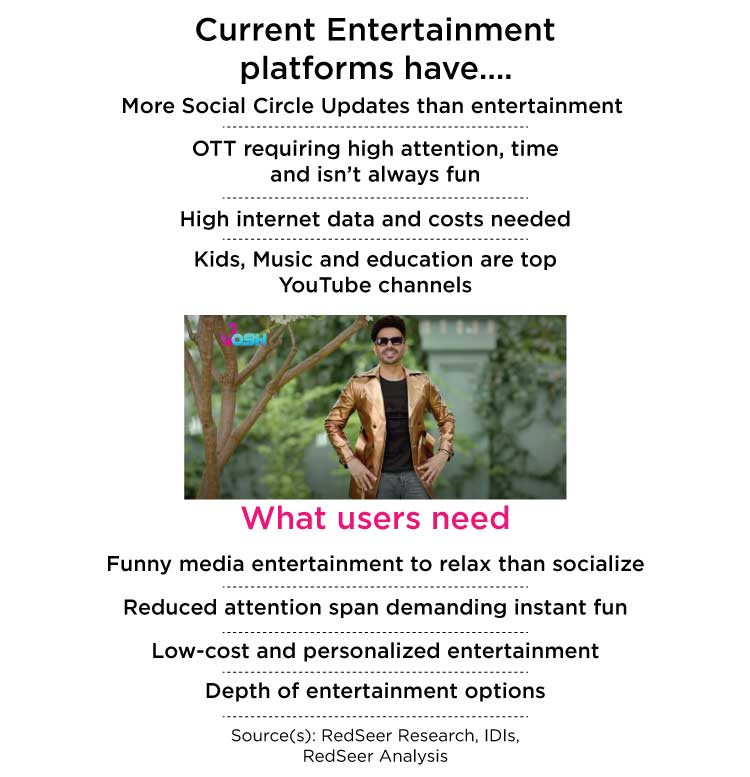 Urban/Rural draw
TikTok's crowning achievement was that it brought to the fore content that non-metros have to offer. Everyone was left stunned by the extent of TikTok's penetration into these regions. Now several players are aspiring to lap up the demographic share left in a lurch by the ban.
Mitron currently boasts of a 30:70 reach with the rural areas making up the lion's share. Agarwal also said that he sees growth coming from Tier II and Tier III cities especially South India which has been underserved technically. Josh's Virendra Gupta believes that the industry is in a nascent stage still, and that they are making inroads into tier III by making a lot of product changes to penetrate the market, "People from tier II and tier III have fewer alternatives as they don't see US platforms as their platform of choice so we become their natural ally as their first stop for consumption."
The view was mirrored by Sunil Nair who revealed that regional languages are not tapped in the country. "A lot of handholding is required for small, regional-language, digital publishers. It's going to be a big driver. A lot of growth in the next year is going to come from catering to the middle India, the larger regional population."

The horizon
Anjali Malthankar, National Strategy Director, Tonic Worldwide said that the Short form videos have emerged as the fastest growing content category in India with 180 million users in the financial year ending 2021. She says: "The growth will come from Bharat. Something that TikTok identified but Indian apps will benefit from with greater depth in understanding the needs and demands of Bharat. With a decreasing attention span on long video content, the future of short video content is bright. The audience wants to consume more in less time!"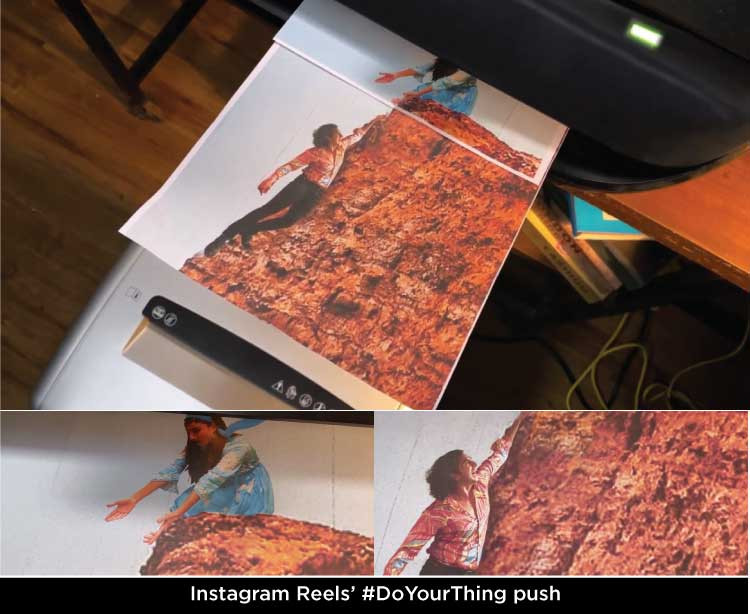 As is evident from the thoughts of platforms and digital agencies and brands, growth in the New Year is going to come from regional languages such as tier II, tier III, tier IV cities. Vivek Bhargava, CEO, DAN Performance Group goes on to add, "There are a lot of new internet users still coming in. We are improving our data access. So there are still 300-400 million users yet to gain access to a smartphone and a data plan, and they are coming into the Indian ecosystem slowly."
Aarushi Sethi, Director, Pollen said that personalization is going to be key through audience segmentation. "Because today if a marketer and advertiser is coming to this platform, I'm reaching out to everybody, there is no way in which I can reach out to a part of this audience who's probably my ideal target audience. So it is not using the potential of digital to be extremely niche in terms of targeting right now, which is something that they could develop going forward which will really benefit them."


What will be the next Tiktok?
The way a five-year-old Chinese entrant managed to snake its way to glory on the back of videos as short as 60 seconds is remarkable. TikTok, despite being released in 2016, had become a sensation among millennials and Gen Z. Its evangelicals describe it as a form of snack which you consume in the cracks of your routine like popcorn with each short video resembling a kernel of corn. India was not far behind from adopting this craze as is evident from nearly 300 million users the platform boasted of before it was banned by the Indian government in June last year over a dispute in Eastern Ladakh. The Ministry of Electronics and Information Technology temporarily banned TikTok and 58 other Chinese apps on concerns over it being a National Security Threat, siphoning user data and termed the company 'prejudicial' to India's sovereignty, integrity, and national security.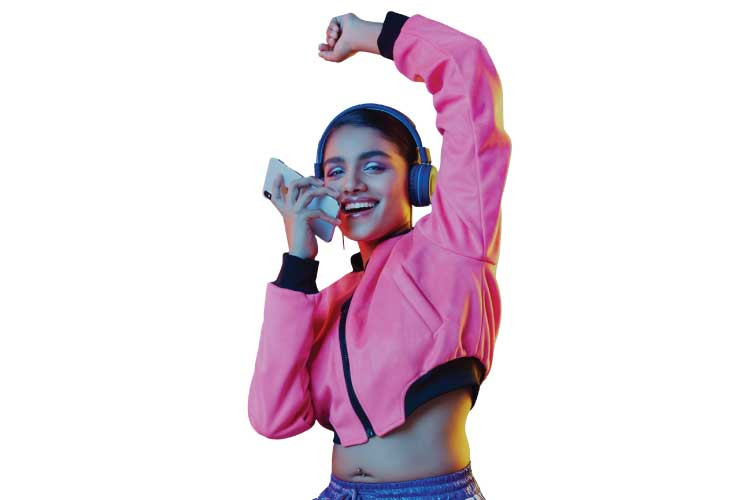 Eight months later, Tiktok's loss became the gain of several homegrown apps in the country and some other global players. When asked about which platform comes close to TikTok, most agencies hedge their bets on an assortment of players. "TikTok was a global brand which grew in India with a whole new set of opportunities and strength. To be honest it is unfair to compare them with these global giants. The app that will emerge as a winner would be the one which cracks the tier II and III market," Harikrishnan Pillai, CEO and co-founder, TheSmallBigIdea, told IMPACT.
He also revealed that the agency's clients are spending a very lean layer (1-3%) of their digital budgets on these platforms. "It is because they are measuring efficiency and results primarily; the apps themselves are in the midst of developing their content and advertising ecosystem. Some of these apps didn't even have a robust ad delivery module till a few months back. TakaTak and Chingari seem to be app of choice."
Anjali Malthankar, National Strategy Director, Tonic Worldwide said that Josh, MxTakaTak and Roposo, etc. have 100 million plus users, making them a popular choice. "Looking at the last three months, Moj is leading in downloads, followed by MxTakaTak. However, due to heavy competition in this space, the popularity can change easily. While the ban on TikTok gave a lot of apps a ready audience it is up to the apps to maintain the audience with quality upgrades and user experience."
Vivek Bhargava, CEO, DAN Performance Group, elaborates on how a lot of FMCG brands like Coke, Pepsi, Unilever and P&Gs of the world are all using some kind of short form video for advertising. A lot of beauty, cooking and baking brands have caught on. When asked about the categories which have adopted the short form video to its repository, Bhargava points out, "Any brand that is targeting Gen Z, gets immediate traction. In 30 seconds, it's almost like a TV commercial, but it's not faster than the TV commercial. Today, short videos communicate the entire thought, and it's much, much faster. And add to that there are multiple features to aid the process."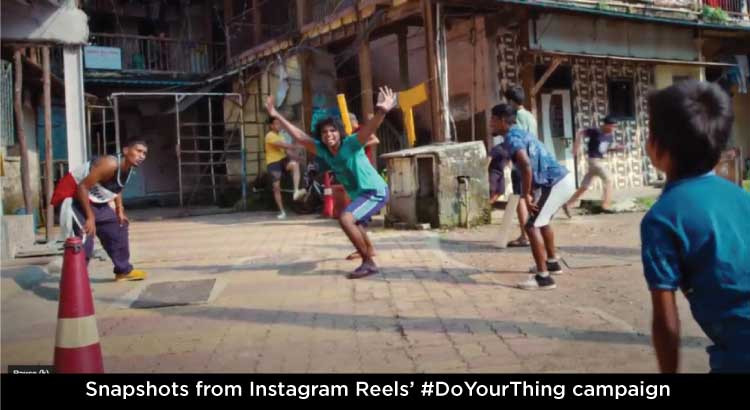 Aakash Chaterjee, Regional Head Operations (West), WATConsult believes interactive snackable videos are the future. "While a lot of platforms like Instagram have experimented with hotspots for commerce integration, more such innovations are going to get increasingly popular across platforms. The use of AR beyond basic filters and Deep Fake Integrations especially for UGC-driven video platforms is also something I'm personally looking forward to."
Aarushi Sethi, Director, Pollen—an influencer marketing agency under Zoo Media, says: "When I look at it from an agency or a brand's point of view, Reels has the maximum amount of audience data. We've all been on Instagram and Facebook for over 10 years and Instagram, and Facebook understands its audience a lot better than all the other platforms. The other platforms are still sort of upcoming, they still don't really know, they're still figuring out their monetization models whereas with Facebook and Instagram, we know about the audience segmentation, we know their likes, dislikes, we even know their buying habits and their purchases, which is why Instagram Reels would be my first choice."
She adds, "Brands are putting experimental budgets on these apps for now because they don't know the kind of returns they're going to get from them because there is not enough data. For platforms like Facebook and YouTube, brands are spending more than 60% of their digital budgets currently for short video content. They offer a full funnel approach which means that if I'm a brand today, I will get awareness, advocacy but it can also lead to sales whereas the newer platforms are purely being used for the top-of-the-funnel approach. They're only being used for awareness or for reach, or for reaching out to a new audience, they currently don't have the mechanism of moving into purchase or trial." According to Sethi, brands spend less than 10% of their budgets on short form video apps as of today.


Why Short form video apps appeal to brands
Several brands are looking to dip their feet in the waters of short-form video content. Prabhakar Tiwari, Chief Growth Officer, Angel Broking, tells IMPACT, "Short form video has become the rage among Gen Z and millennial Indians and that the trend is now permeating all age groups. According to a RedSeer Report, the number of people consuming short-form content has increased from 20 million in 2016 to 180 million in 2020. What's more, Tier-II cities, which are one of the key target markets for Angel Broking, have experienced a 25% jump in consumption of short form videos."
He adds, "Short form content counters reduced attention spans by being focused and by registering the key message in a few seconds. The dropout rate is also relatively lower than long-form videos. Short form videos also enjoy immense shareability across various social or messaging platforms, helping build virality."
Raghav Singhal, Associate Director, Digital Marketing, PhonePe says: "The short form video inventory available to advertisers is increasing across channels - Youtube, Facebook, rewarded videos, gaming, OTTs and more. From a branding perspective, as an advertiser I feel videos are better at landing a story and are preferred over static banners."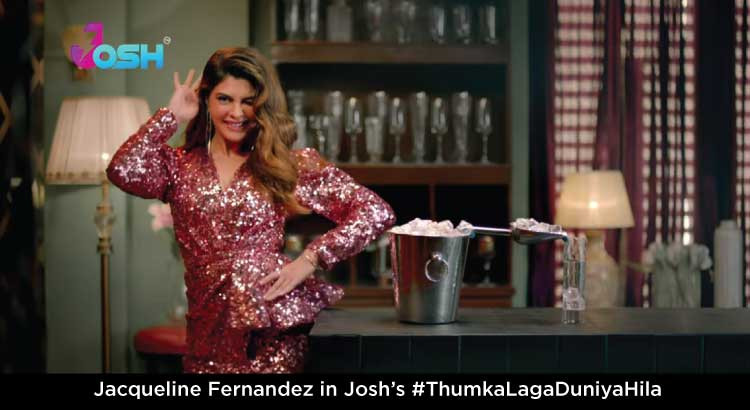 He said that from a performance perspective, publishers have allowed redirection and are working on improving actionability (click, lead form) and data science. "In the near future (this has already started), I believe short videos would have a higher share of marketing spend over display networks."
For a lot of brands, the platforms offer a unique way of interacting with their cohort of users. Tata Sky has envisaged an ambitious plan for its recent campaign on Reels by Instagram. They plan to use a set of influencers who will create videos similar to its television commercial which is about a screen watching you on the other side saying what is it that people do when they watch content on that screen and what their emotions are. Now they plan to ask influencers to capture some moments of themselves and their families when they watch content on their own screens.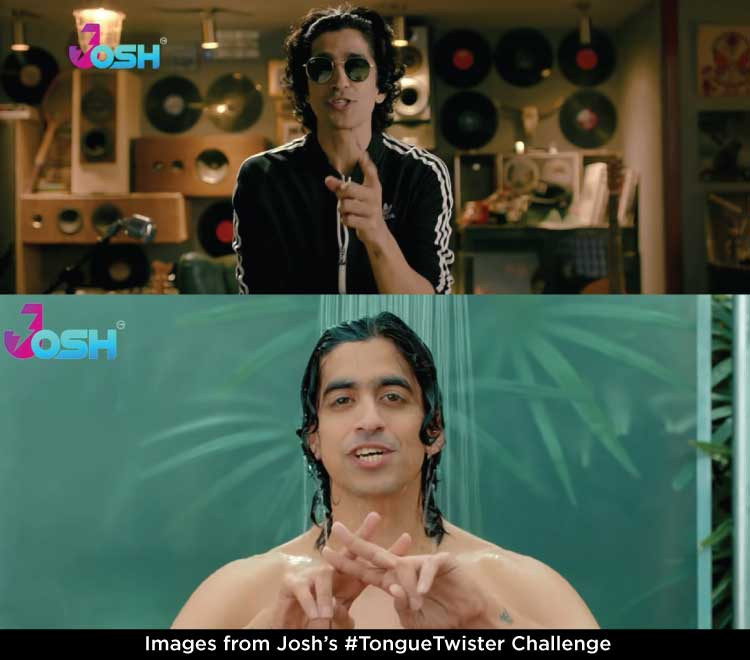 Anurag Kumar, Chief Communications Officer, Tata Sky, says, "They'll be posting those videos on Reels using the song we have in the film and then we expect consumers to participate in the same." He adds that Instagram has been gaining a lot of popularity and several famous influencers from the TikTok era have joined Reels, "The reason we decided to look at Instagram Reels is because we've seen that it has picked up a lot in the recent past. We also realized that we had the opportunity to create something which was Reel-worthy. It might not be true for every campaign in the future but for this campaign, it was making sense."
Ads with jingles can explore the untapped potential of their songs and by extension contribute to brand-building overall by enticing users to leverage their jingle for snackable content which can be disseminated easily.