GroupM, the global media investment arm of WPP, is bullish about the opportunities for media agencies and brands in the Digital world. The Asia Pacific region with China and India as the two big players is witnessing sweeping Digital transformation across markets.
The change in media consumption habits of consumers and the disproportionate increase in the time spent on mobile has led to a shift in ad money towards Digital. In India too, Digital is expected to overtake TV as the biggest advertising vehicle in 2022.
GroupM Asia Pacific CEO Ashutosh Srivastava, who is on a visit to India after a gap of two years, spoke about the changes in the advertising ecosystem and how that is playing out in different markets in APAC.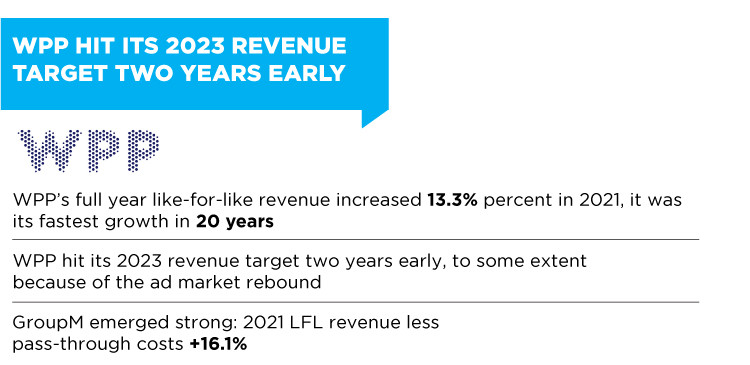 In an interview with IMPACT, Srivastava said the Asia Pacific or APAC is an extremely critical market for WPP and GroupM. "Of 16,000 people globally, we have 12,000 employees in APAC. There are thousands of clients including the global clients that we work with and also a huge range of Asian clients," the GroupM APAC CEO said.
China, India, and Australia are the three top markets for GroupM in APAC. "Even globally China, India, and Australia will feature in the Top 10 for GroupM as well as WPP. China will be probably at 3 or 4 and India will be at 5 or 6," Srivastava stated.
He added that GroupM would be the biggest media agency in APAC with its market share touching 40-50% in most markets in the region. Srivastava attributed GroupM's success to WPP's vision of investing in APAC much ahead of its competitors.
"We have got a great bunch of leaders in every country who are highly connected and well regarded in their countries. We also have a great bunch of leaders below them," Srivastava said highlighting the importance of having strong leadership in each of the key markets.
While China is a bigger market for GroupM than India from a global perspective, Srivastava pointed out that the volume of business in India is as big as in China. "When I look at it from a global perspective, it is China, of course, but if I look at the volume of activity, clients, growth, and when you factor in the rupee-dollar exchange rate it's a similar size business. So, the India business is quite a powerhouse."
According to Srivastava, there are lots of similarities among the APAC countries like the e-commerce boom, and the emergence of homegrown platforms here. However, there are many differences in each market like scale, Digital penetration, and culture.
While noting that ad spending is seeing a huge shift towards Digital, Srivastava added that data privacy, brand safety, and sustainability have become very important subjects for clients.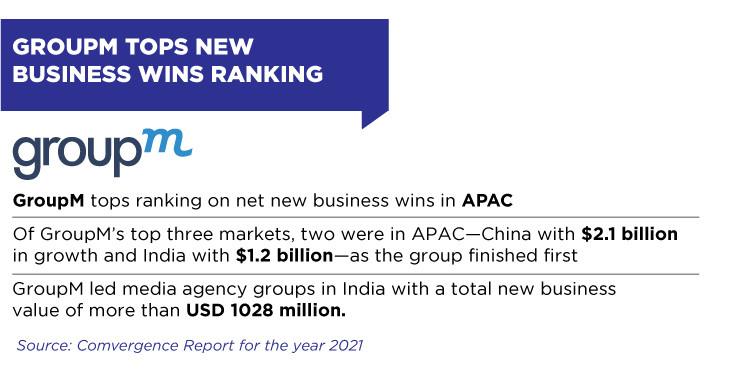 Speaking about GroupM's responsible investment framework, Srivastava said that the agency and its clients are on the same page as far promoting media plurality is concerned. "Plain free market which is purely determined by commercials of the lowest cost of reaching someone will reduce the market to duopoly which is not in anyone's interest," he asserted.
GroupM South Asia CEO Prasanth Kumar spoke about the evolution of the media agency business due to the pandemic. He pointed out that the pandemic has accelerated the adoption of e-commerce, social media, and short video platforms.
Further, the ability of an agency to learn more about consumers from different sources has meant that insights into the new consumption habits of consumers have become extremely critical. "The key is to apply all the key learnings into modern marketing," Kumar said.
He also said that the client-agency relationship has seen a drastic change due to the pandemic with the latter getting more involved in the business of clients. The fact that many traditional companies are shifting to Digital even as many new-age categories are entering traditional categories has meant that the role of agencies vis-a-vis has expanded.
"For us, it has been a fantastic journey in all of this. We were pretty much involved in understanding and learning the business evolution from clients' perspectives. It also allowed us to upgrade ourselves and apply that to the clients' business and learn from it. Most of the clients got more involved," Kumar stated.
The GroupM South Asia CEO believes that the change in the media landscape has pushed media agencies to look at data tech solutions for meeting the needs of the clients.
Kumar believes that the ever-growing importance of Digital has made media planning exciting. "Media planning has become more exciting due to the emergence of Digital. The opportunities have increased due to the emergence of new channels/platforms. Digital also allows marketers to gain insights from multiple sources and come up with radical solutions," he added.
With most traditional media companies also having a Digital footprint, it will be extremely critical for them to combine their traditional and Digital assets to drive optimum ROI for advertisers.
"There are lots of opportunities for everyone to co-exist. Content remains the biggest asset for all mediums. The format in which the content goes is how the media spends get decided. As per our report, all mediums are growing. Digital should not be looked at in isolation, it is becoming an opportunity for every single space," Kumar noted.
To drive home the point, Kumar noted that Digital is becoming an additional layer for most traditional media companies. He gave the example of Connected TV, Online news, Digital Radio, and DOOH as examples of how traditional and Digital are complementing each other.
For GroupM, the key priority in India is getting prepared for the future as advertising is a people-centric business. "Capability building, helping people to play in the relevant space, and encouraging to do different things are key focus areas," Kumar said.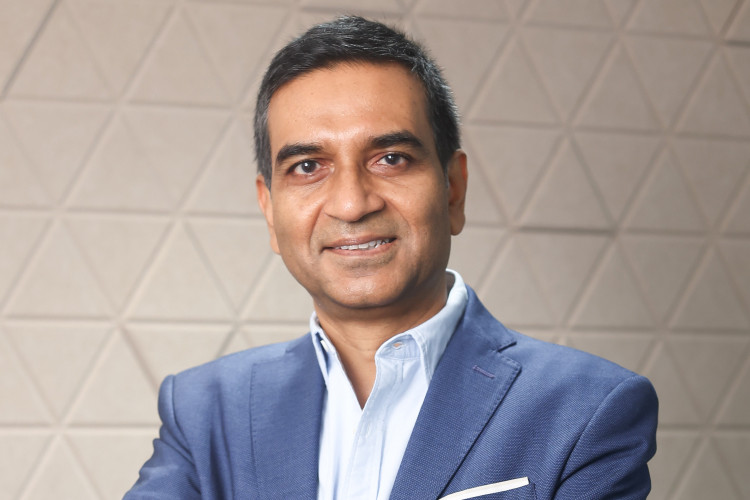 'Targeting a double-digit growth for GroupM even in 2022'
Ashutosh Srivastava, CEO, APAC, GroupM in an in-depth interview with Neeta Nair talks about how the company gets more than half its revenues from Digital media in India today, why they want to be called as the most creative place to work in and how WPP is very different from what Sir Martin Sorrell left behind.
Q] As per the GroupM forecast for 2022, Digital will emerge as the largest medium this year, with an estimated share of 45% of the AdEx in India. What is the percentage of revenue that GroupM gets from Digital media today?
It's more than half of our revenue now. But we can loosely call it Digital as what you're looking at is a split of the money that is spent by advertisers. If you look at the business in terms of revenues, there's a lot more work done within the Digital domain. So obviously, that share is higher than the share of billing, and it is well beyond half of our business now.

Q] Do you feel that traditional media will have to expand with its Digital extensions to be relevant in the coming year? Today, we have connected TVs, Digital OOH. What else can we look at in the coming year?
I think they're evolving anyway. They may have been traditional media companies, but the core of the business is creation of content. So, when you say traditional, it's the platform which is traditional, not the content. The challenge is about how to get people to watch my content versus someone else's, so the battle is really around the content now. For example, the broadcasters have seen the massive growth in OTT platforms and use it in different ways to engage people more, so it's not just a replica of television. Similarly, if you look at the news publishers, traditionally you had the TV news channels, and the newspapers. But now mobile phone is ubiquitous but you can't use the same format as the traditional medium. So, the question is, how to refashion and repurpose that content on mobile phone and keep them hooked on to the brand? With newer technologies coming in, people can go beyond a 2-dimensional experience to have a more immersive one. Metaverse, augmented reality or virtual reality are very small today, but smart content creators are playing with it already because they need to be there as well. Therefore, I'm saying that there is no line that you can draw and say, 'Okay, now I must do this.' Each day brings new things, all these formats and channels keep evolving.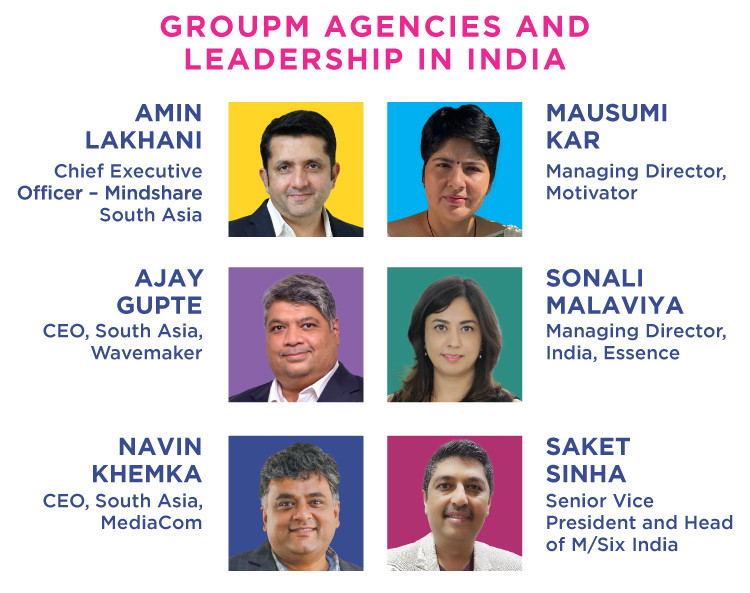 Q] In 2016, Mindshare India had come up with the Six Pack Band which won the Glass Grand Prix in Cannes. Today in this era do brand briefs expect media agencies to go beyond planning and buying capabilities? Is creativity no more the domain of creative agencies today?
The WPP position was of a creative transformation company. There are many big consultancies, which work with clients to help and guide them on how they should reorganize themselves for the Digital age on an enterprise level. But the collection of agencies that sit within a group such as ours, build their reputation on creativity and exciting ideas as opposed to creating beautiful frameworks for thinking and organizing information which the big consultancies do very well. Today creativity is a part of everyone's job, be it the way you use technology, dig out new insights from consumer behavior, create experience, content etc., every aspect, whether it's media, content creation or distribution has scope for doing things in surprisingly new and more engaging ways. In fact, we at GroupM want to be known as the most creative place to work at.
Q] Martin Sorrell regularly talks about how the holding company structures will fall apart and how client wants simple integrations and not complex structures. What is your view on that?
Well, Martin Sorrell created those complex structures and found it difficult to dismantle them. But in the past three-four years there has been a lot of refocusing within the organization. The creative agencies that lacked Digital or technological expertise, were merged typically under the leadership of some Digital agencies. The media agencies themselves have gone through massive transformations. We had a company like Essence which was bought and put into GroupM. Traditionally, the legacy model of the agencies would just throw people at problems to solve one. But for a company like Essence, it was about how do you create the technology and the automation to solve a problem and to scale. So, the whole mindset or DNA is like that of a platform rather than an agency. Such skills have been brought into our world. Christian Juhl wants us to become more like a software company, because here, it's about scaling and automating and making sure that the execution or the delivery is largely driven by technology. Creativity, thinking and designing a solution is still people based. But we have to get both of them right. We can't throw people at both problems and try and solve them. There are different skills required here.
Q] Do you feel WPP by that logic has drastically altered the definition of a holding company today?
The old holding company model is a financial listed entity, which is consolidating results of 1000s of agencies and then telling its shareholders in the world that we are bigger than the next one. That game has ended. Firstly, there have been some mergers. Secondly, it is about assembling talent. Catering to our top 30 clients around the world, we have SWAT teams which are good at different things like designing consumer experience, commerce, organizing data and implementing technology, excellence in execution on different media platforms, Facebook, Google, OTT etc. There are people who are really good at creating stories in all formats and that requires a very different approach. So, when a brand comes up with a brief, you try to understand what aspect of the problem needs to be solved and put together a team on the basis of that. For example-- Is their journey on an ecommerce retail marketplace getting broken? Then you bring in the e-commerce specialists. So, you need a deep specialist, in many more areas than you did five years ago and at the same time you need people who have a holistic view of the entire business to know what talent to pick to solve a problem. And they will be the leaders of these kinds of businesses.
Q] Now WPP has benefited from the rising tide of a recovering ad industry witnessing its fastest growth in 20 years in 2021 and GroupM obviously has a significant contribution to that. Now that we are seeing normalcy return, do you see growth taking place with the same momentum in 2022?
That differs from market to market, but globally at GroupM we still see a huge double-digit growth continuing and us growing similarly. And this is not just a bounce back. Because, the biggest impact during the pandemic was amongst companies that were not prepared for e-commerce. Those who didn't have e-commerce capability pivoted really fast and built those alternate channels to sell things to the consumers. On one hand FMCG faced some pressure on the bottom line because of supply chain, inflation, and various other issues during that time but the demand for their goods was always there and in the process even they learnt new skills for the future. There is also a huge amount of new money which has come into the market. People keep saying, "Oh, this is just a bounce back, and it will fall." But the fact is, it differs from market to market. In India, for instance, 20% of the market comprises new money which didn't exist before the pandemic. It came especially from Digital businesses which were better prepared to serve customers at that time. Also, a massive amount of new investment has come in from startups which have scaled up. The initial part of the business is always built in-house but the moment they want to scale up, they come to people like us. And this will only accelerate in the next four or five years as our economies undergo this kind of Digital transformation. So it's not a bounce back. I would say that it's a fundamental shift that the world has taken. And there are bound to be many more opportunities because of that.
Q] And where does India stand in comparison with the other markets in APAC for GroupM?
It is great news for India, because here there are many enterprises, innovations and loads of investment in the market. Also, India's baseline has been low. I used to do this comparison when I started playing a global role, when we set up GroupM here, the Chinese ad market was about 2-3 times the size of India. But by 2013-14 it grew six-fold. The reason behind that - ad spend and percentage of GDP being higher- was that the Chinese economy was driven by manufacturing and building of domestic Chinese brands, they first built it in China and then went global. Therefore, there was a great need for brand awareness and recognition; and the infrastructure for that was there. In India, a lot of economic growth is driven by the services sector. The market here was limited then because we were not driven by manufacturing and new brand creation, unlike China. But today many platform businesses are being created in India, which are consumer facing. There will be a need for brand recognition. So, we are now going to enter that phase that China was in 10 years ago, and hence the market will expand GDP; and ad spend as a percentage of GDP is going to keep going up.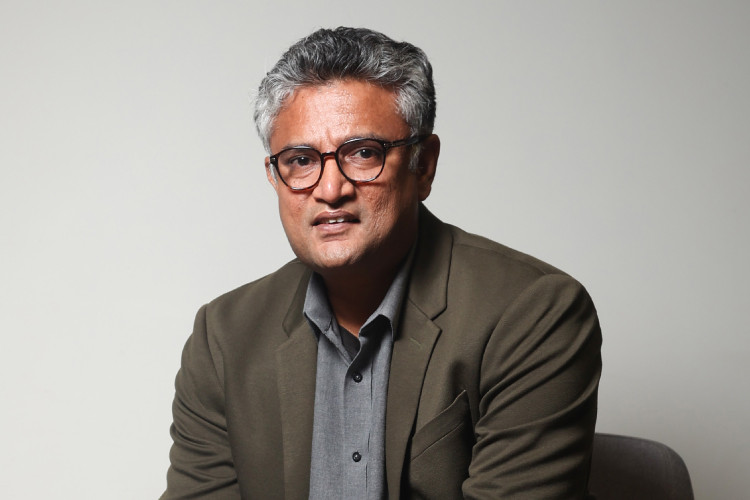 'GroupM has retained 95% of its clientele in 2021'
Prashant Kumar, CEO, GroupM South Asia tells Neeta Nair how GroupM has had the best of both worlds in the past year—big ticket new business wins along with an all-time high retention rate on older clients and why big consultancies don't 'unsettle' him.
Q] GroupM agency, Mindshare has topped the new business wins ranking of 2021 as per both R3 and COMvergence; Mindshare & Wavemaker have done exceedingly well too on that front. But with regards to existing clients last year, what kind of retention rate has GroupM seen?
We are quite happy with the retention rates, and it's upwards of 95%. But as you said, the new business wins also have been very welcoming. In the current scenario, the industry and the market are shaping up. These are also opportunities for us. So, from both the aspect of retention as well as getting new clients on board it has been a happy state for every agency.
Q] Meesho and Paytm were some of GroupM's big wins last year but we also saw Essence's 300 crore Britannia account go for a media review. Would you say this was the year when clients were fearless about experimenting with agencies?
In the last two years, clients have observed the changes in the market and how they can shape their business, find solutions with the best teams that can lead them to transformation. And many of the new business solutions are also coming from those tasks. At such times clients want their partners to think of fresh ideas and find solutions. It matters how innovatively and intelligently you are able to shape the solution as also the accountability and ownership he/she demonstrates. All these come as part of the task and that's why some of these reviews are happening. At other times, such reviews are part of the process. Some clients also look at it from the best talent perspective. That's how we see it, and therefore it gives us an opportunity to reset and do things differently.
Q] Which are the areas where GroupM has excelled in, in 2021?
After the lockdown, we realized we need to prepare ourselves more. We worked with different platforms, which were able to come up with different products, tools, and building capabilities for us. To lead clients in the newer areas which are becoming deeper and wider-- be it commerce, performance, social media, or influencer platform-- building expertise became the focus. During that time the entire talent transformation also happened. In fact, in the past two years, we were also lucky to create a 1000 plus member team for an offshore hub. On the content side too, the opportunity got strengthened. We scaled up a lot of work in the consulting space, because we saw a lot of new age categories coming up. Interestingly there were many old categories in new age platforms and vice versa. Our team was able to come up with radical solutions for both. And that's where we see ourselves as far as new business is concerned. We're also fortunate to reflect that in some of the award platforms. Coming up with solutions in the areas such as data, digital, content, we were able to lead clients and transform their business.
Q] You spoke about many new-age categories of brands GroupM has serviced last year, which are the top three clients of GroupM in India today, are they traditional names or new-age ones?
Today we have six brands - Mindshare, Wavemaker, Mediacom, Motivator, Essence, and M6 and all of them are supporting their clients well. As for new age clients, which we won from an overall portfolio, Meesho is one of them, there are umpteen others. Otherwise, I think each agency is focusing on the top clients. We try and focus more on what life cycle is the brand/ client in, and their goals, not necessarily always on scale and volume. And, when you look at that, a majority of our clients may not be able to represent large volumes. We believe that we're able to give solutions to them in a much larger perspective, and help them grow right. Therefore, each client becomes significantly important for us.
Q] In 2017, the Accenture Interactive boss said that it's just a matter of time before consultancies unseat ad agencies, two years later they acquired Droga5. But as far as Digital and media agencies are concerned, to what extent are these consultancies and tech companies unsettling you?
I'm not attracted to the word 'unsettled'. And the words I will be more attracted to would be 'a good rally'. As far as the so-called consultants are concerned, we have to remember that we are playing in different fields and giving different solutions to customers. But I think when the rally is good, we're able to do better and the game too gets improved. What we are definitely looking at is how can we do better for our clients. So, if there is a learning from the other side, we are very happy to absorb that knowledge and build on it. Similarly, that's what we also do with our partners. Being an expert in each part of platform is very critical. If there is a learning on that we embrace it, and we take the solutions to the clients. Therefore, being objective to some of the goals is very critical for us.