For years, FMCG has been one of the top categories for advertising in India, it is also considered to be the fourth largest sector in the Indian economy. Even though one can say that for years rural India has played an important role in driving growth for this category, the demand there has been lagging behind urban demand since August 2022. However, we saw a big change in the consumer pattern a few months ago, when rural India outperformed urban India in FMCG sales growth in February, 2023. Then again in March 2023, we witnessed a 17.5 per cent growth in consumer product sales of FMCG brands in rural areas while the urban areas witnessed a 6.1 per cent growth in India, as per Bizom, a retail intelligence platform. For a category where geopolitical uncertainty, lukewarm market growth, and high commodity inflation have steadily impacted business in the fiscal ending March 2023, the questions are – to what extent has a surge in advertising spends on the rural market by the FMCG brands played a role in driving this growth, what are the other factors that led to it, and are other categories seeing a similar trend?



Akshay D'souza, Chief of Growth & Insights of Bizom - a retail intelligence platform says, "We have seen a double-digit growth in FMCG sales on the back of a strong performance in rural. In 5 out of 6 categories we have seen rural outperform urban sales in Feb 2023. As we expect food inflation to lower during the rest of the year, we could see rural playing a key role to drive this growth. We're already seeing a significant movement of many large FMCG companies in setting up a direct distribution network in rural areas, and we expect that more companies will build this to fulfill the innate demand among consumers in the hinterlands."

FMCG has been at the forefront of making campaigns for the hinterland, from the sachet revolution, to the micronutrient story in food, to hygienic hand washing. Companies like Unilever, Colgate-Palmolive, Dabur, Nestle, Coca Cola, Pepsi etc., have been driving penetration through localized themes. In fact, as per a recent report by IBEF, the urban segment contributes to about 55% of the revenue share of such FMCG companies, while the rural segment has gained ground, accounting for 45%.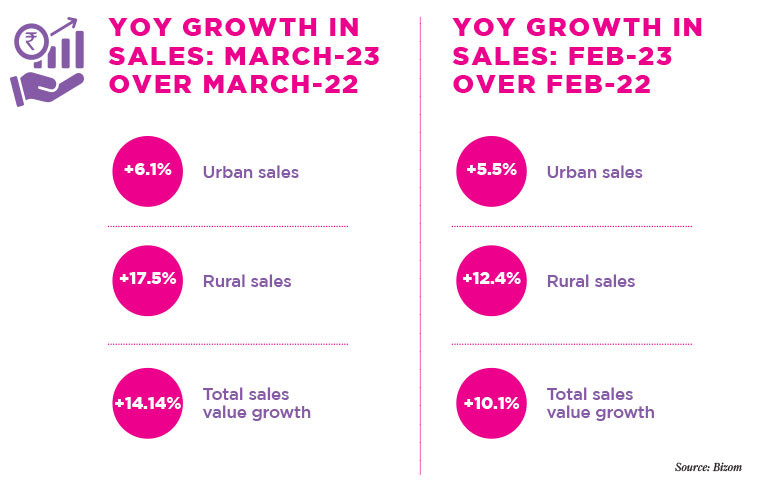 Ashutosh Sawhney, President, DDB Tribal believes that FMCG sales in rural areas will surpass urban sales in terms of volumes and eventually come at par in terms of value, pushing rural sales to 50% in the country. He says, "India, as it is rightfully coined, is split between Bharat and India. While India leads the charge on sunrise sectors and innovations, it is Bharat that is becoming aspirational, pretty fast. CPG or FMCG, is often times a strong indicator of this burgeoning aspiration. The rural FMCG market is extremely large for any mass marketer to ignore or to not focus sharply on."

Rural India has seen a surge in marketing and advertising spends by brands. According to experts, brands allocate 20% of their advertising budget for rural areas to focus on deeper penetration. Moreover, many FMCG companies are creating new SKUs to suit the next 1 billion consumers which will come from rural areas.

The trend of increase in rural sales was not only visible for the FMCG sector, but also in the sale of two-wheelers. The data compiled by the Federation of Automobile Dealers' Association (FADA) from the Vahan portal of the Ministry of Road, Transport & Highways (MoRTH) show that the registrations of motorcycles, scooters and mopeds increased by 16.6% to 4,704,713 units in the three months ended December 31, 2022. This was despite the rise in prices of two-wheelers.



Anheuser Busch InBev (AB InBev), a premium liquor brand in India has witnessed a similar trajectory with an uptick in rural demand. Vineet Sharma, Vice President - Marketing and New Business Development, South Asia opines, "We deal in premium beverages and portfolios in both alcoholic and non-alcoholic segment. We are seeing tier II, tier III towns and even rural areas getting bigger markets, which is good for the category as that means more people are trying to consume our product. It all points towards rising affluence in the rural segments."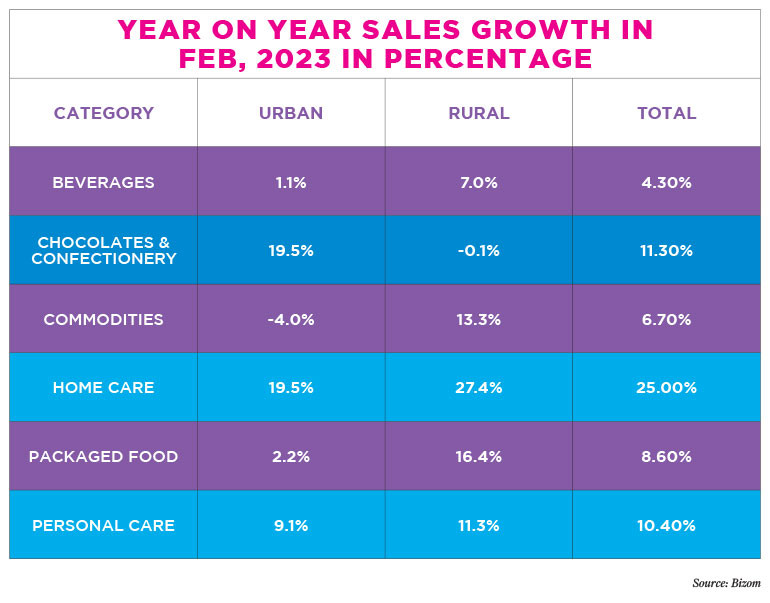 Brands Focus on Bharat
According to Nielsen, the food category is the largest contributor to FMCG sales in rural India, accounting to over 50% of the total sales. This category includes staples such as rice, wheat flour, pulses, and cooking oil, as well as packaged foods such as biscuits, snacks, and beverages. The personal care category, which includes products such as soaps, shampoos, and toothpaste, accounts for around 23% of FMCG sales in rural India, while household care products, such as detergents, cleaning agents, and insecticides, make up for around 17% of FMCG sales. The remaining FMCG categories, including healthcare products, cosmetics, and confectionery items, contribute to the balance 10% of sales. Except chocolates and confectionery, rural market outperformed urban sales in most other categories in February this calendar year.

Several FMCG brands in India are focusing on the regional areas to increase their reach. Dabur under its 'Project Yoddha' campaign is sparking new opportunities by creating village level entrepreneurs. The brand created 14,000 'Dabur Yoddhas' till 2022, and has increased its rural footprint to 100,000 villages in India.



Adarsh Sharma, COO, Dabur India Ltd says, "We have already invested ahead of the curve to ride the rural demand recovery. We believe that the demand slump in rural has bottomed out as we are now seeing some green shoots of revival in demand in the hinterland. So rural demand, for us, has already started showing recovery. With an eye on the summer season, Dabur has expanded its capacity at its beverage plant at Pantnagar. In addition, a new unit has been set up in Indore for beverages, and also in Jammu for aerated fruit beverages to meet the summer demand."



With 40% of sales for Parle Products Limited being generated from rural areas, Mayank Shah, Senior Category Head, Parle Products Limited calls it a revival of rural demand. He says, "The demand slump in rural areas has bottomed out. To maximize the opportunity from the revival of demand in rural areas, we are aggressively trying to increase our direct reach. There are quite a few brands of Parle that are very strongly entrenched in rural India."



NourishCo Beverages Limited has a heavy focus on TV for deeper penetration and to reach the rural masses. Vikram Grover, Managing Director, NourishCo Beverages Limited says "As we operate in the mass market segment, rural sales hold significant importance for us, just like any other FMCG brand. Therefore, regional outreach plays a crucial role in our overall plan. We have observed a significant increase in our rural market share over the past few years, and we anticipate that this trend will persist."

Aggressive Penetration
For deeper connect and penetration in the hinterlands of India, several brands are launching multiple initiatives that will also help provide employment opportunities. FMCG companies have been supporting livelihood enhancement initiatives in rural areas. These initiatives include the promotion of sustainable agriculture practices, provision of microfinance, and support for small-scale entrepreneurs.

Experts say, these initiatives are enabling the middle-class and lower middle-class families to increase their purchasing spends. In one such initiative, Hindustan Unilever (HUL) trains female micro-entrepreneurs under the project Shakti to develop an entrepreneurial mindset and achieve financial independence. Similarly, Procter & Gamble's Shiksha programme in India focuses on providing education to girls in rural areas. PepsiCo India already has a programme called 'Project Prerna' that supports potato farmers in Uttar Pradesh.



Uday Mohan, Managing Director, Havas Media India says that brands plan localized marketing campaigns in regional languages, which is focused on targeting the hinterlands. Brands in categories such as FMCG, consumer durables, 2 wheelers and also automobile for their entry level cars advertise heavily in rural areas. He says, "Though there is no fixed percentage for the allocation of funds as it varies from one brand to another, an estimated split would be around 20%. This would also vary depending on the focus of individual companies, their distribution strengths and product portfolios."



According to Nielsen Retail Index of MAT Dec'22, the rural sales of Adani Wilmar's edible oils contributed to 35% of its growth, while food products like wheat flour and rice jointly contributed to 12%. Mukesh Mishra, Vice President, Sales & Marketing, Adani Wilmar Limited while describing the brand's marketing strategy said, "Post pandemic, the focus was mostly on digital marketing. Our digital strategy is driven by the belief in eating together. Our marketing communication surrounds such festive celebrations that are in display in specific regions. While urban areas contribute to the high sales of our edible oils and food staples such as rice and wheat flour, rural areas, of late, are also showing an upward trend due to good harvest-yield, softening of prices, favourable government policies and positive income flow from urban to rural."



For ready to cook brand Yummiez, presence of e-commerce and quick commerce platforms in tier II, III and IV cities has become a major sales touch point in rural areas. Mohit Marwaha, AVP – Yummiez, Godrej Tyson Foods says, "Mobile phone is not just a reach medium, it is also a buy medium in rural areas. Boom in e-commerce industry has led to an increase in sales in the rural areas. More than 30% sales of our products come from e-commerce platforms and we see rural areas as one of the priorities."

Marwaha further says, "Several modern trade channels like Big Bazaar and food delivery platforms such as Swiggy have expanded their city base, and we see a great opportunity for reaching our consumers. Digital penetration has definitely positively impacted the FMCG industry in India."



Tata Soulfull, which was acquired by TATA Consumer Products in 2021, witnessed a similar growth in rural areas. Rasika Prashant, Co-founder and CMO, Tata Soulfull says, "Digital mediums reaching consumers in rural areas as well as at multiple sales touch points has led to an increase in sale of our products. The logistics and transportation have improved, which has enabled brands to connect with the deeper roots of India."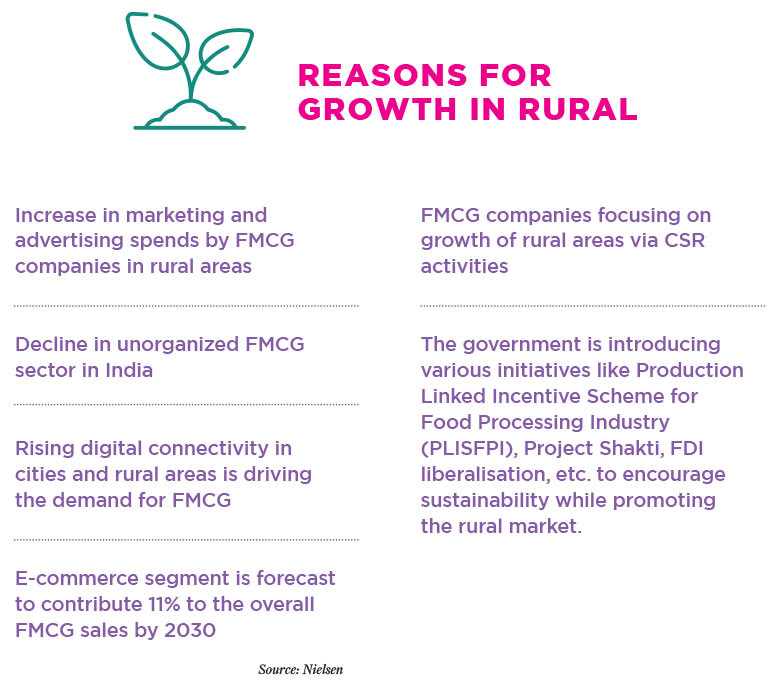 Will rural sales surpass urban sales?
According to Statista, more than 909 million people in India live in the rural areas (in 2021) while urban India is far behind with nearly 500 million people. The FMCG, consumer durables, automobile and healthcare companies have often seen a trend of growth in revenue from urban centers in terms of value. While in terms of volumes, the growth in sales has been recorded from rural areas YoY. Mayank Shah of Parle says that the sales in rural areas has increased over time, "I think there is still room for growth in terms of penetration in rural India. Parle as a brand is very well placed to take benefit of the same."



When asked if rural sales will surpass urban sales in India, Abbhishek Chadha, SVP – North & East, Interactive Avenues responded with, "While the green shoots are a positive sign of demand, rural India has been a key driver of growth for some years, but COVID followed by a period of high inflation has bottomed out demand. It is just a base-effect, and the immediate focus for marketers will be to capitalize on summer 2023 in order to sustain growth in the next two quarters."

Apart from strong marketing and advertising strategies led by brands in rural areas, experts IMPACT spoke to also cite rapid infrastructural development and strong distribution network as the reasons behind sales growth in rural areas.

Sawhney of DDB Tribal says, "The three Vs - Voice, Vernacular, and Video are best delivered at scale through Digital marketing, which may not always be possible in a broadcast media landscape like ours. Additionally, localised media newspapers, radio, haats, and on-ground activations have and will continue to play a strategic role in building brands in rural areas."

The race to woo rural India is real, and marketers need to run to attain both reach and revenue. On the back of rapid growth in Per Capita Income and rural development, brands are pumping in more marketing moolah to boost their reach in the hinterlands to connect with the next 1 billion customers in Bharat.