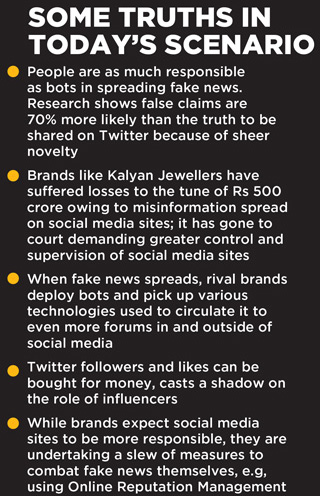 You can buy 10,000 followers on Instagram for Rs 9,000 and on Twitter for Rs 7,500 for your travel blog," was the matter-of-fact statement we heard from the owner of a Delhi-based company which makes money out of selling followers or likes to bloggers, brands, models and celebrities. He believed us when we posed as prospective travel bloggers and laid out the deal. And mind you, it was 100% legitimate business. While social media giants frown on such practices, there is no law which actually stops these fastmushrooming companies from them. Each online platform is engaged in countering the malaise in its own way. Twitter is fighting its own battle against bots, which are often accused of being carriers of fake news. The platform has weeded out 70 million bots over the last two months from its system, the impact of which is believed to have reduced the 'followers' of India's biggest brand – Narendra Modi by a good 23% and many others respectively. Meanwhile, Facebook has promised to delete inaccurate or misleading information created or shared "with the purpose of contributing to or exacerbating violence or physical harm". But will such measures really help in putting an end to the epidemic of fake news, especially when the future of carefully nurtured brands is at stake? Let's find out.
Anand Chakravarthy, MD, Essence India, an agency which has clients like Google, Honda, Flipkart and Britannia, says, "While platforms across the world are recognizing their responsibility in limiting fake news, the challenge has been that people who want to create issues will always find ways to do it. I can't say if there is a 100% way of putting an end to fake news because the nature of these platforms is to encourage user-generated content. With the penetration of these platforms and the growth of digital, we have millions of Indians who are accessing these social networking sites every day and adding content. While technology, artificial intelligence can help to sieve through genuine and misleading news, some amount of slip-up is bound to happen."
A recent study by MIT researchers said that people are as much responsible as bots in spreading fake news. False claims were 70% more likely than the truth to be shared on Twitter because of its sheer novelty. So while you can throw out bots, you can't really control the people. On the day this issue was going to print, WhatsApp announced another series of measures to curtail mass forwarding of messages, images and videos. The company said "In India, where people forward more messages, photos and videos than any other country in the world, we'll also test a lower limit of five chats at once and we'll remove the quick forward button next to media messages." Recently, the Indian government had sent a letter to WhatsApp asking for 'more effective solutions' in the wake of rising incidents of rumours on WhatsApp triggering lynching incidents in the country.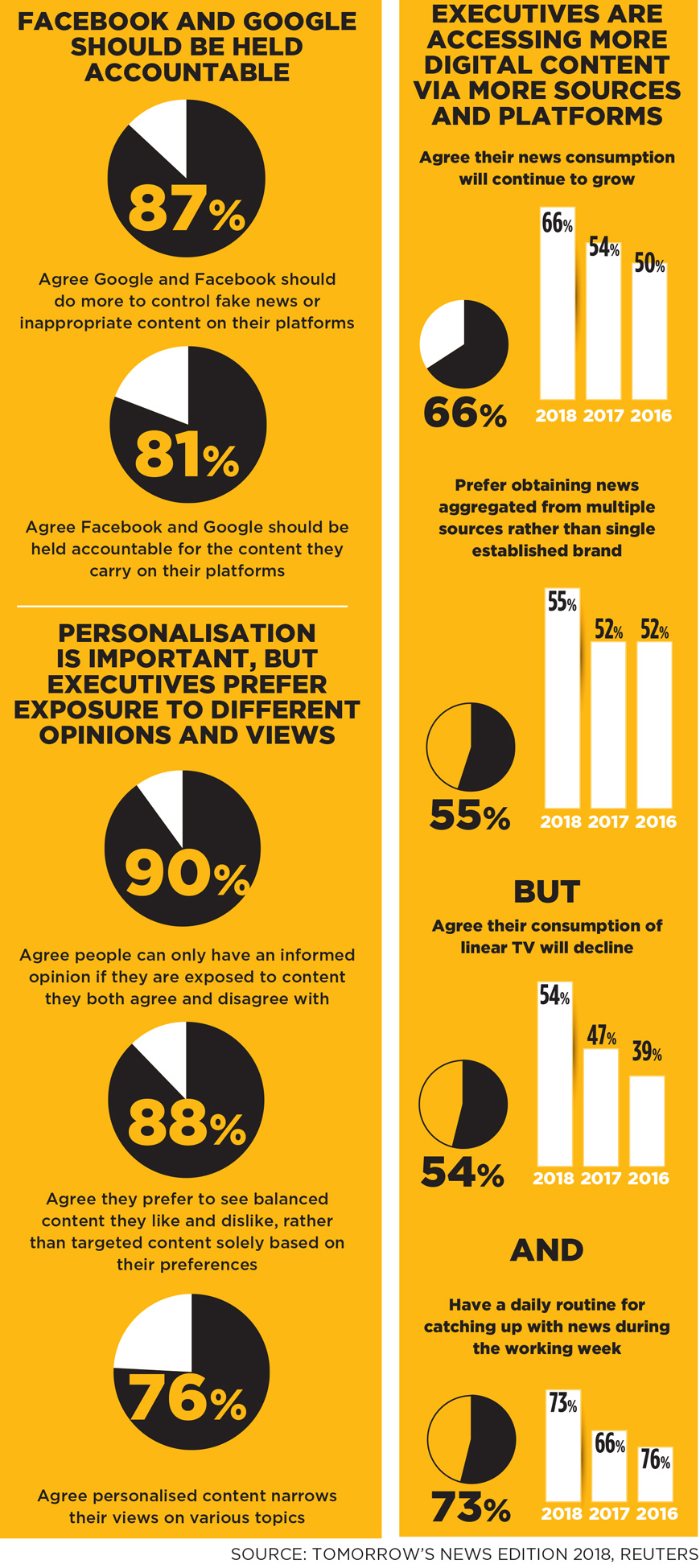 THE VICTIM BRANDS
While incidents of violence have been instigated by videos circulating on WhatsApp, brands haven't been spared either. The most recent example is of Kalyan Jewellers, which has suffered tangible and intangible losses to the tune of Rs 500 crore due to a fake video uploaded on YouTube which was circulated on WhatsApp and social media sites. The video, which the brand believes is being circulated by its rivals, gives an impression that the company is selling impure gold. Another example is of ITC Aashirwad Atta, one of the leading brands in the category, which also became a victim of false propaganda against it on social media sites. A video was leaked claiming that the brand is selling wheat with plastic in it. It is believed to have tanked the sales of the product in several states, following which the brand filed an FIR and released a TV commercial explaining the ingredients of the atta.
Elaborating on how that happened Gurjot Shah Singh, Media Head, Dentsu Webchutney says, "ITC Foods happens to be our client. The news on plastic being an ingredient in Aashirwad Atta was absolutely untrue. Now, whenever that kind of news spreads, rival brands deploy bots and pick up various technologies which are used to circulate it to even more forums in and outside of social media. So Facebook follows an annual practice where it takes down thousands of profiles and deletes them, but now they are looking at doing that on quarterly or halfyearly basis. Facebook, Instagram and Twitter are increasing the frequency of their scrutiny, of taking these bots out." So eliminating bots is one way of solving the problem but is that foolproof? Singh explains, "Such profiles are essentially created by both—at times they are human beings creating multiple fake profiles and on other occasions it is the bots which are creating multiple profiles by picking up pictures from repository, putting up different information. But if Facebook gets to know that there are about 220 profiles made from one IP in a day, it will automatically understand that it is a bot's doing, and thus block it. But as the regulations are getting tighter and stricter, these bots are getting smarter. They hack the IP and create multiple IPs. They create different profiles from different IPs sitting at one source. So, that baffles platforms like Twitter, Facebook, Instagram, and these bots become difficult for them to catch." Meanwhile, we continue to hear countless examples of brands falling prey to fake news, be it the fictitious story about a Pepsi worker injecting HIV-infected blood into Pepsi products, the same allegation about Mondelez chocolates, cases of fake coupons being distributed in the name of Pizza Hut, Dominos, DMart on Facebook and WhatsApp (the mischief-mongers in DMart's case are currently being investigated by the Mumbai Police). While some brands have fought back effectively (See box: HOW SOME BRANDS FOUGHT BACK) it is time that all brands consider this phenomenon as a major threat to their wellbeing and find a way to counter-attack.

HOW BRANDS SEE IT

Most advertisers we spoke to believe that it is the responsibility of social media platforms to keep a check on such posts and educate the audience. Sajeev Rajasekharan, EVP, SMIPL says, "The phenomenon of fake news has accelerated with the advent of social media, and it is up to the technology companies to come up with adequate firewalls in the system. They must come up with adequate checks and balances to instill accountability for the instigators. With the advancement of technology, fake news needs to be nipped in the bud and right at its origin." So largely, marketers are saying that as a socially responsible organization, Twitter, Facebook, WhatsApp and Google have to methodically filter all the content that is reaching the audience, yet that has not stopped them from preparing for eventualities that can harm their brands.
Puneet Anand, Sr General Manager and Group Head, Marketing, Hyundai Motor India Limited says, "Online Reputation Management is a very important function at Hyundai. It is a very strong tool wherein we monitor each and every activity happening on any of our social platforms. My own team keeps listening to conversations on our YouTube page, Facebook page and Twitter handle. Any conversation that appears to be wrong, that is not in the interest of the audience, is filtered, if required it is removed or hidden away from the post to not let it affect the larger audience and tarnish brand Hyundai. We also send advisories to customers if we notice something is wrong."
A PepsiCo India spokesperson said the brand has a similar defence mechanism, "At PepsiCo, protecting our brand's equity is of utmost importance to us. We have been noticing a trend of fake and misleading content being circulated on social media and through WhatsApp which is a cause of concern. To ensure that our consumers are not misled with any false information, we follow a three-pronged strategy – one, monitoring and social listening through our Digital Command Centre – PEP Pulse, that helps with live monitoring of our brand's health and engagement with consumers including responding to queries. Second, through stakeholder reachout programmes like influencer meetups, plant visits, emphasizing brand quality standards, retailer campaigns, etc. Third, taking legal action when our brand is targeted with content that is malicious and threatens our long term equity. We constantly urge all consumers to check for facts before they believe any content that comes their way and not fall prey to baseless and false information."
On the other hand Sushil Matey, Director-Marketing, Livpure, says, "We have mapped out potential avenues of attack and our generic responses to such situations. We can take the help of our PR firms who specialize in crisis communication. Time is the key; the faster we respond to such news, the more customers we are going to retain. The brand has got to be calm and intelligently vocal with the facts by providing evidence and counterpoints. It is also imperative to find out the source of the news in question and ensure that strict action is taken against them. Having said that, every brand or company should utilize only legitimate thirdparty sources while sharing their information with consumers."
OF BOTS & INFLUENCERS

The rise of the influencers is another by-product of social media; many brands use influencers to move the needle for their products. The question is, can they come to their aid in times of crisis too? Experts say it would be an immature and an unsustainable way to use influencers. It is like saying it's your bot versus mine, your bot might be a technical outcome but my bot is a real person who I have bought. When the first wave of influencers came in, they gave genuine opinions but now anyone can be paid to promote anything. So with that thin line gone, credibility lost and customers becoming smart enough to understand the influencer play, the role of an influencer in times of crisis is also being questioned.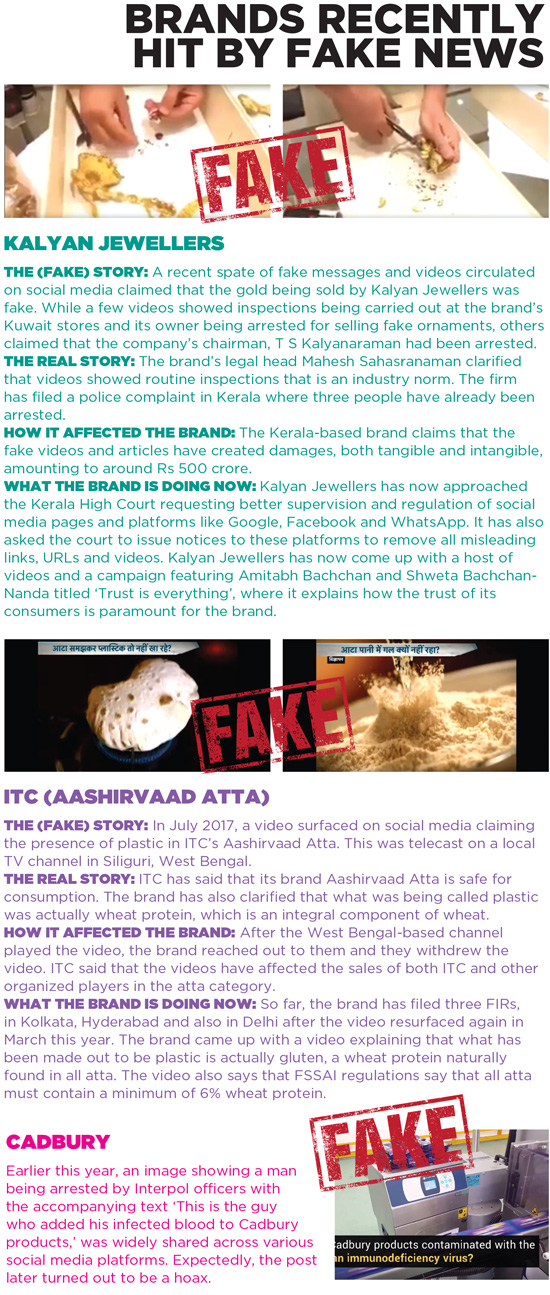 Another problem is that most influencers today can easily buy followers. We mentioned being offered a 10K strong following on Twitter for yet-to-take-off travel stories, for a paltry sum of Rs 7,500. That set us thinking as to how many followers of today's 'influencers' are managed organically and by honest means. So is someone really listening to what these influencers have to say? Additionally, the role of bots in making one's follower count go up is an altogether different discussion. Bots can be used to make an issue trend, amplify a message of product, grab public attention and trigger policy change. They are non-human actors that often try to go undetected. The recent move by Twitter to purge its platform of bots has led to shrinking of the 'following' of several politicians, actors, cricketers, etc. As per a Twitter audit report, Congress chief Rahul Gandhi has 36% fake followers while over 50% followers of Indian cricket team captain Virat Kohli are fake, so one can only begin to wonder how real the followers of several other influencers are, and exactly how useful.
However, another perspective comes from Niti Kumar, Managing Partner, MediaCom, who says, "Using influencers well can work for brands too. Countering fake news from a celebrity's handle can help a lot. While influencers are under the scanner after it was discovered that a lot of their followers are bots, much like in any other decision, you look at the trade-off. For example, if I go for an influencer like Amitabh Bachchan, whatever is his fan following, it will be better than what a brand can get through normal people or consumers. Influencers still work in principle. As long as a brand is cognizant as to what is the number it will get, even if you downgrade the number by a certain percentage, it won't get that kind of reach just through a campaign. So it's still worth it."
As an alternative Aarti Iyer, Marketing Head, Unibic Cookies suggests, "Having a strong footprint on the industry you are in is an equally powerful tool to fix any problem. Adding to this, widening your knowledge about the industry and the news portrayed in the media can also be a tool to protect your brand or company. Awareness is an important step in protecting not only your company's image but also your employees working diligently under it."
WHY BRAND ADS NEAR FAKE NEWS?
One can't just blame bots for the circulation of fake news; people are just as responsible, perhaps because people can gain attention by being the first to share a previously unknown (but possibly false) information and bots beautifully come to their aid by delivering false news and propagating it at an alarming rate. So at the end of the day, bots and humans both are clicking and sharing the same message. On the other hand, if a brand appears on a terrorist website or on a fake news site, the damage to it is measurable. So, in addition to becoming victims of fake news, a brand also has to be on the lookout of not being associated with fake news, even if it is by way of a casual advertisement alongside such a news story which is deemed to be fake. So brands need to challenge social media aggregators and distributors, like YouTube and Facebook, and the credibility of the content their ad is being placed on. It is their responsibility.
Pointing out that it is not the fault of social media platforms alone, Chandramohan Mehra, CMO, Bajaj Allianz Life Insurance, says, "Fake news has been around for long even before the explosion of social media. What makes it nightmarish is the speed at which it travels and the magnitude of engagement it generates; which is faster and larger than real news. These platforms are making sizeable investments, have deep analytical capabilities and wherewithal to deal with it, though it may take some time to curb it to a certain extent. Let us acknowledge the fact that fake news is here to stay."
N Chandramouli, CEO, TRA Research says, "In today's day and age where social media is as widespread as it is, controlling fake news about anything is almost impossible. It is for brands to take action, very quickly and swiftly. They should make sure that there is positive news that can counter the fake news. Moreover, today there are a lot of alternative fact-checking websites like AltNews that check every bit of news, including pictures, and tells you whether a news is authentic or not. So, if a brand finds itself becoming a victim of fake news, it needs to come out immediately and communicate, so as to win back the trust of its consumers."
Adding to that, Govindraj Ethiraj, Founder, Boom Live says, "As long as there is an incentive in spreading fake news, it will continue to strike. It is up to the platforms to hone their artificial intelligence algorithms and figure out where there are non-human entities on their system. And over time, as a platform, you do develop these skills. Like in case of YouTube, the ability to filter certain kind of offensive content has grown three times, similarly Facebook and Twitter will also keep getting better. For the moment, it is great that Twitter is weeding out bots, but you can't expect the other side to not get wiser."