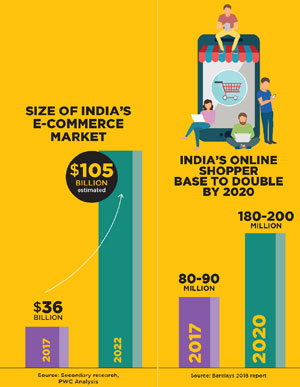 In 2019, Amazon became the third largest digital advertising platform in the US with 8.8% market-share. Long before Amazon's digital thrust in the US, e-commerce platforms in China had already established a steady revenue stream through search and display advertising. Alibaba's earned revenues from e-commerce advertising is expected to account for a whopping 32.6% of China's total digital ad spending of $79.82 billion estimated for 2019 (as per e-marketer). Are e-commerce platforms in India also taking significant strides in the same direction, though as a market we are yet to tick several boxes to complete the digital revolution? Are advertisers increasingly becoming aware of the potential of Amazon and Flipkart and are they investing a significant part of their digital budgets on them? Let's find out.

Says Navin Khemka, CEO-South Asia, MediaCom, "For brands that are distributed on e-commerce platforms, it's a fantastic place to also advertise because you are in the moment of truth where the consumer is already looking at options within the category. All you need to do is give him a little push in the direction of your brand by providing a little bit of extra information or benefit through an ad which will help you close a sale."

Gurjot Shah Singh, Sr VP & National Media Head, Dentsu Webchutney explains it further: "E-commerce marketing has become one of the strong performance marketing engines, which is nothing but an indication to purchase or consideration to purchase. If you are advertising on the digital medium, let's say YouTube masthead or Times of India banner or putting up a shampoo ad on idiva.com, the consumer would read it there, then go to the company website, know more about the product and then ultimately purchase it online or offline. But, e-commerce is short-circuited. So, you see an advertisement on an e-commerce engine, you click on the banner, and then buy. Also a 'click' on any other website might be just an indication to read about the product, but an 'Add to cart' on an e-commerce site is a sure indication to purchase. So your marketing can be measured against business results straightaway."

Looking at it another way is Shamsuddin Jasani, Group MD, Isobar South Asia: "The great part about Amazon and Flipkart, especially the latter, is that you can do targeting based on interest and what people have bought in the past. From an advertiser perspective, it gives you very good amount of data which you can marry with intent to achieve tangible results."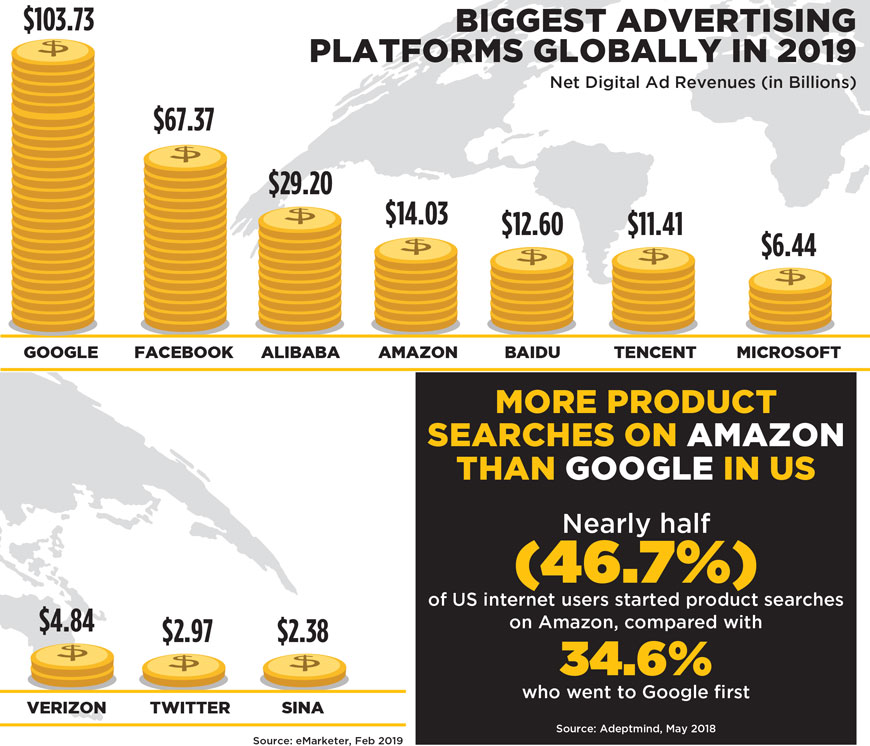 SIZE OF THE INDIAN MARKET
India's e-commerce market, which is currently worth $ 35 billion, is set to grow three times to surpass $ 100 billion by 2022, as per a 2018 report by industry body NASSCOM and PriceWaterhouse Coopers, India. Another 2018 report by Barclays estimates that India's online shopper base will touch 180-200 million by 2020, up from 80-90 million in 2017. Both these will push up the online advertising numbers.

But as of now, out of more than half a billion Internet users in the country, only a fraction are on e-commerce platforms. Santosh Mishra, AVP-North, iProspect says, "Advertisers are fast understanding that Amazon and Flipkart have the transacting audience of India. So, anybody and everybody who wants a last mile sale KPI to move in a short term, they will go to these e-commerce sites. The transacting audiences are the ones who have money in India, they are the repeat purchasers. And that will largely be the same for all the industries. So, no matter where I go, if I have a small or limited budget as a marketer and I have to start allocating it, my first preference would be to spend on the audiences who are willing and can buy my product. Those audiences are there on e-commerce sites."

CATEGORIES THAT DON'T ADVERTISE
On the flip side, Rajiv Dingra, Founder and CEO, WatConsult points out, "Think of all the big advertisers in the country - Pharma, BFSI, Auto or FMCG. These four sectors don't have much use for e-commerce, in the sense that they don't get a large share of their sales from e-commerce websites. Apparel brands will advertise on e-commerce websites, but in ad spends they can't match the four categories mentioned. So, BFSI, Auto, FMCG and Telecom might have some ads but they are not transacting on Amazon or Flipkart. For them, it is better to turn to Facebook and Google ads, which will take people to their websites. Also e-commerce websites are hardly as big as Google and Facebook, which are pretty dominant in performance marketing as of now."

Some say it is difficult to work in isolation. The head of a particular media agency, who did not want to be named, says, "For example, an advertiser may choose to link all his YouTube ads to a marketplace directly. So, if you click on the ad, you go to the brand page on Amazon. So, they work in conjunction with each other. Sales of several categories are driven by e-commerce today; data suggests that 60% of all mobile phones are sold through e-commerce and 30% to 35% of television sets too. So, as categories grow on e-commerce, obviously those brands want to advertise closer to where the consumer is taking a decision on purchase, and thereby the advertising also grows."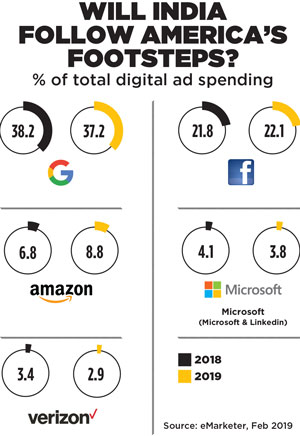 Similarly, fashion is a huge category on e-commerce, but fashion on e-commerce as a proportion of all fashion sales in India is very small. Likewise, in beauty products, even now brick and mortar stores account for a much larger proportion of sales, but there are online platforms like Nykaa which have a fairly high share of cosmetics sales in the country. So, there are categories which are growing on e-commerce and starting to dominate category sales, but they are very few.

Singh, however, is optimistic, when he says, "On an overall level, by 2022, which is about two years from now, I see more than 30% to 40% of brands' digital budgets across categories moving to e-commerce. Easily, more than 50% of the performance marketing business in the next two years is going to be on e-commerce. Of course, the numbers would have been lesser if 'Click Out' ads had not come into the picture."

Dingra adds, "e-commerce advertising is growing above the advertising average. Digital advertising is growing by 30% while advertising on e-commerce platforms is growing at more than 50%. Right now, it comprises anything between 6-12% of a marketer's digital budget."

With Rs 1200+ crore estimated to ride on e-commerce advertising in 2019 as per industry experts, clearly e-commerce advertising/point of sale advertising has become an important engine of performance marketing. After all, you are just one click away from buying a product, unlike on other digital platforms. So much so that brands like Logitech are now appointing dedicated agencies only to handle their e-commerce advertising. Similarly, GroupM has had an e-commerce vertical for years. But when it comes to overall brand advertising, Facebook and Google still are at the top of their game.

Ad formats: How e-commerce websites are catering to growing advertiser demands
Click out' is Amazon's advertising model through which a person exits the e-commerce website and lands on a brand's page by clicking on an ad. For example, when people who are interested in buying cameras come to Amazon, they can be taken straight to a Canon website through a 'Click out' ad wherein the purpose might be to educate him about an upcoming product and not necessarily buy it immediately. Such ads are also the most relevant for products which are not listed on Amazon. For example, Amazon knows that if a certain person has bought international travel-related products, then a bank might want to sell him a Forex Card, but it can't be sold on Amazon, so he has to be directed to the bank's website.

Flipkart, on the other hand, joined hands with Hotstar to come up with 'Shopper Audience Network' wherein if you have added a Nikon camera to your cart, but didn't buy it before moving on to Hotstar, you will see innovative ads while you are watching content on it. So if you are watching Koffee with Karan, you may see an ad which says, why not click a photo with your favourite celebrities using a Nikon camera.

Explaining the various ad formats on Amazon and Flipkart, Gurjot Shah Singh, Sr VP & National Media Head, Dentsu Webchutney says, "Migration in terms of ad products has been a bit different for Amazon and Flipkart. Amazon started from search ads, moved to display ads. Whereas Flipkart started from display ads. Flipkart took a very Indian approach to advertising by trying to address the mindset of a user, whereas Amazon used a very hardcore transactional way of addressing the needs of the user on e-commerce. So, both went in different directions. Now, of course to scale it up, they are empowering the digital agencies by automating everything and giving self-serve models. A self-serve model is like Google Adwords, where I can control all the campaigns of a client sitting at an agency office. Additionally, advertising on Amazon is fairly comparable to that on Google cost-wise too."

Analysts say Amazon and Flipkart, between them, control 90% of the e-commerce market in India, whereas Snapdeal, Shopclues, Tata Cliq, Paytm, etc., make up the remaining share.

A Snapdeal spokesperson told IMPACT, "More than 70 million users visit Snapdeal every month to browse and buy from amongst the 200 million SKUs listed by more than 5,00,000 independent registered sellers on Snapdeal. We have seen robust growth in advertising on the platform. The accelerated growth follows our newly introduced postpaid advertising model, which allows advertisers to pay only when they fulfill an order generated by an advertisement on the platform. Approximately, 10,000 sellers across product categories have signed up for advertising on Snapdeal under the new model. Snapdeal is also offering a prepaid model called Pay Per Click. Most of our advertisers are from fashion, home and kitchen, handloom, mobile and electronic segments."

Then there are e-commerce platforms like Pepperfry, who have decided not to open up their platforms to advertisers. Says Kashyap Vadapalli, Chief Marketing Officer, Pepperfry.com, "Typically, e-commerce firms tend to give out space for advertising which has a natural logic to it. It will make sense only if you have extremely heavy traffic. For example, we get about 10 million visits every month, whereas the largest platforms in India might be getting around 100 million visits. Secondly, on a transaction platform, the conventional wisdom is that you don't distract the user with other advertising. What you can do is take advertising from brands that are already present on your site, that way you lead the advertising clicks back to the brand's listing on your own site. At the moment, we have been toying with the idea of allowing our own merchants to provide advertising on our site, but we are not fully convinced that in a high involvement category like ours, where the ticket size is high, we want to distract our customers."



Bhaskar Ramesh
Group Head - CPG, Technology, Auto, M&E, Google India

"Ultimately, people are looking to meet their needs in the most efficient way possible, whether that means shopping online only or researching online before heading to the store. We find this behaviour is captured both in Search and YouTube - depending on the category. This is leading to an always-on performance marketing campaign."



Siddharth Banerjee
Director, Global Sales Organization (GSO), Facebook India

"Brands are exploring Facebook-only campaigns as advertising with us has driven significant business results for our advertisers - large and small. For large businesses, we have offered comprehensive solutions for brands across verticals and industries. Facebook is also the default destination for small businesses."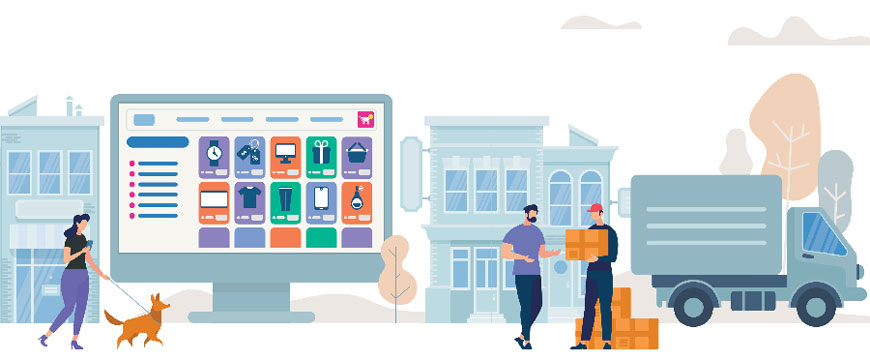 WHO IS ADVERTISING ON E-COMMERCE SITES?
There are two types of advertisers on e-commerce websites today - those who sell products on the site, and those who don't. As brands see more and more traction for their category on an e-commerce platform, they will look at advertising within the ecosystem to make their product more visible to the buyer who is already searching the category. Then there are brands who are not traditionally known to sell on e-commerce platforms. While a car is not sold on Flipkart or on Amazon, there have been cases where entire bookings were driven by e-commerce sites.

Giving an example of how an auto-maker innovatively used e-commerce, Rahul Gautam, Vice President Marketing, Ford India says, "Given automotive is a high involvement purchase, e-commerce portals have not emerged as the preferred choice for auto-makers over the years. We have, however, used these platforms to drive innovation. In November 2017, ahead of introducing the New Ford EcoSport, we accepted pre-bookings on Amazon. Our fans stayed up beyond midnight to be amongst the first to book their car. The limited volume of 123 Ford EcoSport cars was pre-booked in less than 24-hours on Amazon."

Another category which has recently started advertising on e-commerce sites is the BFSI segment. Anil Ramachandran, EVP & Head, Marketing & Corp Comm and Retail Unsecured Assets, IndusInd Bank tells us why: "Given that a consumer's 'purchase' level engagement will happen on e-commerce sites, it is imperative that advertisers too need to be present there. Apart from online, it is suggested that over 50% of offline purchase decisions are influenced by e-commerce platforms. In such a scenario, advertising on e-commerce engines has become critical for influencing buying decisions. Today, not just tangible products but services like health and vehicle insurance from BFSI companies are sold online. e-commerce players are fast catching up with this mega trend of e-commerce advertising," he says.

Sunita Bangard, President - Marketing and National Brand Head, Vodafone Idea has a slightly different take: "There are lots of options beyond e-commerce too if we are just concerned about the last mile sale KPI and we use them as and when we need it. Having said that, we are present on e-commerce platforms. For example, whenever you are buying a handset, you can look at a SIM card from either Vodafone or Idea, which then gets delivered to you," Bangard says.

For the other advertisers, e-commerce is strategically placed considering that they are at the bottom of the funnel when consumers are coming close to a purchase. Mostly, people go there with an intent to buy and not just intent to browse, thus it becomes more relevant. Rohan Arora, Head of Marketing, Bausch and Lomb India, says, "While e-commerce in India is still a relatively small part of the overall retail market, it is a very viable and sought-after place to advertise for products that are bought online. The Number 1 reason for this is the beauty with which e-commerce platforms make products discoverable among millions of listings; e-commerce platforms also allow you to display products from multiple categories that can be paired or bought along with the item of preference. Brands are now co-creating content on such platforms, which enjoy a strong user affinity, and have the potential to influence target audiences through the content they create."

Arvind RP, Director - Marketing & Communications, McDonald's says, "e-commerce platforms are growing fast to emerge as an important digital destination for customers. Keeping this in mind, we are doing strategic partnerships with both food as well as non-food e-commerce platforms, to grow brand awareness as well as to drive business through these platforms. Paytm and Amazon are some of the key e-commerce websites we advertise on, for select campaigns. The budget we allocate for e-commerce platforms is to the tune of high single digits as a share of overall digital spends, and we see it growing year-on-year."

Another category which is majorly moving budgets to e-commerce advertising is the consumer durables brands. Experts suggest that they are spending 30-40% of their digital marketing budgets on e-commerce platforms. KG Singh, VP-Marketing, Whirlpool India says, "If you compare it with the scenario three years ago, I'd say e-commerce advertising has started to gain a lot more traction. Today, about 20% of our overall marketing spends - and not just digital spends - are dedicated to e-commerce advertising and we are present across all the e-commerce sites. Amazon and Flipkart are the big ones; given their share, size and scale, they definitely become the big partners. But, we are also available on a lot of other platforms like Paytm and Tata CLiQ, basically wherever the consumer is going."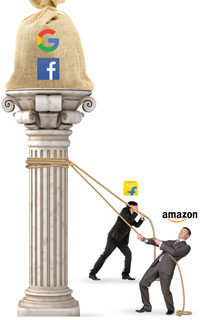 Facebook, Google VS Flipkart, Amazon
As social media sites, search engines and e-commerce sites battle one another for a bigger share of the advertiser's spends, some say the distinction is clear with Google and Facebook being better at brand-building while e-commerce sites rule the performance marketing game. But others say it is hardly that simple, and that Amazon and Flipkart have a long way to go to match the search and social media giants in the advertising game in India

A number of consumer surveys globally have shown that more digital shoppers in the United States now start their searches on Amazon. Nearly half (46.7%) of American Internet users started product searches on Amazon compared with 34.6% who went to Google first, according to a May 2018 Adeptmind survey. In India too, experts say the trend has started to reflect, with the number of clicks required to reach a destination reducing.

Sudhir Nair, Founder and CEO, 21N78E says, "Amazon has become the de-facto search tool for product discovery and purchase. This is particularly true for products within a certain range. Pure performance campaigns post launch, for certain categories and price points, will have to be indexed more on Amazon and have a fair balance on Google and Facebook. On premium and experiential products, Google and Facebook are likely to have a bigger share because they tend to create a lot of intrigue and discussions."

Says Navin Khemka, CEO-South Asia of MediaCom, "The competition between the e-commerce players, search platform and social platform will be about being able to retain consumers and direct them to the right source." Shamsuddin Jasani, Group MD of South Asia, on the other hand, says that all sides have their own clear strength: "e-commerce platforms are good at performance marketing while Facebook and Google are good at brand marketing."

Talking about it from a Google point of view, Bhaskar Ramesh, Group Head - CPG, Technology, Auto, M&E, Google India says, "Brands that come to Google are looking at leveraging digital for both (brand and performance marketing). Each brand has a different KRA when they start any campaign. Some want awareness where they can use a variety of tools like YouTube Masthead or Bumper Ads; other times they are looking for action where they use products like TrueView for action or YouTube Blast among others. Ultimately, people are looking to meet their needs in the most efficient way possible, whether that means shopping online only or researching online before heading to the store. We find this behaviour is captured both in Search and YouTube - depending on the category. This is leading to an always-on performance marketing campaign."

At the end of the day, a brand doesn't just come into a consumer's consideration set because of e-commerce. A brand comes into a consideration set because you build a brand, build awareness, preference and consideration for it. That is where the Google ecosystem plays a massive role, even in terms of final purchase. The fact that a Google ad is something that can link back to a platform where you can go and buy the product. It may not be a Google platform, but for example, an advertiser can choose to link all their YouTube ads to their website or to a marketplace directly.

Talking about what is working for Amazon, Ravi Desai, Director, Mass and Brand Marketing, Amazon India says, "A big factor which has helped us in this journey of becoming a relevant advertising platform is firstly that many Indians across geographies come to our site every day and that level of traffic is honestly difficult to get. Second is the intent to shop or at least to browse when they are actually on a retail marketplace like Amazon as opposed to when they are watching content on YouTube or on a social media platform. With that intent and that kind of traffic, I don't see why brands should not tap into that specific cohort of customers who could be interested in the category that they are selling."

Today, while e-commerce is growing, there is still a long way to go before it dominates categories like FMCG, BFSI and the share of advertising of those categories will still be low. However, a social media giant like Facebook may not face that problem. Siddharth Banerjee, Director, Global Sales Organization (GSO), Facebook India says, "The increasing penetration of mobile phones combined with data democratization has transformed the consumer life-cycle. People can go from discovery to purchase in a few seconds, and that's where Facebook proves to be very effective. Brands are exploring Facebook-only campaigns as advertising with us has driven significant business results for our advertisers - large and small. For large businesses, we have offered comprehensive solutions for brands across verticals and industries, including FMCG, telecom, e-commerce and financial services. Facebook is also the default destination for small businesses." In fact, just last week Facebook rolled out a suite of new interactive ad solutions including Poll ads, Augmented Reality (AR) ads, Instagram poll stickers for Stories ads, and Brand Playables.

Yet some of the brands in the above-mentioned categories are being drawn to e-commerce websites which today not just influence online sales but offline sales too. Anil Ramachandran, EVP & Head, Marketing & Corp Comm and Retail Unsecured Assets, IndusInd Bank says, "With new products/ad inventories in place, e-commerce platforms are now increasingly being used for brand-building. The trend has been well captured by e-commerce sites displaying ads at check-out points and comprising a click-out model where the users exit the e-comm ecosystem and are directed straight to the product/brand website. Apart from business intelligence and analytics which recommends the advertiser's products directly to people searching for similar products, e-commerce sites have also created mastheads which are being used as reach builders effectively."

Similarly, for an upcoming lipstick brand, it would make a lot of sense today to advertise on Nyka, Amazon or Flipkart where cosmetics are sold. Obviously the intent is to close sales on the platform eventually, but you are also using it to build brand awareness for a new product because that's where you get to convince the audience which has the purchase intent, about your product prowess. Prakash Sikaria, Vice President at Flipkart, says, "The consumer's journey of discovery online is evolving at a fast pace and at Flipkart, we offer our full-scale ecosystem for advertisers to engage consumers effectively online."

Flipkart has also moved to create a video asset which will give consumers another reason to come back to their platform. It will open a lot of possibilities for the platform if they can integrate the content with their e-commerce business. Santosh Mishra, Associate Vice President - North, iProspect India, says, "Similarly Amazon is going to come up with 'Demand Side Platform,' just like 'Google Display Network' through which it will tie up with all the publishers and tap into the first party audience for Amazon on these platforms. That way, they can earn revenue from a Times Internet as well as a Moneycontrol too. After all, Google became Google because they tied up with 99% of the Indian inventory. And tomorrow if Amazon does that, so would Flipkart, and so would other players."

But today, while Google's reach is almost as big as the Internet population of India, the reach of the e-commerce platforms is barely one-fifth of it. Amazon is believed to be closely competing with Google and Facebook and even eating into its shares in the US, but unlike the US market, where there is 85% Internet penetration, in India it's as low as 35%. That means there is a lot of headroom for growth even for Google and Facebook. It also means that growth of advertising on e-commerce platforms will not necessarily hurt Google or Facebook's revenues significantly, at least not in the short run.