Pitch Madison Advertising Report, 2022 estimates that AdEx in 2021 has registered an unbelievable 37% growth, traditional AdEx grew by 31% and Digital by 50%. It also forecasts a 20% growth for 2022.
2021 was no doubt a challenging year with the devastating second wave of COVID-19 in picture. Like the first wave, the second wave too had impacted almost every business across sectors. Despite the challenges, in 2021 businesses have shown great resilience against the pandemic and to everyone's surprise, Indian AdEx has registered an unbelievable growth - highest growth among all countries. As per the Pitch Madison Advertising Report, 2022 which was unveiled last week in 2021 total AdEx has grown by 37% and traditional AdEx by 31%. WARC estimates that global AdEx stood at $585 billion in 2021, registering a growth rate of 21%. India with a growth rate of 37% has regained its stellar position of being the fastest growing advertising market in the world, followed by Australia and UK both at 35%. US which is the biggest Advertising market and contributes 46% to global AdEx also grew by a substantial 22% on its massive base. India unfortunately continues to be a minor player on the global AdEx stage with a share of only 1.5%. In absolute terms AdEx has grown almost Rs. 74,000 crore, Rs. 20,000 crore higher than 2020 and over Rs. 6,500 crore higher than 2019, surpassing it by 10%. This is the highest growth that AdEx has registered in nearly the last 2 decades. The second highest growth of 28% was achieved in 2010.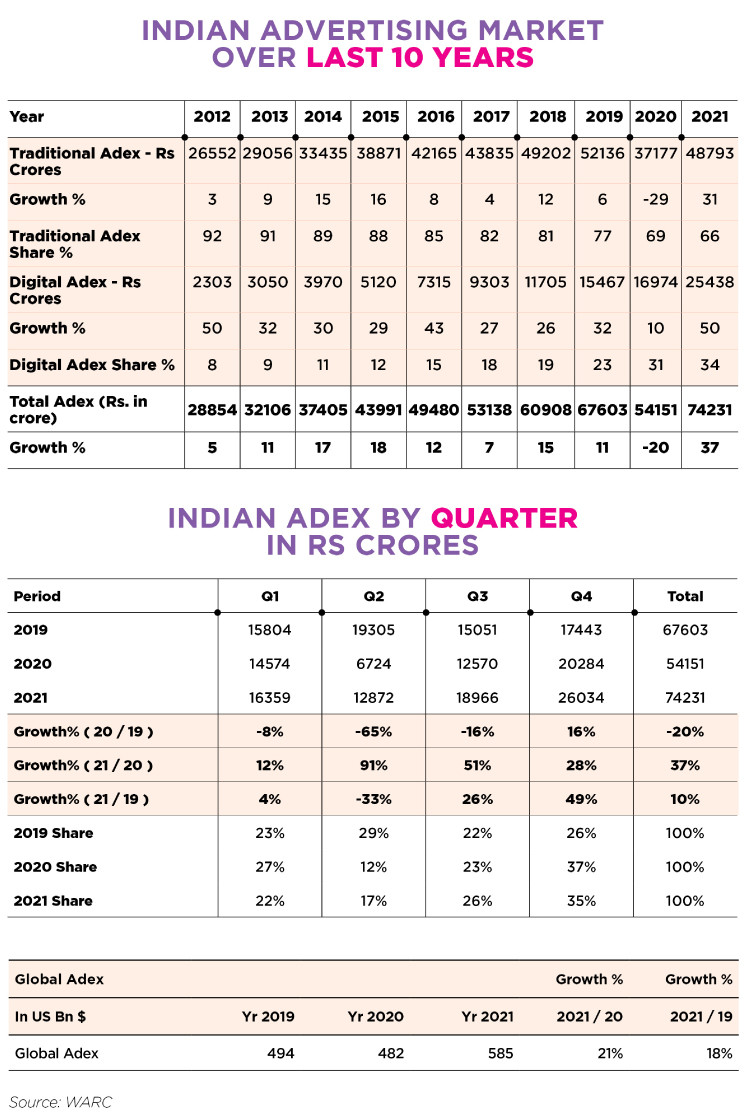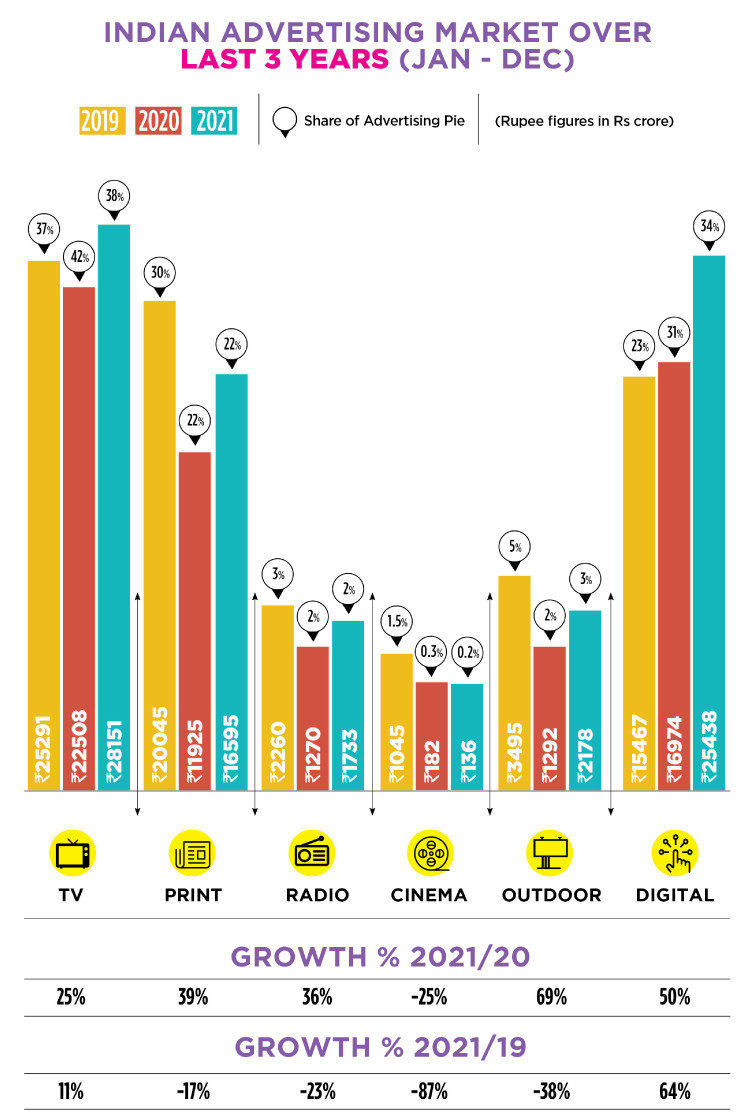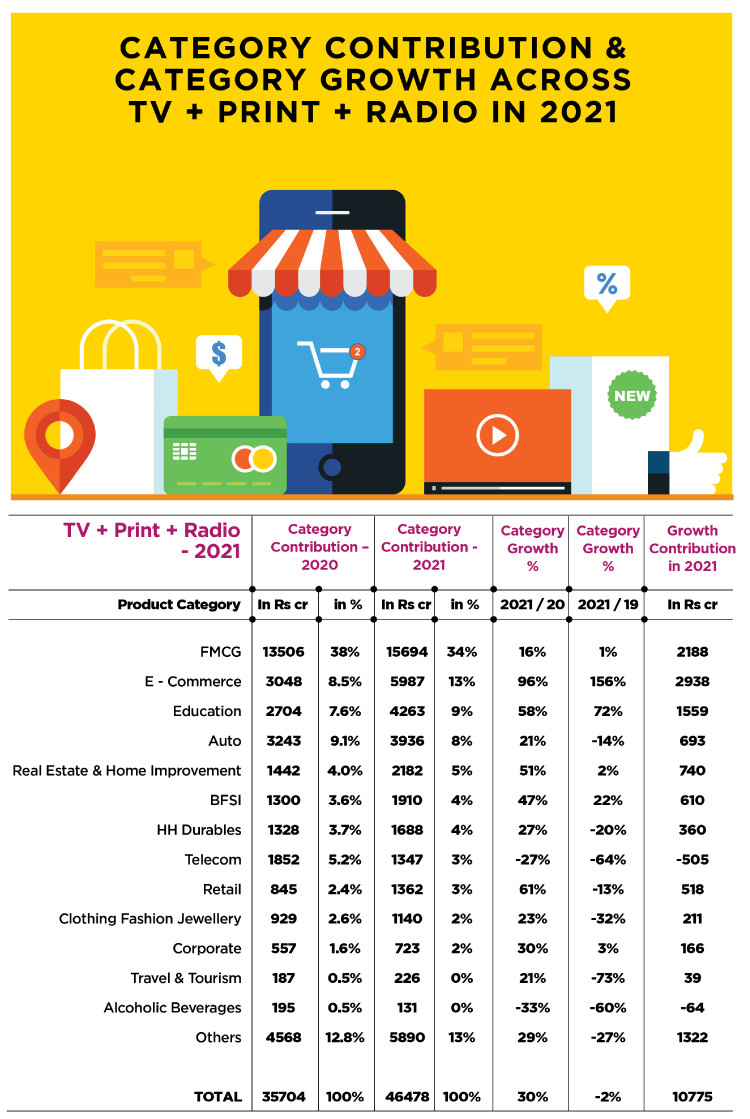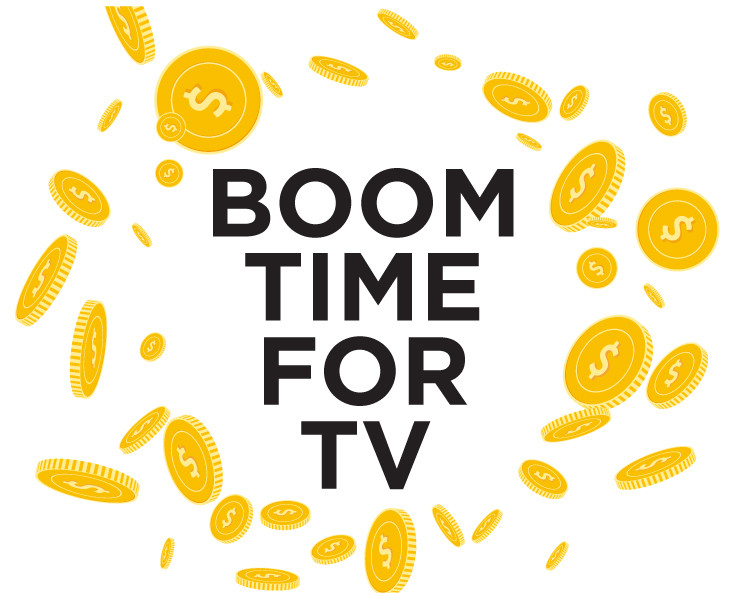 TV AdEx put in a spectacular performance, registering a high spend of Rs. 28,151 crore which represents a 25% growth in 2021, preceded by a 11% de-growth in 2020. TV is the only traditional medium that has comfortably surpassed the 2019 number of Rs. 25,291 crore by as much as 11%. No other traditional medium, Print, Radio, Outdoor or Cinema has been able to cross the 2019 spend figure. TV though dropped four percentage share points from a high of 42% last year, to 38% in 2021, has registered a one percentage point increase over 2019. Compared to its 38% share in 2021, globally TV enjoys a share of just 22% and India shares the credit of being one of the top most TV advertising countries.
While Q1 started softly with a de-growth of minus 6% over 2019, each subsequent quarter has gained steam with TV AdEx growing in size. Q3 and Q4 of 2021 registered a sharp increase of 35% and 58% over respective quarters of 2019. Q4 marginally surpassed the high base of the corresponding quarter in 2020. This low growth is because Q4 2020 had the full IPL, whereas Q4 2021 had only half of the IPL which started in Q2 but got suspended and resumed in Q4. FMCG, E-Commerce and Education were the biggest contributors to the TV AdEx. However, FMCG, the most dominant sector with a share of 51% in 2020, lost as much as five percentage points and was down to 46%.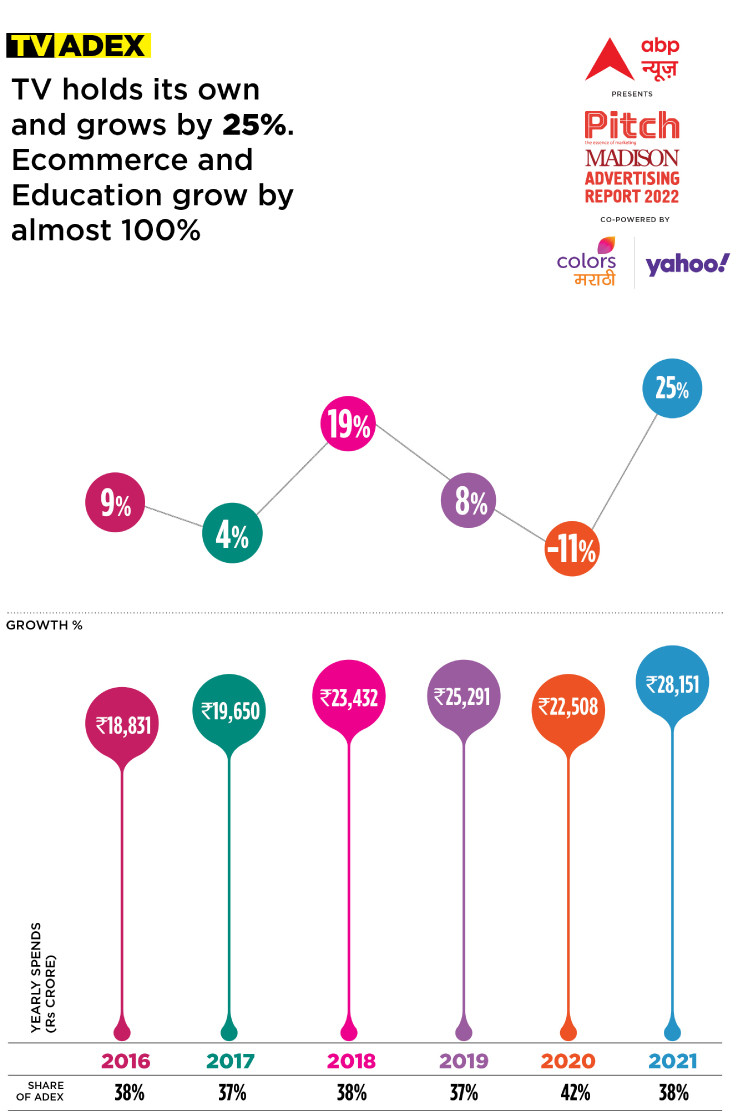 DIGITAL SUPERSTAR
The Digital AdEx juggernaut moves ahead unabated. According to the PMAR report, in 2021 Digital has grown by a phenomenal 50% taking Digital AdEx to Rs. 25,438 crore with a share of 34%, just four percentage points lower than the largest medium TV. The last time Digital grew by 50% was way back in 2012, when it added just Rs. 750 crore, but in 2021 it has added almost Rs. 8,500 crore. In the last 10 years Digital has grown at a compounded annual growth rate of 27%. Even Covid could not dent its onward march and it grew by 10% in 2020, when all other mediums de-grew.
With the festival and resumption of the IPL season, Q4 was the largest quarter, where Digital AdEx touched almost Rs. 10,000 crore and contributed 39% to the full year. Q2 contributed the least at 14%, because of Covid wave 2. In terms of verticals, Video contributed highest with a total share of 29%, followed by Social & Display at almost 20% each. E-commerce and Search now contribute 16% each to the overall digital pie. In terms of growth rate, E-commerce has grown significantly by as much as 50%. Display, Video and Search have also grown substantially at 30%+. Programmatic has firmly taken route in India and its share has been going up every year by a few percentage points and now stands at 42%. Almost all Digital spends in India are on Mobile with the latter commanding a 96% share.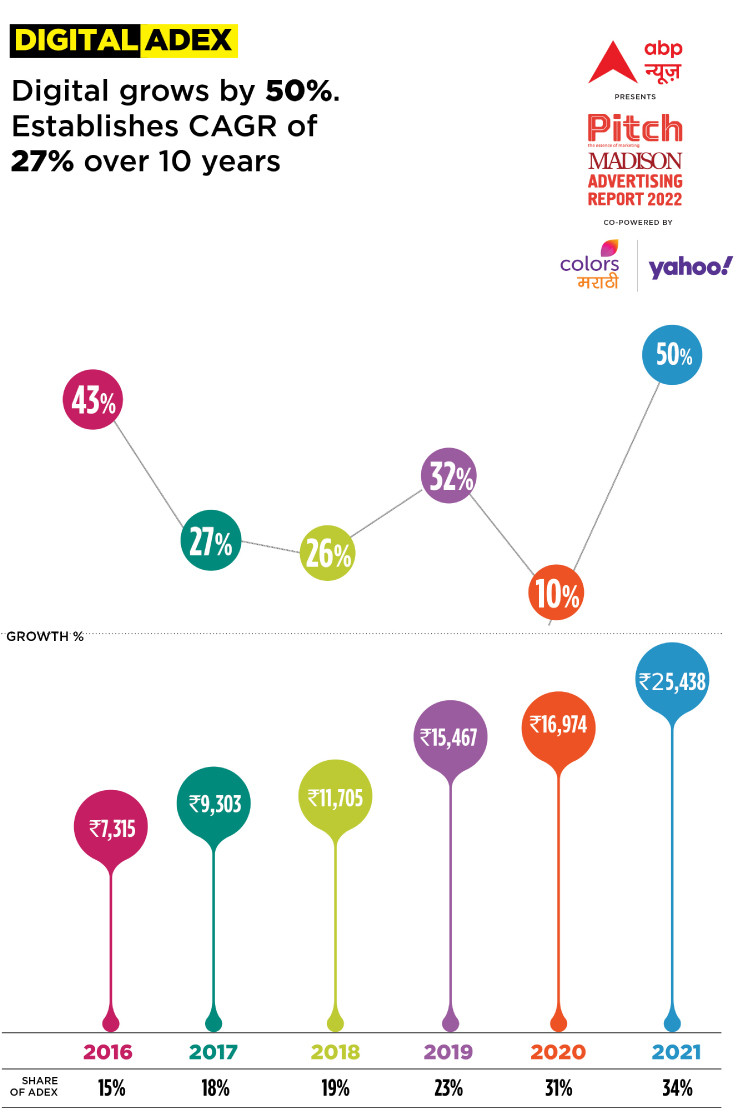 RENAISSANCE IN PRINT
2021 was kind to Print, when Print AdEx registered a 39% growth, following a sharp 41% decline in 2020. Unfortunately, this steep growth does not make up for the sharp decline in 2020 and Print AdEx in 2021 is at the same level as it was in 2015. An encouraging trend noticed in 2021 is that Print volume in terms of CC has also gone up by 31%. Quarter 2 was severely depressed because of Covid Wave 2, but Q3 almost matched up to volumes of the same Quarter of 2019. In fact, in Q4, Print volume surpassed that of Q4 in 2019. Growth rates in all Quarters are predictably very good in CC terms, compared to Covid year 2020. But Print AdEx 2021 could not match up to Print AdEx of 2019 and shows a 16% drop in volume compared to the pre-Covid year.
English and Hindi publications put together, contribute to 63% of total AdEx volume. English publications have been the highest gainers in terms of Ad volume and grew 40% over 2020. Hindi publications, which are the largest volume contributors, also grew by 30%, Telugu by 37%, Assamese & Marathi by 33% and Bengali by 27%. All languages grew, the least to have grown are Kannada, Gujarati and Punjabi at around 18-19%. In terms of category shares there has not been much movement with Auto dropping by 2% percentage points from 16% to 14% and FMCG by 1% percentage point from 17% to 16%. Auto's drop has been E-commerce's gain with the latter increasing its share from 3% to 5%. Retail too has gained a percentage share point moving up from 5% to 6%. Three categories FMCG, Education and Auto make up 45% of total Print AdEx and are almost equally divided with marginal differences in share.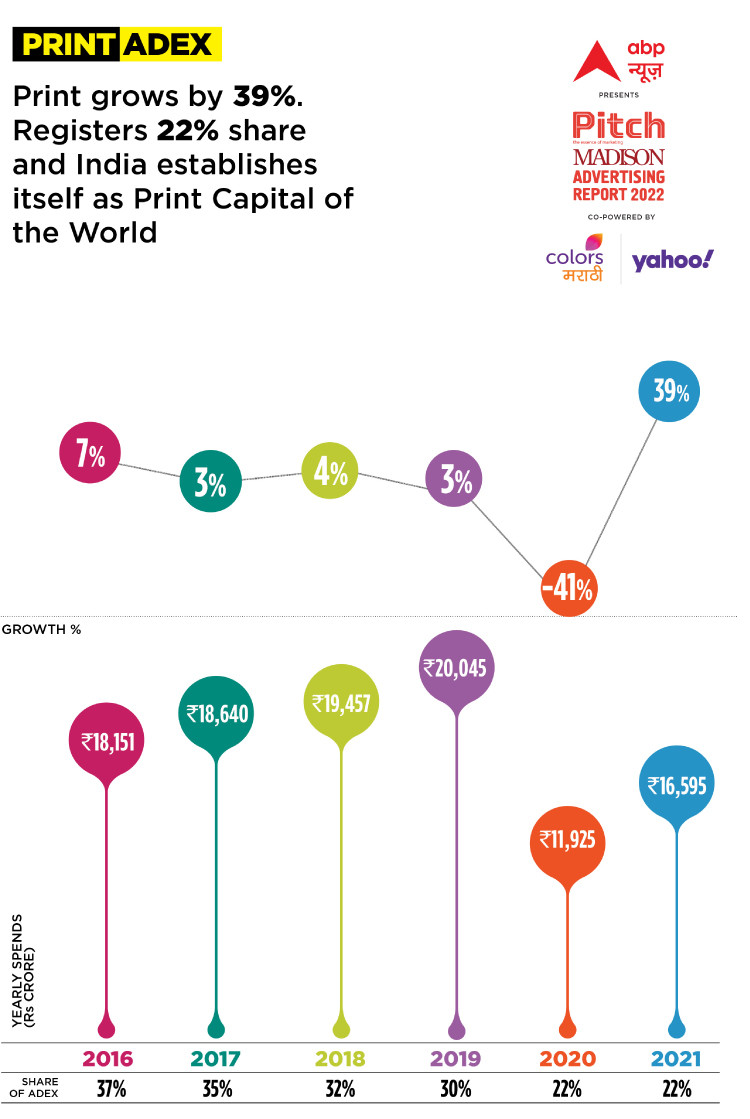 RADIO 2021: STRONG WAVES OF RECOVERY
Radio saw a 36% increase in spend (followed by a 44% de-growth in 2020). Radio AdEx has failed to recover fully and the estimation of Rs. 1,733 crore in 2021 takes Radio back to the year 2016, when it had registered a spend of Rs.1,749 crore. In terms of share, Radio AdEx which had registered 4% in the years 2015, 2016 and 2017, now stands at only 2%, which is similar to what it achieved in 2020. Q4 was the largest contributor, contributing 37% to annual AdEx and Q2 was the smallest quarter, contributing just 9% to AdEx. Q1 of 2021 was more or less similar to Q1 of 2020. But the remaining three quarters have all registered substantial growth over corresponding previous quarters signifying that the worst is over for Radio.
Infact, Q4 registered a 46% growth over the same quarter last year and a 21% growth over 2019. Almost all Radio operators to increase their revenue base, have now started looking at adjacent areas to augment their FCT base revenue. Digital engagement, content and newer distribution channels are some of the areas being focussed upon. Resumption of economic activities in Tier II and Tier III markets also attracted many local advertisers to Radio.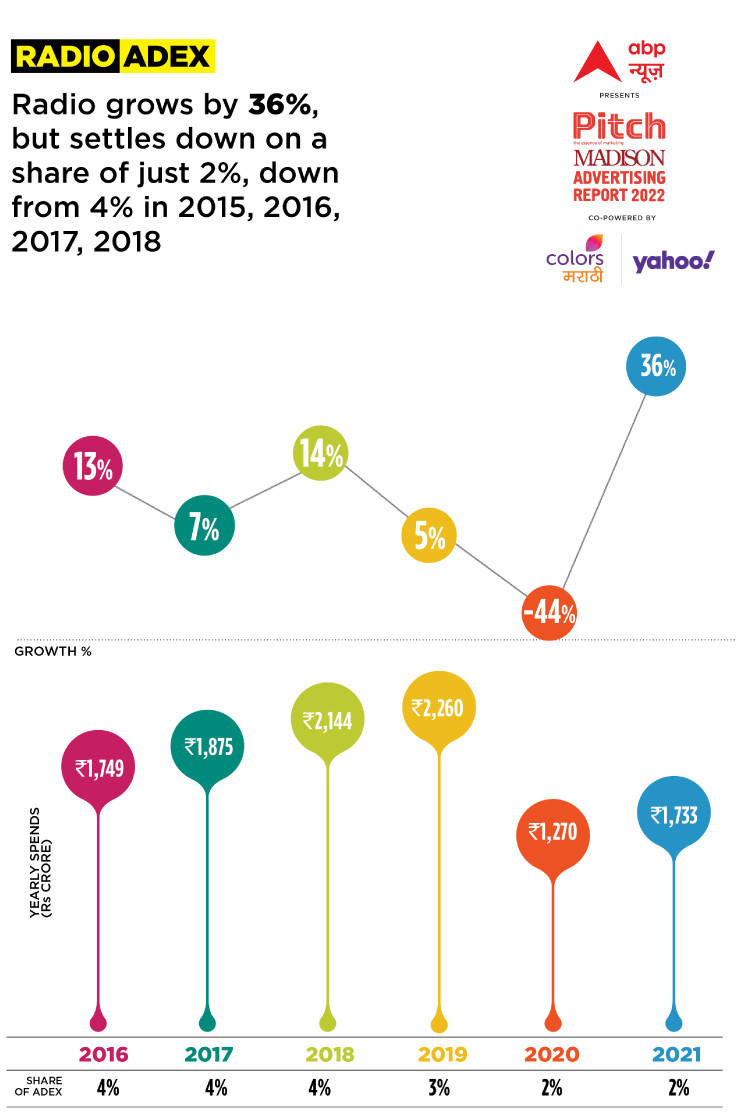 OOH 2021: TRAFFIC JAM CLEARS
Out-of-Home has bounced back in 2021 with a 69% increase over 2020, but falls way short of the figures achieved in pre-Covid 2019. According to the report, Rs. 2,178 crore were spent in OOH way below the Rs. 3,495 crore spent in 2019, but substantially higher than Rs. 1,292 crore spent in 2020. In fact, spends in OOH in 2021 are at similar levels to those achieved in 2014. In terms of Share, from a steady share of 6% which it enjoyed for many years till 2019, OOH has slipped to 3%, but has gained 1% share over 2020. Conventional OOH market grew at 63%, but Transit Media grew by almost 100% in 2021. However, when compared with the year 2019, Conventional OOH market degrew at 28% and Transit Media degrew by 63%.
Digital OOH in India, in keeping with global trends is beginning to take root. In 2021 there were 60,000 screens, up from 55,000 in 2020. DOOH spends also moved up phenomenally from Rs. 50 crore to 300 crore in 2021. Digital OOH now has a share of 13.77%, but is far below the global average of 40%. 70% of OOH spends came in the second half of 2021. And while Q2 was severely suppressed with a 70% drop compared to 2019, Q4 was a bumper Quarter when spends more than doubled over 2020 and surpassed 2019. 41% of annual spends came in Q4. The top 5 sectors that contribute to over 70% of total OOH AdEx are Real Estate which leads the pack with a share of 22% followed by Retail, FMCG, BFSI and Consumer Services.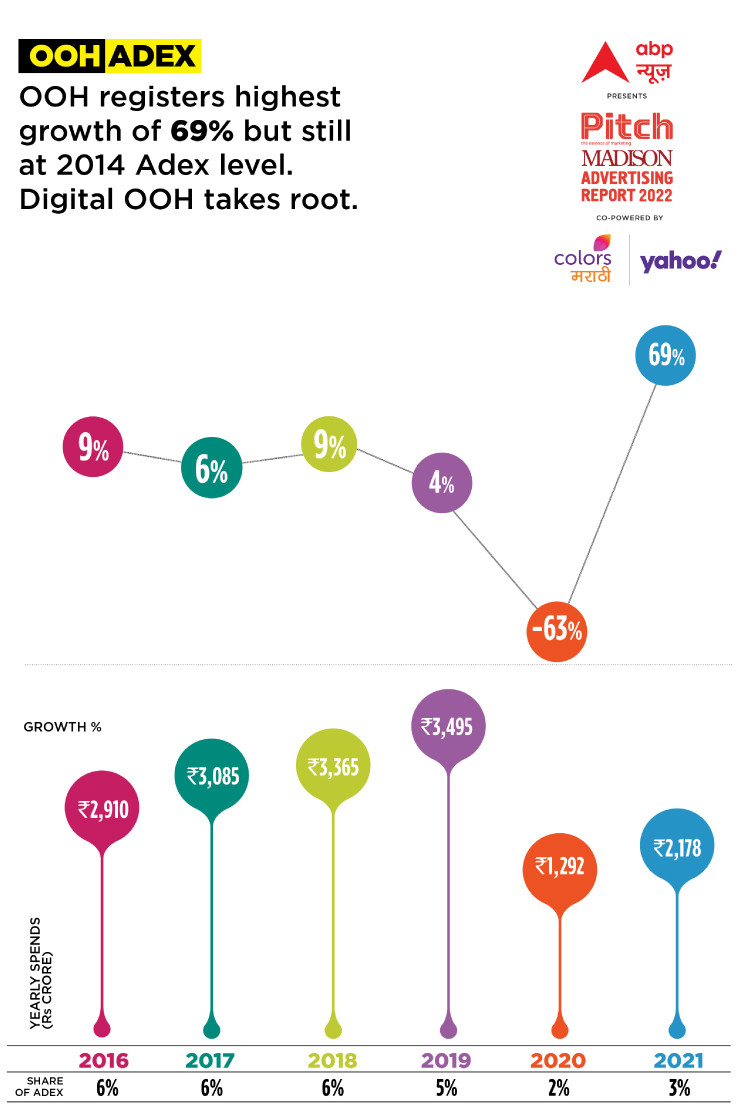 CINEMA CONTINUES TO COLLAPSE
From a high of over Rs. 1,000 crore in 2019, AdEx has dwindled to Rs. 136 crore in 2021. This collapse is no doubt, not due to Advertisers losing confidence in Cinema Advertising, but because Cinemas were closed for long periods of time, in the last two years and because of audience's hesitancy to visit places with large numbers of people in closed air-conditioned places. Out of a total of 6,700 screens pre Covid, as many as 800 screens closed down or were not active even when blockbusters like Sooryavanshi, Annatthe and Pushpa were released. Multiplex screens, numbered at 2,439 over 595 properties owned by 5 operators led by PVR, now account for 41% of all screens. As against 1,400 new movies released in 2019, new releases dwindled down to 69 in 2020 and 140 in 2021. Out of 140 releases across 10 languages, only 25 releases did good business. Most of the releases were in Hindi and Bengali. South Indian languages which normally have a high number of new releases remained virtually absent.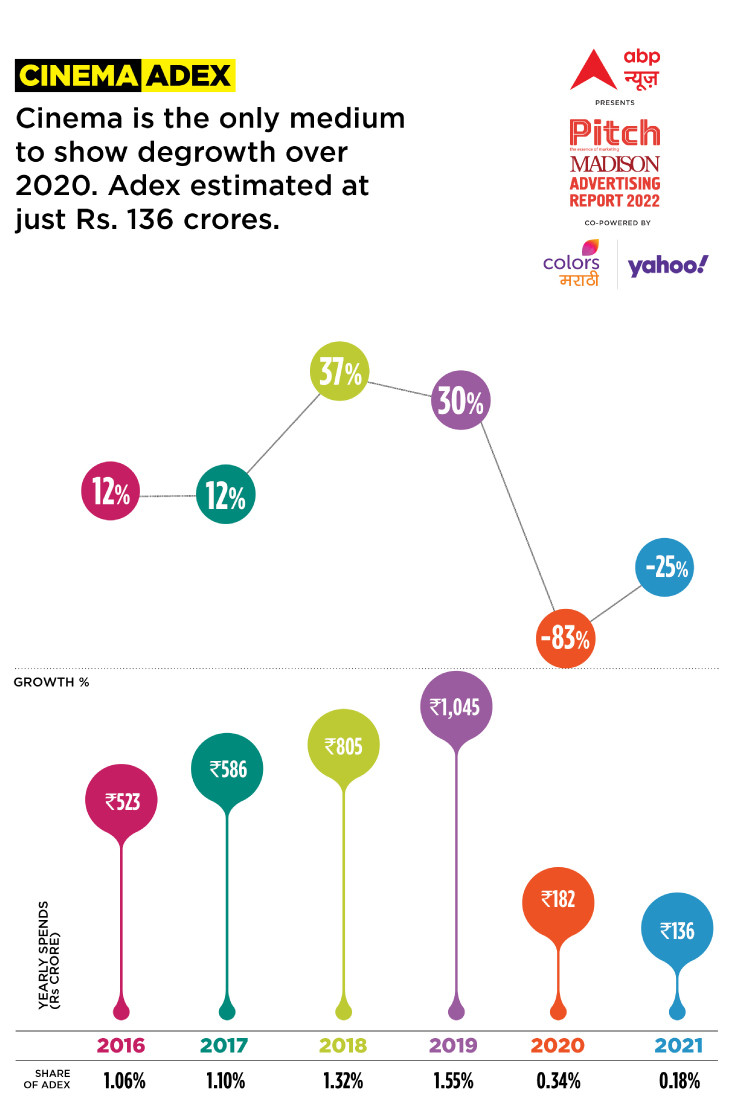 TOP ADVERTISERS OF INDIA IN 2021
In keeping with the technology boom, 15 new-age Companies / start-ups have entered PMAR's top 50 list, altering the composition of this list. These are Dream 11 at No. 3, BYJU's at No. 5, Phone Pe at No. 12, Upstox at No. 13, My 11 Circle at No. 14 and many others including CRED, Netmed, MPL, Policybazaar, Unacademy, WhiteHat Jr, Swiggy, Netflix, Coin Switch Kuber and Coin DCX, coming lower in the pecking order.
FMCG still dominates the list with 15 players all with high ranks, but their dominance is decreasing. Six out of top 10 are FMCG Advertisers, Hindustan Unilever, Reckitt, P&G, Reliance, Mondelez and ITC. While Unilever continues to top the list consistently, Amazon reappears at number 2 and BYJU's is now at number 5. While many Advertisers like Dream 11, My 11 Circle, Google, L'Oreal and MPL (Gaming) gained many ranks, Pepsi, Amul, Nestle, VI and Hero Motors dropped many ranks.
Top 50 Advertisers account for 38% (last year 35%) of AdEx and top 10 continue to account for 18% of total AdEx or 48% (last year 50%) of the top 50 list. Television and Digital continue to be the favourites of top Advertisers accounting for 88% of their total spends. Top 50 Advertisers now spend 30 % of their budget on Digital alone (up from 14 % last year).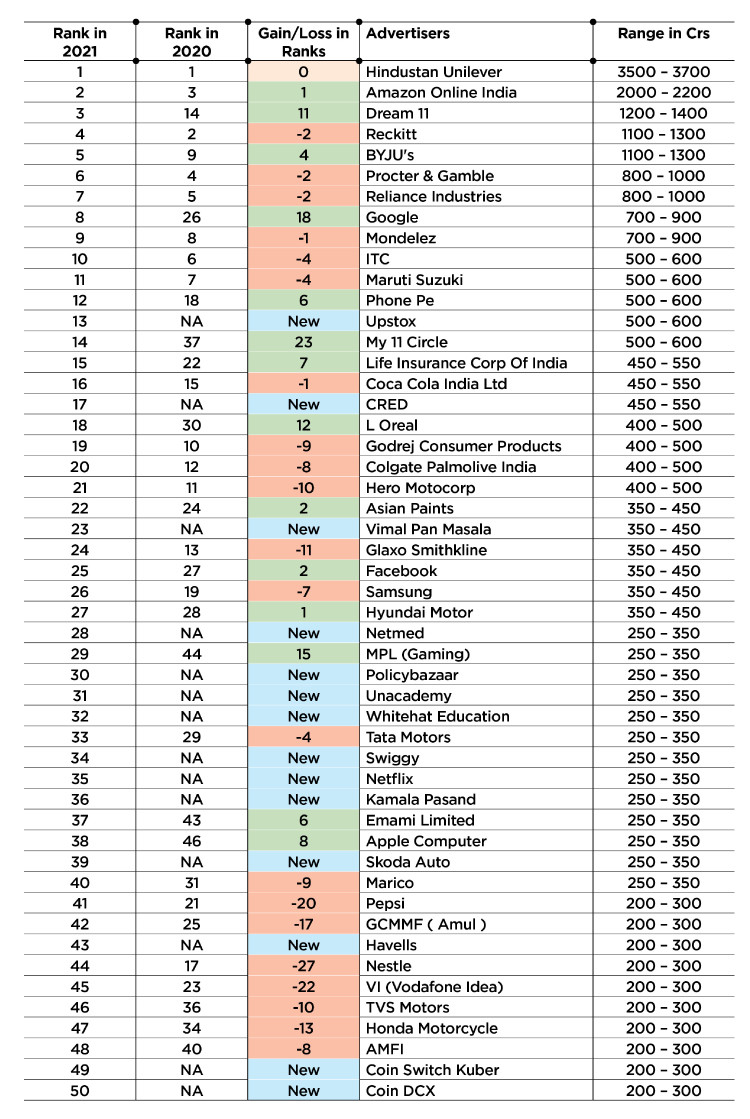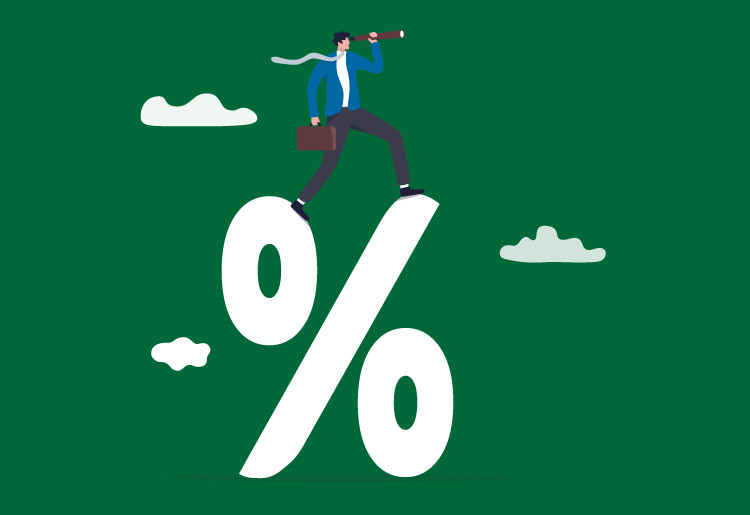 The Outlook for AdEx in 2022 continues to be positive. Last year, it was projected to grow at 26%, much to the surprise of many, but AdEx grew 37% despite Covid wave 2. After a careful analysis of macro factors, many media and industry related events, AdEx is expected to grow by 20% to reach almost Rs. 90,000 crore. With a growth of 20% on the heels of a 37% growth, AdEx would have grown at a compounded annual growth rate of 18% over 3 years ending 2022, thus to a considerable extent, blunting the carnage created by Covid in 2020 when AdEx de-grew 20%. With a growth rate of 20%, going by WARC estimate India will continue to be the fastest growing advertising market in the world, followed by Russia at 14%, USA at 13% and China at 11%. Global AdEx is estimated to grow at 11%. Traditional AdEx is expected to grow well at 15% and Digital to grow at twice that rate of 30%. While TV has already crossed the figures of pre-pandemic year 2019, Print, Radio, Cinema or Outdoor is not expected to cross the 2019 level even in 2022.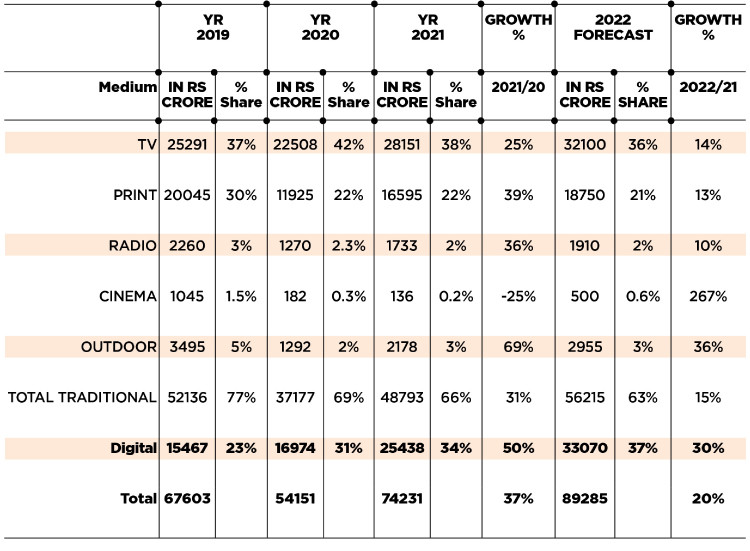 'It seems the worst is behind us'
Sam Balsara
Chairman, Madison World
We faced a really tough time during 2020 and 2021 because of the pandemic. Now it seems the worst is behind us. Now we are on to a good phase as you know the year, 2021 surprised all of us. Last year, we had projected an ambitious growth target of 25%, and many people thought that was too ambitious. But, AdEx has surprised us by registering a 37% growth. What surprises me even more is that global AdEx has grown dramatically, and U.S. which is like almost 45% of the global AdEx has grown by a humongous 21%. So, it looks like advertisers are spending with a vengeance. I think it goes very well for advertising because it shows advertiser confidence in advertising to drive, both sales and market share."



'Clarity, analytical ability, creativity - timeless skills in marketing'
Sudhir Sitapati
Managing Director and CEO, Godrej Consumer Products Limited

Sudhir Sitapati, Managing Director & CEO, Godrej Consumer Products Limited (GCPL) said that the Indian consumer market is evolving very fast but the fundamentals of marketing will remain the same. He said that the fundamentals constitute 90-95% of the marketing world and those constitute of – Insight, Positioning, Proposition & Big Idea. "Marketers need to work on the remaining 5 per cent. This would require three core competencies -strategic clarity, problem-solving approach using algorithms and creativity. If you have these three skills, you will be at the top of your job," he added.
Sitapati noted that the digital revolution falls under the "might change" category and he elaborated this point with the help of two Cinthol advertisements. He explained that even though the fundamentals of the soap ad have remained the same, centring around masculinity, the very definition of masculinity has drastically changed over time. He emphasised the need to upskill oneself and the willingness to adapt to views. "The approach to marketing is changing fast with the emergence of digital advertising. Clarity, analytical ability and creativity are going to remain as timeless skills. This is my big bet in new age marketing," he said.



'Almost all product categories across India are underpenetrated'
Nagaraj Krishnamurthy
Chief Strategy & Analytics Officer, Madison Media

Nagaraj Krishnamurthy, Chief Strategy & Analytics Officer, Madison Media, explored the new perspectives in media planning. He explained that the pandemic has compelled players across the media industry to both consolidate as well as diversify in a market that has shown rapid change in a short period. "There is a huge opportunity in front of all of us. Private consumption, i.e. what all customers are spending in a year, has gone up by two and half times in the last 10 years. Another advantage is, almost all product categories across India are underpenetrated, which means there is huge space for companies to grow."
However, he also spelled out that the biggest challenge to these opportunities is the huge disparity in the households across the country whether it is income inequality, region, language, culture and other areas. The brands, no matter what category of goods or services they provide, will have to use a robust mix of media channels and platforms to reach out to different markets. "There has been a lot of shift in the patterns of media consumption too. So, the brands also need to keep pace with these factors to be able to advertise to their target audiences," he said.



Avinash Pandey, CEO, ABP Network and Vanita Keswani, CEO, Madision Media Sigma
'Credibility crisis FACED BY BARC is its own creation'
ABP Network CEO Avinash Pandey, said that the credibility crisis being faced by the Broadcast Audience Research Council (BARC) India is its creation. He added that the utility of audience measurement data goes beyond media buying and selling. Viewership data also plays a key role in content creation. "We don't use data only for ad sales, but we use it to create better content too. Authentic and trustworthy data will go a long way in improving the quality of content of the news channels," he said.
He suggested that the BARC must improve its sampling and population estimates. It should also make structural and operational improvements besides improving governance through transparency and accountability, expansion of board, appointing an independent chairman and independent members. He also recommended that the audience measurement body must correct the metrics of TV ratings and include cross-screen measurement since content consumption is happening on multiple screens like TV, mobile and Connected TV (CTV). "The next change that is going to happen, for which even BARC is not ready, is that with one subscription you can watch content on multiple devices, and cable operations are focusing on this change in a big way. So, this new subscription is not just for TV at home but for watching content anywhere," he added. The session was followed by a Q&A with Vanita Keswani, CEO, Madision Media Sigma



Arnab Banerjee, COO, Ceat Ltd; Vikram Sakhuja, Partner and group CEO Madison Media and OOH; B Thiagarajan, Managing Director Blue Star Ltd; Mahalakshmi Narayanaswamy, Senior Consulting Editor, Moneycontrol

Should brands focus on long-term profits?
The release of the Pitch Madison Advertising Report 2022, was followed by an insightful panel discussion on 'Does the stock market reward brands who sacrifice brand building for short-term profits?' The panel had B Thiagarajan, Managing Director, Blue Star Ltd., Arnab Banerjee, Chief Operating Officer, Ceat Ltd., and Mahalakshmi Narayanaswamy, Editor – Moneycontrol, and the discussion was moderated by Vikram Sakhuja, Partner and Group CEO Madison Media and OOH.
Sakhuja started the discussion by attempting to gain insights on how to overcome stock market related pressures and whether marketing can really work without constraints. He also touched upon the link between stock market and quarterly results. Responding to Sakhuja's question Thiagarajan said, "One has very little control on how the stock market will behave. Therefore, a CEO should be interested in the shareholders and the value creation. I believe that today, the stock market behaves the way we deliver, and not the other way round," said B Thiagarajan.
Talking about brand building and short-term decisions taken by the companies, Arnab Banerjee said, "It is all about the consistent story of a brand, which has to be maintained with all stakeholders, including business partners and employees within. As long as the story is built with consistency, the stakeholders understand the decisions taken by the company for long and short terms."
When asked if there is any relation between ad spends and quarterly stock market returns, Mahalakshmi Narayanaswamy said, "There is absolutely zero co-relation between ad spends and stock market returns. Several such numbers which I have read disclose this fact. Several brands spend more or less on advertisements, but that does not affect stock market returns."



'Bestseller Tag is the new celebrity'
Jyothirmayee
CEO, HiveMinds
Jyothirmayee, CEO of HiveMinds said that the consumer today is largely driven by product ads and that e-commerce in this age has become a must-play and a must-win frontier for consumer product companies. She mentioned that in e-commerce itself the larger category is apparel and consumer electronics. "However, in terms of what's growing, it is beauty products and these trends are rapidly shifting. In India, ecommerce retail share in a few categories is 40%."
She said that the biggest disruption of today's time is Internet. The Internet has disrupted the ecosystem. The Internet has disrupted the ecosystem. It's all about scaling up the distribution power and scaling down the time taken. A lot of internet brands are challenging very well-established brands. She recommended five rules to adapt during this time- 1) to focus back on the product, 2) to test and learn, adapt and grow, 3) to use 'Bestseller Tag,' 4) to ensure a holy confluence of sales and marketing, 5) to chase the stars.
After applying all the rules, what's next? She mentioned, "We are deploying automated bid management market leaders for efficiency. Bidding optimization is to increase coverage."



'Users of Connected TV to grow up to 120 million by 2025'
Vishal Chinchankar
CEO, Madison Digital and Madison Media Ultra
Vishal Chinchankar, CEO, Madison Digital & Madison Media Ultra, spoke about how connected TV was a powerful addition to the marketers' toolbox. He explained that in 2014, e-commerce was at 54 million (users) and in 2020 it generated roughly around 329 million. "Now Television is at about 892 million, while Mobile video has gone to 467 million. The users of Connected TV are expected to grow up to 120 million by 2025. If you see the story of Connected TV in the last 5 years, it has grown nine-fold," he said.
He said that the cost-effective data plans and low smart TV prices have contributed to the growth of Connected TV. Chinese manufacturers want to introduce smart TVs which can be purchased for less than Rs 15,000. A leading brand is shipping roughly around 10000 smart TVs a week. "Content is another important factor. Recently we saw Netflix reducing their price. You get Jio Fibre for about Rs 1,000 a month. These affordable models are the easiest way to access Connected TVs which come with a pre-loaded set of apps to access the content," added.



Industry reacts to the Pitch Madison Advertising Report, 2022
'PMAR tells you what's happening and what's going to happen'
Raj Nayak
Founder of House of Cheer

"We always wait for the Pitch Madison Advertising Report. It gives you an understanding of what's happening and what's going to happen in the future. And I think, this time there were a lot of surprises. Despite the challenges caused by the pandemic, the advertising business has grown tremendously. That's a great thing. And the sessions that were curated during the unveiling of the report, were fantastic, I really enjoyed listening to Mr. Sudhir Sitapati, and Mr. B Thiagarajan, Mr. Arnab Banerjee, Mr. Avinash Pandey. Mr. Pandey made a very good point, when he said advertisers must use brand safety as a filter for news broadcasting if they really want to bring down the toxicity of news. I think it was a great statement, and I hope if the advertisers have watched this, they would take this seriously. Overall, it was a great session, and I always feel happy to be part of Pitch Madison Conclave. "



'Television, according to me, is non-traditional'
Avinash Pandey
CEO ABP Network
"I don't think that anybody in the industry was not looking forward to Pitch Madison Advertising Report. It's an anchor that we have always been banking on, while planning our life ahead as to what is the possible scenario of advertising industry, our inventory sales and overall market. Over the past few years, we have seen that Madison's report is bang on about the industry. This year it is interesting because it's for the first time that digital is going to do more than television, and jumping by over 1%. Television, according to me, is still non-traditional because here there is a change of delivery mechanism. And I think, we will find that in the report itself because everybody spoke about connected TV at the event. Also, I'm quite excited to see the overall growth in terms of new advertisers who are advertising a lot. I hope that their advertising spends continue to ensure the growth of the television industry. Many broadcasters are aggressively invested in digital distribution of the content. So, I'm quite hopeful that this will be a great year for them too."



'Digital's above 30% growth is up to expectations'
B Thiagarajan
Managing Director, Blue Star Ltd.

"The growth in YouTube subscriber base and fan following for gaming has grown tremendously. We have seen an increase in growth of numbers in terms of content creators as well as the user base."

'The growth in TV & OOH is definitely a surprise'
Abhik Santara
Director & CEO, Atom Network

"It is not surprising to see the AdEx growth on digital, but the growth in TV & OOH is definitely a surprise to me. Though a large part of it is driven by growth in regional channels, the same can be attributed to digital too. With the resurgence of mainline media, coupled with the forthcoming/ uncertain cookieless world, a lot of interesting adjustments in medium efficiency can be seen in the next 3/4 years."