'If you want to change your world, change your words' - this popular saying fits the essence of the Marketing and Communications industry. After all, for decades, Public Relations has shaped, polished and if need be even air-brushed the communication of brands. But with the advent of Digital, it has gone a step further. Today, PR is doing a lot more, as Digital has brought about sweeping changes to the industry. A brand is not what a marketer tells the consumers about, but what consumers tell each other about it, courtesy social media and two-way communication. Additionally, consumers are not just sharing content but also creating content, which has completely changed the approach of PR agencies.
Kunal Kishore, Co-founder, Value 360 Communications says, "Digital can actually pose a big crisis for any brand, which wasn't possible earlier because back then, the conversation was more like a monologue. If you look at Indigo, they faced one of their biggest crises only courtesy social media when a customer shared a video of an Indigo passenger being manhandled on the tarmac by their crew. The video went viral. So, Digital today gives a voice to the consumer, which needs to be understood and seen as a strength for the brand because it gives an opportunity to create massive conversation around the brand. Yet, it is a double-edged sword because it gives the consumer also some voice and the brand has to be very conscious about how they are engaging with the consumer. If they are not engaging in the right manner, the consumer can actually go overboard in terms of taking the brand down."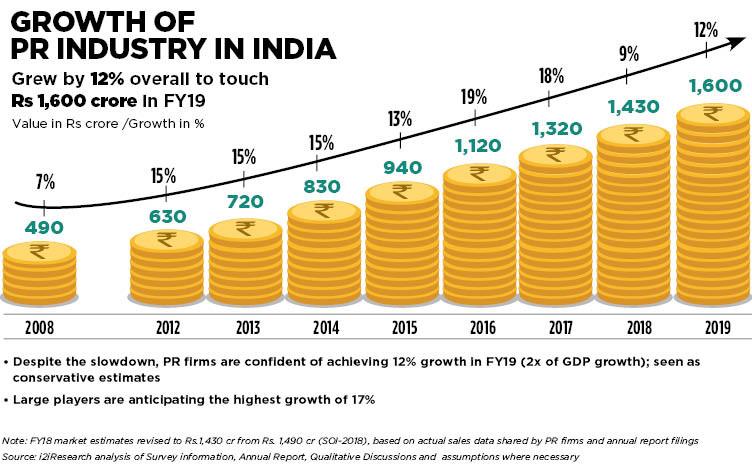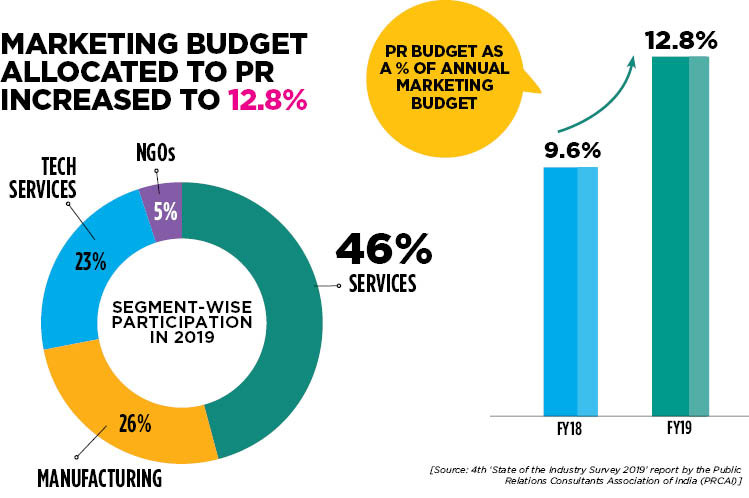 But there are also brands that have managed to come out of such tricky situations with their held high. The best example is the Zomato Delivery boy row, where in exactly 10 hours, Zomato responded to the customer's tweet saying 'Food has no religion', winning hearts. So the upside is reduced dependence on media to get across the message, being able to interact with the customers directly and gauge the success of the campaign real time from the engagement, while the flip side is that trolling a brand has become pretty easy for consumers.
Talking about one such case wherein a purpose-led cover story in The National Geographic titled 'Planet or Plastic' was trolled because it came wrapped in a plastic cover, Pawan Soni, VP & Head, Content and Communications, National Geographic says, "The magazine came wrapped in a plastic cover in just one market. To salvage the problem, we turned to our dedicated fan-base of like-minded people who believe in us. We have cultivated them over time by creating multiple touch-points. They kind of rescued us in the time of crisis by speaking on our behalf without us having to prod them. There was no official response from the brand, but thousands of people said that it is the message that matters and Nat Geo is not a brand which doesn't practise what it preaches. Over the next few months, we proved that we were committed to the cause of no plastic, so it doesn't matter that we missed a point or two in the process."
Other communication experts, however, believe that brands have to be available and it is the speed at which they tackle the problem that matters, being sensitive is of essence and at the end of the day, some amount of negative narrative is also healthy for a brand. Sudeep Narayan, Marketing and PR Director, Volvo Auto India talks of a slightly different approach. He says, "If there is something negative about my brand, I would prefer solving it one-on-one. If someone rants on social media about my brand, we approach the person one-on-one and try to figure out why is it that he or she is saying so; or if it could be a mistake on our part. The minute a company publishes its point of view on social media, right or wrong, people add fuel to the fire even more. So, we revert on social media saying that Mr or Ms XYZ, thank you, we have already connected with you one-on-one."
HOW USEFUL ARE INFLUENCERS?
Another product of the digital generation is influencers. There is much debate on how useful they are, keeping in mind that one can today buy fake followers and likes on Instagram, Twitter, etc., which has become a full-fledged business. Consequently, many PR agencies prefer to use micro-influencers who have followers starting from a thousand, a believable number, over macro-influencers.
Jasrita Dhir, Head, Brand Marketing & CSR, Fortis Healthcare says, "It is important to have a balance between your macro and micro influencers. Also, if you have to choose between reach and relevance, you should always go for relevance like we did for our '#Unmuteyourself' campaign. Go for an influencer who may not be in category A but has had a real experience relating to your brand's cause, he/she will talk about the matter with more depth and then people will listen because it really connects as opposed to a Category A influencer who has a lot of reach, but for all you know it could be fake."

Another problem is – an influencer may have a million followers but how many of them are relevant for the brand in question? For example, an influencer can get a brand a million likes for a high end hotel brand, but if half of them are in their teens or not in a position to spend on luxury accommodation, will it really help the brand? Also, when an influencer endorses multiple brands, he/she loses credibility with real followers, is not expected to have brand loyalty, and can well endorse multiple competing brands. What does a brand do then?
SOME CHALLENGES
Absence of a single measurement criteria across the industry
Lack of storytelling skills at entry levels
Other functions (Marketing/ Advertising/ Hr etc.) have a limited understanding of PR function - 1
Limited funds allocated to PR in the total marketing mix
Lack of bold campaign ideas from local agencies
Lack of effort in creating meaningful relationships with all stakeholders including media
Limited interaction & exchange of ideas between PR consulting firms and companies
Not enough emphasis (of senior employees) on building relationships with various stakeholders
Lack of understanding of the need of PR by top level executives in good times
Low technology adoption of agencies
Compensation demands of employees not in line with the amount of experience
Chiragh Cherian, Director, Perfect Relations says, "One has to understand whether an influencer is the right fit for their brand, even if he has the numbers. Having said that, if picked right, influencers can do wonders for a brand. Tiktok influencers are the biggest hit these days, they get their message across in 15-second videos and there are influencers who make simple videos placing your products on topics as basic as 'a day in school' but get so many hits and then there are I-gen influencers too nowadays."
A fabulous example of a great influencer is 87-year-old Charulata Patel who caught the imagination of a good number of cricket viewers when she was seen cheering for Team India in the ICC World Cup match against Bangladesh. Pepsi wasted no time in making her the ambassador of their swag campaign which was running during the WC across all social media sites and was widely successful. To give an idea of the scope and effectiveness of influencer marketing, Amit Nanchahal, Senior Manager, PepsiCo shared that on the recently launched Pepsi anthem, the campaign already had 23 billion views on TikTok: "Influencers are ensuring that the message of the brand reaches the masses," he said.
PROBLEM OF PLENTY
Digital also poses the problem of plenty with newer platforms emerging every other month besides the Snapchats, Instagrams, TikToks of the world which have added newer challenges to the PR agency's kitty. Tejal Daftary, Founder, Alphabet Media elaborates, "There is too much data to accumulate. Research has to become a lot stronger with a new social media platform cropping up every second day. And we have to target those platforms as well because one never knows where our messaging will be more effective. So, clearly a lot of time has to be invested in research than before."
Despite the plethora of opportunities that Digital has to offer, one problem that the PR agencies confess they face till date is determining ROI, considering that their work often reaps results in the long term while marketers want to see immediate results.
Nitin Thakur, Director, Brand & Communications, Max India Ltd explains, "ROI is there, but it's not as closely aligned to business outcomes as marketing is able to show with the advent of Digital. Before that, advertising also used to live in broadly the same world. They created fancy campaigns and when the business owner asked about the exact output from it, they would just talk about awareness and such fuzzy topics. So, communicators need to bring out the inner geek in them, just like advertisers have done."
Some even say that PR and marketing will become more and more integrated in the near future. Vivek Sharma, Chief Marketing Officer, Pidilite Industries Limited, says, "Lines are getting blurred between PR and marketing today; they are overlapping more and more because marketing in the true sense is becoming like PR, and PR is becoming like marketing."
But one thing that everyone in the industry agrees on is the fact that Digital has managed to get communicators to think beyond earned media. Now, they are able to operate comfortably in the whole bought-owned-earned space which is giving them a larger playing field. Otherwise, they would have continued to be in a niche space. So, Digital has been a real boon.
PRESENTING THE GAME-CHANGERS OF INDIA'S PR & CORP COMM INDUSTRY
With the first edition of its Top 100 Influential Game-changers in Public Relations and Corporate Communications, the exchange4media Group honours the professionals who have changed the dynamics of the industry through their work, vision and leadership
The exchange4media Group's inaugural edition of the Top 100 Influential Game Changers List in Public Relations and Communications, announced last week, features some of the most prominent luminaries, stalwarts and achievers who have shaped the industry through their vision, leadership skills, knowledge and perseverance. These are the movers and shakers of the industry that have given it new direction and shaped its evolution. The list features an equal number of PR agency leaders, along with achievers in the corporate communications space. The editorial team at exchange4media went through a robust internal auditing process and shortlisted the top 100 from among over 200 nominations received. Among the PR agency leaders and stalwarts on the list are some veterans in the industry such as Madan Bahal, Managing Director, Adfactors PR, Dilip Cherian, Chairman of Perfect Relations, Prema Sagar, CEO & Founder, Genesis BCW, Amit Misra, CEO, MSL South Asia and Valerie Pinto, CEO, Weber Shandwick. The list also features some of the rising stars in Public Relations who have gone on to make huge strides in a short span of time. These include Value 360 Communications' Founder & Director, Kunal Kishore Sinha, Tarunjeet Rattan, Managing Partner, Nucleus and Udit Pathak, Founder & Director, Media Mantra. On the list from the corporate communications domain are achievers like Ishteyaque Amjad, VP, Public Affairs, Communications & Sustainability, Coca Cola India and South West Asia, Paroma Roy Chowdhury, Senior Director, Asia Communications and Public Affairs, Softbank Group International and Nazeeb Arif, Executive Vice President & Chief Corporate Communications, ITC Limited.
TOPPERS IN PUBLIC RELATIONS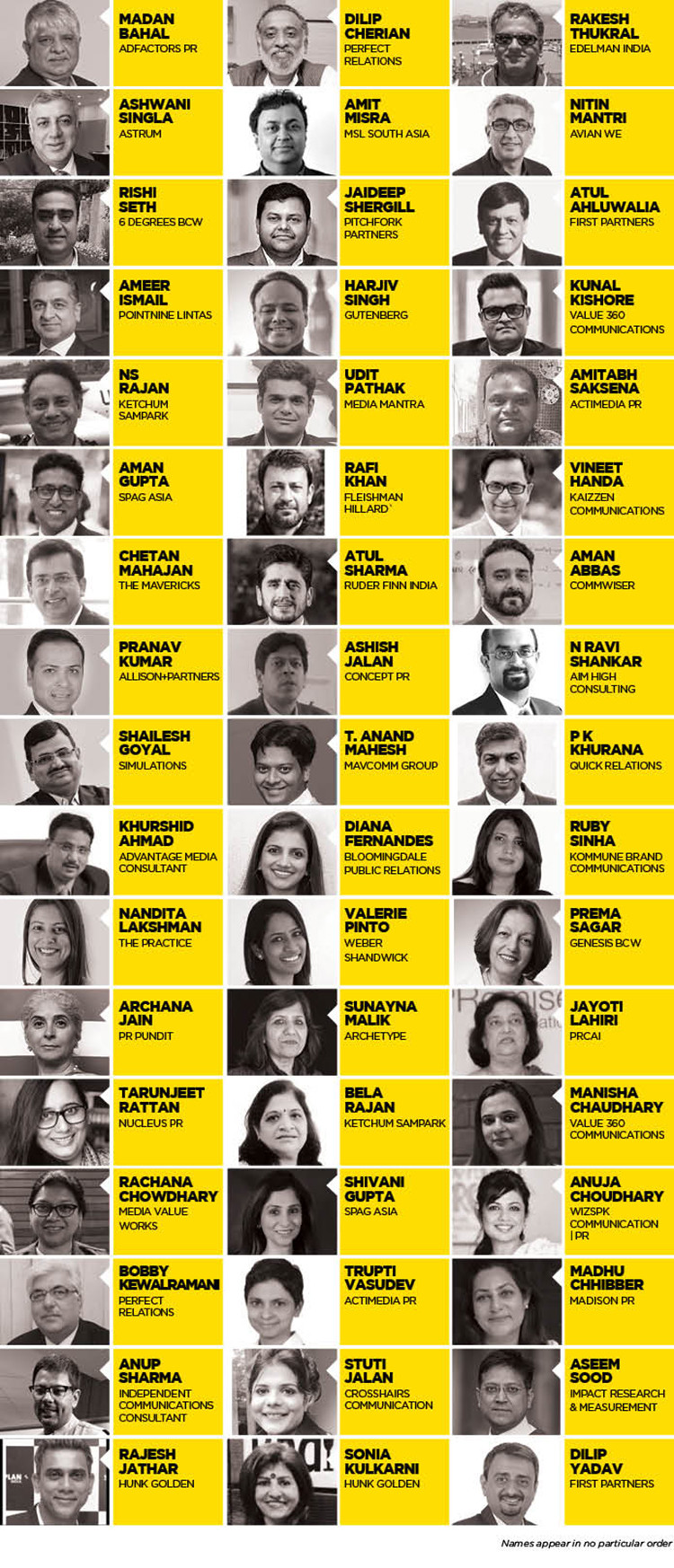 TOPPERS IN CORPORATE COMMUNICATIONS


THE WINNING WORK THAT STRUCK GOLD @IPRCCA
PR agencies redefined the boundaries of traditional PR with campaigns that sought to evoke behavioural change, address social and climate issues and engage with consumers in innovative ways. Here's a look at some of the Gold winning campaigns this year at exchange4media's Indian PR and Corporate Communications Awards.
MAHINDRA GROUP: #CELEBRATEDIFFERENTLY BY MSL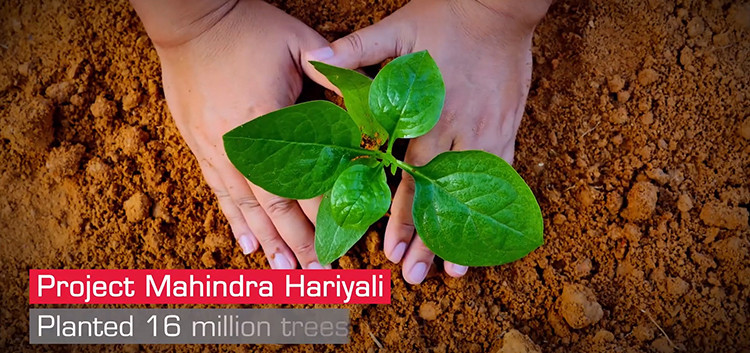 #CelebrateDifferently for the Mahindra Group, conceptualized by MSL was aimed at driving a citizen's movement to arrest the impact of climate change. It outlined the need for people to take action by celebrating key milestones of their lives by giving back to the nature, by planting a tree. The idea connected well to the Mahindra ethos of 'make sustainability personal.' Conceptualised and executed as a PR-led, digital-first creative campaign, the initiative 4.5 million engagement in likes, tweets and shares on social media. As a result of the campaign, Mahindra Group has pledged to plant 4.5 million trees over the next five years.
BENETTON INDIA'S UNITED BY VOTE CAMPAIGN BY PR PUNDIT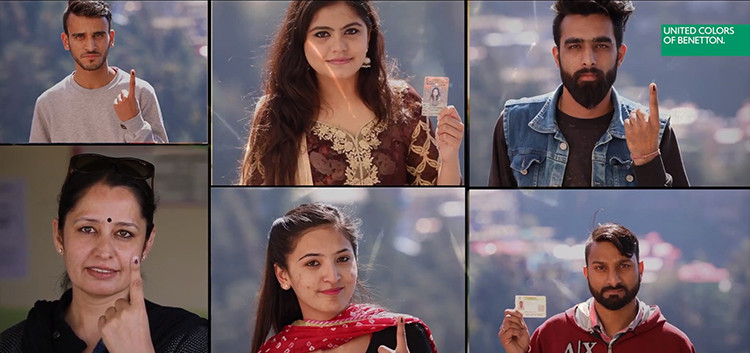 PR Pundit was tasked with the PR and Communication mandate for Benetton India's biggest campaign of 2019 - #UnitedByVote. The team conceptualized, strategized and executed a compelling campaign targeting key stakeholders and opinion influencers, along with impactful media hooks securing high octane brand stories. The campaign garnered over 326 organic exposures across Print, Digital and TV with an ad value of INR 2.5 crore, reaching over 43 crore Indians within four weeks. The PR efforts and activations helped the digital film secure 6.78 million views and 13.2 million impressions. The campaign got over 9k mentions on social media, with Twitter leading the platform.
GILLETTE INDIA: BARBERSHOP GIRLS SHAVING STEREOTYPES BY GENESIS BCW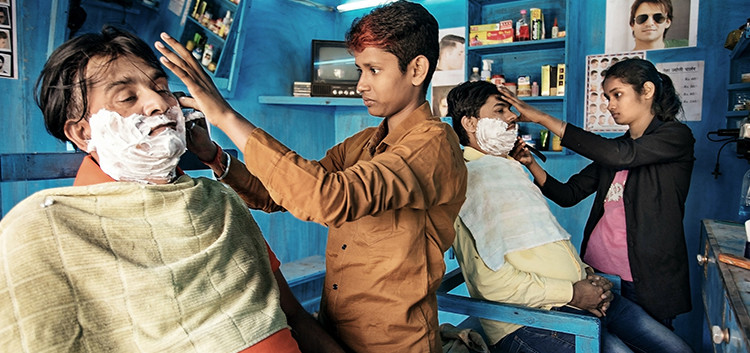 Gillette India's #ShavingStereotypes challenged gender biases by using role models that looked beyond patriarchy-defined roles. Inspired by the real-life story of two sisters in rural India, the campaign's centrepiece was a video that articulated the importance of boys having progressive role models. The PR campaign executed by Genesis BCW brought alive the thought through real-world role models, like cricket star Sachin Tendulkar and Bollywood actor Farhan Akhtar, to inspire Indian men to 'Be the best a man can be'. The campaign saw an engagement of over 42 million across social media and led to a 10% increase in the sale of double-edged razors between April–August 2019.
SONY PICTURES NETWORK'S #MERIDOOSRICOUNTRY BY MSL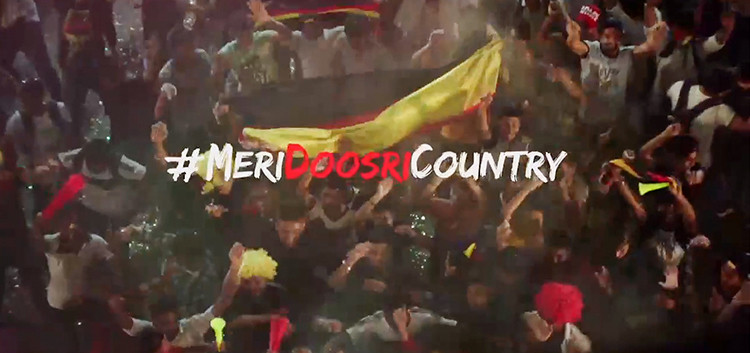 India is known as a cricket-obsessed nation with all other sports a distant second, but football has been making strides and is consistently growing in terms of viewership. For the 2018 FIFA World Cup, the common thread that emerged was the fact that once every four years, Indians become not just fans but patriots of another country. This was the point of inception for the #MeriDoosriCountry (My Second Country) campaign for Sony Pictures Network India, implemented by MSL. The agency employed a unique media strategy which involved selecting the right publications and story angles on weekly viewership data, fan stories, panellist's analyses and more to keep SPN in the narrative.
OYO LOH TOH JAANO BY OYO HOTELS AND HOMES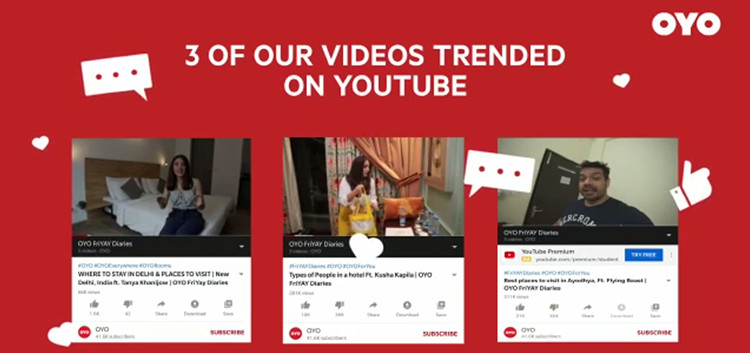 Given OYO's exponential global growth and to keep up with the increase in supply, the brand needed to create demand and spike up customer acquisition. Resultantly the brand roped in social media influencers as part of its marketing strategy. It used performance marketing campaigns on social media to drive sign-ups along with great content – OYO Loh Toh Jaano. A whopping 61% of the sign-ups that followed were driven through this campaign, especially on the day the campaign went live. The subscriber base of OYO's YouTube channel doubled, engagement increased by 200 times, and three of its videos trended on YouTube's Top 10. The campaign secured a successful reach of over 50 million!
COLORS' RAM SIYA KE LUV KUSH – LAUNCH CAMPAIGN BY VIACOM18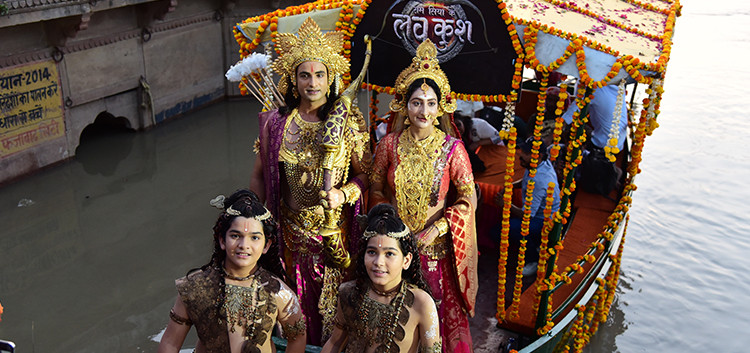 Earlier this year, Colors, with the launch of 'Ram Siya Ke Luv Kush' decided to reconstruct the story of the epic Ramayana for today's generation to bring alive the virtues of faith, love, bravery, brotherhood and sacrifice. With its campaign Colors decided to not just creatively recreate the quintessence of Ramayan but also emphasized on technology to drive engagement and spark conversations. The channel created messaging reflecting not just the scale of the show but different aspects of Ramayan, making Ram Siya Ke Luv Kush an interesting watch. In a first ever collaboration, Google and Colors came together to enable users to engage in an interactive voice session with the lead actors of the show through Google Assistant.
MG MOTOR INDIA'S NO CALM BEFORE THE STORM CAMPAIGN BY VALUE 360 COMMUNICATIONS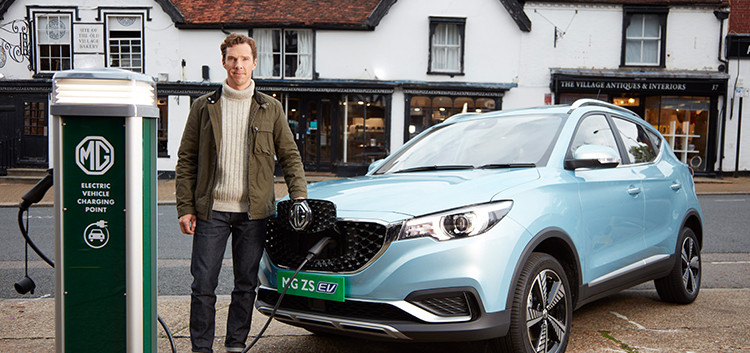 This campaign is the journey of a century-old brand with no brand connect with Indian consumers in current times. The consultancy converted this into a success story from a sales as well as communications perspective during the entire auto industry slowdown. This was achieved by building media connect, influencer connect and through market commitment beyond business – showcasing diversity and community connect. Value 360 Communications also achieved this by showcasing readiness for the market, across touch points.
GODREJ HIT: PLATELET DONOR COMMUNITY BY THE GODREJ GROUP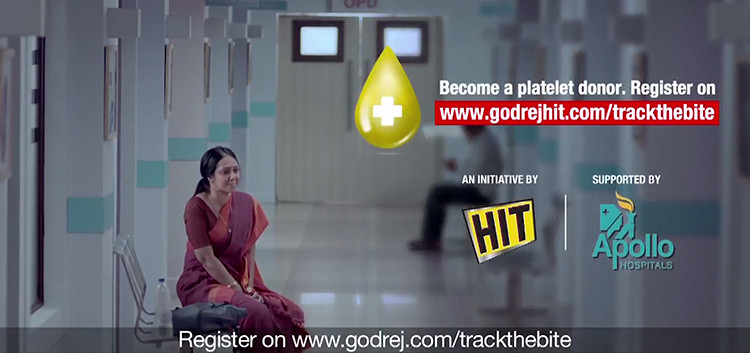 Godrej HIT, from the house of Godrej Consumer Products Limited, is the leader in home-insecticide solutions for deadly mosquitoes and cockroaches. The consumer products company rolled out a CSR campaign for its insecticide solutions brand, Hit, by creating the country's first platelet donor community. The brand commissioned a survey that states 94% of citizens are unaware of the critical level of platelet count, below which, platelet transfusion is required. To put together a platelet donor community, Hit identified a suitable partner in Apollo Hospitals. With 125,000 donor registrations, the initiative's saw a digital PR reach of over 2.5 million, while the platelet donor community saved many lives including 8 critical ones.