During the lockdown, brands sold on traditional advertising have been veering towards Digital advertising. Take ITC, for example - consistently among the top 10 advertisers on TV, it is now trying to engage with its audience equally using the Digital medium, be it launching a digital video film for ITC's B Natural beverage range or sharing recipes on Aashirvaad aata's social media handles to engage with its consumers. The story is similar for many other big brands that have promptly found their way to Digital channels. This behaviour has started many debates on whether the Digital medium is, in fact, the biggest beneficiary of the COVID-19 crisis. Here, we attempt to understand whether Digital is indeed the biggest gainer or just the least hit sector in the time of lockdown.
Vishal Chinchankar, Chief Digital Officer, Madison Media says, "I wouldn't use the term 'biggest' but Digital is definitely a beneficiary. Earlier, brands had the luxury of spending a good amount of their annual revenues on advertising, but the priority for marketers now is to make sure that the reserves are not eroded and thus they have to look sharply at their spends. Even now, there are some brands in the FMCG category that just can't stop advertising because it is a drip for their business. They have to thus focus on performance advertising campaigns over just general branding campaigns. TV still gives a far better Cost Per Thousand (CPT) over Digital from an ROI point of view, but the kind of volumes that you require, and investments to sustain them are massive. With the shrinking of budgets, you can probably put that same amount of money on Digital and maybe work on your reach and frequency."
There is another reason why it doesn't make all that much sense for most brands to spend on TV and other mainstream mediums right now. Anand Chakravarthy, MD, Essence India explains, "The most important factor here is that due to the lockdown, the supply chain has been affected. Local administrations took a different call on restrictions in different markets, affecting availability of products and services differently in different geographies. Mass Television in such a situation will give you a huge amount of spillover into markets where your product is not even available on the shelves, so there is no point of reaching out to audiences in those markets. So, a brand needs to reach out to markets where the supply is least affected, something that Digital enables. That is why you saw that brands, which typically would have spent on Television, focused more on Digital in April and possibly will continue to do so until the supply chains get sorted out."
HOW MUCH WILL DIGITAL ADVERTISING SUFFER?
Rs 17,377 cr estimated size of Digital advertising industry at end of 2020
27% Projected growth rate of Digital advertising industry in 2020
(DAN e4m Digital Report 2020)

20-30% Drop in estimated revenue owing to COVID-19

Rs 3474- Rs 5211 crore Estimated loss in digital ad revenue, if lockdown continues up to three months
(Source: industry experts)
DROP IN APRIL REVENUE
30%- 40% For Big 3 (Google, Facebook and Twitter)
30-50% For Digital agencies
MEDIUMS BADLY HIT
Print, Radio, OOH
MEDIUMS GROWING VIEWERSHIP
TV and Digital
OTT BUCKS THE TREND, AD REVENUES SHOOT UP
While for most platforms, ad revenues have either plateaued or dropped, in the OTT industry, the COVID-19 crisis has been boom time for most players, with not just their viewership peaking, but even advertising revenues shooting up in the March-April period
'ZEE5 saw 20% jump in daily active users in past two months'

"As far as ZEE5 is concerned, average time spent by users, subscriptions, news and movie content and connected TV consumption have doubled in the last one month. We have seen a 20% jump in our daily active users in the past two months. As a result, we have seen a clear upswing in terms of the number of brands advertising with us. Our fill rates, a reflection of demand, is exceeding 95%. We have not reduced our ad rates and the ad volume has still increased. In the process our ad revenues have shot up."
Rajeev Dhal
Chief Revenue Officer, ZEE5
'Multiple first-time advertisers across categories on MX Player'


"We have seen an increase in our ad volumes in April. While indirect revenue has dropped as platform demands have reduced, our direct business with clients and agencies have increased, especially on the OTT front. Over the last few weeks, not only the viewer but also the advertiser chose to experiment with new genres and formats of content. Brands have quickly understood this, and we have seen multiple first-time advertisers across categories on our platform. Additionally, there are certain brands/ categories that have increased their current budgets. The key categories that advertised on our platform are FMCG essentials, Gaming, Media & Entertainment, Social Platforms, BFSI, Edu-tech, etc."

Viraj Jit Singh
Head, Revenue, MX Player
Traditionally, advertisers in the e-commerce sector, automobiles, travel, etc., used to advertise very aggressively in the month of May, now most of them have taken a backseat while categories like Edu-tech, Fin-tech, FMCG, Pharma have become more visible post the COVID-19 crisis. Similarly, phone brands, electronics manufacturers, ride-sharing platforms, retail advertisers who have had to shut down physical stores, etc., have largely cut down on advertising on mainstream platforms. Some of them have, however, launched Digital video ads. Clearly, acceptance of the Digital medium is increasing. Most Digital platforms in the country today have gained new consumers, the time people spend on these platforms have shot up and owing to that, to some extent, new advertisers have come on board too. Also, organisations which operated for years on legacy systems are speeding up their Digital journeys. In short, COVID-19 managed to advance the digital transformation that experts in the field, perhaps, were waiting for a few years.
NOT ALL HUNKY-DORY
However, it has not been all hunky dory for Digital agencies and platforms either. Sanjay Mehta, Joint CEO, Mirum tells us why: "Soon after the lockdown was announced, about 40%-50% of our clients cut back on ad spends very sharply, some of them even by as much as 100%. Some of our clients were sending out care-giving or awareness messages, but didn't want to spend a lot of money on advertising them. Then, there were some new launch campaigns which were about to happen. They were put on hold. The clients were waiting for clarity on the situation but I am confident that when they do decide to come out and spend, Digital will get a big chunk of that, at least that is the sense I am getting from most of our clients right now," Mehta says.
There is another way of looking at it, says Heeru Dingra, CEO, WATConsult. She explains, "Historically, March has always been a great month for us. So even this year, the month was unaffected by COVID-19 as the lockdown was executed only towards the end of it. Business has surely seen a slight dip in April, and in terms of media spends, which have been halted by some clients. But we at WATConsult derive a large part of our revenues through retainers and projects which continue to go on without any significant dip. My sense is that from May onwards, brands will start adapting to COVID-19 times and will start innovating their marketing and content strategies accordingly, as this is expected to continue for the next few months too."
'More businesses, large and small, are going to pivot towards Digital'
Sandeep Bhushan, Director and Head, Global Marketing Solutions, Facebook India, says India was already on the cusp of a massive Digital revolution, which will get expedited now
Q] Are you seeing brands which otherwise didn't spend on Digital, advertising on Facebook right now?

Digital platforms are now the biggest in terms of their scale and reach, more than any other medium. The savviest marketers are leveraging the Facebook family of apps and other Digital platforms to drive the right communication to the right audience at the right time. Not only is Digital advertising, including on Facebook, more relevant today but also we see this trend increasing in the coming months with an uptake for Digital even from offline brands because it's here that you will find the people, the engagement, and the efficiency.
Q] Facebook has said that its ad business is weakening in several countries owing to COVID-19, do you see yourself recovering in a big way once the lockdown is over?
This is a defining moment for Facebook and digital platforms and is especially true for India that was already on the cusp of a massive Digital revolution which will get expedited now. I foresee three big trends for the Digital advertising industry. First, more businesses, large and small, are going to pivot towards Digital by creating online storefronts, customer interfaces, and consumer experiences. Secondly, with more people online and consumer journeys changing, businesses are only going to increase their Digital ad spends to target the right people at the right time. Thirdly, as brands, and especially those with traditional product categories, start spending more online, they would feel the urgent need to understand truly incremental outcomes by platform as well as cross-platform efficiency. This would increase the need for industry-leading digital measurement standards such as custom mix modelling (CMM) by Nielsen that Facebook had piloted last year.

FACTS & FIGURES: FACEBOOK
Globally, year-over-year advertising revenues for Facebook were up 17% with $17.44 billion in Q1 ad revenues.
Experienced significant reduction in demand for advertising, as well as a related decline in the pricing of ads, over the last three weeks of the first quarter of 2020.
The company isn't giving guidance for the next quarter, though they noted they "have seen signs of stability reflected in the first three weeks of April"

FACTS & FIGURES: GOOGLE
Google saw consistent gains across advertising categories globally, notably YouTube pulled in $4.03 billion this quarter compared to $3.03 in Q1 2019, up 33%
Performance was strong during the first two months of the quarter, but then in March experienced a significant slowdown in ad revenues

FACTS & FIGURES: TWITTER
Globally, Twitter saw $682 million in ad revenue for the quarter, barely above the $679 million it pulled in for Q1 2020.
As an indication of the rapid change in advertising behaviour, from March 11 until March 31, Twitter's total advertising revenue declined approximately 27%
year-on-year.
AVERAGE MONTHLY ACTIVE INTERNET USERS IN INDIA Estimated Growth Rate - 11%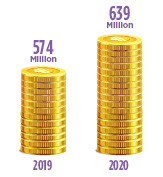 BIG THREE FACE DIP IN REVENUE
A Digital expert who didn't wish to be named said that the big three Digital companies - Google, Facebook and Twitter - are seeing a 30%-40% drop in their revenues for the month of April, even though their global first quarterly earnings for 2020 didn't exactly show dismal results. For Facebook, the year-over-year advertising revenues were up 17% with $17.44 billion in Q1 ad revenues. YouTube pulled in $4.03 billion this quarter compared to $3.03 in Q1 2019, up 33%, while Twitter saw $682 million in ad revenue for the quarter, just a little above the $679 million it pulled in for Q1 2020. Most of these companies' Q1 revenues were only impacted deeply in March. It is an understood fact, of course, that these numbers are not exactly the most representative of the slowdown; the real test would be the Q2 earnings.
Sandeep Sreekumar, MD, Media Moments says, "Actually, in the first week post the lockdown, there was not too much of a dip in advertising because at that point of time, nobody had expected that it would go on for so long. The big dip started when the announcement came on it being extended. That's when the advertising spends on big platforms like Google reduced, launches were called off. So, on an average you could see there was at least 20% to 30% dip on Digital platforms but May is getting increased enquiries, the year ahead will be better."
Vishal Chinchankar says on similar lines, "There was a knee jerk reaction by most of the advertisers, as nobody knew what to do when the lockdown was announced; the impact on Digital at that point was roughly in the range of 40-45% as the back-end got impacted. But over a period of time, that is getting back to normal, all assets are working fine. So April was bad, May would be better. But if I look at even a Google or a Facebook, they would have been impacted by roughly 40-45% in the past two months."
16% Jump in daily time spent on smartphones in Week 7 of BARC, April 25 to May 1 (highest jump over pre-COVID numbers till date)
16.1 billion minutes Total time spent on smartphones in India
(Pre-COVID, Jan 13 to Feb 2)

18.7 billion minutes Total time spent on smartphones in India
(Week 7 of BARC, April 25 to May 1)

4 hours Average usage of smartphone per person per day in India

Share of time spent increased for gaming, social networking, chat & VOIP
(versus pre-COVID period)
WHY ADVERTISING ON DIGITAL MAKES SENSE
Can do targeted advertising, spend sharply

Avoids spillover into markets where products are not available on shelves, unlike TV

Ensures visibility on a medium where consumer is spending maximum time


Can place ads closer to where consumers can purchase products from, like e-commerce platforms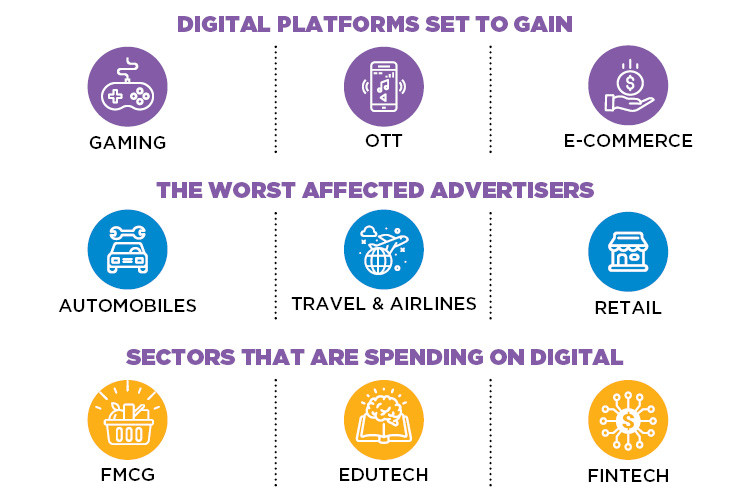 THE FINAL IMPACT
When asked what would be the expected impact on Digital advertising revenues in 2020, if we are looking at a three-month lockdown period, most digital experts we spoke to pegged the approximate blow at 20-30% of the estimated digital ad revenues for 2020, which the DAN e4m Digital Report 2020 released at the beginning of the year pegged at Rs 17,377 crore. That means we are looking at an estimated loss of anything between Rs 3474-Rs 5211 crore for 2020 in the event of a three-month lockdown.
But Digital is clearly the lesser hit amongst the mediums, because it is logical that advertisers want to be on platforms where the consumers are spending the maximum amount of time, which, in this case, is the Digital medium - be it OTT players where ad revenues have actually shot up or Instagram, TikTok where consumers are actively generating their own content with everyone turning chef or sharing workout tips, which has resulted in an increase in the viewership of these platforms. Other brands prefer to advertise on e-commerce platforms because they want to put their ads in places closer to where consumers can buy the products.
However, Sanjay Mehta of Mirum says he doesn't think that ad volumes have gone up on the Digital medium as such. He explains, "I don't think the volumes have gone up. If you are seeing more ads, it's probably because there are a lot of pro bono ads running - charity ads, or those by an NGO. A lot of publishers tend to give space to them and for COVID-19-related communication from the Health Ministry, because inventory is available. So, those kinds of announcements are there, but they come at a very low rate. Another aspect is that there are categories of advertisers who have entirely dropped out of the game, like Travel players. With those advertisers gone, the rest of the inventory is probably available at a little cheaper rate because the bidders are less (on platforms like Facebook, Google, etc) and there is less competition for that space."
MAY BETTER THAN APRIL
If April saw several marketing budgets being slashed by 60%, FMCG, the biggest category of advertisers operating at 40% of their strength, others completely halting advertising to take stock of the situation, then May has seen the sunshine return as far as the Digital medium is concerned at a slow but steady pace. What has happened today in the world of marketing has never been witnessed earlier in the history of mankind, where manufacturing, supply, retail - everything is hit. So experts are saying it will be premature to suggest that there will be a dramatic shift from TV (the only other medium where viewership has increased) to Digital in the year ahead because it is a question of when production will resume. It is certain that brands that were not selling online will rethink their strategies on e-commerce and accelerate their presence there as in the current situation, they are at a disadvantage. With social distancing norms to be in place well after the lockdown is over, consumer behaviour is about to change and media consumption patterns too, which give a big advantage to the Digital medium, not just as a platform, but also for advertising.
Vishal Chinchankar says, "Pharma, CPG, Banking industry are coming back in a big way. So, there was a bit of a jerk, but around two weeks ago, they all came back to low saliency sort of an investment. But that doesn't mean TV is going away, Digital may, however, become the second most important medium after TV. Online video consumption during lockdown has gone up by 70% of its previous high and will continue to be important for advertisers because it offers a wide platter of audiences, incremental reach, and data science of sharp targeting. TV plus OTT and the performance product are slated to thus become important post COVID-19."
Gurjot Shah Singh, Senior VP, Dentsu Webchutney, on the other hand, is confident that Digital will attract a bigger chunk of the ad pie. He says, "It's simple - all the camera, mobile, automobile brands, etc, will have units to sell in their factories and they will have to advertise to sell them. And for that, the media mix is certainly going to change to become a lot more inclined towards performance and it will be ROI heavy. What I see getting affected the most is the large formats. The roadblock on a Times of India website or a YouTube masthead will suffer. But at the same time, performance mediums Google, Facebook, e-commerce, native ads, will pull in a lot of advertising money. You will see a spike in advertising the minute the lockdown ends for at least three months."
HOW ARE DIGITAL AGENCIES RISING TO THE CHALLENGE?
Digital videos, social media campaigns, building engagement on TikTok, Instagram and Twitter - all this has seen a surge in the past two months. Brands which were sticklers for traditional media are now waking up to the Digital medium. Let's find out the different ways in which Digital agencies are rising to the challenge and helping their clients

"We are giving our clients a plan to convert some of their processes to Digital, wherever relevant, providing thought leadership in terms of content from our side for them to absorb in terms of the journey to Digital transformation. It includes e-commerce, adapting to marketing technologies at various levels, very result-oriented, ROI-driven sharp marketing as most brands have incurred severe losses in the past two months. Thus any kind of ad spends need to generate business results, we have a strong practice in data-driven marketing and marketing automation and more and more companies will want to adapt to that."
Sanjay Mehta
Joint CEO, Mirum

"The focus should be on performance during this period with clients focusing more on bottom of the funnel versus top of the funnel, because the whole attempt is to convert as many people as possible who are closer to conversion, so that business metrics keep on improving. The other option is to look at it as an opportunity to build a brand in a less cluttered environment, as there are lesser advertisers bidding for inventory right now. In the current circumstances, we are working with clients on non-traditional approaches as well. Since many clients are unable to create more relevant and contextual creative, we are working on solutions like Influencer Marketing. This becomes more feasible as influencers create their own videos, messaging can be tailor-made to the current circumstances and they have higher engagement levels currently."
Anand Chakravarthy
MD, Essence India

"We are helping our clients by providing stronger CRM solutions, brands will use stronger digital and automated channels to speak to their customers. Brands are latching on to digital assistance with people now asking Alexa 'how to service my washing machine and other appliances during lockdown'. While earlier, it was only voice assistance, now video systems are also being leveraged. For example, consumer durable brands like Whirlpool
have started offering service on a video call."
Gurjot Shah Singh
Senior VP, Dentsu Webchutney

"Keeping the trends in consideration, AR is expected to eventually foray into retail. Just for the simplest of facts that nobody would want to try out clothes tried by someone else. We will also need a virtual medium to nudge you to buy it. As a precautionary measure, even the biggest automobile brands like BMW, Tata Motors and more have gone online today. As a habit, I feel consumers will consider buying personal cars or maybe two-wheelers to keep up with the social distancing, as a practice, in the coming future. We are going to see the best Digital innovations this year in the face of adversity."
Heeru Dingra
CEO, WatConsult

"The most important thing right now is to not hardsell, and instead excite the customers with content, teach them new things about the brand and the product and ensure that they love the brand. Once the lockdown is over, a lot of brands will have tech support issues, delivery issues or various kinds of product problems. Once the consumers of these products start moving around, we need to give the brands ways to make their customers feel safer."
Sandeep Sreekumar
Managing Director, Media Moments

"We've been into creative technology and website businesses earlier as well. But somewhere, what has happened is that most marketers are utilizing this time to make sure that their assets are up to the mark, because earlier, they never had time to do that because they were occupied with too many other things. We see search and videos, social media and e-commerce assuming importance as things move forward in exactly that order. From a trading perspective, publishers have become very lenient, because the fill rates are going lower. Even on the biddable platforms, if you really optimize well, you can get a far better CPC or rate."
Vishal Chinchankar
Chief Digital Officer, Madison Media
SCOPE TO SHINE
According to Heeru Dingra, "Though COVID-19 has indeed advanced Digital three years ahead of its time in India, but it is speculated that Digital may not do as well in 2020 as compared to last year. This is just because there has been a transformational change and as we all know, transformation is a slow process. So, there is a high possibility that this transformation would help reap the benefits in the coming year. Considering the acceptance and advantages of Digital, I also feel that we are likely to suffer less, compared to other mediums."
Meanwhile, the OOH industry is fighting tooth and nail for survival, the Association of Radio Operators for India representing the Private FM Radio broadcasters have appealed to the government for financial aid, calling themselves one of the worst hit sectors, many a Print publication has been plunged into paralysis during the lockdown, advertising volumes on TV have witnessed a drop as per BARC, and TV channels are under severe strain - in such a situation, Digital definitely seems like the better placed medium to weather the storm.
Unlike other mediums, experts say Digital is definitely not going to see a de-growth and if things pick up pace June onwards, we could even see a high single digit growth in 2020. As per the recent Kantar ICUBE 2019 report, Rural India has registered growth of Internet users at 45%, while Urban India is maturing at 11% growth, bringing the Monthly Active Internet usage to over 574 million in India. While the projected figure for 2020 is 639 million Monthly Active Internet users, which means there is enough and more scope for Digital to shine in the year ahead.
IS ADVERTISER LOYALTY TOWARDS DIGITAL INCREASING?

"Today the general appetite for consumption of digital content has surged to an all-time high across all sorts of content platforms and social listening has become a powerful tool to help keep track of the new changes in consumer perceptions, preferences and development of a new behaviour. So while we are more of an offline brand, Digital will play a big role in our business mix."
Arijeet Talapatra
CEO, Transsion India

"At this point, Television would take time to probably come back with content because of the lockdown and Television as an entire medium is severely affected. So we are seeing Digital's share in the media mix going up, it is playing a much larger role in communication. We are still in our early stages, but the use of Digital as a medium to reach the consumers will be significantly enhanced in the next quarter or so, even as far as our media mix is concerned, we see its share going up."
A S Sundaresan
Joint MD & CEO, JSW Paints


"Castrol just launched the #HangUpYourKeys campaign on social distancing. Digital was an obvious choice owing to the personal nature of the medium, and its ability to connect individuals with society at large. However, it is difficult to say what our spending patterns will be like once the pandemic is behind us. Such decisions are based on consumers' media consumption habits with respect to a brand's objectives. So, if we witness any major shift in media consumption habits once the pandemic is over, we will review our overall strategy and decide accordingly."
Sandeep Sangwan
Managing Director, Castrol India

"Brands have already moved to a Digital-first approach, understandably due to the current environment. If the situation persists, we see a definite movement of monies booked for offline traditional medium to the Digital channels. It is too early to comment on the scale of this movement towards Digital, as currently Television is also witnessing a spike, the right balance will be worked out as the situation evolves."
Ravindra Sharma
Chief of Brand & Corporate Communications, SBI Life Insurance

"Right now, we are on Digital and Social media. It is natural to expect that the full media mix will start coming into play, when retail trade and e-commerce shipments start moving towards normalcy. Television has consistently proven to be effective for brand growth across categories. So I don't see a reason why we shouldn't tap that."
Amit Doshi
Chief Marketing Officer, Lenovo India

"Currently, any outward/ATL spends is happening only on Digital. Our key focus, given our customer profile, is Facebook and Google. Now, as we speak, Tik-Tok is emerging as a strong force. In fact, we have been working and investing on Digital as Customer-Facing Technology and not just Digital Marketing, for a couple of years. The pandemic has pushed everyone to Digital."
Sanjeev Shukla
Chief Marketing Officer, Muthoot Pappachan Group

"With social distancing and lockdowns, today people are confined to their homes and spending more time on their Television and mobile phones. Thus, we are doing a lot of Digital and through our owned social media assets, we are offering helpful, relevant product and service information whilst keeping the perspective of a target audience in mind."
Sapna Desai
Head - Marketing and Communications, ManipalCigna Health Insurance

"As a company policy, we do not comment on financial break-up of our spends. But the COVID-19 pandemic has established that Digital is here to stay. We anticipate that the spending for Digital will go up to 20-25% of the total marketing budget."
Vivek Srivatsa
Head - Marketing, Passenger Vehicle Business Unit, Tata Motors

"In normal times, we spend around 10-15% on Digital, currently we are spending upwards of 35% on Digital. TV still occupies the balance 65%, OOH doesn't make sense, neither does Print. Right now, all the Print money and some part of TV money is going on Digital and within that, OTT, social media and e-commerce platforms. Once the pandemic is over, Digital spends will increase and they will be driven by OTT."
Mayank Shah
Category Head, Parle Products

"Not only due to the present situation but for quite some time Centuary Mattresses has been contemplating increasing our advertisement budgets on the Digital platforms. In fact, we have decided to double our Digital advertising spends this year."
Uttam Malani
Executive Director, Centuary Mattresses