In the year 1992, American author, Neal Stephenson, published a science fiction book called Snow Crash, and in that book was the word, Metaverse. Today, 30 years later, that word has become a buzzword, but how many of us really know what it means?
Tech-conglomerate Facebook announced its rebranding as 'Meta' last year, and adopted an infinity loop logo in a way to represent the company's move further into the Metaverse – a digital world where people can experience a virtual life. Herein, they can interact with each other, and by that we mean, work, play, shop, socialise, and so on. Post the announcement, the buzz around Metaverse has further propelled, raising the question whether Metaverse is still a science fiction, or an emerging reality of today?
While many say Metaverse is the next big wave in the digital world, which will take digital experiences to many notches higher, it has already become the talk of the town with tech giants like Tech Mahindra, Infosys, TCS and HCL Technologies investing in Metaverse. Joining the bandwagon, agencies like Havas Group and WPP have also forayed into the virtual world.
From organising weddings to hosting award ceremonies, big brands like Mondelez, ITC, Matrimony.com, and Coca-cola, among others, have already tried their hands in the new virtual universe. Moreover, we recently saw a race among brands to host the industry's first Holi party in the Metaverse.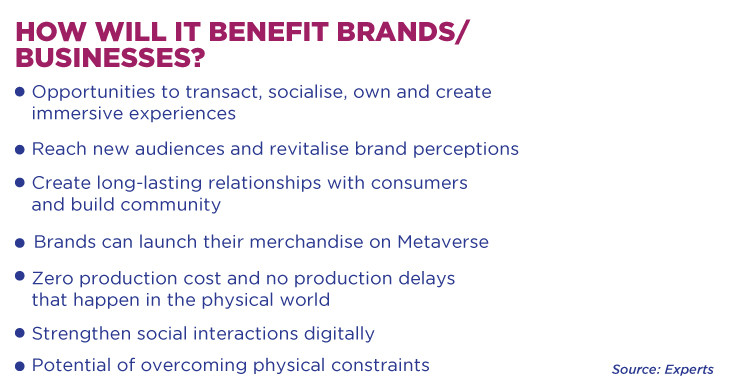 What is Metaverse?
Ever since Metaverse came into existence, it has kept many of us wondering what exactly this virtual universe is, and how it works. There are multiple questions that arise when we talk about it - Do we need AR & VR headsets to immerse ourselves in the Metaverse, or everything will just happen on the screens? Can we see ourselves in the Metaverse or will it be a first-person point-of-view? Will there be a common / universal Metaverse for everyone? Can NFTs from one platform be used in another platform in the Metaverse?


Niraj Ruparel, Head of Mobile & Emerging Tech, GroupM India, and Emerging Tech Lead, WPP India, says, "Metaverse seems to encapsulate Virtual Worlds, AR, VR, NFTs and blockchain. Virtual worlds are immersive, and simulated worlds where you can do anything. There are many different types of virtual worlds right now, such as Decentraland/ Fortnight/ Sandbox/ Roblox/ Minecraft etc, and tens of millions of people are on some of them. AR comes into its own here as that forms a bridge between the virtual world and the real world, while geolocation is key. This is what lets us tag a virtual element to a real place, and lets the connected experience be imbued behind it as well."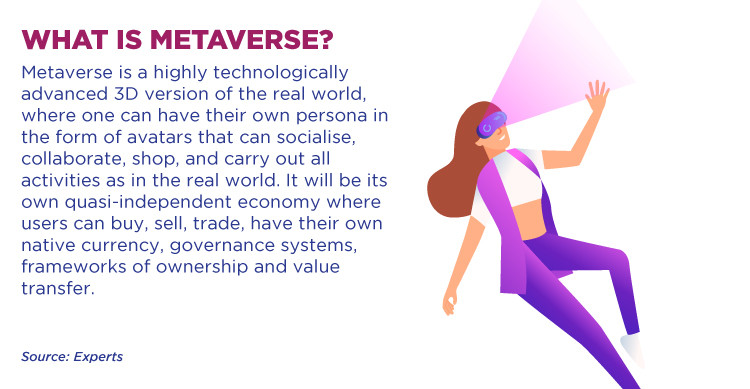 While adding that there's a huge untapped area yet to be figured out in terms of how NFTs empower communities or how they can be linked to a real-world, he says, "NFTs get interesting in terms of the virtual world economy, it is that uniqueness, which therefore allows for scarcity, and values commerce and trading and all that is stored on the blockchain. And we have blockchain web three. The foundational platform that underpins the vision of the Metaverse is a robust blockchain technology that can bring control and transparency."


Utkarsh Shukla, Founder & CEO, Yug Metaverse says, "While our current web is essentially 2D, Metaverse gives you a 3D sort of experience. For instance, if you have to buy some clothes, you'll ask for your friend's or family's opinions before purchasing, and all the conversations might happen on calls or WhatsApp. But in Metaverse, both you and your friend can be experiencing the product at the same time, and in the same place in the virtual world through your digital avatars." When asked if we could see ourselves in the Metaverse or it will be a first-person view, he says, "It can be a first-person experience or a third person point view. There are a lot of possibilities."
Elaborating further on the concept of universal Metaverse, he shares that ideally there should be interoperability. He elaborates, "If someone wants to post an image on social media, the format and image ratio should be universal for all platforms. So, there should be a single universal platform and that's how I think Metaverse will pan out too. Similarly, we are hoping that NFTs too should be standardised. But as of now, when you buy a product or you create something for Minecraft, you're not able to use it

in Decentraland. So, there's no standardisation, but it might come sooner or later. But again, it depends on the industry's governing body."
Neeraj Roy, CEO, Hungama Digital opines that Metaverse is at a very early stage. "I don't think we need to be predicting the immediate outcomes. I personally feel that Metaverse today is where perhaps the internet was in the mid-80s, to late 80s. In the mid to late 80s, people were not necessarily thinking about FinTech or travel or telemedicine or video communication. They were in a very early stage, where there was one component of aggregation of the web, and crawling of the web and hence search was at a very elementary stage. So today we are at that stage as far as the Metaverse is concerned."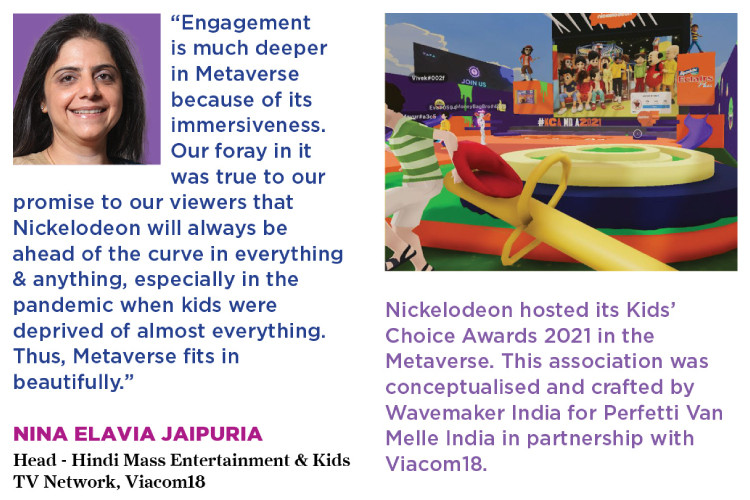 "Metaverse has taken every industry by storm, Advertising and Marketing being no exception. It is gradually taking over the role of social media platforms, and compelling the brands to undertake this paradigm shift in order to stay abreast. Though it might take a while to flourish in full bloom, the fact that Metaverse is going to rule the

market cannot be ignored. We are optimistic about Metaverse and look forward to the changes it will bring along in the near future," shares Aditya Dhruva, Founder & CEO, Factoreal.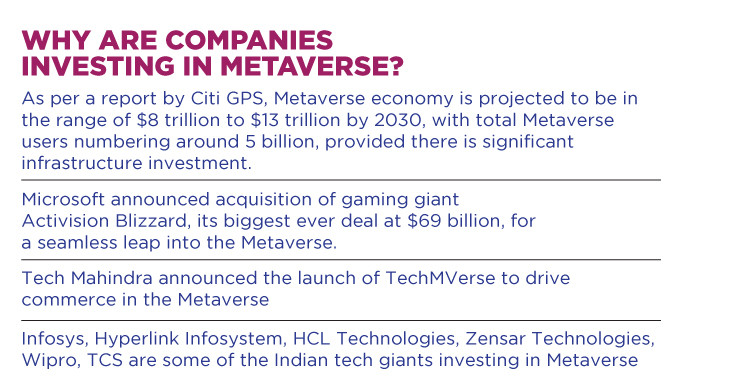 How Metaverse will uplift the virtual gaming industry
According to a report by Fortune Business Insights, the global virtual reality gaming market, which was sized at $6.26 billion in 2020, is projected to grow from $7.92 billion in 2021 to $53.44 billion in 2028 at a CAGR of 31.4% in the 2021-2028 period. Furthermore, with the immersive and multiplayer experience already available in virtual reality gaming, it is now seen as a significant use case for Metaverse. And it'll be interesting to see how the emergence of Metaverse will further transform the virtual gaming industry.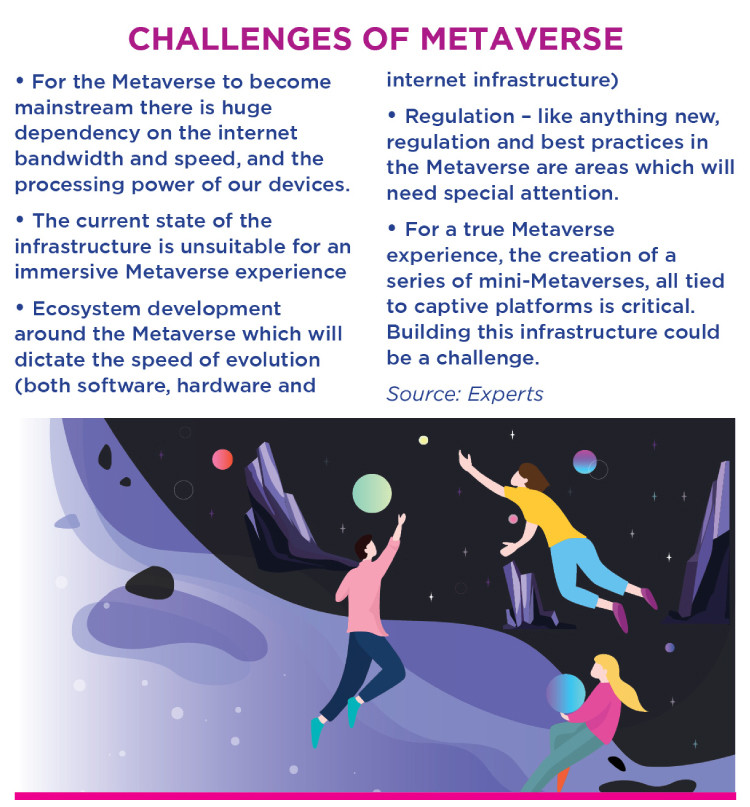 "Earlier, MMORPGs were already there with millions of players playing together, so it was a seed of where it all began. But today it's more concrete and brands too want to be a part of this Metaverse. With the right access to tools, it's a huge playground for exploring new ideas or creating a different world altogether. Metaverse is here to stay, but it's too early to see what shape it will take. We see parts of it in experiences such as Fortnite, Roblox and Minecraft. It's already here and will boom in the next few

years because gaming is no longer going to be just gaming but a collective shared experiences place, that's the way it's going to transform," says Saishree Ashwin, Business Development Lead- Games, India/SEA, Epic Games.
Epic Games also collaborated with fashion brand Balenciaga in its online video game, Fortnite, for a marketing campaign. In the campaign, the billboards of Balenciaga appeared in different cities as well as inside Fortnite. "We collaborated with Balenciaga in Fortnite, and people could just go and buy clothes off Balenciaga, wear it, click pictures, even do a Balenciaga dance. So, the gaming industry is moving, and the lines between the virtual and the real are blurring," she added further.


Echoing a similar thought, Shrenik Gandhi, Co-founder and CEO, White Rivers Media,states that the virtual gaming industry will certainly take a massive turn with Metaverse. "From viewing the VR world in 360-degree to a realistic sense of touch perception, the players will be able to engage at a whole new level. Metaverse will also allow players to transform their gaming field to a wider platform where they can interact, socialise, transact, and even shift from one environment to another along with their possessions."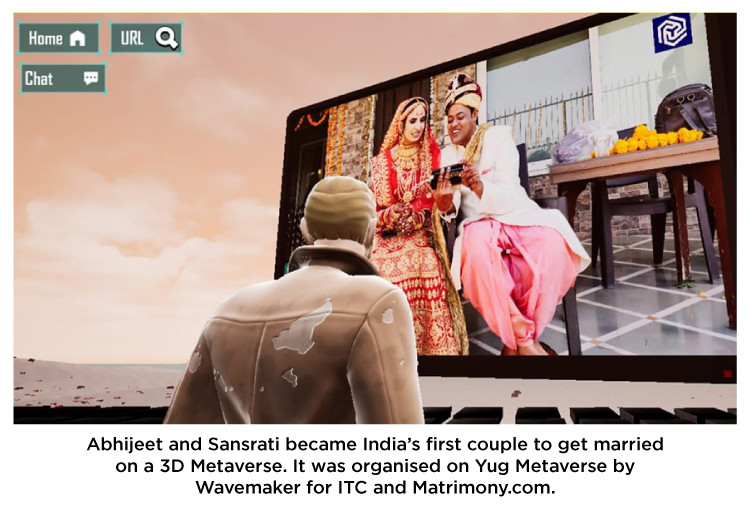 Metaverse: A parallel universe for advertising
While the concept of Metaverse is already familiar to the gaming world, it is also seen as a potential new world for brands and advertisers to market themselves. When a

potential platform with such an immense scope for consumer engagement in a whole new virtual space is already here, how can brands fall behind?
According to Shubham Chauhan, Co-founder, Kappa, advertising is a barter for information in the digital world as users are coming across ads and banners on websites or social media platforms while looking for information. Users have to indulge in a passive action of viewing an ad while they access the relevant content. However, in the Metaverse, a user will have to engage actively rather than being a passive audience. To break it down for a layman, he explains by giving a hypothetical example, "If I have to watch a certain video on YouTube, I may have to see an ad first which is a passive action. But in the Metaverse, if I have to enter a club, I may be required to perform an action, like make an omelette for the guard at the club. Here, the egg manufacturer may be a sponsor. You as an end user are now directly engaging with the egg brand itself. It gives you a very skeuomorphic feeling where you would imagine that brand to be in your life, while you are cooking the omelette. It's not persuasive. It's not distractive in nature. It feels like it's part of the world."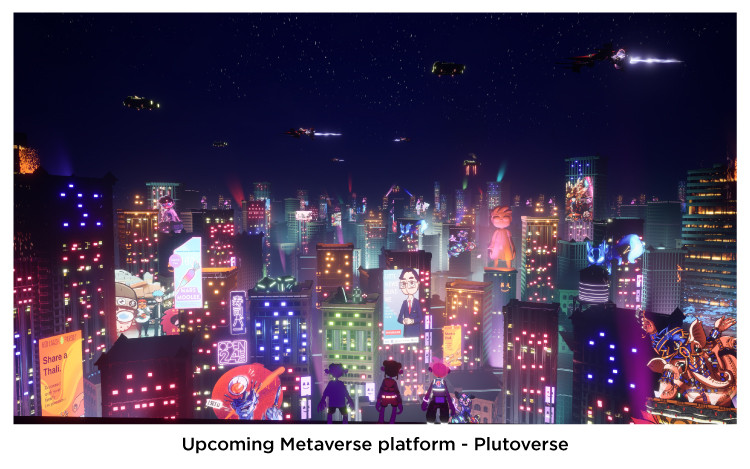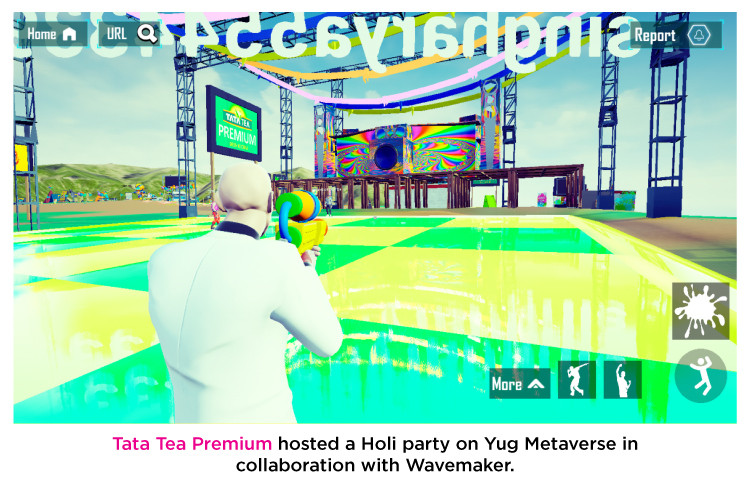 "It's very early stages for brands, as the opportunities and rules of engagement on the Metaverse are still being defined. The advertising infrastructure for an interconnected Metaverse is yet to reach a stage of maturity. Most of the brands engaging on Metaverse platforms see opportunities around content integration. However,

as consumer adoption increases and the AdTech infrastructure matures, we can hope for advertising opportunities that will be far more experiential and driven by data," explains Vishal Jacob, Chief Digital Officer, Wavemaker India.
"Most of our conversations today with brands are more educational in nature, but they can be bucketed under four key areas. Clients are keen to understand the rate of adoption. Second is around the potential opportunities to engage consumers on the Metaverse. Some clients are keen to understand how to bridge the virtual and real world in experiential ways, and if their products can play an extended role in the Metaverse. For instance a retail client would be keen to understand how they can create merchandise for avatars as an extension of their current offerings in their retail stores. And lastly some conversations revolve around the risks around NFTs and transactions in the Metaverse," he further adds.


Recently, Havas Group opened its first village in the Metaverse to help brands launch successfully in the virtual world. Rohan Chincholi, Head - Digital Services, Havas Media Group India shares, "The Metaverse universe opens up new ad placement & interactive environment for brands to connect with consumers – like new media experience 'world'. While brands can create their own virtual world/metaverse, we are in early stages of development and the challenge is only on reach. Marketers are evaluating potential on virtual environments, building meaningful brand experience powered by content creation, offering stores, services, virtual e-commerce, NFT in virtual environments, and it will be the way forward. Metaverse has always been a part of ad-ecosystem. For instance, Gaming has been incumbent in the metaverse for many years now."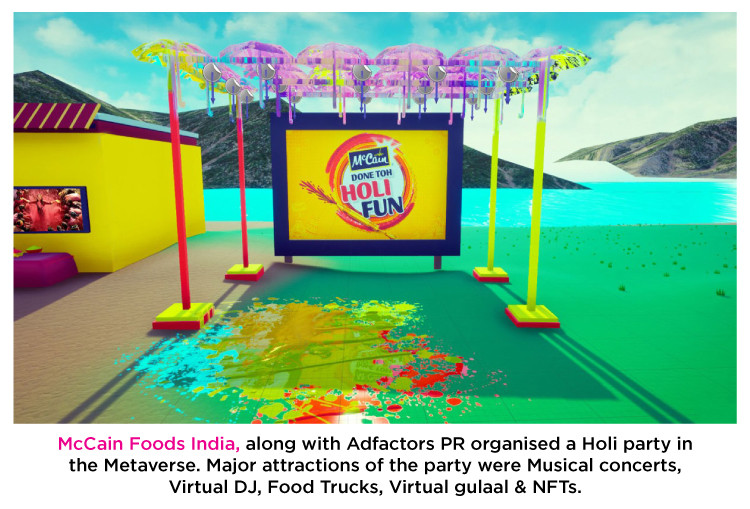 IPL: Can it be a growth driver for Metaverse?
One of the biggest sporting events, the IPL too saw one of its franchises - the Gujarat Titans foraying into the Metaverse by creating a fan engagement platform, 'Dugout,' in the Metaverse. While we have already seen award functions and wedding ceremonies being organised in the Metaverse, can we expect sporting events like IPL to be held in the Metaverse?
Chauhan states that IPL will certainly help create awareness about the Metaverse. "At any point of time in the year, if you look at Google trends, maximum Google searches that happen in India are about IPL. So, if IPL does anything into it (Metaverse), it will certainly help in terms of awareness and will give the adoption thrust that the concept would require"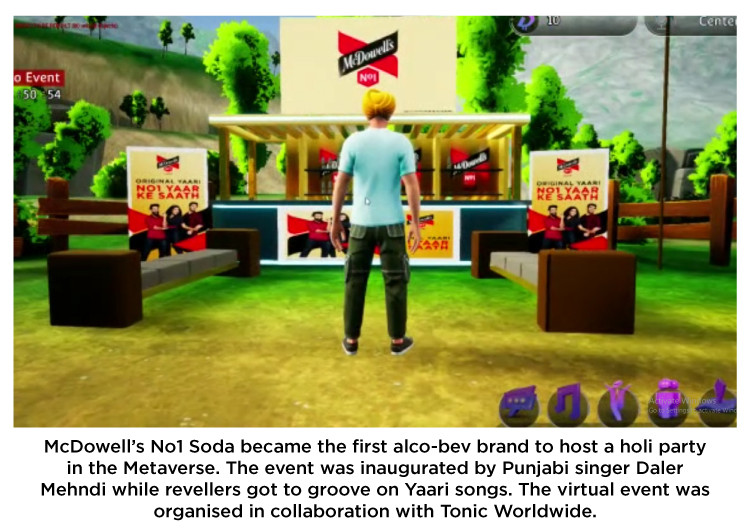 Whereas, Gandhi spoke about the possibilities of sporting events being held in virtual space. "Live sporting events will take the front seat in Metaverse to captivate the audience by giving a realistic, stadium-like experience. For sports marketers, Metaverse would open doors to a whole new level of immersive engagement."
Highlighting the limitations of physical spaces and how Metaverse can be a game changer, Ruparel shares, "A stadium cannot hold more than a lakh people at a time due to restrictions in space, whereas in Metaverse, the same match can be mirrored and telecasted at multiple locations so as to accommodate millions of people. Meet and greet, one of the major pain points for any player or brand can be easily managed with Metaverse. Player can easily meet a large gathering at the Metaverse from his house without worrying about the security."
Future of Metaverse


Prashant Sharma, Co-founder, Plutoverse, is of the opinion that unless we come up with good hardware support, we still have to wait for the Metaverse in its pure form. He further says, "Metaverse is still at a very nascent stage because we still lack a lot of immersive experiences that ideally should be there. I know a few good companies that are building it. Moving ahead, immersiveness is going to be the key wherein once you enter these virtual worlds, how involved you will feel is purely going to keep you on or off the platform."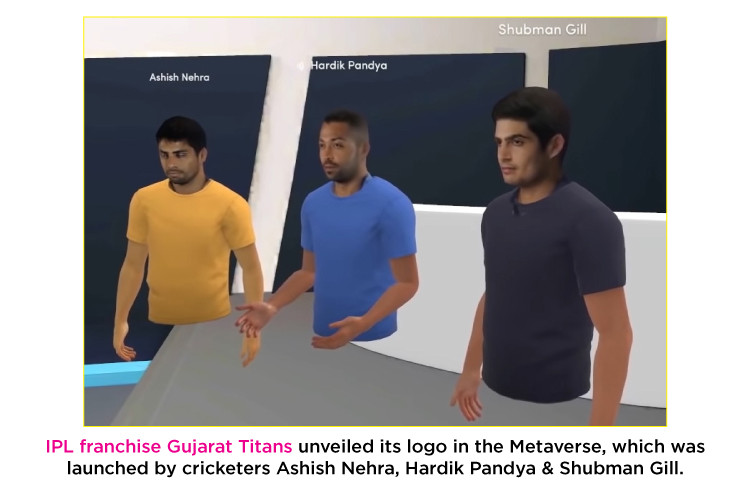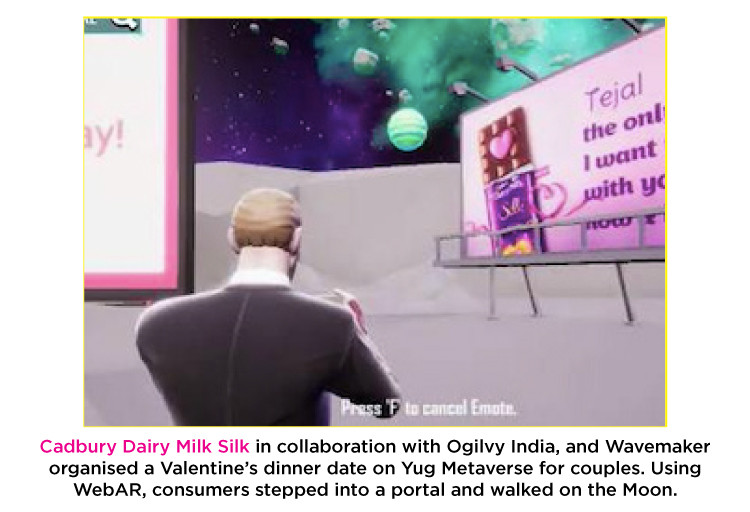 Elaborating on how soon the Metaverse will become a part of our lives like social media, Chauhan explains, "It totally depends on how we are defining the Metaverse. If you say everyone has to live in a 3D environment or a virtual reality like a game, then we are very far from it. It would take us another decade to master that technology, and make it mass accessible, so that every other person has the technology like they own smartphones today. But if you define the Metaverse as a series of interconnected worlds, it doesn't really matter if the visual aspect is a 3D world or a 2D screen. Then you're not very far from it."
"The keywords "Metaverse" yields 677,000 results on Google. Hashtag #Metaverse is widely used on Instagram with more than 60,000 posts on the social media platform, and is tweeted more than 500 times per hour on Twitter. This data shows that Metaverse holds a very high potential of becoming 'The Next Big Thing' for the marketers

looking to explore a new and innovative opportunity, avers Vishnu Sharma, Founder & CEO, Efficacy Worldwide.
The future of Metaverse is yet unknown to us, but surely, it is a fascinating medium that holds a world of promises. After all, people in the early 1990s were quite doubtful about the use of the internet, and here we are today in 2022. Moreover, it'll be interesting to see the changing trends in how the Indian advertising landscape will evolve with it, and what role it will go on to play in setting the bar for consumer experiences.