If 2017 was about the Indian contingent winning the highest ever number of metals – 40 - at the Cannes Lions International Festival of Creativity, then 2018 was about winning two Grand Prix for the very first time in the history of India's participation in the festival. All eyes will be on the Cannes stage next week to see what surprise the Indian contingent springs on us this year at the 66th edition of the festival. Notably this year, we have a whole lot of entries in Digital, a category in which entries from India have traditionally been known to falter. Will 2019 spell a change for India's Digital fortunes? We have to wait a couple of weeks to tell.
In 2018, prominent categories where India didn't make a mark are Creative Data, Titanium, Film Lions, Digital Craft, Entertainment, Radio and Audio, etc. In some other categories, such as PR, Media, Sustainable Goals Development, etc., Indian entries were shortlisted, but went no further than that. Out of the 929 entries from India, only 21 converted into metals, giving India a conversion rate of 2.15%. Talking about numbers, the overall number of entries received at the Cannes Lions last year dropped by a fifth globally, from 41,170 entries in 2017 to 32,372 entries in 2018, partly because Publicis as a Group stayed away from the awards.
OPPORTUNITIES LOST
Tista Sen, Regional Creative Director, Wunderman Thompson, India & Sri Lanka who is on the Glass Lions jury this year says, "I think there are so many opportunities for us in the Music and Entertainment categories considering we are home to one of the biggest entertainment industries in the world – Bollywood. But we have just not oriented that in terms of communicating ideas." Adding to that, Emmanuel Upputuru, CCO, Cheil WW India says India has never done well in Cyber, a category which was dropped in 2018: "Historically our favourite Lions have been Outdoor, Media, Direct and PR Lions. Our average shortlists tally is around 50 and metal tally is 24.11 if my math is correct. I expect we will be in the same ball park. With a few Golds and maybe a Grand Prix by someone," Upputuru says.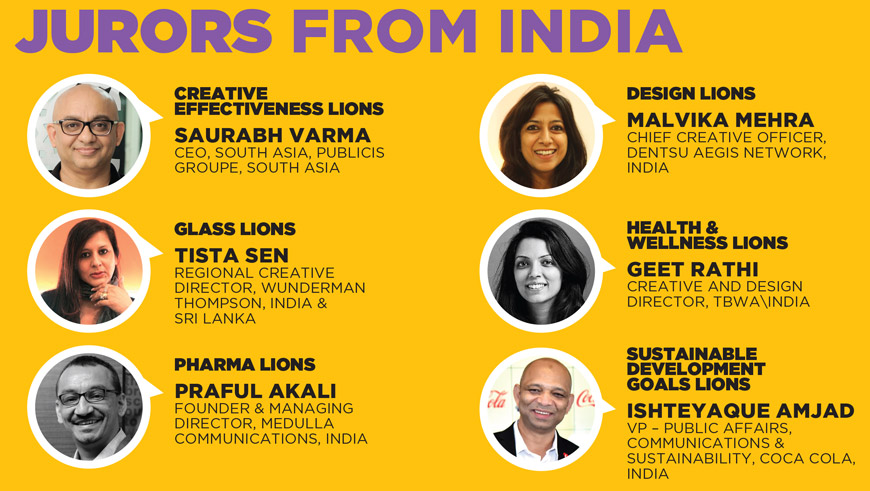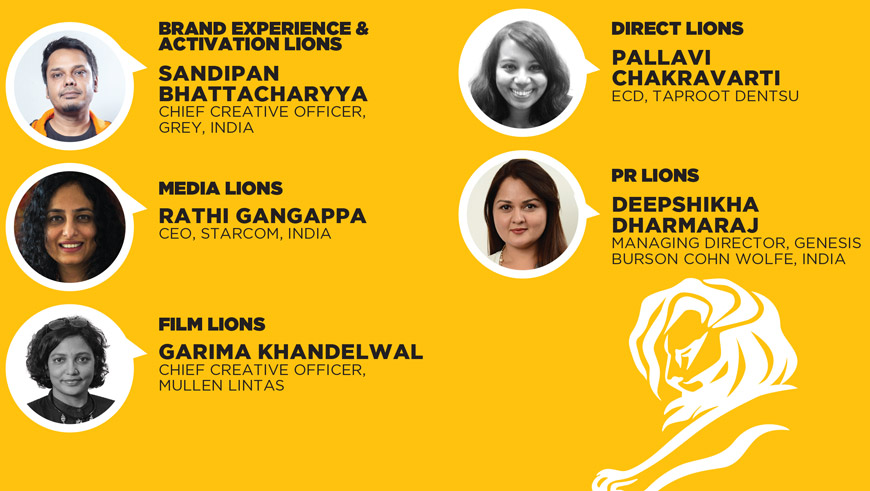 Most Indian jurors at the festival say that when they study the winning entries and then the work sent from India, it becomes fairly obvious why India hasn't been able to win in the Digital categories, because we still don't have a deep understanding of the Digital medium. What we consider as innovations hardly qualify as innovation. Others say that we tend to shut down and look at either creativity in technology or creativity in the communication idea - we rarely do both - but it is that combination which makes a campaign win or not.
Adding to it, Pallavi Chakravarti, Executive Creative Director, Taproot Dentsu, India who will be judging the Direct Lions this year, explains, "What we suffer from is lack of good packaging, because we have ideas, but we have some distance to go in learning how to present them as well as the rest of the world, because for people from some other parts of the globe, it's second nature, a fine art."
HITTING THE JACKPOT
Meanwhile, there are categories where India has done extremely well, such as the Glass Lions and the Health Lions. We hit the jackpot in the very first year after the Glass Lions were launched, winning a Grand Prix, and repeating the feat the next year, both thanks to wins by BBDO India. Says Josy Paul, Chairman & CCO, BBDO India, "We've been very fortunate and the Golds and Grand Prix we've won at Cannes push us to do more - for our clients, for ourselves, and for the industry. We are excited about the work we've just entered. All our entries have performed well for the brands and have been effective in the market. The consumer has already awarded them, it's up to the Cannes jury now." This year, however, India has got only one shortlist in the Glass Lions category for Ogilvy's campaign 'Waterproof Sarees' for the Hindustan Unilever brand Hamam.
As for the Health and Wellness and Pharma Lions categories, which were the first industryspecific Lions introduced at Cannes, it has been a similar story even if India didn't go all guns blazing from the very first year. In fact, in the first year, the judges decided that no work in the industry deserved a Grand Prix. Praful Akali, Founder & Managing Director, Medulla Communications, India, whose agency played a big role in getting Indian agencies the much-needed limelight on the international stage, says, "We took part for the first time in 2015, and sent 10 entries out of which six were shortlisted and we became the Number 3 Agency of the Year. Back then, journalists here in India only knew what a Grand Prix was and had no clue what the Agency of the Year ranking was. The next year, i.e., in 2016, we were the Agency of the Year (a first for India) at the Lions Health and then bagged second place in 2017." Akali is on the Pharma Lions jury this year.
In 2017, McCann WorldGroup (India) won the Health Grand Prix and then TBWA India went on to win it in 2018 allowing India's winning streak to continue in the category.
BETTERING OUR PROSPECTS
A surprise factor last year was FCB India winning Lions at Cannes for the very first time in six decades – two Gold and two Bronze Lions for the campaign Sindoor Khela made for Times of India. On bettering India's prospects at Cannes, Rohit Ohri, CEO & Group Chairman, FCB India suggests, "The competition is really fierce in the traditional mediums like Print and Films, which are dominated by the big, creative powerhouses. The idea is to look for categories where you can create something which truly is differentiated, and not enter it in a very crowded category. We are entering our campaign Bhukkad in the Long Format Films for Education category. You also have to be clever in the way you enter your awards. Having said that, judges want to see real work, creative just for the sake of creative, or prettiness doesn't really win anymore at Cannes."
That sentiment is echoed by Saurabh Varma, CEO, Publicis Communications, India, who is on the Creative Effectiveness jury this year. Says Varma, "What I am really looking forward to is genuine impact. I am definitely not going to be impressed with views and impressions. The fact that a campaign won at Cannes already indicates it's a great idea, and winning at Cannes the year before is the only qualifier for an entry in the Creative Effectiveness category. So what I am really interested in is return on marketing investment."
Meanwhile, Rahul Mathew, National Creative Director, DDB Mudra Group, expresses surprise that India hasn't done well in the Titanium Lions category, which recognises work that pushes the boundaries of culture and creativity and has a big impact. "I'm surprised we haven't yet made inroads into this category since we're a country that can show insane numbers as impact. If there is any culture where the boundaries can and need to be pushed, it's ours. Another category would be Mobile. This is mainly because we're yet to start thinking mobile first in our communication plans. I don't see this lasting for long, as India is one of the fastest growing markets when it comes to smartphones. Thinking Mobile first will happen out of necessity, if not choice," Mathew adds.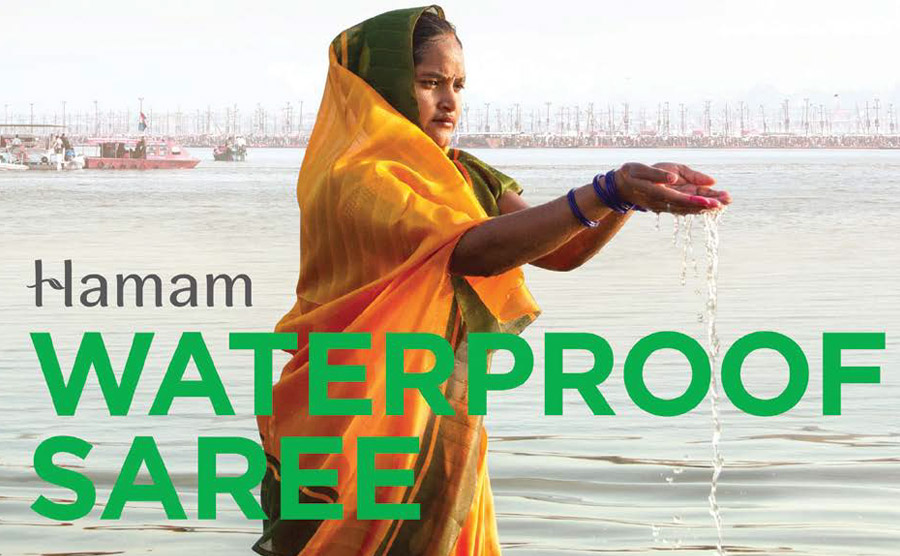 For Ishteyaque Amjad, Vice President – Public Affairs, Communications & Sustainability, Coca Cola, India, another category which he considers India naturally well placed to do well in future is Sustainable Development Goals, a category he is judging at Cannes this year. He also says that Indian campaigns are of global standard as far as creativity is concerned, but entering Cannes has become an expensive affair for agencies, especially the smaller ones. To increase the number of entries from India, Amjad suggests, "While the agencies sponsor and send their entries, can there be an opportunity where the agency and the client work together and say, 'This is something we strongly believe in.' The reality is that if a particular campaign wins a metal or a Grand Prix, it is actually the brand that gets the maximum visibility and much more than the agency. So, it may not be a bad idea for people to collaborate, especially when they strongly believe that this is something that is worth its position, and thus, why not jointly pitch for it at the awards."
Santosh Padhi, CCO and Co-founder, Taproot Dentsu says, "If you look at the past we have done well in most categories, Print Posters for a few years, Design, Direct Marketing, Health & Pharma, Glass, etc., Yes, Films and Integrated are the toughest of the lot but we have been having our presence there too. We need to push the execution and scale in such categories. A Lion is a Lion - doesn't matter where it comes from, as long as the India numbers look healthy compared to others. When you are evaluating a person, agency or a nation, I always think it should be an average of at least three years, as creativity is subjective and not a formula that we keep feeding and the award winning ideas automatically get printed year on year. It's OK if we don't win big year on year, as something that goes up eventually has to come down; very, very few have sustained the curve upwards for years."
Summing it up, Varma of Publicis Communications says, "There is so much great work out there, but Cannes always surprises you. Good work you have never seen earlier often comes out on top. So, let's see. Cannes is your time to be completely surprised."
Barely a week to go now, before the Cannes Lions begin to surprise us!
A GREAT RUN FOR INDIAN AGENCIES
Overall, 2018 was a very creatively satisfying year for India. Apart from the two Grand Prix wins at Cannes, Indian agencies and some of their campaigns have found a very prominent place on the 2019 WARC global index of creativity and effectiveness. In WARC's Creative 100, an independent global index of creative excellence in advertising, and successor of the Gunn Report, FCB Ulka's 'Sindoor Khela - No Conditions Apply' for The Times of India is ranked ninth among the most creatively awarded campaigns. Among the most creative countries in the world on this list, India ranks seventh.

Similarly, in WARC Media 100, Mindshare's Mumbai office is ranked ninth among the top 10 agencies in the world for media excellence while India overall is ranked seventh with UK, USA and Australia finishing in the top three. But where India takes the cake is WARC Effective 100 where the top three most effective campaigns in the world are from India - The Womb's 'Let's make viral products instead' for Saregama Carvaan tops the list, while Ogilvy's 'Healthy hands chalk sticks' for Savlon and McCann's 'India's newest status symbol' for Harpic complete the global top three. Here in the 'Top 10 countries for effectiveness', India finishes at No. 3 behind USA and UK, which is an absolute high.