2022 was for Indian advertising what 1983 was for Cricket in India, a truly game changing year. Winning 5 Grand Prix, 2 Titanium Lions, an Agency of the Year title and countless other metals at Cannes Lions, the biggest advertising festival in the world, certainly seemed like a tall order till a few years ago. But the Indian contingent announced their presence on the global stage, leading with 'The Unfiltered History Tour', 'The Killer Pack' and 'The Missing Chapter'.

Interestingly, this year even before the battle reached the Palais Des festivals at Cannes, two of the top agencies who were at the forefront of the Grand Prix haul in 2022, had to fight the perception battle on their home turf. Malaria is most certainly in focus, in the run up to Cannes Lions with Dentsu entering Mortein - 'Suraksha ka Kaala Teeka' and VMLY&R sending Maxx Flash – 'Arogya Bindu' campaign to the festival, two campaigns that sound astonishingly similar in principle.

Talking about whether it was an avoidable negative start to the festival, Aalap Desai, Chief Creative Officer, Creative Experience, West, Dentsu Creative India says, "Two agencies came out with the same idea and they are clashing. It happens very often and this is not the first time we are seeing it too. I don't think it's a negative start, it is just an unfortunate coincidence."

Talking about whether Dentsu will be able to recreate the magic this year, Desai says, "Last year was a dream run for Dentsu as well as for India. We are once again doing our best and keeping our fingers crossed. India was noticed last year and now everyone is interested in what we have to say. That one thing I feel has changed is that we are using the nuances from our culture to tell interesting stories very well now. It is very similar to what Japan has been doing for years. Owning your cultural individuality is so unique. A lot of our work is like that now. Also, we have grown by leaps and bounds as far as tech lead creativity is concerned. We do that quite well."



As far as VMLY&R is concerned, last year, it was clearly the underdog, securing the agency's first ever Grand Prix from India, incidentally also the first one at Cannes in 2022. Mukund Olety, CCO, VMLY&R says, "2022 was a great year, and we are hoping to build on that this year. We're proud of the work we have done and have already seen real impact. It's always nice to have recognition on a world stage, competing with some of the best but regardless of the outcome, we know we've succeeded when we are able to move the needle for our clients' businesses, make sure our teams are happy and passionate about the work they're doing, and are able to make the world a better place while doing it."

Last year while we had multiple agencies like FCB, VMLY&R, Ogilvy, Leo Burnett, DDB Mudra, McCann, BBDO, and even Byju's making India proud by bringing home 47 metals collectively, the lion's share of the awards was won by 'The Unfiltered History Tour' by Dentsu Webchutney. While it was a hot favourite, no one expected it to sway the juries the way it managed to at the world's most prestigious advertising awards. The question on everyone's mind right now is will we see the rise of a similar campaign this year that will go on to break more records for India.

Responding to that Garima Khandelwal, ex CCO, Mullen Lowe says, "Unlike last year, I don't know yet if there is that one idea spread across categories to create that same stir this year. While we have strong contenders in multiple entries separately, to have a spectacular year, that one entry winning big in multiple categories is key."

Talking about the category she was picked to be a jury member for, at Cannes Lions this year, Khandelwal says, "Direct is one of the toughest categories to judge because of the sheer number of entries that it gets. Each jury member is shortlisting about 300 entries in 4/5 sub-categories, so each one of us has only seen 1/3rd of the work in the category so far, looking forward to seeing the shortlists collectively. Here's hoping work form India converts."

For years India was known to play the catch-up game on Digital, while the west continued to fire on all cylinders, to what extent do the jury members feel has India closed the gap today. Aditya Kanthy, CEO & Managing Director, DDB Mudra Group, India who is on the Creative Effectiveness jury this year says, "I wouldn't go so far to say that we are now firing on all cylinders, we still have a long way to go. Our true success will be measured over time. The last couple of years have been a promising foundation for the Indian industry to truly shine on the global stage. Unlike some other markets, we can't claim to have set the benchmark. For example, US and UK markets have produced the most brilliant work that have built the most profitable global brands for 20-30 years. And until we do that consistently with our work out of India, I don't think we can claim our place with authority. Having said that we have certainly shown that we can compete with the best, and that there is talent in this country that is as good as anything anywhere in the world, that there are marketers in this country who have the intelligence and the ambition to stand out."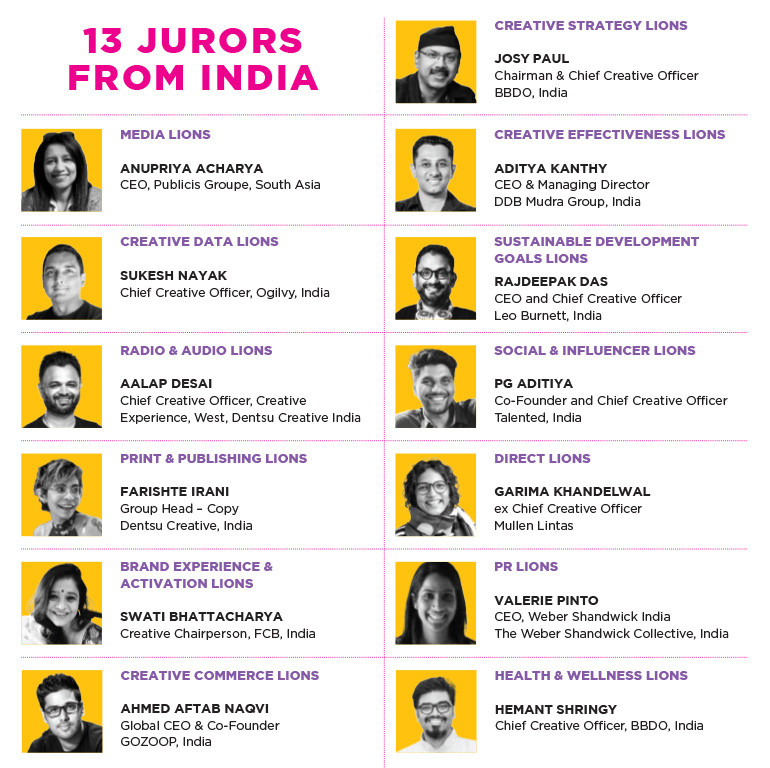 This year the total number of Indian entries sent to Cannes Lions has dipped to 808 as compared to 901 last year, but there are hopes and expectations galore, the big question is, will the Indian contingent be successful in cementing its presence at the grand stage of the Mecca of advertising. Hemant Shringy, CCO, BBDO India is clearly positive about that, he says, "This year is going to be super special for India at Cannes. Just like our amazing representation in the jury, the work we're all sending out is looking fabulous too. The sheer breadth and the depth across pieces is impressive. Of course, the work from across the world is also setting new standards, hopefully our pieces will also break new grounds."

Adding to that Mukund Olety says, "Last year was India's year, and hopefully this year won't be different. It was a proud feeling to celebrate our collective wins as a nation, to see creativity shining through. We have always performed well when it comes to purposeful work that drives real impact and I hope that it won't change in 2023."

Previously India's highest score at Cannes Lions was 40 metals won in 2017, which was followed by three years where we could achieve only half of that glory, until 2022 when we surpassed that with not just the highest number of metals i.e., 47, but also the highest tally of Grand Prix wins, and to top it all, an Agency of the Year title. Similarly, prior to that, the year 2013 gave India its then best metal tally with 34 Lions which also took us three years to outclass. So, there is clearly a trend there, the question is will India follow that path in 2023 too, or give it a new direction altogether which will ensure spectacular performances year after year at Cannes Lions. Two more weeks to go before we find out.