Anupriya Acharya's reputation precedes her, with a rather long list of 'firsts' to her name - be it being the only person in India to have led Publicis Groupe's country agenda encompassing both media and creative; becoming the first woman leader to head a holding company in India; or getting elected as the AAAI President twice in a row, a post no woman has held in three decades. These achievements were ringing in my head when I first met her at the Urmi Estate office of Publicis Groupe, so I was rather surprised to find myself chatting casually about treks in the Himalayas with one of the most successful women in the industry. Acharya, having just returned from a week long Tarsar Marsar trek in Kashmir, seems to have a penchant for scaling great heights. Easy going and sharp, through the course of the conversation, she was always quick to field even the trickiest of questions with a flash of her dimpled smile.

Anupriya Acharya was appointed to the top role at Publicis in December, 2019, and it was a tough phase to start with, considering the pandemic and the challenges it brought with it for agencies. She was tasked with tearing down the silos in the organisation to create client centricity in an ever-evolving complex ad world. The idea was to provide their specialist services in a very seamless manner to the client, to make it easily accessible. Nearly three years down the line, how has that worked out for the Group?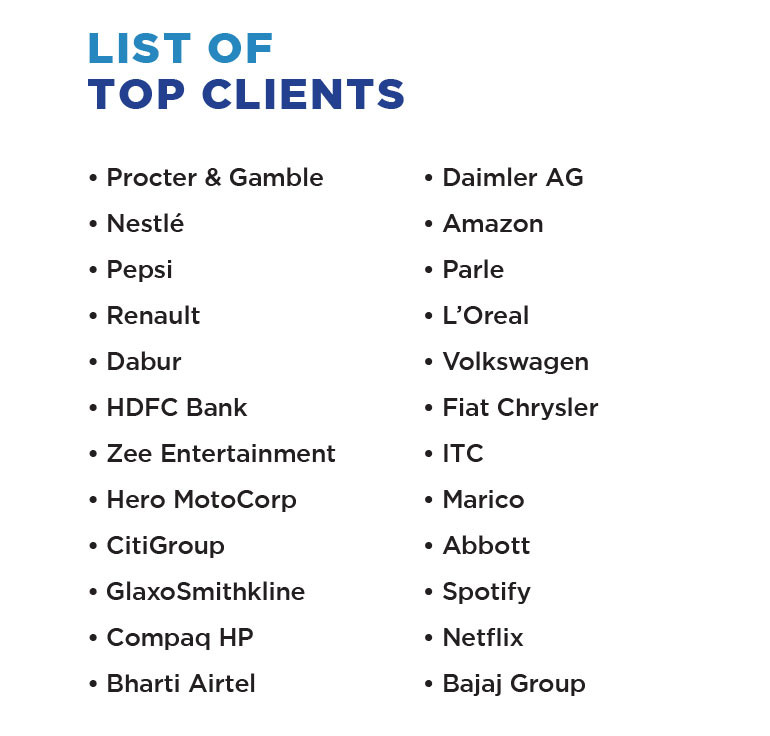 "We were able to cap the pandemic induced headwinds in 2020, growing well in 2021, not only on the 2020 base, but also crossing 2019 business objectives. Apart from growing with our clients, we had a record new business run year-on-year, and 2022 has already crossed last year's benchmark. It has been a stellar year so far on a high base, and we have a lot of what we call 'whale' wins. Some of the best clients have placed their trust in us - like Meta, PepsiCo, Abbott, Wow Skin sciences, Eureka Forbes, among others. Publicis Media is number 1 on new business momentum," says Anupriya proudly, who in her previous appointment headed Publicis Media.

As per COMvergence's 'New business barometer for FY2021 for India,' released earlier this year, Publicis Media Group came at the second position with more than USD 188 million new business wins. While Starcom took the top spot on RECMA's New Business Balance Report for 2021. Even the year 2022 has been favourable for the Group with 22+ new account wins, including one of the biggest catches in the year PepsiCo, which ended a three-decade partnership with WPP and called for a creative and media pitch, both won by Publicis Groupe. On the creative side, Leo Burnett brought home laurels for the Group after bagging a Grand Prix this year at Cannes Lions for its work on P&G Whisper under the Sustainable Development category.

One of the things that she says has worked well for the Group is their investment on data technology and tools, and their digital adoption. Anupriya explains, "We leverage all our excellent global aids but whenever we have needed additional mechanisms to solve for India, given the data regulations and the disparate sources from which the data comes in, we have been able to build right here. We ensured that each of our agencies is extremely competent and self-sufficient in the field it is in. We took care of the gaps through acquisitions, integrations, or reorganization."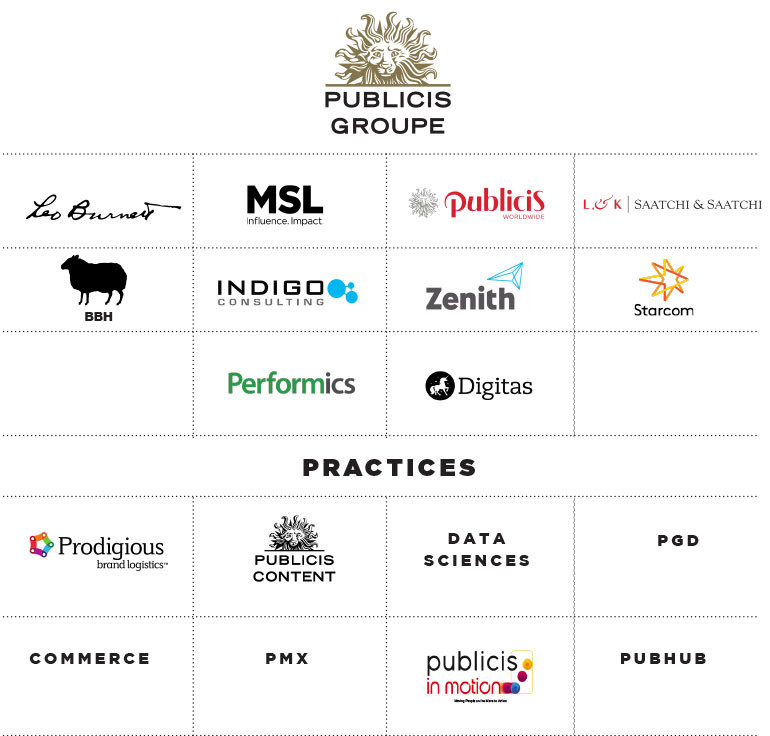 The Group which has decade old clients like Nestle, L'Oréal, Dabur, P&G, Fiat Chrysler Automobiles, Hero Motocorp, etc., in India, has agency brands such as Leo Burnett, MSL, BBH, L&K Saatchi & Saatchi, Publicis Worldwide, Starcom, Zenith, Performics, Digitas, Prodigious, Indigo, and has specialist units across content, commerce, technology, data analytics, consulting and production.

Talking about how all the services come together under the Power of One model, she adds, "The agencies have the support of all the specialist emerging practices which is very tough for each independent agency to invest in because data, tech, research, R&D are extremely costly in today's world. So, we invest centrally on some of these, for example, we have Commerce, Content, and Production under Prodigious, etc. It was imperative to have a joint vision. So we've introduced the right structures, right processes, and right talent in the right place, and invested heavily on specialized services." One of Acharya's aspirations is to help build more purpose for brands, a cause she is actively invested in.

In fact, the year 2022 saw many of the old timers at Publicis returning to the Group, be it Hari Krishnan or Amaresh Godbole. Talking about whether there is a strategy at play here or if it is a mere coincidence, Acharya says, "iTitan is our fully AI-backed enterprise level solution built in-house on which we are seeing early success. Earlier in the year, we stepped into the world of Web 3.0, Blockchains, metaverse, et al, we appointed a Chief Technology Officer at the Group level–bringing in talent like Amaresh Godbole, Lalatendu Das etc. Our leadership today is very stable."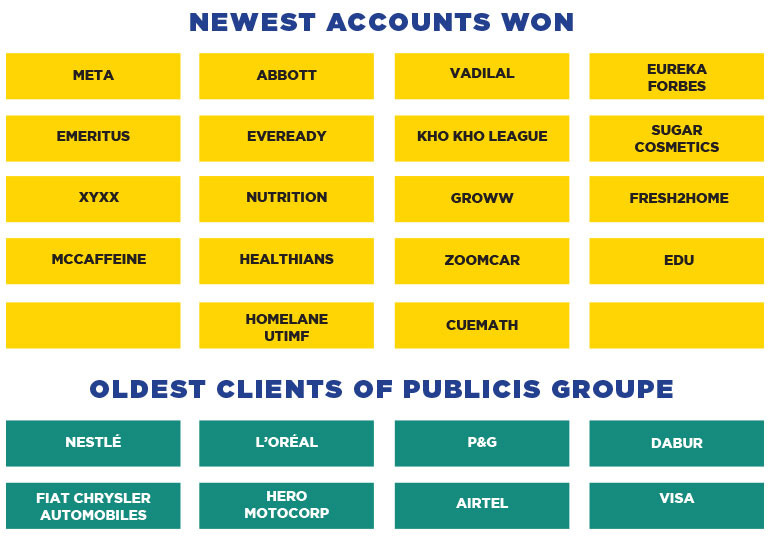 Anupriya goes on to add that Power of One at a Group level is an enabler, not a replacement for excellence and specialisation. "We believe in being individually strong and together unbeatable," she says. Their people-first-approach has found resonance with the employees proven by the fact that Publicis Groupe was the only marketing and advertising holding company to make it to the LinkedIn Top Companies 2022 list for India, and was called one of the 25 best workplaces to grow one's career in India.
Anupriya asserts, "If you don't have the right talent, you will have to leave the business on the table because you don't have the bandwidth to cater to it. The numbers speak for themselves. In terms of 3-year activity growth (18-21), Starcom India has grown by 89% while Zenith India has grown by 114% (Overall activity volume, June 2022 RECMA Report.) Publicis Media India is the fastest growing agency group in the period 2018-2021, as per RECMA data, and has delivered an impressive new business development performance across various competitive pitches. In fact, today, apart from a great run-on new business, we also have a fair share of the fastest growing unicorns like Pharmeasy, PhonePe, Nykaa, Lenskart, Cred, Acko, MamaEarth, among others."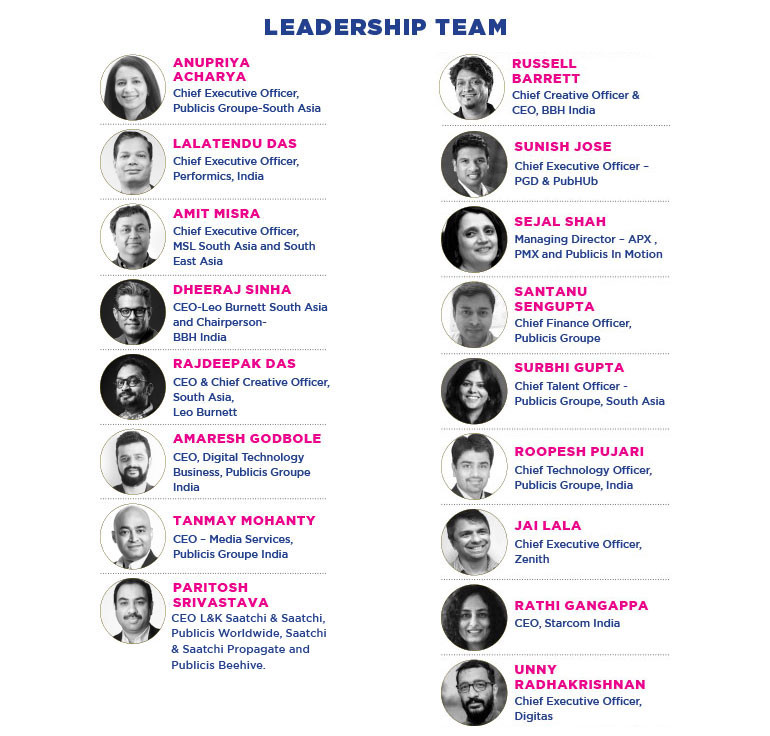 "Given the market conditions, we believe that this decade will be the decade of India. And at Publicis Groupe, we are looking at not just growth but #Turbogrowth. We want to build progressive purposeful work right at the heart of it all. We just announced our Creative Council, chaired by Rajdeepak Das. Its core task will be this. We will further support our #Turbogrowth ambitions through capacity building – which is where our talent strategy comes in," she signs off.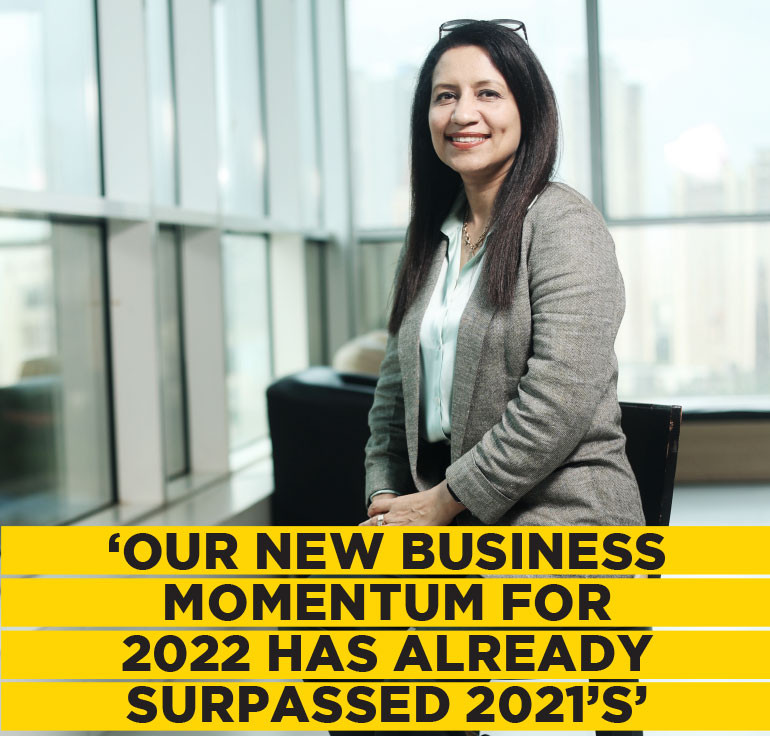 Anupriya Acharya, CEO, South Asia, Publicis Groupe tells Neeta Nair how unifying all businesses of Publicis Groupe in India under a common leadership has worked for the company, helping it scale newer heights
Q] Before you were elevated, media and creative didn't have a common head. The announcement came after quite a bit of negative press about the production arm of the Group, Prodigious, and some high level exits from Publicis Groupe on the Creative side. Did that in any way make it imperative to create this all-encompassing role?
On the contrary, this role has nothing to do with all of that. As early as 2018, we had made a very clear announcement globally on our roadmap and structures, how we shall break silos taking forward our Power of One model. Firstly, all media got clubbed, which I got an opportunity to lead, then we began to move into country solutions, Arthur Sadoun took on as the global CEO and underlined the ethos of that, so we started this journey globally, and by the time we came to India, it was December 2019. I would be very flattered to think that the role was created for me, but it was not. I was just fortunate to get this massive opportunity.
Q] What is the year 2022 looking like for Publicis Groupe India?
In this year itself we have won 22+ new accounts, be it Meta or PepsiCo. In some cases, both media and creative duties, for others just one, or performance marketing mandate, etc. The new business momentum for us has been spectacular in both 2020 and 2021. On overall talent, we jumped from 3500 to roughly 5000 since I took over. We've also seen tremendous growth in Publicis Global Delivery that looks after our global clients. Post pandemic, our classic creative agencies also became self sufficient. Today they are fully geared to deliver on digital capabilities without the need to call an external expert.
Q] Coming to your creative agencies, Leo Burnett has been firing all cylinders but we have not seen LKSS, Publicis Worldwide, BBH grab eyeballs as much as they used to with Ambuja Cement-Khali, MMT ads in the past, we have also seen many changes in leadership there…
It's not that there's something wrong on that side as much as the fact that each of the agencies is at a different life stage. Leo Burnett has done very well, but LKSS has also been winning steadily year after year, for example, Nivea, Abbott, Akasa Air, Bharti AXA, Jindal Steel and Power, Reliance Digital, Audi, Zepto, NPCI, Krafton, Somany, Relaxo, AJIO, South Africa Tourism, Times Pro, Officer's Choice, Games 24X7, Standard Chartered Bank etc. Their chosen strategy is to do business partnerships with clients from the early phase of their lifecycle. From the pandemic lows of July 2020 to the close in Dec this year, L&K Saatchi & Saatchi has almost doubled its business. Paritosh Srivastava who heads LKSS has done a fabulous job.

Similarly, on Publicis Worldwide, we have some new leadership, Oindrila joined as the MD recently. Some of our best accounts are stationed in Publicis Worldwide. BBH was acquired some time back, but they came into the group fold only in recent times. They are known for their strong creative work. Dheeraj has now taken over BBH, and will be infusing new energy into it. But largely, I don't think it is right for us to compare one agency with the other.
Q] In most networks we see that there is pressure on creative agencies to bring business to their in-house production house, is there pressure on your agencies to bring business to Prodigious?
I can't talk about other networks, but Prodigious is one of the offerings available to creative and media agencies. But it doesn't mean our creative agencies are doing all the productions through Prodigious because Prodigious has a certain ethos, they work with a plethora of directors and partners (vendors). Over a period of time, they have been able to handle scale in production, which is very important. Also, at a fraction of cost they are able to create content for multiple platforms for the client. There is no pressure on agencies to bring business to Prodigious, it is quite upfront. All the mandates that Prodigious wins are also on the back of open pitches. On production there's always a pitch which multiple production houses are a part of. So, it is not that work comes to Prodigious by default. But there are so many agencies within the Publicis Groupe that it becomes a fraction of work, if they are able to win. They are the largest production house today, and are producing content for clients across nine countries from here in India.
Q] Global Brands like Coca-Cola, and Mercedes-Ben have recently shifted from the model of having multiple agencies to having one single partner. Brands sometimes even prefer to house both media and creative under the same holding company as it recently happened in your case with your big Pepsi win. Would you say that brands are not afraid to put all their eggs in one basket anymore in India too, and does the increased dependency on one brand for revenues augur well for the network?
The Pepsi pitch was a once in many decades kind of win. We pitched against the best, everyone wanted the account. The interesting part was that while we won media and creative, and the mandate across the entire portfolio, this was not won as a group. Creative was pitched independently of digital, which pitched independently of media. Here I want to make a very pertinent point because you had asked me how everything was integrated many decades ago, which went on to specializations and now it is again getting consolidated. I would beg to defer. This is not consolidation. This is seamless access of specialization, where our Power of One model fits beautifully. When we talk about integration or seamless access to specialization, it is not at the cost of specialization.
To answer the second part of your question, it gives us an opportunity to demonstrate an integrated way of working and give a unified view of where the brand is headed, basically create more magic.
Q] Globally we are seeing many brands develop in-house agencies like Budweiser, Disney etc. Between that and newer agency models like Media Monks, Wondrlab etc… do you see creative agencies from networks like Publicis taking a hit, because of bigger & complicated structures and pressure from the global bosses?
But the fact remains that the networks have not collapsed, which is proof of their ability to reinvent themselves. The in-house trend is cyclical, it starts off as a great exercise, but becomes unwieldy because it is not a client's core area of expertise, and eventually they do give it back to an agency to handle, so it doesn't stress me too much.
Q] During your previous role as head of Publicis Media, it recorded one of the strongest growth phases in India…cut to now, I was going through the RECMA ranking for 2021 of the top 5 media agencies in India with regard to overall activity volume…Mindshare, Dentsu X, Lodestar UM, Wavemaker, Initiative, are part of the list. Why according to you does it not include any Publicis media agency?
Publicis media is still ranked number one on new business momentum, which is the largest in some markets. I think you are looking at a different data point, one on individual agencies. But we have moved into this whole Publicis media structure sometime back. So, while there is Starcom and Zenith, we also have a lot of accounts which are won as a Power of One account. For example, our GSK win globally is not aligned to one agency. As a media network, we put a bespoke team for the mandate that they have given to us. These days they are not classic media mandates, clients want to bring in performance, digital, experiential marketing etc.

I haven't seen in recent times, clients asking for an agency's numbers, they look at the overall media numbers. And if you refer to those of Publicis media versus any of our competitors, you will see that it is rocking and all the accounts are fastest growing on a large base.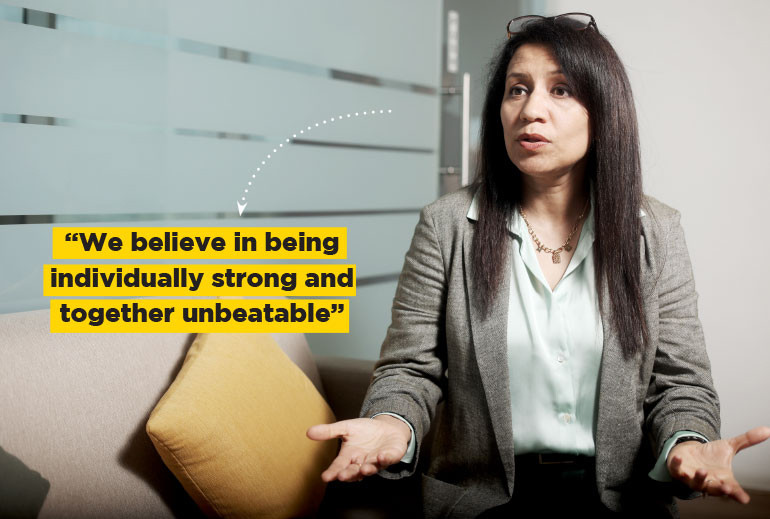 Q] How are Publicis Commerce, and Publicis PubHub performing at this point, both were launched in India under your watch?
Both are performing exceedingly well. Publicis Groupe's Commerce Practice covers all go-to-market channels - marketplaces, direct-to-consumer (DTC), modern retail and omni-channel retail. We have won and operate accounts of clients like Nestlé, Kimberly Clark, Eureka Forbes, L'Oréal, ITC Foods, HP, Abbott, GSK, WOW Skin Sciences, among many others. As the pandemic accelerated commerce adoption, we doubled our revenues year-on-year, and Commerce is now a significant contributor to our growth. Based on the current visibility, we are already on track for 75-100% growth in 2023 over 2022 commerce revenue.

With the sort of scale and experience we have across creative, technology and media competencies both on multimarket domestic and international businesses, PubHub was a natural business unit for us. Not only have we been able to set up the global hub for GSK successfully, but we are also set to double its size in Year 2. The pipeline is very strong even as we are in the process of further revamping our offerings by the end of this year to adjust to the variety of demand and scale on PubHub.
Q] You have been elected as the AAAI President twice in a row, a post no woman has held in three decades, what has been on your agenda?
It has been an absolute honour and privilege to have been elected as the President, AAAI. The top goal for me has been to make the AAAI more inclusive, diverse, modern and future facing. We have successfully launched multiple initiatives including a Digital Agency Forum, making the association more representative of the changing environment. We modernised the AAAI Secretariat office, refreshed our logo, to keep up with the times, became a Founding Member and Ally of the Unstereotype Alliance, India Chapter, a global initiative convened by UN Women for Gender Equality, saw huge success at the Goafest and Abby Awards, which in partnership with The One Show achieved a record number of entries and sponsorships.
Q] Today you are one of the rare women leaders leading a network agency in India, would you prefer to be known as the torch bearer for women leaders in the ad world or consider the gender focus limiting in the recognition of your leadership skills?
The only thing we need to be careful of while speaking of women leaders is that we should not make the gender angle distract from their actual achievements and calibre. Many agencies even now have not moved into a full network model, and are functioning in silos, so to have a position like this that encompasses media, digital, creative, etc. itself is very commendable. I am extremely happy to get such an opportunity and be recognised for it. If it inspires women in their own journey of success, and if they look up to me as a woman leader, then it would be my privilege. Such gender tags however didn't exist when I was starting out in the mid-nineties. There were a lot of women leaders, especially in the organizations where I have worked. Nobody has to call it out, just the fact that you're seeing them leaves an impression on you, and you understand that there is no limit to your growth as well. In fact, at a recent party, there were a lot of young boys who came up to me and said, "It is not like only women look up to you, we also look up to you".