Their mother company, ABP Group completed 100 years in 2022, but for ABP Network which creates and delivers content across broadcast, television and digital, it is almost a coming-of-age story, where they have effectively channelised all their resources, developed future facing platforms with Nadu and Desam, continued to grow their marquee news channels -- ABP Majha, ABP Ananda and ABP News—forayed into non-news content with ABP Studios while taking giant strides as a digital publisher.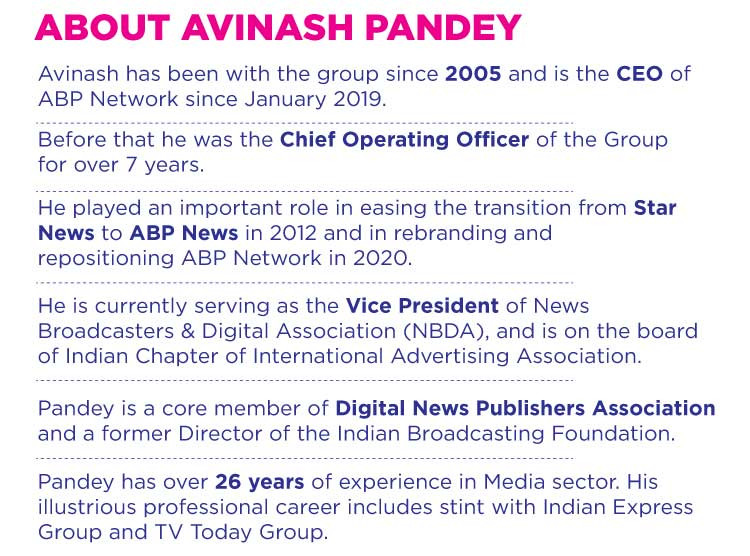 A primary catalyst for all of this has been Avinash Pandey. Pandey took over as the CEO of the network three years ago, but he was always part of the Managing Committee which shaped ABP Network. For years he has been playing an active role in achieving the big milestones for the Group, from easing the transition from Star News to ABP News in 2012, revamping the brand with a logo refresh in 2020 and more recently, making sweeping changes in its content delivery ever since he assumed the top role.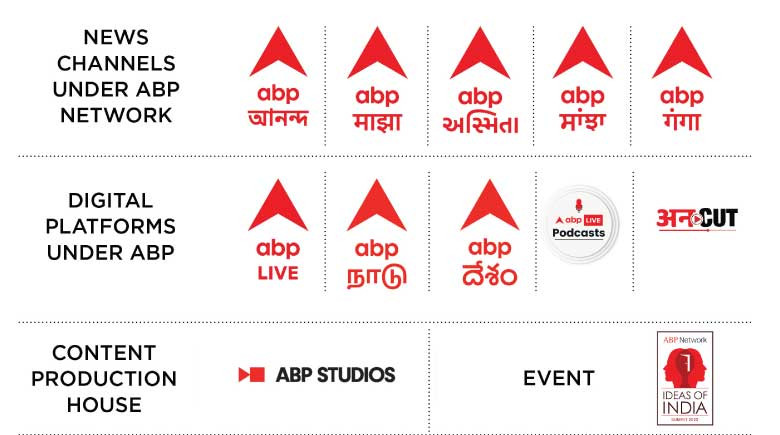 Talking about his journey as a CEO, Pandey recalls how the Covid-19 pandemic struck a year after he took charge and how he had to take quick and crucial calls to run the show. When every other media house was laying off employees and imposing pay cuts, ABP News stood strongly beside its workforce and in fact handed out bonuses right after the pandemic. "Purpose before profit," he adds proudly.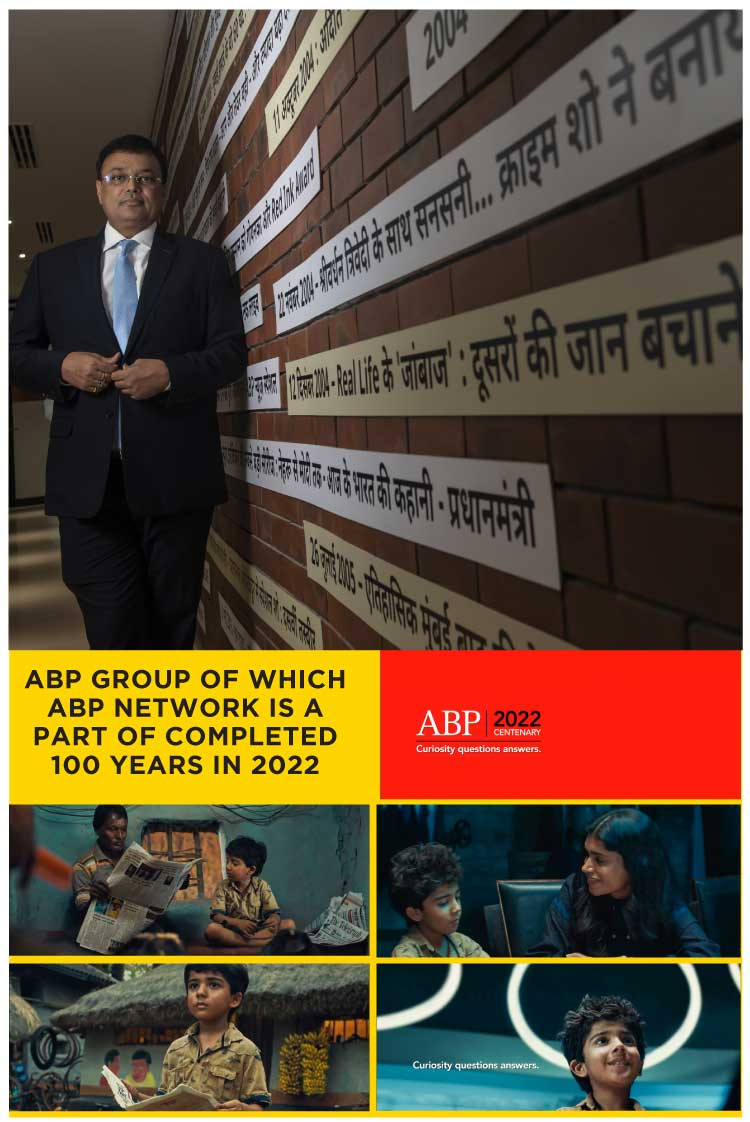 Pandey's goal is to reach every Indian, everywhere in the world on all kinds of devices and forms of content, so investing in their new-age & digital platforms was a given. Because of his efforts ABP News is among the top 3 publishers in the comscore VMX leaderboard (Mar-22), with 700 Million+ Video Views. Similarly, their bold move of penetrating the Southern market paid off when ABP Nadu (Tamil) which just completed 1 year of launch on 16 April 2022 attained the Number 2 spot on comscore leaderboard (April 2022)
Pandey explains how they managed to create a niche for themselves through their digital platforms, "We do a lot of things differently on Digital as compared to others. We create content in almost all languages in India. On our website the content is not merely translated from one language to another. It is original content written by our local news team."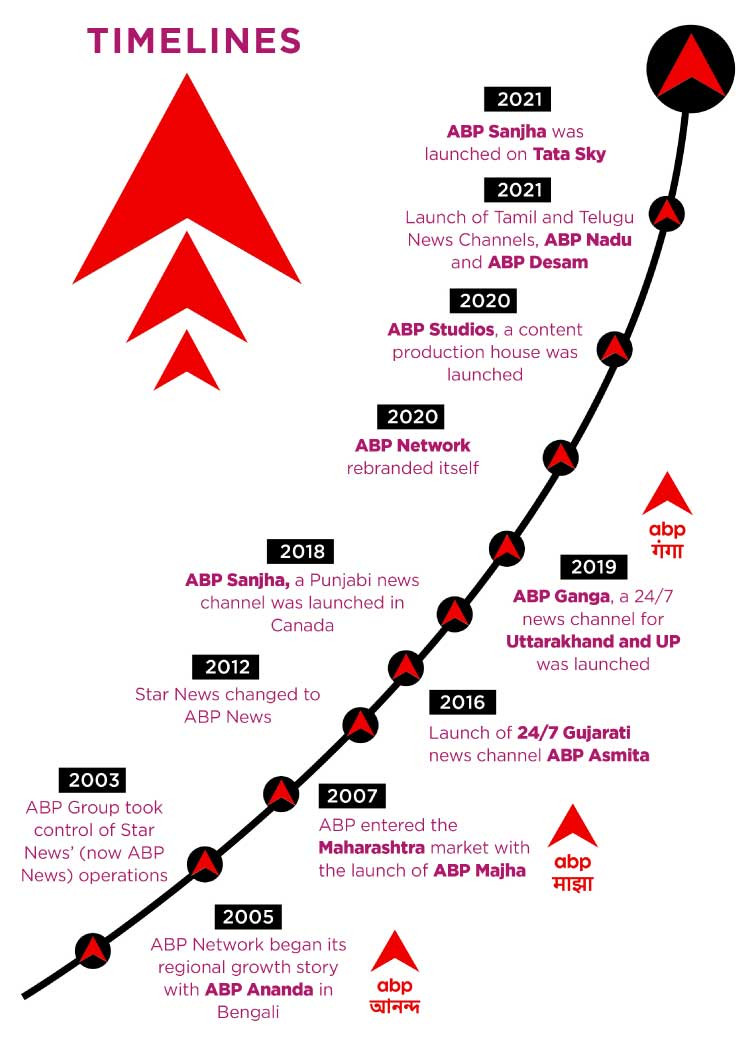 One of the most straight forward leaders in the industry today, Pandey has always emphasized on the importance of delivering relevant, factual and drama free news content to the viewers. Pandey ensured their news channels got a further fillip by staying focused on their expansion plans on both fronts, TV and Digital. Today ABP Network has TV news channels in Hindi, Marathi, Bengali, Gujarati, and the more recently launched channels catering to Punjabi speaking audiences in Canada, and Hindi channel, ABP Ganga for Uttarakhand, UP audiences. In what came as a big validation of their resolve, this year, ABP News won the most popular Hindi news channel award at the 21st Indian Television Academy (ITA) Awards while Avinash Pandey bagged the CEO of the Year Award at the exchange4media News Broadcast Awards (ENBA), adding more feathers to their hat.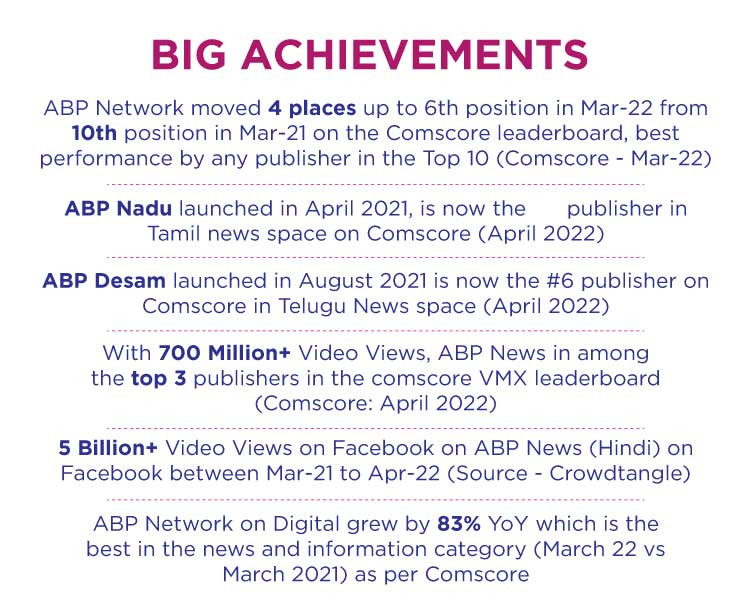 Talking about ABP Network's other triumphs, Pandey says, "Revenue wise we have grown by 40% in the last four years. Despite setbacks due to the pandemic, our margins have been quite healthy, but most of it is going into investments. We are in the phase where we earn and then invest further to expand. Digital is currently contributing to about 15% of our revenues but by next year we have to grow its contribution by 50%. As far as viewership is considered, we are one of the largest networks in India. We attract 498 million eyeballs every month on TV and Digital (Source: BARC+GA, All Individuals, 01 Apr 22 - 27 May 22). It's the values of the promoter's family that gives us wings to do different things, say the right things and which gives us courage to speak truth to power."
ABP News Network grew strong technologically with major investments like building the most advanced TV studio at their Noida Film City premises. With six studios at the facility and armed with state-of-the art robotic technology, Cloud and IP based, ABP News Network has been one of the progressive news channels in India. Pandey elaborates, "During the pandemic time, when it seemed risky to ask people to come to work, we managed production in such a way that every single person in the production chain could be sitting at their homes and creating content, which was being broadcast live. So, we invested in technology which can help irrespective of whether you want to work from office or home."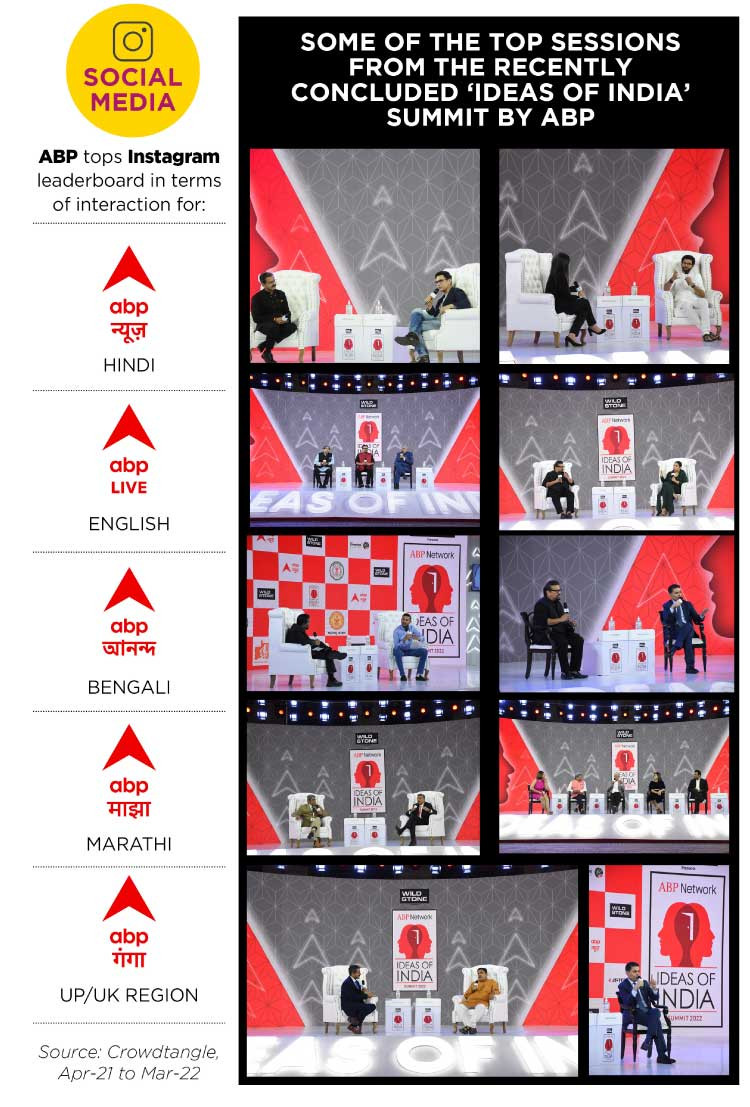 From investing a huge amount of money on technology to launching their TV app to ensuring that people can watch ABP Live without a cable connection on connected TV, to bringing in more localized reporters for regional channels and digital platforms, Pandey is very clear in his vision of creating a future ready ABP Network which can be the voice of over 130 crore Indians.


'ABP News is like Rahul Dravid - very dependable'
Avinash Pandey, CEO, ABP Network in an in-depth interview with Neeta Nair talks about how he is transforming the ABP Network, the milestones he has achieved since taking over the top job and why he doesn't want his news channels to use sensationalism as a recourse just to be number 1
Q] Three years ago, you were elevated from COO to the post of CEO of ABP Network, what kind of changes did you want to bring about back then?
I wanted to make content relevant for the consumer, so we invested money in understanding consumer choices, and what they feel about the brand which led to many changes in the way we used to create content. For e.g. in 2018, we started with a three-anchor breakfast show, which other Indian TV channels had said goodbye to, brought back high quality cricket programming and top notch guests in the studio while making our content modern. We wanted to touch every Indian's life, which wasn't possible via news and television alone, so we invested in digital and launched ABP Studios for content creation etc. abplive.com exists to inform, educate and entertain.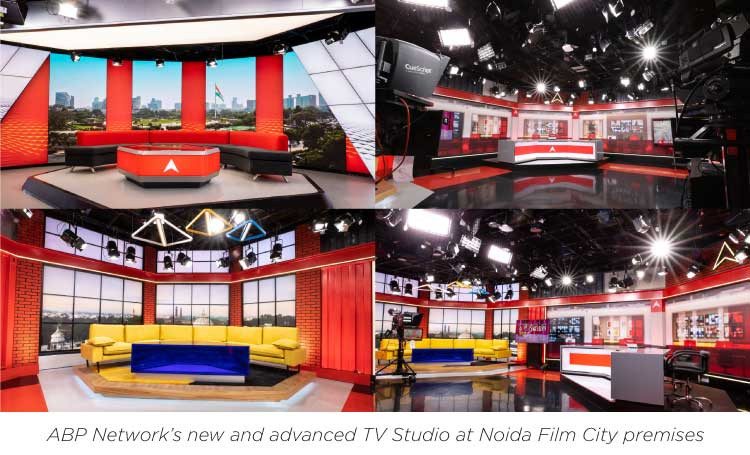 Q] As far as BARC ratings are considered, we have never seen ABP News as an opening batsman, it has always been a middle order batsman. Why hasn't ABP News been on top of the charts?
As a channel, we are like Rahul Dravid, we are very dependable. ABP News is a very stable, consistent and matter of fact channel. We are a channel where you will not find polarized opinions being broadcasted. We are a channel which covers all political parties and gives the complete spectrum. That is how our newsrooms are designed and managed. We don't do favours and don't take favours. So, we are a very clean business as far as ABP News is concerned. As a middle order batsman, we come, we play, and we assure you that we will finally win while giving a good dose of entertainment to our viewers in the process.
Q] So, does that mean ABP News does not have aspirations to be number one with regards to ratings?
No, I will not say that. Of course, I want to be number one. But for me, my means should justify my end. To become number one, I am not ready to do anything and everything. We want to remain in this space that we are in right now by following the right path. We are no. 1 in Bengali, and in the top two as far as our other regional channels are concerned. But we don't want to be number one by showing war between two countries and calling it 'World War III' for sensationalism.
Q] Has the new avatar of BARC and the rolling average helped iron out issues that you had with their TRP system?
BARC is a body which is managed by one of the best professionals we have in India. However, it has not been able to manage the aspirations and the reach of the news channels the way it should have. News channels cannot be measured on drama. For e.g. Other TV news channels were busy covering the high on drama Ukraine and Russia War and completely ignored PM Modi's visit to Europe in the middle of a war. A lot will change for the BARC if they start measuring the quality, impact, truthfulness and neutrality of the news. BARC data should help broadcasters understand what they can do to make content better than competition, but the rolling average doesn't help us do that. Even the real reach is coming rolled over, so it doesn't even help in selling more ads.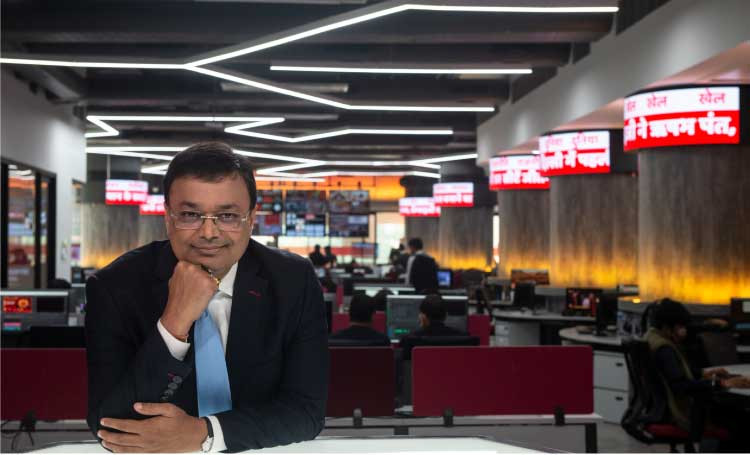 Q] Talking about the quality of content, did blackout of BARC ratings became a shining example of how TV channels should perform and did it throw light on a possibly different business model for ABP?
That was an excellent time. PM's rallies were covered, good debates on farm laws took place during the blackout period unlike now. Broadcasters should understand that it is our duty to inform and educate society, why are we running away from that job? Secondly why are we not making content good enough for people to subscribe. A 24x7 TV channel's subscription rate is 50 paisa, or one rupee per month. What is this business model? This means that the channel is entirely dependent on advertising. If a TV channel is chasing eyeballs, it makes them automatically compete with every business in the country which is into attracting eyeballs. Broadcasters have chosen a complex approach in running the business and now it is time someone breaks the trend, of course one will need cash pile to sustain it for a while, but he will emerge as a winner.
Q] So will ABP do that, go with a steady subscription model for good content?
This year, we will be putting a lot of content behind the paywall on Digital. For TV, we are waiting for a clarity on regulations for cable and satellite business. We will not go ahead with the subscription model at 50 paisa or Re 1. We will enter the subscription module with content for which a viewer is willing to pay at least five rupees. For now, it does not make any economic sense. But on Digital, we will surely put a lot of content behind the paywall and we have noticed that people are willing to pay. The willingness to pay for good content on Digital is much higher than on TV.
Q] Most of the TV news channels have to battle the 'Godi Media' tag, is it possible to have no bias or political leanings for a news channel today?
Anybody who says he has no bias, is the most biased. It is not possible to be right all the time to everyone. Having said that, one can still choose to stay with the truth. Truth is your understanding of what is right, based on the available facts. According to me, ignoring facts is wrong and amounts to taking sides. Also showcasing selective section of facts is a lie. So ABP Network is not in the business of carefully selecting facts. Despite not getting the rating for the shows, we continuously went on broadcasting the news on price rise. Our primetime bulletin was dedicated to price rise. But completely cutting out the price rise from news broadcasting is clearly about taking sides. We are not siding with anyone but with the truth which indeed is about having all aspects of the facts covered.
Q] And yet, in 2020, ABP News was called out for showcasing a non-existing report of Indian Council of Medical Research (ICMR) which claimed had Modi not imposed lockdown, India would have gone the Italy way. Would you call that an error or a misinterpretation?
No, I will not say that was an error. We always made sure that we informed the viewers that we are broadcasting news that we know as of now. Nobody had seen a major pandemic like Covid-19 and it was a developing situation. We said and declared on television, what we knew at that time. It's not that we read a selected part of the history, and told you. It was a real situation, information we got on the ground.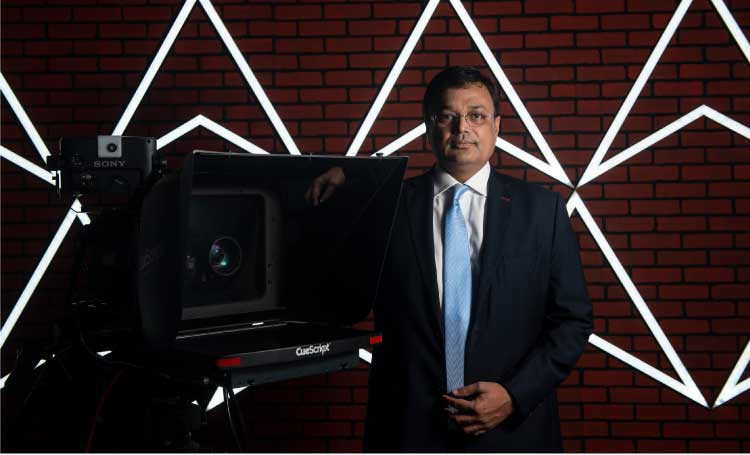 Q] During the pandemic in a one-of-a-kind move, you launched two Digital news channels ABP Desam and ABP Nadu, barely any non-South media house has entered the Southern TV news market which already has established regional players, what were the challenges. Any plans to transcend from Digital-only to TV as well in Karnataka, Telangana and Andhra Pradesh?
Both ABP Nadu and ABP Desam were very well received by the audience there. In fact, the target for three years was completed in one year and we had to revise our future plan for both Nadu and Desam. The reason why we did well was because we have a carefully selected team there sans any political bias and we made sure of that. In Tamil Nadu people were unaware that Nadu's strings were connected to Bengal. Just how in Maharashtra, people don't know Majha belongs to a company based in Bengal. We want to be local and tell them a story by being a part of them. It is difficult to enter such a market and it is true.
But we did not enter the South market to add another Digital channel. We want our content to improve the life of the people there. The world is moving forward to connected devices and the traditional ways of consuming content is changing. We will not be on cable but will become 24/7 soon. Nadu and Desam will be a huge success on connected devices.
Q] Several Hindi news channels like Aaj Tak and Times Now's Navbharat have HD channels, why hasn't ABP launched one?
The current subscription revenue mechanism and measurement system followed by the BARC measurement science of HD does not give any incentive for us to be in the HD business. But we are streaming live HD content on YouTube. Once BARC comes with a new study and methodology to measure the HD business, we will actively consider it. People have HD TV sets, connected TV, and want to watch content in 4k. Our studios are HD enabled and we have all mechanisms in place. We produce all content in HD but compress it to SD while broadcasting. This is because of the distribution mechanism in the market and because of the BARC reporting on the share of TV on HD. But on Digital we will soon have a full-fledged HD streaming with different and superior quality content.
Q] To what extent has the ad rate disparity between news in various languages disappeared, with more launches in non-English news space?
Long back the rates for English news used to be higher than the Hindi or regional news but not anymore. Yes, one or two marquee shows of big anchors in English can attract a higher rate, but overall effective rate of English channels is much lower than that of the Hindi channels in the country. The popularity of local language has gone up sharply because of two reasons. One is that we have our Prime Minister and other dignitaries speak in Indian languages both here and abroad. Secondly, more and more quality content is being watched by the audience in their local language. The affinity to the local language for advertisers has also gone up. So, the next jump in the rate growth is going to happen in vernacular media, in the regional languages and English is far behind.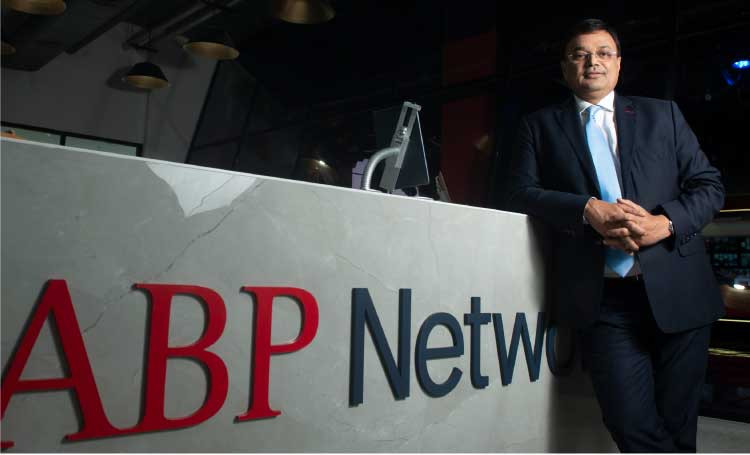 Q] Recently, ABP Network launched its first mega summit this year, 'Ideas of India'. Why did it take so long for ABP to step into this arena, unlike your competitors?
It took us time to put things together, we wanted to have a summit which didn't tread on the oft-beaten path. We ensured that the speakers we brought in spoke on a subject that they had never touched before, another factor was that they had to be subjects that could change the country. That is the reason why most of our sessions created headlines. Also, earlier we did not have a digital platform. So once ABP Live took shape in the past four years with 350 million audience, page views, and over 140 million unique users every month we went ahead and initiated the conclave.
Q] How much revenue does ABP Studios contribute to the network?
Our long-term goal is that ABP Studios contribute to 30% of our overall revenue. Currently its contribution is small, but in the next 3-4 years it will become substantial. But it is a very promising venture for ABP Network. We have already produced a Marathi film which won two Filmfare awards last year. We are completing one series for National Geographic Channel- and have been commissioned for the second one. We have developed a series for Travel and Living already and are also creating a lot of content for Google and Facebook.
Q] ABP Live, has been amongst the exclusive launch partners for Google News Showcase Initiative in India for Hindi and English, would you say publishers are getting a good deal and an increased reach now?
The deal comes from them, we do not have a choice of negotiation, they offer you a price, you can say yes or no. That's how these platforms operate. I am not saying it's right or wrong. The problem that we have is we don't know if we are getting the right price for our content. We are not satisfied with the price that these platform operators are paying us, because they own the demand side and supply side, they have the technology to up your reach or lower your reach. So, it is a peculiar situation.
Q] What are the unique challenges that ABP Network is facing at this point?
Our competitive landscape is changing. Today, we are not competing with TV news channels alone. We are competing with anyone who has a camera and can go live on social media platforms such as Facebook. And by that logic, also with OTT platforms where the established movie houses already are. So, my competitive landscape has gone beyond my industry. ABP Network has to find its place in this changing ecosystem through tech, innovation and venturing in new areas. ABP Live and ABP Studio would be the biggest success stories for the group.