Be it Joji, Super Deluxe and countless others, these gems from regional cinema have of late transgressed the boundaries of state love and have gained popularity across the country. They have found viewers even in the northern pockets which weren't very friendly towards the south Indian films, largely because of the language barrier. With subtitling industry taking off, regional content and its consumption has become a mega trend on Over The Top (OTT) platforms in India. As advertisers are busy grabbing major eyeballs on regional content, experts suggest that advertisement on regional OTT content is expected to reach 13% of overall OTT video investment by the end of this year. Meanwhile they say, advertisement on regional OTT content contributed 0.5%-1% of overall Digital AdEx in 2020-2021.
Due to its tremendous demand, 47% of OTT originals and 69% of films released on OTT platforms were not in Hindi language in 2021, as per FICCI-EY 2022 report. In a 2021 FICCI-EY media and entertainment report titled- Playing by New Rules, it has been estimated that the share of regional language consumption on OTT platforms will cross 50 percent of the total time spent by 2025. Which means they are the upcoming avenues for increased advertising expenditure, where the viewer goes, ad spends follow.
---
OTT platforms gaining market share

The share of regional language consumption on OTT platforms will cross 50% of total time spent by 2025, easing past Hindi at 45%. (FICCI-PwC report 2021)

Direct to consumer SVOD subscribers expected to grow to 193 million by 2026 - Source Media Partners Asia

Subscription video-on-demand (SVOD) revenues will reach above $1.8 billion by 2026 from $800 million in 2021- Source Media Partners Asia

OTT subscribing households will grow from 40 million in 2021 to 60 million by 2024 - FICCI-EY Report 2022
---
Karan Taurani, Senior Vice President of Elara Capital says, "Currently if we see, the top OTT players are allocating more than one third of their budget to regional content. Around 35-40% of the content which has been made today is in regional languages."

"The main reason for it would be that the adoption of regional content is happening now while Hindi and English content base has already been established. The traction for regional OTT platforms will grow as compared to other OTT players in the market," said Taurani.

Experts suggest regional series and movies in Tamil, Telugu, Malayalam, Marathi, Bhojpuri, Punjabi and Bengali will soon dominate the OTT platforms overtaking Hindi and English content consumption. Moreover, both traditional and new-age brands are investing heavily on ad spends, specifically on OTT regional content.
---
69% regional film releases on OTT

FICCI-EY research indicates over 170 films released on digital platforms in 2021, from large films priced at over INR 1 billion to small regional films available for as little as INR 15 million

This includes over 100 films which released directly on the platform without a theatrical release, a trend that has gained scale due to the pandemic

Of the films released on digital platforms, only 31% were in Hindi while 69% were in other languages, primarily south Indian languages

The demand for original content will increase from 2,500 hours in 2021 to over 4,000 hours by 2024: FICCI-EY Report
---
Gurjot Shah Singh, then Executive Vice President - Media, Isobar India says, "Pandemic has changed the basic necessities to OTT, Kapda, aur Makaan, and this new norm is here to stay because of convenience, affordability, and choice of content available to the viewers at all times."
He further states, "There will still be a sizeable audience for both the TV and Film industry. Theatre runs of movies are likely to be shorter. India is one of the top 5 markets globally in terms of time spent on online video consumption. With a contribution of 29% to Digital adex, video has been the largest earning segment in 2021."
The India edition of Deloitte's 2022 Global TMT (Technology, Media and Entertainment, Telecom) predictions indicate that the demand for OTT streaming content based on geo-demography is on the rise in India. The OTT market currently makes up 7−9 percent of India's entertainment industry. However, the OTT space is expected to grow at a CAGR of more than 20 percent to reach $13-15 billion over the next decade.

Advertisers aggress on OTT platforms
Advertisers are opting to buy inventory on regional content to penetrate deeper into native speaking audiences. Brands with wider geographical presence and strong distribution channels are investing heavily on OTT, including FMCG, Auto, BFSI, Tech, Youth, and brands.

With regional content on OTT turning out to be the go-to-medium for advertisers, the advertisement placement rates have increased too. Amitt Sharma, Founder and CEO of VDO.AI says, "We have witnessed marginal inflation in costs on a year-on-year basis, with an average of +4%. It is the normal change arising from demand, a shift in audiences, and increased technology end-points. The increase not only supports the active demand but also acts as a competition for the premium supply. As audiences shift and brands continue to innovate in their reporting, measurement, and audience targeting, these costs will eventually settle."

Megha Ahuja, VP- Digital Media Planning, Carat India, says, "The ad spends on OTT would be around 7.5% of AdEx. Within this, the regional OTT would be around 0.5% of the total Digital ad spends."

Ahuja said, "Over the last one year, during the pandemic, there has been an exponential growth in the consumption of content and viewership across markets. The mainstream languages have been able to create critical mass audiences. With that happening, the regional markets are just going to explode in the next 2 to 3 years. They are huge markets, so there is a huge untapped potential, for sure. The demand for core regional OTT platforms has escalated over the last six months. We are seeing that D2C brands specifically have started to evaluate and consider regional-focused OTT content to draw a direct correlation to sales."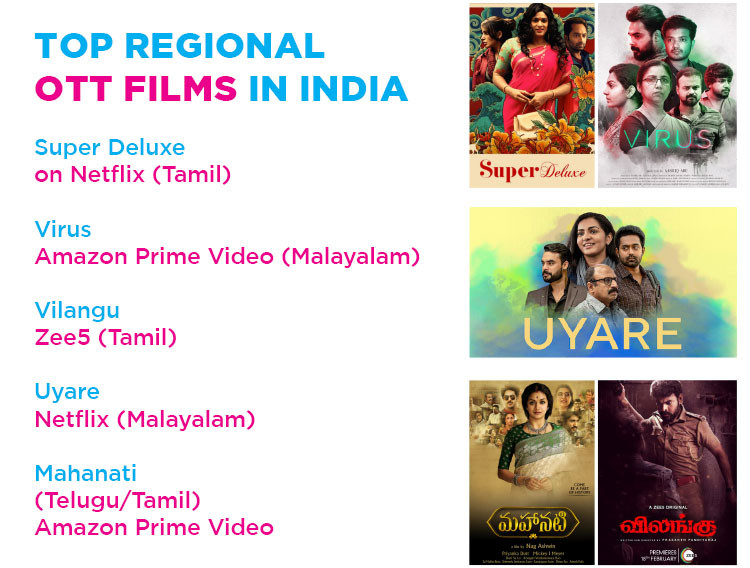 Explaining further on why OTT regional content is being vastly considered by advertisers, Gurjot Shah Singh of Isobar India says, "A lot of consumer durables, automobile and many other D2C brands focus on tapping captive audiences especially in southern regional content and other vernacular languages. Targeting audiences on regional OTT platforms establishes a far more relatable context. One of the primary reasons for the increase in OTT advertising is the option to view the same TV programme that you have missed on TV, now on Digital, reducing the need for appointment viewing, so we are seeing a lot of TV plus OTT plans required by clients. Just TV plans won't give the advertiser as much reach."

TCL has been an aggressive advertiser on OTT platforms since the IPL season through their partnership with Sunrisers Hyderabad. Vijay Kumar Mikkilineni, Marketing Head, TCL India said, "Today, regional content on OTT platforms is prevalent among new-age brands in terms of interacting with the right target base. Also, because many OTT platforms don't allow users to skip ads, the view completion rates are significantly higher. Our recent partnership with Sunrisers Hyderabad has proved highly lucrative for us as we got to interact with many like-minded users through Hotstar."

When asked about ad spends, Mikkilineni said, "At present, we are dedicating 40% to 45% of ad spending on OTT platforms but on a case-to-case basis, including regional content. At the end of 2020, OTT video subscriptions in India reached almost 62 million. Since then, the number has only risen. Needless to say, the ROI generated after investing in OTT advertisements both in regional and Hindi GSM has been notably beneficial."

For Sanjay Vakharia, Chief Executive Officer of Spykar, OTT has been the go-to platforms for driving the brand message, he says "Spykar has always been at the forefront of every evolving vehicle of communication and it dates back to a couple of decades. OTT is a great proposition to connect with the audience and we are part of such platforms. There is a lot of regional content being created for micro audiences and so association alliances with OTT makes great business sense for both of us. Regional content on OTT features very high on the list for driving our brand message to the masses."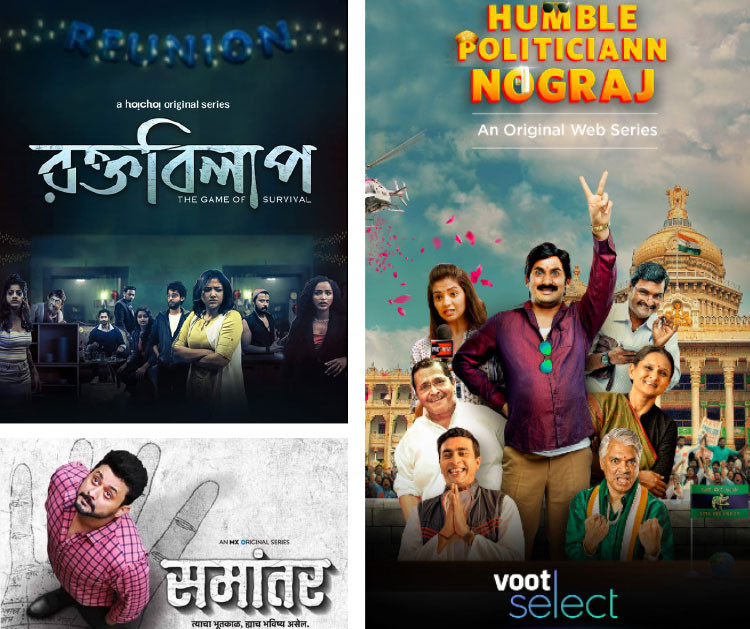 Dream11 is one of the most aggressive advertisers on digital platforms and television. The fantasy gaming platform has amplified their advertisement campaign during IPL. Dream11 buys the national advertisement inventory during IPL, emphasizing on regional messaging for Telugu, Tamil and Kannada audience.

Vikrant Mudaliar, Chief Marketing Officer, Dream11 said, "As a brand that is young and synonymous to sports, our efforts during each IPL has been to bring fans closer to the sport they love. As an Official Partner of the Tata IPL 2022, we welcome fans back to what promises to be the biggest season yet. Under the umbrella of Dream Big, we continue to celebrate India's spirit and love for sports, its players and fans. Whether through 'Dream Big' or the hugely popular 'Ye Mein Kar Leta hoon' series, we endeavour to inspire and delight fans and deepen our relationship with users, new and old."

Talking about the importance of advertising on regional OTT content, C K Kumaravel, CEO and Co-founder of Naturals Salon and Spa said, "At this point of time we are going very strongly on Digital. Our company motto is customer first, Digital first and mobile first. So, we have our presence on all social media platforms and apps. I think it is very important to reinvent business on a continuous basis. The pandemic has taught us so much and it makes sense to be on regional OTT platforms to reach the masses."

Content investment gains ground
The audience today is content hungry, looking for more diverse content. The genres are expanding, and so is the spectrum of expectations when it comes to diversity in content. The regional OTT platforms have not only increased their spends on content but also explored new genres to entertain the general audience all over India. Zee5 recently announced that 30 – 40% of their total content investment will be on regional content.

Rammohan Sundaram, Country Head & Managing Partner – Integrated Media, DDB Mudra Group says, "Over the next 5-10 years, the consumption of regional content across OTTs is set to increase to around 50% of overall OTT content consumption, making it a very fast-growing sector. And the current trends also follow a similar fashion, showcasing growth in consumption across the top seven Indian languages (Hindi, Marathi, Bengali, Kannada, Tamil, Telugu and Malayalam)."

Sundaram further said, "OTT players have spent significantly on upgrading their regional content and will continue to do so – any OTT player wanting a wide national reach would want to focus on at least 8 -9 languages, with the same number of content pieces required to be launched each year."

Showing positive signs on growth of investment in regional content, Shailja Saraswati – Chief Content Officer, Omnicom Media Group India says, "It's interesting to see the plethora of regional OTTs mushrooming and this, I feel, is a true game-changer in a country as diverse as India. Global players in OTT have seen an uptick in subscriptions since refocusing on the content mix; by including regional and going well beyond English and Hindi."

She further said, "The regional OTT market is fragmented and not at the scale of major players so far, nor do they have deep pockets. But their USP lies in the deep understanding of nuances, geographies, culture and the local network of creators, producers and broadcasters. The dedication to one language is a hyperlocal strategy that provides value to the consumer in the long run and aids in retention. India's regional OTT platforms aren't behind, these platforms acquired audiences during the pandemic and have plans to increase their investment in content, product, technology and production. It will be interesting to see how they grow further from here onwards."

Recently regional blockbusters like Minnal Murali (Malayalam) and Jagame Thandhiram (Tamil) featured in the top 10 in countries outside India, and were deeply appreciated by the Indian audience. Sahil Chopra, Founder & CEO- iCubesWire said, "The recent successes indicate that the Indian audience is keen on consuming good regional content. As a result, the OTT platforms are working aggressively to eliminate the language barriers and serve the audience with content they prefer to watch. Growth in the OTT segment suggests an increased need for dubbing, subtitling, formatting, etc., to make regional content acceptable by all. What's more, vernacular streaming services such as Hoichoi, ManoramaMax and Chaupal are also catching up with the mainstream channels."

Hoichoi has witnessed 4X growth in viewership and 2X growth in its overall watch-time not only in India, but also in Bangladesh. One of the most loved platforms for the Bengali speaking audience, Hoichoi has subscribers from 150 countries. Vishnu Mohta, Co-founder of Hoichoi says "In the last two years, the regional OTT Content not only came up rapidly but also raised the bar of the content creation phenomena in the Indian OTT Space. Predominantly, in the last one year, the most loved OTT content came out of the regional spaces. Hoichoi not only focuses on presenting its audience with local stories in native language, but also world stories in a local form, which has been received positively by the audience. Thus, it will be safe to say that the regional OTT platforms will be a huge determining factor in the Indian OTT landscape."

South Indian content gains traction
In a recent report released during Confederation Indian Industries (CII) Dakshin - South Indian Media and Entertainment Summit, it was stated that the South Indian film industry has a market value of about Rs 70,000 crore. The South Indian film industry market is expected to be worth Rupees 6,050 crore by the end of 2022 with a compounded annual growth rate of 13%. With a compound annual growth rate of 25%, the South Indian streaming and digital media market was expected to be worth Rupees 16,200 crore by end of 2022, nearly two-and-a-half times the film revenues, as per the 2022 CII report titled- 'Regional is the new national – Way Forward for the South India Media and Entertainment Industry'.

MX Player has seen great success in regional content. With shows like Queen and Samantar, the regional content slate is starting to suit audiences from multiple regions. Nikhil Gandhi, Chief Operating Officer, MX Media says "We have 25 percent of our user base based in the South and 35 percent of our consumption happens in regional languages. We have a sizeable library that is growing by 20 percent to 25 percent year on year, and titles are getting added in multiple languages. Our largest language of preference is Tamil and Telugu. However, we have also seen a big uptake in Marathi and Bengali content. So, our strategy for overall regional content will double in the coming years. And, we believe that in terms of growth from the user base perspective, regional is surely going to continue being one of our primary focus areas."

Amarpreet Singh Saini, Chief Channel Officer, Bhojpuri Cluster, ZEEL, "Regional content is a big force on television and OTT platforms. Zee Biskope provides all of its Bhojpuri content to Zee5 and the content is doing well. The Bhojpuri content is making strong inroads in OTT space such as Bihar, Jharkhand and Uttar Pradesh which are our core target markets."

When asked what is hindering the growth of Bhojpuri cinema as compared to other regional film industries, Saini says, "Bhojpuri market compared to other markets is very nascent. Bhojpuri content has emerged pretty much late on television or into the OTT space as compared to the South Indian industry and even Marathi film industry or Bengali film industry. The consumers and makers have evolved significantly in these markets. Bhojpuri being relatively in the nascent space it is evolving and will have its own journey. The consumer is yet to be exposed to the wider bouquet of content like other regional markets and wider choices. Once that happens the consumption will also start deepening."

Talking about the innovations tailored for the regional language audience, Manish Menghani, Director – Content Licensing, Amazon Prime Video India said, "We have also innovated on behalf of our customers. In the past 24 months, we have premiered 59 movies, across 6 Indian languages directly on our service – almost 70% of these movies are in local languages i.e., Tamil, Telugu, Malayalam and Kannada. We were able to take these compelling stories to over 240 countries and territories at once – providing global distribution on the same day! And we saw some interesting outcomes. Our southern local language movies broke viewership records. In India, the viewership of our local language (Tamil, Telugu, Malayalam, Kannada) titles is well over 4100 cities and towns, with 50% of audiences coming from outside the home state. International viewers already account for between 15 to 20% of total audiences of these local language films."

Amazon Prime Video recently announced its yearly content slate with most of the originals and series being in regional language. Dhootha (Telugu), Modern Love Chennai (Tamil), Modern Love Hyderabad (Telugu), Suzhal – The Vortex (Tamil), Sweet Kaaram Coffee (Tamil) among others will be released exclusively on Amazon Prime Video.
Furthermore, Menghani says, "We believe that the argument for investing in content that has the potential to cross-over has never been stronger. In the next 5 years, we are investing more than twice what we have invested in the last 5 years into growing Prime Video India. With seamless access, localisation – both subs and dubs, and countrywide promotional efforts leading to greater awareness of local language titles, today almost half our customers on Amazon Prime Video India stream content in 4 or more languages. We believe we have been able to expand the linguistic palette of our customers, helping shape the way they consume entertainment."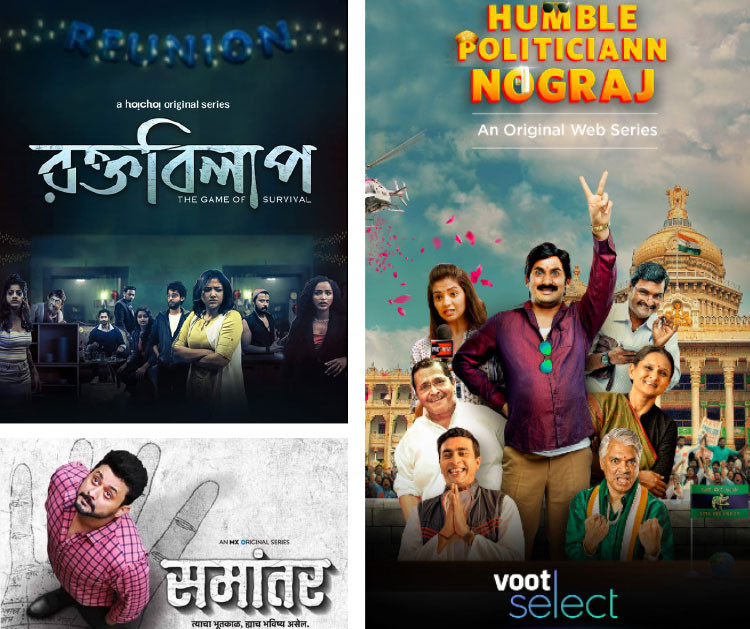 Voot has seen tremendous success with its Kannada content in Badava Rascal and Humble Politician Nograj. Talking about the growth of regional content, Ferzad Palia, Head – SVOD & International Business, Viacom18 says, "We have begun to scale up our regional content significantly. The first market we have entered aggressively is the Kannada speaking market. We had great success with our extension of the Bigg Boss property in Kannada where we had a live broadcast on the platform. YoY we have seen a significant growth in streaming consumption on our regional content. We launched our first Kannada original this year titled Humble Politician Nograj. It was a super success. It has beaten all the expectations which we had."

Palia says "The signs are very clear that the regional audiences which were once slightly neglected on the OTT platforms are coming to the fore and are moving to become a very objective ROI market. Earlier not enough was offered to regional audiences. It has essentially increased the focus on content creation and regional markets."
Recently, Netflix lost 970,000 subscribers in consecutive quarters and has now planned to launch its ad supported plan in early 2023.

"Over time, our hope is to create a better-than-linear-TV advertisement model that's more seamless and relevant for consumers, and more effective for our advertising partners," Netflix said in its quarterly earnings letter. "While it will take some time to grow our member base for the ad tier and the associated ad revenues, over the long run, we think advertising can enable substantial incremental membership (through lower prices) and profit growth (through ad revenues)."

A Netflix spokesperson whom IMPACT got in touch with, emphasized on the importance of dubbing and subtitles for reaching out to the wider audience. The spokesperson said, "This is an exciting time for content in any language to be successful anywhere. From blockbusters like Minnal Murali (Malayalam) and Jagame Thandhiram (Tamil) which featured in the top 10 in many other countries, The Disciple (Marathi) which was reviewed as one of the best films of 2021 globally, to global hits Money Heist, Red Notice and Squid Game, which were enjoyed in India with dubs in Hindi, Tamil and Telugu- these are all examples of how great stories are universal."

The Netflix spokesperson further said, "Last year, Netflix's 28 Indian original titles were in 7 languages, 8 formats and 11 genres across films, series, comedy, reality and documentaries. With our continued and growing curation of licensed and Netflix series and films in different local languages, we are delighted to see how these stories are watched outside of their native language region."

With this tremendous growth in streaming consumption, experts suggest that India will soon be a content hub for national and foreign players. The increase in content investment will increase significantly making it a home ground for brands to lead its growth journey. That sounds nothing short of exciting for stories waiting to be told with a regional flavour.