The year 2018 has put our focus right back on long-format story-telling in the ad universe. Throughout the year, we came across numerous long-form ads that held our attention in an otherwise cluttered space. As expected, more and more brands are increasing ad spends on Digital, and thereby putting more focus on the kind of stories they want to tell. It's no longer simply about telling engaging stories, but also about making sure that the consumers don't skip ads within the first five seconds.
The festive season this year saw a lot of e-commerce brands investing big bucks on advertising. Be it apparel platforms like Myntra or online marketplaces like Amazon and Flipkart, or even furniture brands like Pepperfry, we saw e-commerce players come up with some heart-warming campaigns to woo consumers.
As always, a lot of brands took up relevant social issues and talked about them. One campaign that broke our hearts and made us smile at the same time this year was Vicks' #TouchofCare campaign that spoke about Nisha, a young girl with Ichthyosis, a genetic skin condition. The transformation of Nisha due to the love and care provided by her adoptive parents Aloma and David Lobo, forms the crux of this digital video. This is the second edition of Vicks' campaign, and was as liked as the first video that told the story of Gauri, a transgender mother and her adopted daughter, Gayatri.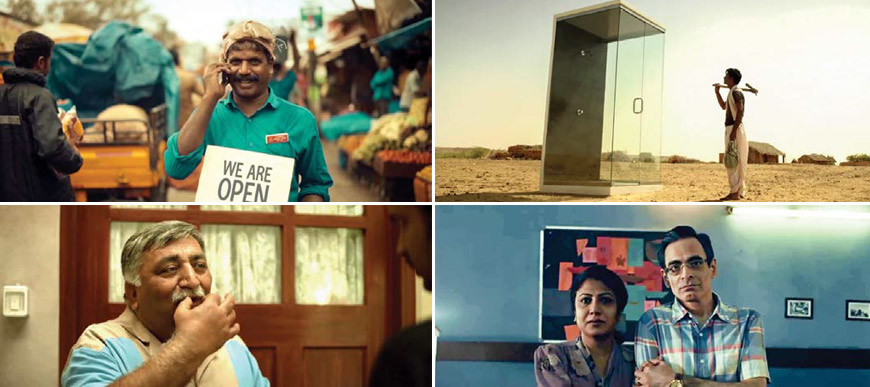 Agreeing that emotional and purpose-driven stories continue to have an impact on the audience's mind, Kainaz Karmakar, Chief Creative Officer, Ogilvy India (West) says, "One trend that I have been observing is the emergence of more and more work that brings value to the life of the consumer. Just being different is no longer enough. Some people call it purpose-driven advertising. Some people also mock it. But I feel that this trend is growing and it is not going away anytime soon. I also like it when brands have a purpose that fits the brand and not just a shortcut to fame. Some great examples are Dirt is Good by Surf, Taste of Togetherness by Brooke Bond Red Label and Share the Load by Ariel."
For Tarun Rai, Chairman & Group CEO, J Walter Thompson too, one of the most heartening trends is the fact that brands are increasingly trying to move beyond simply talking about their products and trying to make a statement by talking about a purpose that they believe in. He says, "The single most important trend I can pick is that of brands believing that they have a purpose beyond selling their product. And producing campaigns that reflect their brands (and the company's) belief rather than the product attributes." No wonder Ogilvy's recent work for Hindustan Unilever, a campaign called 'Start a little good – Water' went viral, receiving over 13 million views in less than six days of being posted.
However, while many brands resorted to cause-led advertising throughout the year, Raghu Bhat, Director, Scarecrow M&C Saatchi feels that alone cannot help a brand stand apart in a cluttered advertising space. He explains, "A brand espousing a cause is no longer a differentiator. In 2018, brands tried to go deeper and demonstrate their sincerity to the cause. In the quest for trust, even brand managers transformed into brand publishers and brand ambassadors."
A lot of brands also came up with glitzy ads, dazzling viewers with expensive sets and colours. However, many feel that giving style precedence over substance can never take a brand too far. Sharing his thoughts, Rahul Mathew, National Creative Director, DDB Mudra Group says, "The year 2018 hasn't been the year of standout work; 2017 was far kinder on that count. There was too much of style over substance and changing the world through brands. A lot of the former happened because time and guts have been precious this year. So, style became the one form of creativity to say the most in the least amount of time. While I feel the latter is important today, one needs to evaluate why the brand has the right to change the world. Often, I found the purpose and the brand to be partners of convenience."
That brings us to another movement, where brands are trying to tell authentic stories, trying to become as relatable to the everyday lives of consumers as possible. Pointing to this trend, Rohit Ohri, Group Chairman & CEO, FCB India says, "I think the biggest trend in advertising today is unadvertising - advertising that doesn't live in some la la land but in the real lives of people. Being authentic and honest, having real human insight and creating deep emotional connections is the only way to sell today."
With continuous talk of the increasing importance of voice assistance and video in the everyday lives of consumers, Vikas Mehta, CEO, PointNine Lintas feels that one of the biggest themes of 2018 was the continued rise of video. According to him, focus on video formats by publishers helped in this growth: "The trilogy of large publishers – Google (led by YouTube), Facebook (including Instagram) and Twitter – have all been directing disproportionate focus on driving video consumption," says Mehta, pointing out the factors that have helped drive the growth of video. "India has already become the mobile data capital of the world in terms of per capita consumption. An average smartphone user in India is consuming 1GB of 4G data every day."
And with this explosion of digital videos, creativity on the medium is also getting a boost. There's an opportunity to tell better, more detailed, engrossing stories. Says Subhash Kamath, CEO, BBH, "The digital world has opened up a lot more conversations outside of pure play advertising. And there are more, really interesting narratives coming out. Content is going to be a very interesting play, going forward. People are still struggling on how to marry the brand and the content idea together in a manner where the consumer still feels that he or she is getting a lot of entertainment. I think that is an area we should look at more acutely, going forward."
Technology also played a larger role in not just understanding consumers better, but also in taking a brand communication to the next level. A case in point is the hugely popular Samsung Bixby Voice Assistant ad, which was also the second most watched ad on YouTube this year.
The use of technology and AI will see an increased use in the next few years where brands will try to tell their stories with the use of these tools. Says Raj Nair, CEO & Chief Creative Officer, Madison BMB, "We saw an increased use of AI, Voice and new media this year and this trend will continue in 2019. Voice and AI-guided searches are increasing exponentially with the likes of Alexa and Google Assistant, and these new media will also change the way brands advertise themselves."
For Narayan Devanathan, Group Executive & Strategy Officer, Dentsu Aegis Network, South Asia, one disruptive trend that caught up in 2018 was the return of creativity at the centre of the advertising business. He says, "I see signs of it happening, and I hope the trend accelerates soon. Sure, you have to up the game in technology— whether it takes the form of data or digital or AI or what-have-you—because that's the latest medium for creativity to find expression. But that nothing can take away from creativity being the industry's raison d'etre. And that for me is the most disruptive (if nascent) trend of the year."
As for Amer Jaleel, Group Chairman and Chief Creative Officer, MullenLowe Lintas Group, the media pounce as opposed to media plan will be the biggest trend going forward. He explains, "Brands want to use opportunities when audiences are ready to hear a relevant message to the day or week or time with the brand's proposition enmeshed in it. It's a media insight that will always be true, but now with the usage of digital platforms, it can reach quickly and be timely. The only issue is in the rush to capture the spot, brands are not paying attention to how well the opportunity fits their brand category or personality. This rush that was so evident last year will peter off this year because everyone will be done with the idea of capitalising for likes and clicks if it doesn't take their brand further. After all these supposed digital 'hits' are one-view wonders and if they are viewed and enjoyed, it's great, but unless they add to your brand value, they're meteor flashes without any retention value."
What 2019 holds in store for us, only time will tell. But we cannot wait for the year to play out, and hope that the industry will give us some memorable new campaigns - ads that will inspire us, make us think and feel and leave us awestruck.
WHAT I LOVED IN 2018…


KAINAZ KARMAKAR
Chief Creative Officer, Ogilvy India (West)
The Story of Kaveri by Early Man Films has been one of the finest instances of film-making that Indian advertising has seen. Even though the story is narrated in a lateral fashion, the visual drama, the haunting voice and the music hold you to the screen. The Swiggy 'No Minimum Order' campaign was really smart. Every ad was insightful and the stories made you smile. I like understated humour. These ads do the job and make the agency proud – the best combination. From the work that we have created, the one I'm most proud of is the water conservation film that my partner Harshad and I just completed for Hindustan Unilever. The client's commitment to the cause allowed us to create a piece that truly demonstrates the value of water from the point of view of those who rarely even get to see water, let alone take a shower.

VARUN DUGGIRALA
Co-founder and Content Chief, The Glitch
Post the Kerala floods, Samsonite's #KeralaisOpen ad was really sensitively made. It had a powerful and hopeful message which really hit the spot. While one might love or hate Ranveer Singh's Chings commercial, one would not be able to forget the film, the brand or the outrageousness of its content. As far as the brand is concerned, it's mission accomplished. Also, while it may seem like I have a vested interest in saying this, Netflix India's Radflix (Radhika Apte) film was one driven purely by consumer insights and data. And when data leads to such a fun film, what's not to love!

YASHASWINI SAMAT
Chairman and Managing Director, Grey Group India
I loved the Raymond All Black Collection campaign conceptualised by us this year. Other than that, Vicks' #TouchofCare was a campaign that stayed in my mind for a long time, although I wasn't too sure about the connect with the brand.

ROHIT OHRI
Group Chairman & CEO, FCB India
For me, my top three picks this year would be Horlicks' Fearless Kota campaign, TOI's Sindoor Khela #BringASisterAlong and Mahindra Group's #LadkiHaathSeNikalJayegi.

RAHUL MATHEW
National Creative Director, DDB Mudra Group
The Swiggy IPL campaign, especially the Gulab Jamun ad, was probably the only campaign that used IPL as a communication opportunity and not merely a media event. It was a great example of how good casting, great performances and music can turn the simplest of scripts into a memorable one. Then there is the Fru2Go 'Mr Perfect' ad. 'Mothers want their kids to eat healthy' is the stepping stone to many cliché pieces of work. But the insightful and modernday portrayal of kids made this one stand out.

SANTOSH PADHI
Co-founder and Chief Creative Officer, Taproot Dentsu
I don't think there are too many campaigns that I liked this year. You will find a few good campaigns but where are the campaigns that had the impact that say the Zoozoo, Pepsi or Fevicol ads had? Where are the campaigns that can change the game, the big sustainable campaigns? Where are campaigns that used to rock our nation, used to inspire and up our competition in a healthy way? Do you think they are gone? Absolutely… We have a lot of short term, topical campaigns and digital films, but these are like overs where you score 20 runs. Where is the Test match? That's the backbone of our business. We have to keep working on big ideas, massive campaigns and take brands and the agency to new heights.

BOBBY PAWAR
Chairman and CCO, Havas Group India
I loved Samsonite's #KeralaisOpen campaign. I also really liked Zee's #DibbaLautaao campaign for Kerala too. Maggi's campaigns, specially the father and son ad also were really well done.

TARUN RAI
Chairman & Group CEO, J Walter Thompson
The Association of Mutual Funds' 'Mutual Funds Sahi Hai' campaign is leagues ahead of anything I have seen this year. The campaign has not just succeeded in changing consumer behavior regarding something as sensitive as money but has also been a category defining campaign. The best ads are also the ones that pick up important societal causes. The film, 'Blink. And they are gone', produced in collaboration with the renowned British photographer Jimmy Nelson and conceptualized by JWT India and JWT Amsterdam, is truly remarkable.

SANDEEP SHARMA
President, RK Swamy Media Group
Swiggy – It's been a great year for them even on the advertising front. Almost every Swiggy ad in the campaign has a simple idea and execution. Seagram's Imperial Blue's 'Men will be men' campaign is now almost a decade old, or maybe even older. The TVCs over the year have only become better and funnier. The team behind this deserve kudos for being able to sustain over such a long period of time. R Madhavan is a very clever choice for the Polycab LED campaign. Every TVC delivers a social message and does it while communicating about the Polycab LED lights.
ADS THAT GRABBED EYEBALLS
The year 2018 saw both Digital and Television ads that tugged at our heartstrings, drove a strong message, made us think, cry and laugh. Here is IMPACT's list of the 10 campaigns that were a cut above the rest: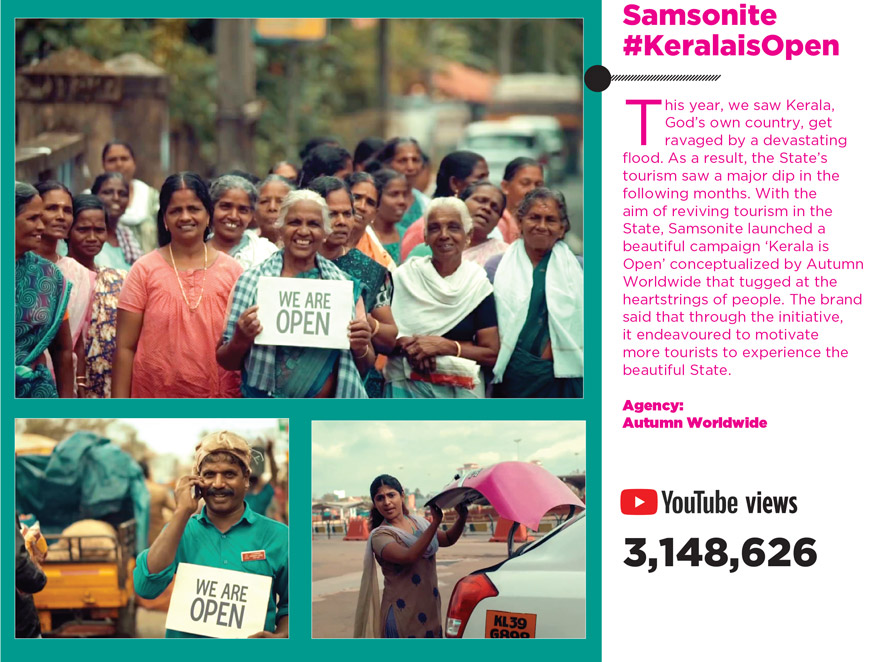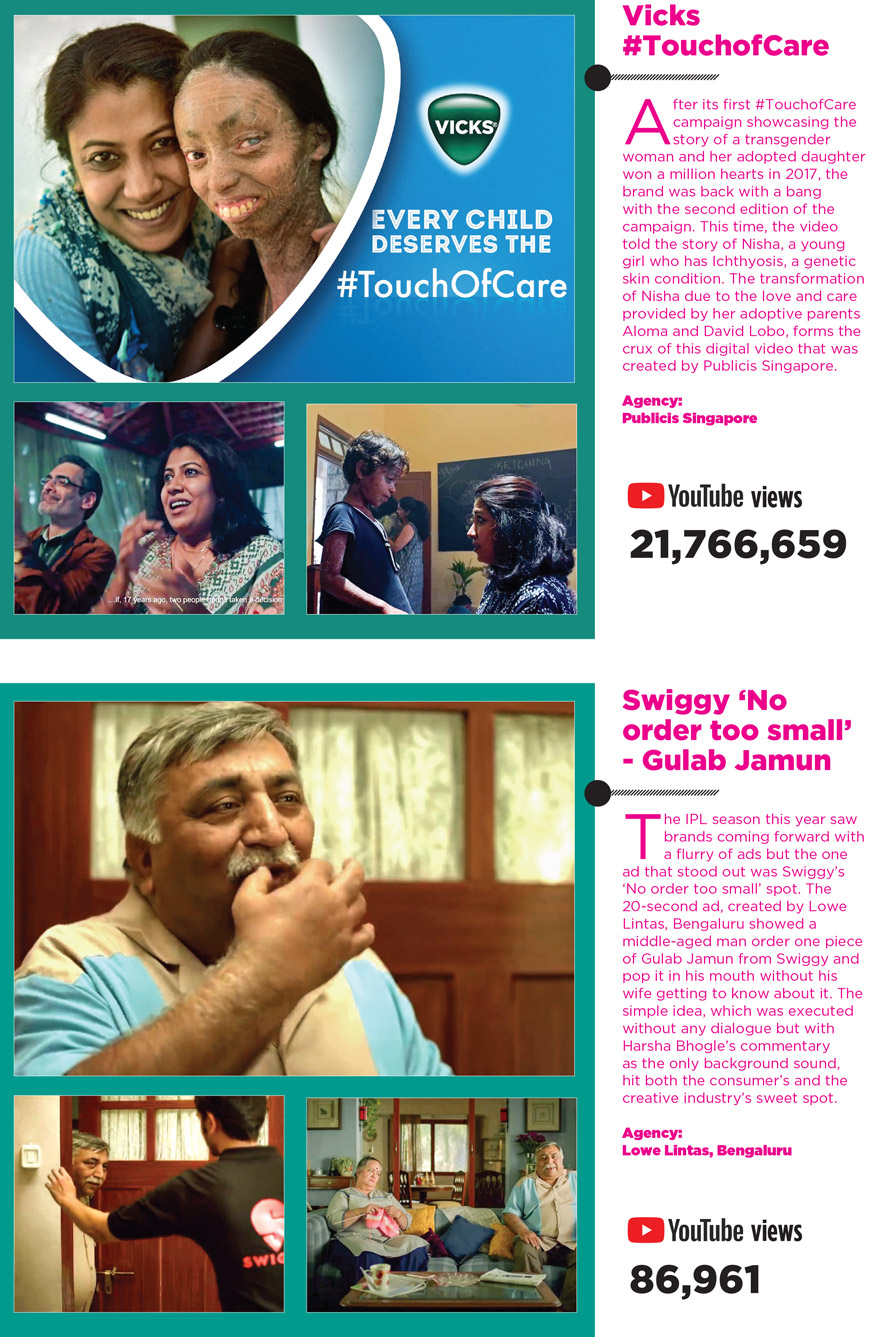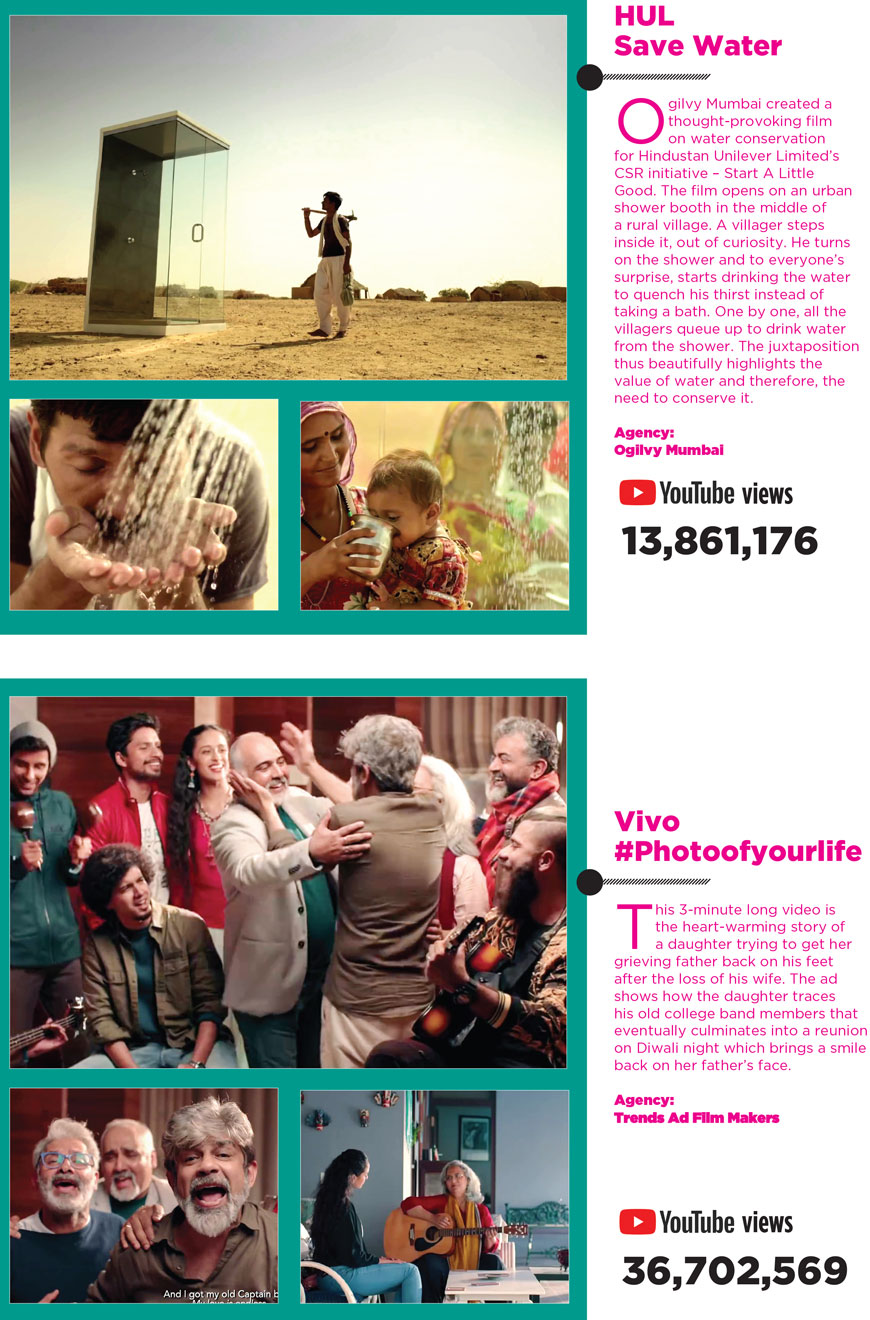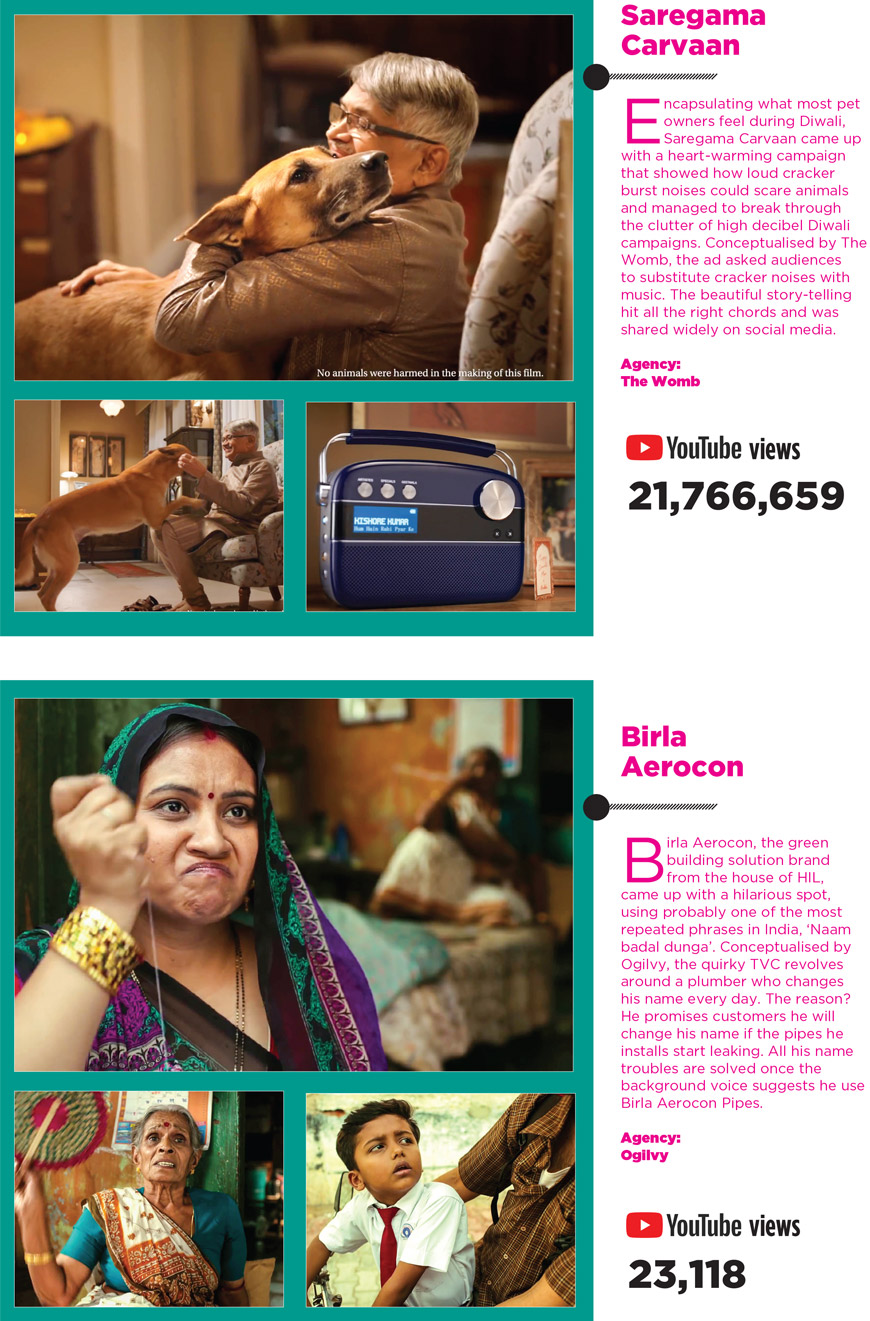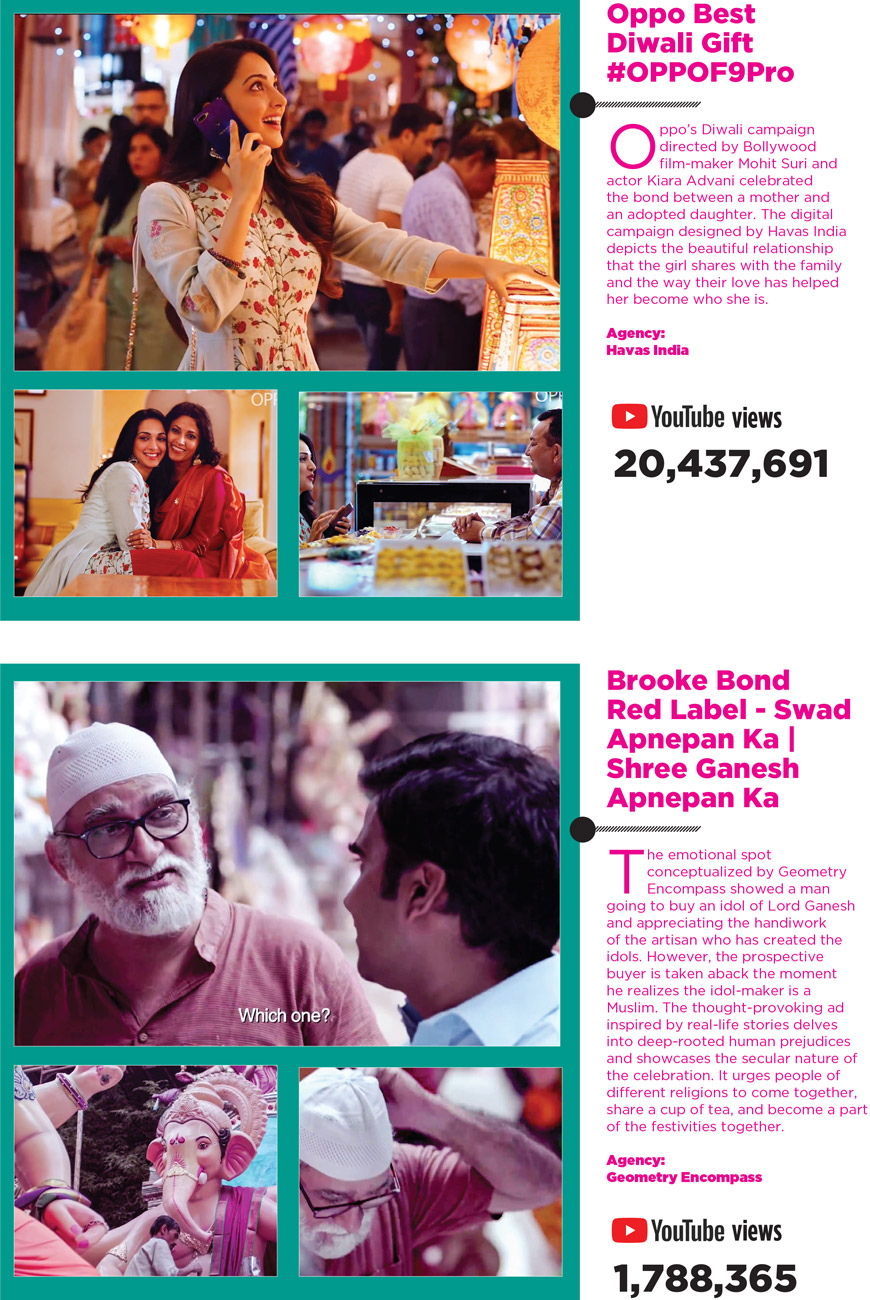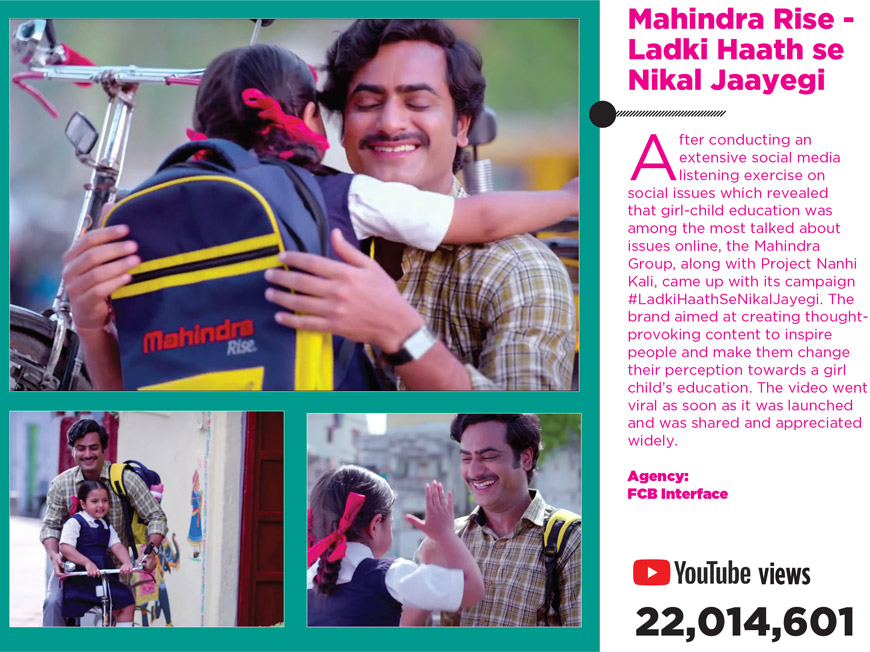 A COUPLE OF CONTROVERSIES
While this year did not see too many fiascos in the ad world, we did come across a few campaigns that created a furore in the country for a while and had to be withdrawn
KALYAN JEWELLERS
Jewellery brand Kalyan Jewellers had to withdraw an ad featuring Amitabh Bachchan and his daughter, Shweta Bachchan Nanda, after the India Bank Officers' Confederation, an organisation that has a membership of around 3,20,000 bank officers, threatened to sue the brand. The organization claimed that the ad hurt their sentiments and was aimed at creating 'distrust' in the banking system.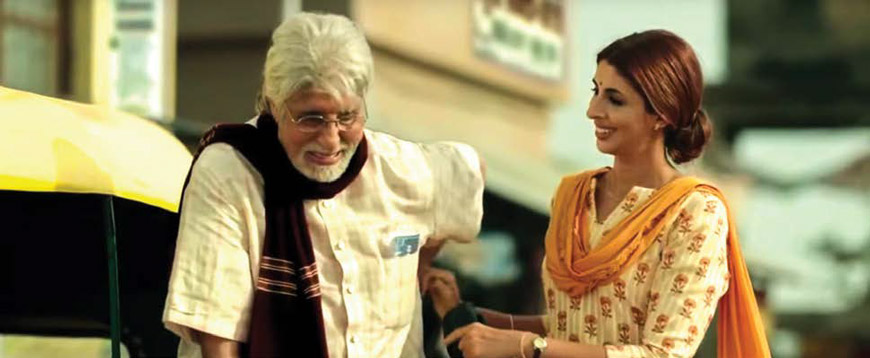 FORTUNE FOODS
A cooking oil ad by Fortune Foods caused a furore when the video showing a Bengali woman cooking fish and meat during Durga Puja didn't go down well with the Hindu Janjagriti Samiti. The organization asserted that eating non-veg food during Navratri was prohibited. The company quickly put out an apology, which in turn triggered complaints from Bengalis, who pointed out that eating fish and meat during the Puja is not taboo in West Bengal.