I was in Calicut a few weeks ago and soon after hailing a cab at the airport, the chatty driver in his quintessential Malappuram accent asked me if I was a tourist, I explained that I was there to interview the Mathrubhumi Group head. Pat came the reply "Oh, 100-year celebrations, madam?" I was quite surprised at how well informed he was, till I saw giant hoardings of the Mathrubhumi Group staring at me from all important junctions. That's not all, he also filled me in on how the newspaper had published many throwback stories from its early days, and carried out many more activities to ensure the readers celebrate with them.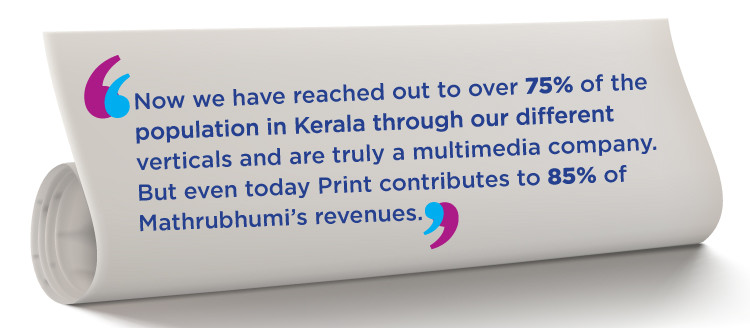 I went on to meet Shreyams Kumar, a second-generation leader of the Mathrubhumi Group, son of the late M.P Veerendra Kumar and the current Managing Director of Kerala's second largest newspaper, over his choiciest cup of tea and his favourite collection of stories which gave a sneak peek into the Mathrubhumi legacy. Kumar reminisces that the newspaper was started to give an impetus to the freedom struggle with a capital of Rs 50,000 in the early 1920s, earned by selling shares worth Rs 5, and saw a time when the founders literally stacked newspapers on their heads and sold them on the streets to fight for freedom, against caste and truth all the way. "The purpose is still the same, the challenges have changed," he adds with a smile.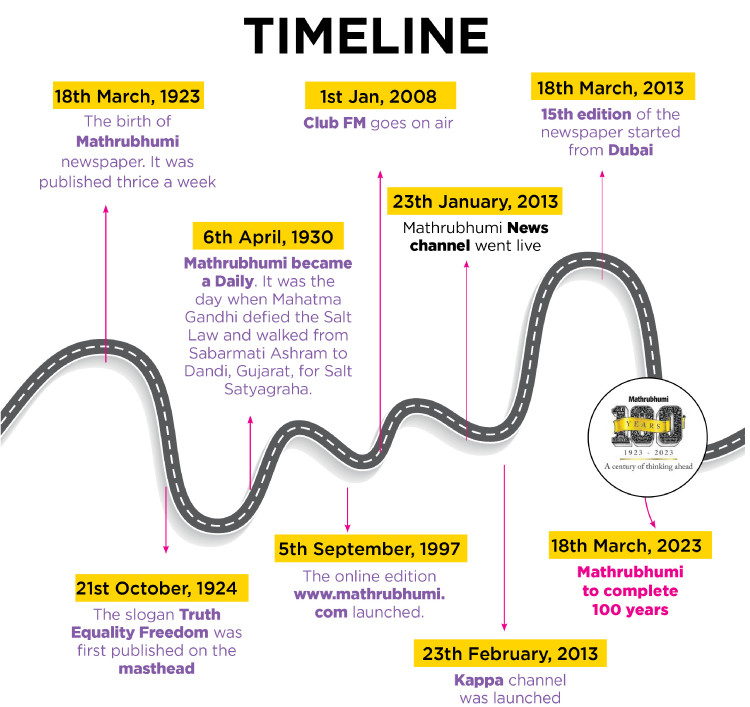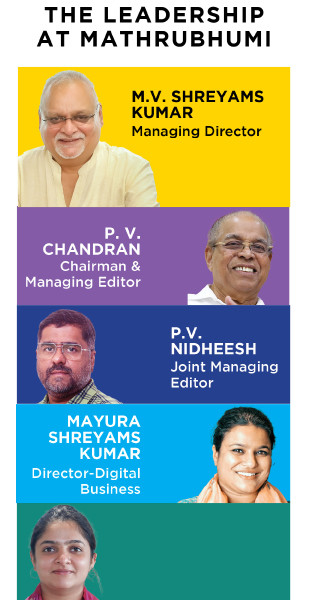 Over the years the Mathrubhumi Group has become more than a newspaper, having expanded to Digital in 1997 with Mathrubhumi.com, Radio in 2008 with Club FM, TV in 2013 with Mathrubhumi News, music- Kappa youth channel in 2013 in addition to its books division and other allied businesses. "Now we have reached out to over 75% of the population in Kerala through our different verticals and are truly a multimedia company," Kumar says. But even today Print contributes to 85% of the Group's revenues.
Kumar is credited with modernizing the brand; talking about how difficult the process was, especially during the pandemic he says, "Bringing in change to a legacy organization is not an easy thing to do. Transitioning from Print media to multimedia was a big challenge as it involved automation of office, implementation of ERP solutions among others but the important part was changing the mindset of our people and dealing with their apprehensions. But we have successfully taken care of that, and now the biggest challenge is to keep pace with the changing media landscape. So, we are bringing in a lot of young people to the organization and trying to cope up with that today. We used the duration of the pandemic as an opportunity to innovate and transform, even as it was a big challenge."
The interesting part is that while many top publications across the country including Times of India and Hindustan Times are believed to have laid off several employees, even shutting down some editions because of the pandemic, The Mathrubhumi Group managed to survive with its head held high and protect every single job in the company without cutting their salaries.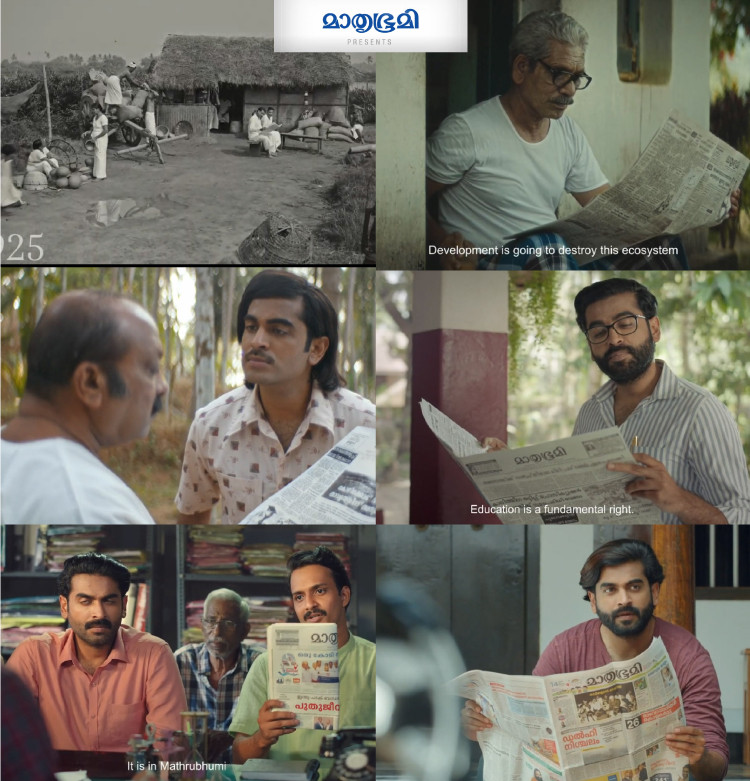 "We used the pandemic as an opportunity to relook at the way we function, and become more efficient. Newsprint cost was naturally reduced because of less pagination as there were no ads at all. We figured out how to reduce electricity consumption and save money. So, when our revenue fell, the cost reduction was almost 90% of that. So, we reduced costs without sending out people, unlike what most other organizations did. We deferred salaries and then started paying our employees arrears. When you send out somebody, you also have to think about his or her family. Our value systems have always been of high priority for us. As a media house, we have to be financially strong to be independent. But how do you become financially strong? Certainly not by compromising your values and principles. We are not a company centered around money," Kumar proudly adds.
He goes on to prove his point that Mathrubhumi is a media house with a heart and head in the right place by saying, "There are times when we pick up certain struggles that the other newspapers shy away from. For example, in 2002 after Coca Cola started their bottling plant in Plachimada, Kerala we stood firmly with the people after it came to light that the chemicals were destroying the water resource there. My father took up that issue and we organized 'World Water Congress' in Plachimada. Ultimately, Coca-Cola had to shut down the factory. I'm not taking pride in closing a company, but the point is, we fought for the people. I took care of marketing at Mathrubhumi at that time and told my father that Coca Cola spent a substantial amount in advertising with us. He said, "Look, if you don't fight for the rights of people, there's no reason for a media house to exist." Similarly, we have played an important role in all the milestones that Kerala has achieved, be it state formation, initiating the renaissance spirit, developing Calicut airport or medical college."
It is not surprising that the reach of Print in Kerala is the highest in India (as per IRS 2019). Aided by the highest literacy rate, reading a newspaper with the 'kattan chaaya' has become a way of life for the average Malayali and despite the digital acceleration, Mathrubhumi doesn't see its Print dominance going away in the state anytime soon, even as the media house is actively preparing for the future.


'Will reach pre-pandemic revenue numbers by 2023'
Shreyams Kumar, MD, Mathrubhumi Group tells Neeta Nair why he is confident of reaching their 2019 revenue figures by 2023 and how Mathrubhumi survived the pandemic with its head held high.
Q] Kerala government had included newspapers under essentials but Print still suffered especially in the first wave of the pandemic, can you give us a rough estimate of how much it set Mathrubhumi back by?
Our topline declined by about 29%, while we reduced our expenditure by 27%. But then too, we had a healthy operating margin. Last year, we did make a loss after many years. Had we cut 7% salaries, we would have avoided a loss, but we chose not to take that route. But this year, we managed a turn around. Also, our circulation was not affected the way it was affected in the metros. We had a drop of about 10% while that of publications in Mumbai dropped by 90%.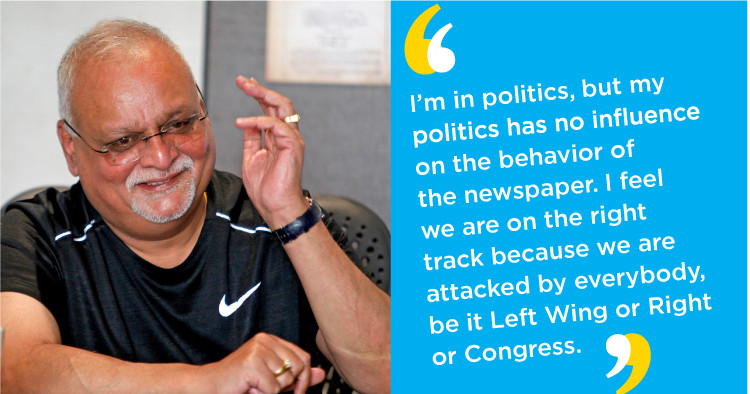 Q] As per research organization, Crisil, Print media will take time to reclaim the pre-pandemic revenue high of over Rs 32,000cr, FY2022 touched only 22,500 crore. How long will it take Mathrubhumi to go back to its 2019 numbers?
The Vishu month has been good to start with. At present, the challenge is more about the skyrocketing newsprint prices because of the Russia-Ukraine war. Apart from that, the market is a little buoyant and ad revenues have picked up pretty well. The retail segment has to pick up in Kerala, especially textile, they were quiet for two years but have started advertising now, so has jewellery business. We are confident of reaching 2019 numbers in 2023.
Q] Earlier for newspapers the big ad categories were real estate and automobile. Today are we seeing more of new-age and ed-tech brands coming up as advertisers on Mathrubhumi?
Right now, they are more on television and digital, but they will have to come to Print. We too focus a lot on the other two verticals - Digital and TV. But yes, new kinds of services are emerging as advertisers.

Q] Did the pandemic increase Mathrubhumi's Digital and TV viewership marginally?
Yes, the time spent on TV, and the reach of TV news channels have now increased. Digital viewership also shot up by 40%-50%. And yet I feel time spent on newspapers went up because people like in-depth reading which Print provides over other mediums.
Q] But would you say that Mathrubhumi is primarily still a print driven organization or have TV and digital started playing an important role?
We're still a print heavy company. There's revenue coming from Digital, Events, Radio, Television, but the bulk is from the newspaper. In terms of revenue, Digital showed an increase of 50% last year. But ensuring digital revenue is a very challenging task, because 80% of the total digital spends go to Facebook and Google, and only 12 percent of that Digital universe comes to the publishers. So, subscription is the way forward. And the other challenge is aggregators, we employ hundreds of people and gather news, and they simply aggregate it and showcase it to their audience. So, we stopped giving news to them.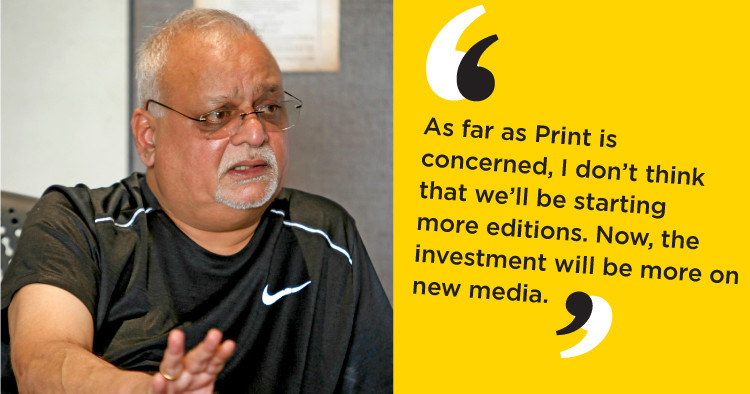 Q] As per IRS' Report for Q4 of 2019, there was a drop in the readership numbers for Mathrubhumi even then (before pandemic). Why would you say that happened?
In the last IRS, we had a readership of 1.26 crores and there was just a marginal drop of 2 lakh. Having said that, in Kerala, Print still has got a longer innings to play. But we are not comfortable with that and are thus putting a lot more emphasis, to other verticals to ensure that Print dependency reduces and the other verticals can also contribute to the top line and bottom line.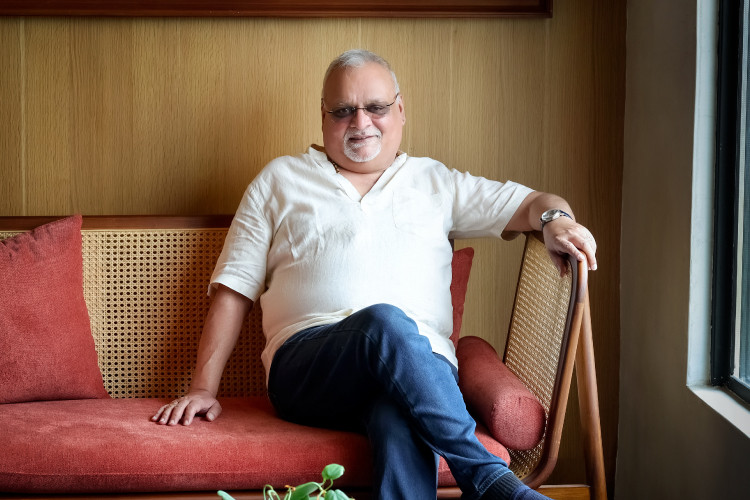 Q] Nowadays most top media organizations have political leanings. How important is it to be unbiased?
You have to be independent. I'm in politics, but my politics has no influence on the behavior of the newspaper. My father was heavily into politics but, we kept it separate. For us, news is news. Whenever we publish true news which is not palatable to a few, we get attacked. I feel we are on the right track because we are attacked by everybody, be it Left Wing or Right or Congress.
Q] Are you planning to put news behind a paywall anytime soon?
Our e-paper is behind a paywall, but not general news. However, without subscription revenue, it is difficult to sustain the digital arm of a media house. The New York Times is the best example. Majority of their revenue has now started coming from subscriptions. So, we have to create premium content gradually, over the next few years put it behind the paywall. Nothing should be free because there is a lot of hard work behind it.
Q] As far as subscription, circulation and readership are concerned, how are you doing outside of Kerala?
It's not much, especially after pandemic. Otherwise, it was reasonably okay.
Q] TOI, Mathrubhumi and Malayala Manorama, came together in the peak of the pandemic and did a joint campaign to appeal to advertisers during Onam. Do you feel competition collaborative working helps?
It helps, but it depends on how you view it. I believe in collaboration, for e.g. All news channels don't need to send individual camerapersons to cover the same press conference, journalists yes, but camera will capture the same feed, so that can be shared as there is nothing exclusive about it. News channels of Kerala can take that decision but it doesn't happen, you still see 20 camerapersons at each event.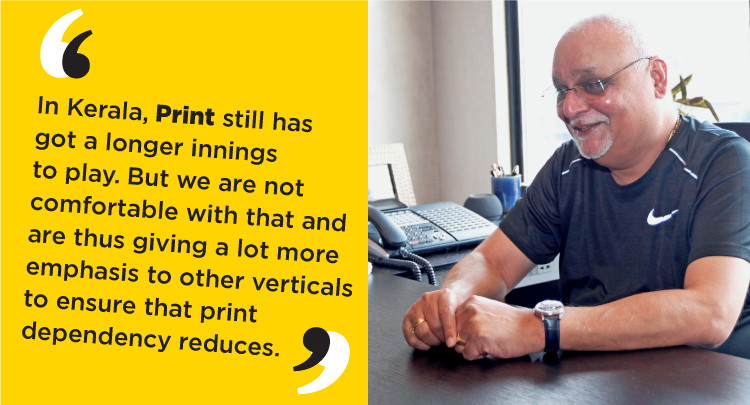 Q] You have touched the 100-year milestone, do you harbour any desire to be a national brand now, as opposed to a regional one?
See, it is not easy to venture into newspapers of other languages, but digitally, yes, it's possible. There are already well-established players there and newspaper requires high capital infusion and setting up of good distribution systems. So, we are not looking at expanding our newspaper business to other languages but definitely yes, for Digital.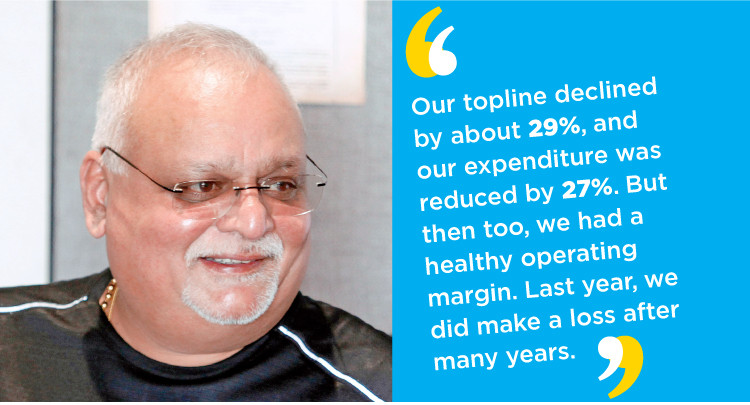 Q] So, what do your expansion plans look like?
As far as Print is concerned, I don't think that we'll be starting more editions. Now, the investment will be more on new media. We have improved our printing facilities, except in two centers, so we don't need to do much there, we are good for the next 25 years. In terms of radio, we are already present across Kerala. We are now entering the world of content, through Kappa originals and are on our way to becoming a production house for OTT platforms.
Q] How are you luring the younger generation into reading newspapers?
We try and understand the younger generations and what can cater to their interests. Kerala's demography also helps us to some extent, because there is a large number of people who are above the age of 35.
Q] In what way will your year-long centenary celebrations take shape?
Our online inauguration ceremony was a grand event attended by 4000-5000 people. We will complete 100 years on March, 18 in 2023 and have planned a series of events till then. We'll be touching up on many issues of Kerala such as agriculture, environment, technology, emerging technologies, emerging jobs, skill development among others. On May 28th, we have the first board meeting of Mathrubhumi in 100 years and incidentally, it is also the day when my father passed away.
Q] Parting words
We give a lot of importance to values and gender justice, and have been trying to get someone from the transgender community to work for us and are still on a lookout. In this competitive world, most organisations are forgetting the human side and are focusing more on the business part. One has to get over the fear of losing.



THE DIGITAL THRUST AT MATHRUBHUMI
She joined her family business around the year 2018 tasked with boosting the Radio revenues of the Mathrubhumi Group. During the first wave of the pandemic she found herself taking over the reins of the Digital business of the legacy brand to make it future-ready. Mayura Shreyams Kumar, Director, Digital Business, Mathrubhumi Group tells Neeta Nair how she is accelerating the digital journey of Mathrubhumi and why she is confident of a 180% jump in its Digital revenues by 2023
Q] You were promoted to the current position in the peak of the pandemic—July 2020. Was that to push the envelope on Digital at Mathrubhumi, considering the sudden Digital takeover of the industry?
The Group needed young blood, I had domain experience as a user but not as a business owner but even that came in handy because we needed to understand how the user felt after experiencing our product. Our directors felt having a woman at the forefront would also bring a different perspective to the table, in terms of people and products. But it was also a risk that the company took by putting in somebody extremely young and with no experience on the Board.
Q] Considering Print is still the bigger part of your business, how are you driving synergies between it and Digital?
We are still facing challenges there. For starters, how do you upskill the employees who have been working for the company for 26-27 years, which is nearly my age. When we moved from manual printing machines to completely automated printing machines, the then CMD, my late grandfather, and the then managing editor, PV Chandran, did not lay off even a single employee. He trained them on how to use the new machinery, even though we were overstaffed. We did something similar even now and they are adapting to the changes well, and repurposing the content and using it on different platforms.
Q] How are you using technology to bring about a seamless transition for readers consuming Print, Digital and TV content on Mathrubhumi?
Yes, we are using QR codes to provide audio visual content to print stories, adding more value to it. But there is a lot more to do in this area. We have daily podcasts about all the top news in the newspaper, so people can listen to it on the go. Unless it is an exclusive story, newspaper as a medium is no more for breaking news, it is for in-depth reading.
Our digital desk and our broadcast desk sit and work together. This has been a culture in Kerala for the past seven years where you need to go live on YouTube or Facebook to grow in the industry. TV needs it more than a newspaper. Also, it's much easier to integrate TV and digital because skills are largely the same.
Q] Today your e-paper has how many subscribers and did it shoot up post the pandemic?
On the contrary, earlier, we had around 50,000 paid subscribers which dropped to around 40,000 during the pandemic. In fact, we have seen a surge on our website and many new users visiting it, which is much more than that on the e-paper. I believe, the website is a much easier product to navigate on than the e-paper.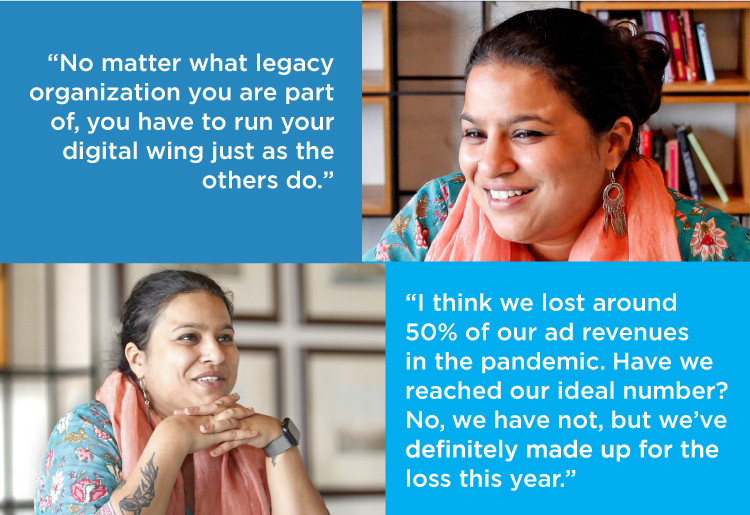 Q] Any plans of going behind a paywall for digital news content like how Hindu and TOI have done?
There is a segment of readers which is willing to pay for news, especially in an environment of fake news. Personalised content, surprise content and verified content will have takers, in fact at Mathrubhumi we have a fact checking team of seven journalists whose job is just to verify news. There are media houses in Kerala that already have a paywall but the top two players – Mathrubhumi and Malayala Manorama - have not opened it up yet. But we are definitely experimenting and will have a paywall, hopefully in under 12 months.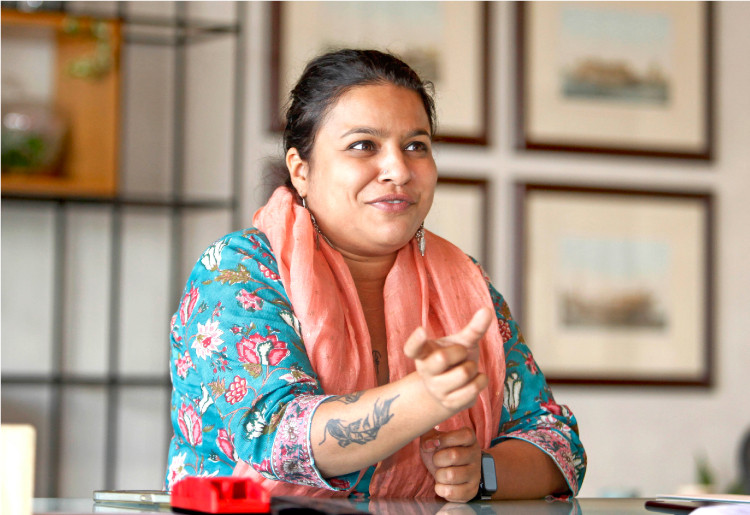 Q] Do you feel new-age digital news platforms have an advantage over legacy brands like Mathrubhumi?
When you're doing news, you need a network that has been nurtured for years. We have built our credibility over so many years and you can't discount that. I respect all the new media that has come up and consider their presence as humongous competition for us. No matter what legacy organization you are part of, you have to run your digital wing just as the others do. You have to stay competitive and on point. And we have adapted well.
Q] When it comes to digital consumption, do you think people are more comfortable in the regional language, or in English?
It's about personal preference, but I would definitely say that it's the regional languages. If you want to know about something happening in your area, then you need to primarily understand the language of your area. English news is there, but you may not get a lot of local news in English. Also, people take a lot of pride in knowing their regional language today and that's why the regional language audience is growing.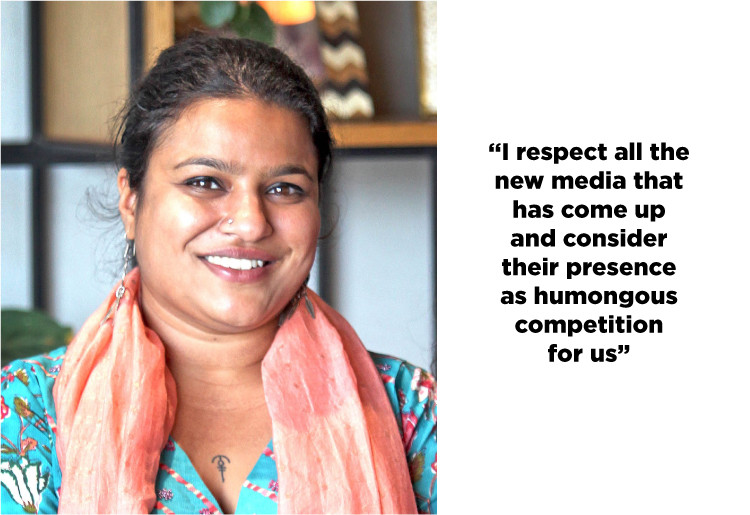 Q] And yet you have an option on your website to read news in English, why so?
There are two reasons for that. We have a huge Malayalam diaspora all over the world who may not know the language the way Malayalis living here do. Now even if a majority of them read, write, and converse in Malayalam, their life is a little different. So, our aim is to cater to them and also the youth who speak both languages. Having two languages ensures that both audiences are served well.
Q] What kind of breakup do you have online between Malayalam & English readers?
There is a huge difference. Our English consuming readers' segment is peanuts compared to what we have for Malayalam. But it's only recently that we started focusing on both.
Q] How did Covid impact your digital business? Do you see digital becoming Mathrubhumi's bread and butter anytime in the near future?
I think we lost around 50% of our ad revenues in the pandemic. Have we reached our ideal number? No, we have not, but we've definitely made up for the loss this year. Digital revenue is a very challenging space with a lot of big tech players here.
I wouldn't say Digital will take over the revenues of the Group, but I'm hoping to reduce the gap to at least, 60%-40% in the next three years. With Digital, there was no proper infrastructure to bring revenue in at Mathrubhumi, because digital revenues are not pure play advertisements, there is much more that we are exploring right now. Even our old clients are asking for good digital extensions for the kind of ads they give us. We are getting a push for a lot of affiliates, a lot of social media promotions. So, we're hoping to see our digital revenue go up at least by 150% to 180% next year without destabilizing Print. In terms of broadcast, our most challenging cost-related aspect here would be the distribution.