IMPACT brings you ten leading ad film directors who have won our hearts with their distinguished work
Advertising as a medium has always been fascinating. That one idea can change the way consumers perceive a product, and give it a solid base for years to come. In a fast paced content-oriented world, viewers come across many advertisements, most of which fail to catch their attention, but a few among those do stand out. The ad world seems like an alluring one from an outsider's point of view, and its glamour is unmistakable. Imagine a Don Drapper-esque (from the TV series Mad Men) personality, thinking of ways to entice the consumer. In the world of ad filmmaking, the ad film maker who is entrusted with a new concept for an ad film has the power to make or break it. If he/she can make it come alive, they can successfully sway public perception. These ad directors don many hats, from visualising the script to simplifying the complexities, thus, transforming imagination into reality.
As advertisements continue to captivate our mind, we wonder what captivates the directors to get into ad-film making in the first place. How are they able to break any and all barriers to reach out to a wide range of audience? Let's hear from the horse's mouth as IMPACT presents ten leading ad filmmakers. The list has a carefully chosen mix of established and emerging ad directors who have delighted consumers with their work in the past few years.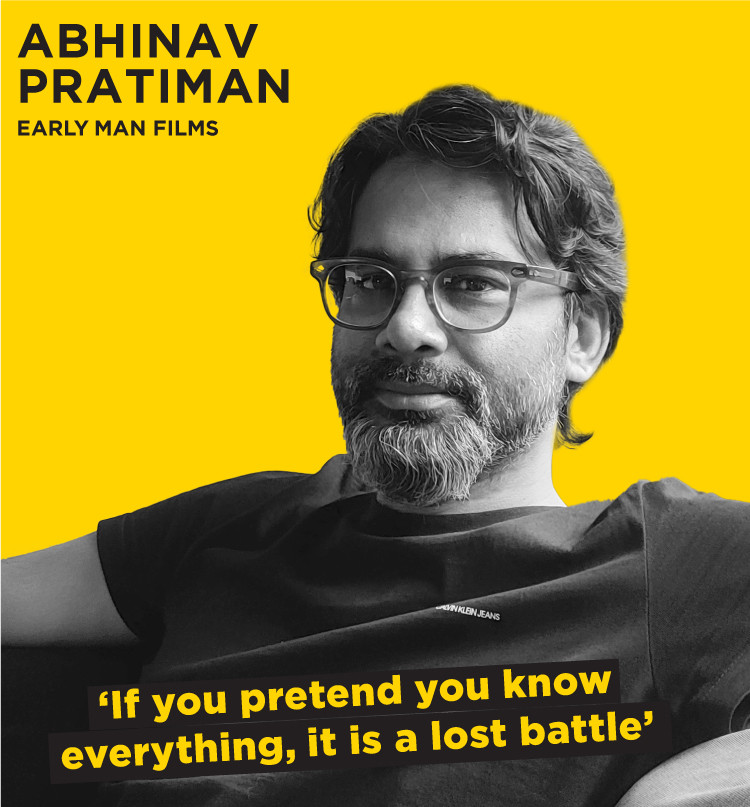 First Break
After having worked as a copywriter across various ad agencies, I shifted to filmmaking. It was a natural progression for me, since I absolutely love films. All that was needed was a bit of courage and tons of patience. My first break was a 10-second teaser promo with a budget the size of a bread crumb. Ads are like mini short films, with a lot of scope for creating drama and emotion. And the fact that there's no luxury of time, pushes you to tell engaging stories quickly. You can create backstories in five seconds, write impactful dialogues in a few words, or even speak a lot without saying anything. It's a tough one, but the limitations give you an opportunity to be more creative. And that's really fun.

Challenges
What I've learned is that even the most complicated script can be a breeze if you know where to pitch it. And the simplest of scripts can sometimes turn out to be a nightmare to execute if you lose sight of the idea. Campaigns like Hotstar 'Superheroes' were challenging because there were a lot of technicalities involved, and were post-production heavy. But I love to take on the unfamiliar, because it's a scary path, and you end up learning a smarter way to tell that story. One trick is to surround yourself with really talented people, and learn from them. Film-making is a collaborative medium, and if you pretend you know everything, then it's a lost battle.
Battleground Constant Battle Campaign
That was a kickass project. Right from jamming on the script with agency partners, to creating a visual narrative, and then crafting a rhythm of guns as sound design. It's such a serious subject, but what I got attracted to was the light-hearted, quirky emotional pitch of the idea to handle a sensitive issue. Also, casting is very important for me. It's all about cast, cast, cast. They're the ones who are doing all the action, talking, and moving the story forward. So, the search for the right guy was like going through hell and back.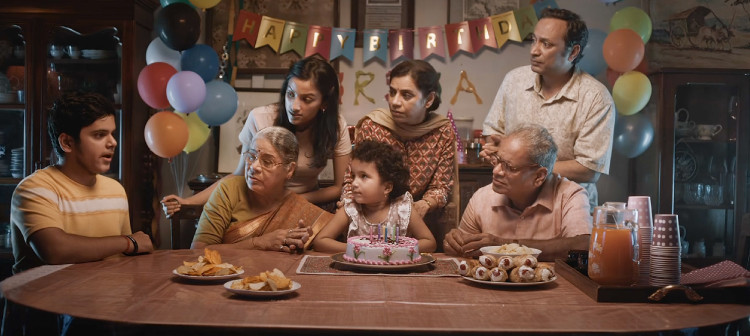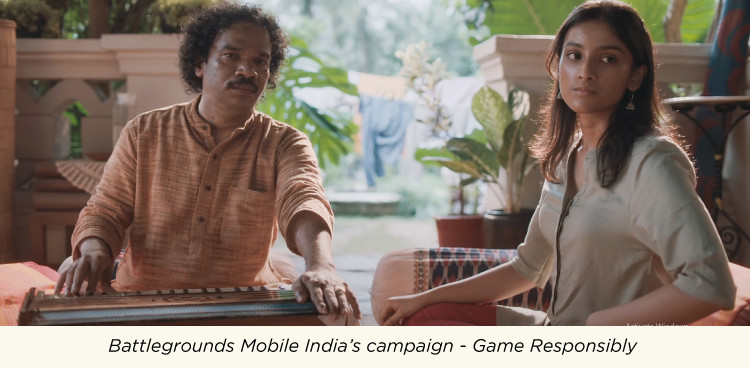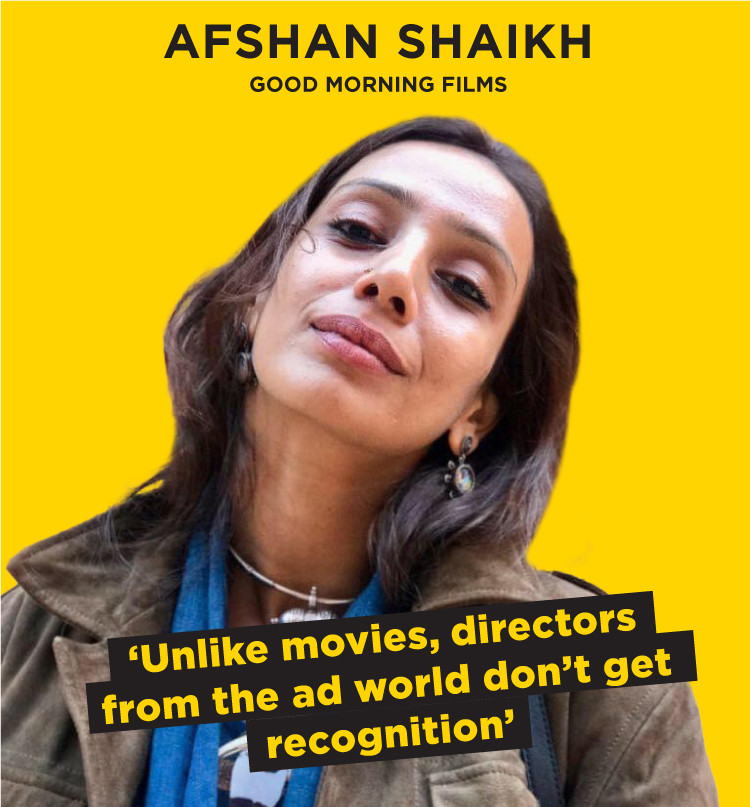 First Break
Ad filmmaking has been my core, and that's where I started. Being part of any visual medium story narrative is what matters to me. I worked as Bob's DA & Associate for a long time, and invested my time in learning. There was no hurry or a game plan. In the midst of this journey there were creatives who saw me work hard. They took that chance on me to give me my first commercial, and believed I could do something decent out of it. We work so hard to make that 1 sec of a commercial, to tell a story. The detailing and conveying a story narrative in 1 sec is the exciting part of Ad Film making.
Working in Ad Films
Earlier, there were only a few production houses, now there are countless, so the challenge here is how to make our work shine. There was no social media back then, and it was only about creating that one film and making a timeless campaign. Unlike today wherein we create three films and five promos in the same money or time, something that shall run on-air only for a month.
Beloved Campaign
Savlon Artist is very close to my heart, and the love I received has been overwhelming. The advertising world doesn't give one recognition like movies do, so when people appreciate my craft and talk about the nuances, it makes my heart swell with pride and brings tears to my eyes. Savlon Chalkstick - one of my first films in my career was made in the purest manner. We shot a documentary with little kids in a school. It won the Cannes Grand Prix along with other big international and Indian award. It was a dream when I used to see my seniors experiencing that, and now as a woman in the industry being recognised was such a roller coaster journey, and clueless of what these awards actually meant. The other one was Allen Solly wherein I got the opportunity to shoot with a real Stag in an office. One usually does all those shots in CG, but getting this opportunity was a dream come true.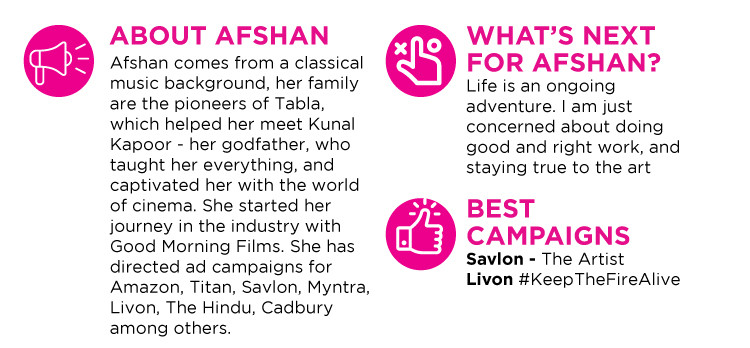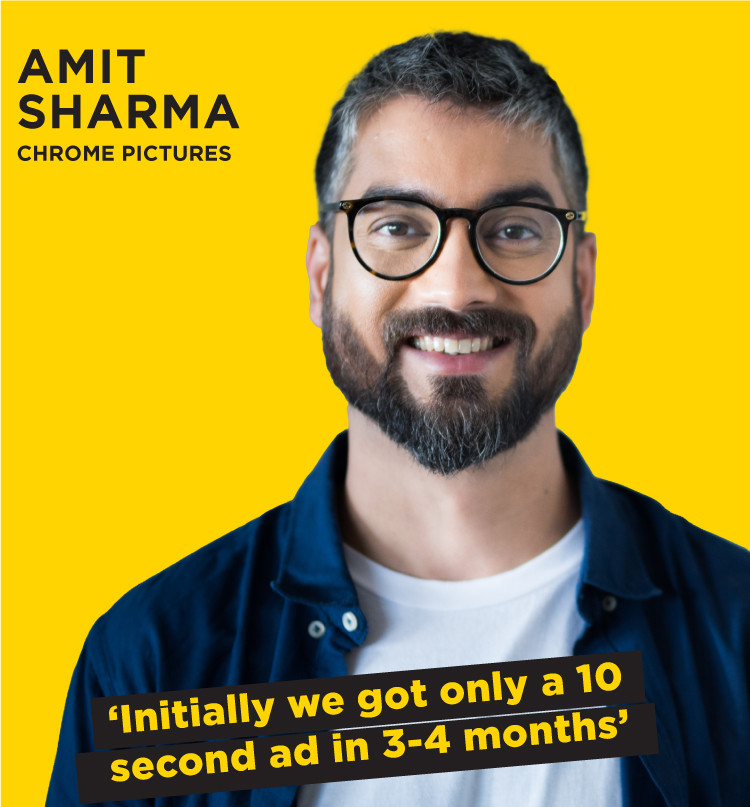 Journey
I'm from Delhi, and there was no exposure about film-making back when I was younger.. In class 11, my mom asked me if I was going to do modelling, from there I decided I'll become an actor, so I started meeting people in Delhi for that, and met a few fraudsters too. Also, I met Pradeep Sarkar, and he gave me an ad film as an actor. I got so inspired by Pradeep Sarkar that I told him I want to work with him. But I was still in school, so he asked me to finish my studies first. Soon after my class 12, he started his own company - Fat Man Films, and I joined him so that I can act in his films and I did 17 ads as the main lead. My partner Aleya and I, we used to work together, and one day she told me that I have a creative mind and can be a good director. That day, I decided to become a director at the age of 24. I started Chrome Pictures with Aleya and Hemant, my two partners. And nine months after leaving Dada's production, he called me to assist him on Parineeta as his Chief AD, but I declined as I was getting married, the dates were clashing with those dates and I really didn't want to assist anymore. I was clear that I have to direct now.


Turning Point
When we started Chrome Pictures, it was not easy for us to create a mark, acceptance of new talent in the industry was difficult, as agencies only believed in big directors. We were not getting work, only a 10 seconder would come in 3-4 months, people were not taking us seriously as we were too young. So, survival was a problem, but the turning point in our life was when Horlicks came to us. We made one patchwork as assistants to Dada for 'Epang Opang Jhopang'. The brand wanted to release that film in Burma, and we just had to shoot the last portion of the film. They gave us a basic budget, and we finished the shoot in two hours.
After that I called my creative friends from the industry and asked them to give me an award-winning script. I told them that I was shooting on Thursday. It was an 8 hrs shift, but the shoot would be over in 2 hours, and in the 6 hrs we'll shoot the other ad free of cost. So, Raghu & Manish from Scarecrow gave me the script, and we shot the patchwork and the ad in eight hours. And that film became a hit. That was a Hanes commercial. We won a lot of awards, and the good thing was that the client also paid us the production money after seeing the film.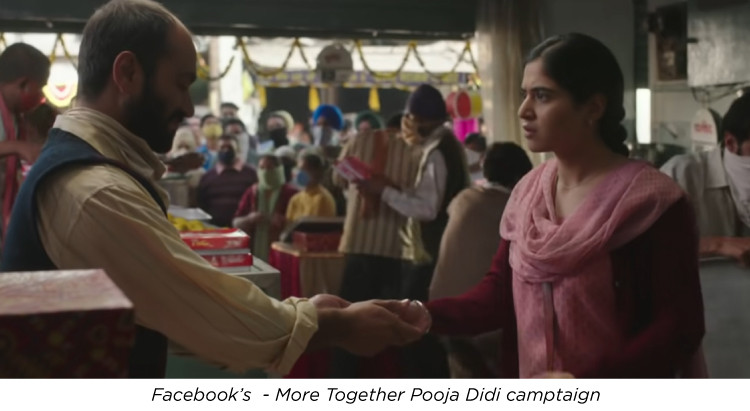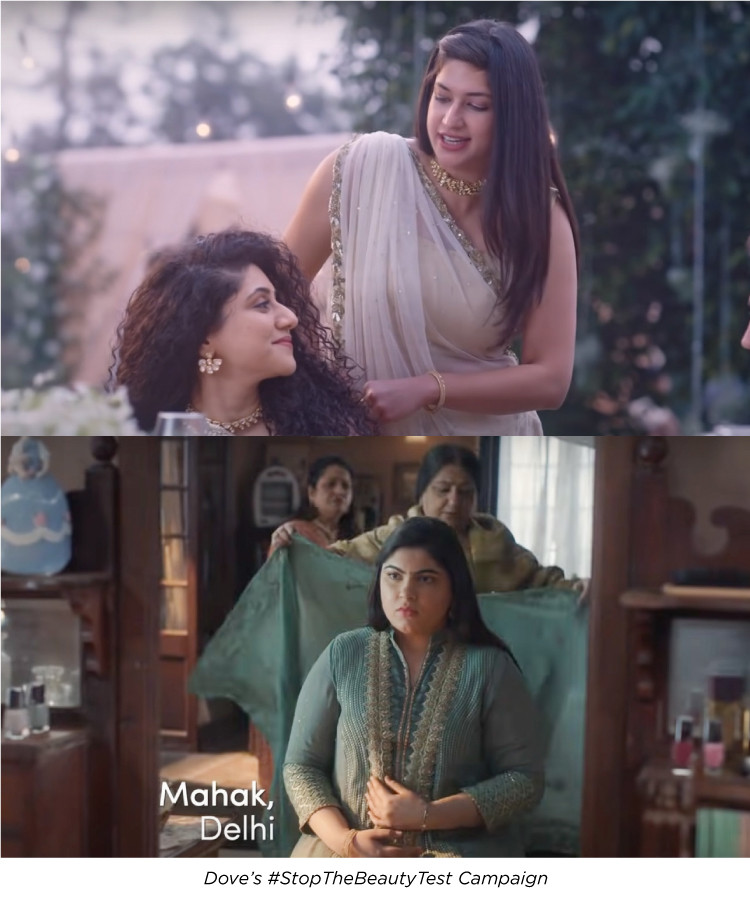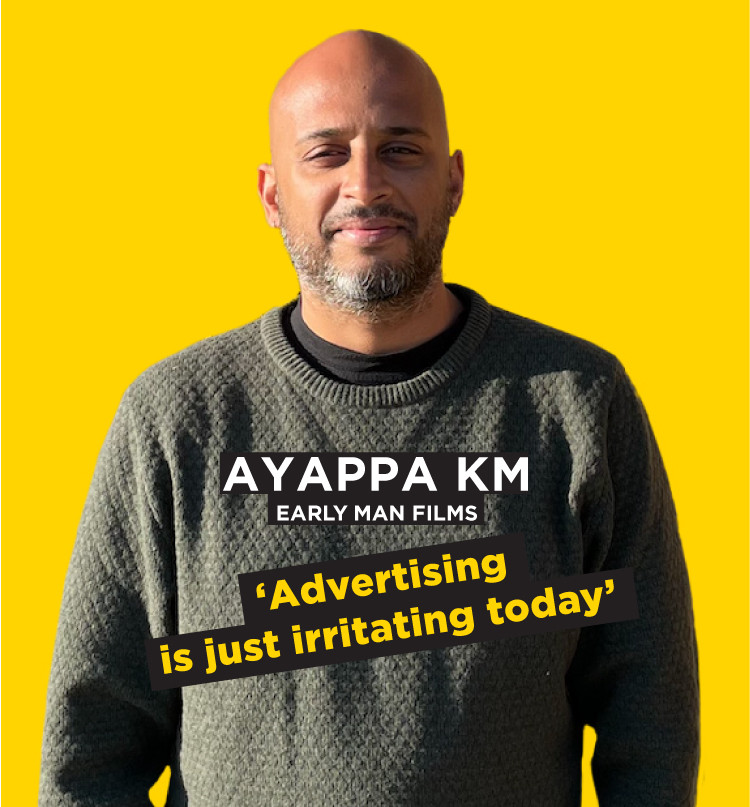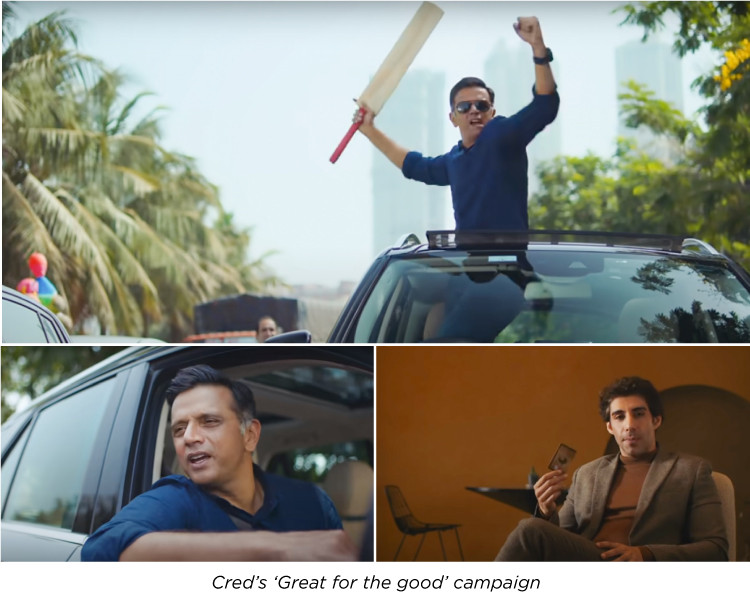 Getting into Ad Film making
I used to write for my college cultural programmes and then joined as a copywriter at Orchard, Bangalore, and worked there for five years. When I was a writer, I used to watch a lot of films, and one particular film called Baraka really influenced me a lot, making me want to try direction. It was natural for me to move into ad filmmaking. I used to go for a lot of shoots for the scripts which I used to write, look at the directors and think that this is not that difficult, even I can do it. My life wasn't much of a struggle. I had it quite easy because I was in advertising already. After advertising, I joined MTV to build my show reel and there I had done a film for Xbox called 'Porok,'it was my first film, and that picked up a lot of awards. After that, work kept coming in regularly. The only problem was that my Hindi was weak, but I learned a little more of Hindi.
Working in Advertising Industry
Advertising gives you money for production value, and the other crucial thing is that you learn fast because one day you're shooting a comedy ad, the next day you're shooting something completely different, and so your personal growth is quick. As far as the evolution of the industry is concerned, I don't think it has progressed as much as it should have from the 90s. It was like Prasoon Pandey's work, which was really inspiring to everybody that created a new language. Now I don't see advertising doing that. Advertising is just irritating, when you see an ad, you get irritated because there's so much nonsense. Sometimes I get annoyed when I see my own ad. There will be that 10% of ads which are very inspiring, and that will always be there. But the percentage of bullshit keeps increasing more and more, unfortunately, and the trick is to stay in that 10% and not go to the 90% for me at least.
Cred's Campaign
For Cred, there's never time, we usually get 3-4 days to turn it around, which is good in a way because it's very impulsive and we're just gunning it. I usually avoid celebrity ads, but these ads had an idea. I was also a bit nervous because I like working with actors who are receptive to a director, but mostly celebrities are not. But after the first set of commercials, most of the celebrities were very trusting, and that kind of made a big difference, because they were also willing to try different things, which they wouldn't have otherwise. Mainly, it was a mad rush and we were just happy that we're getting to do this like we're getting to see Srinath and Venkatesh Prasad dressed like Backstreet Boys. It was really surreal and beautiful.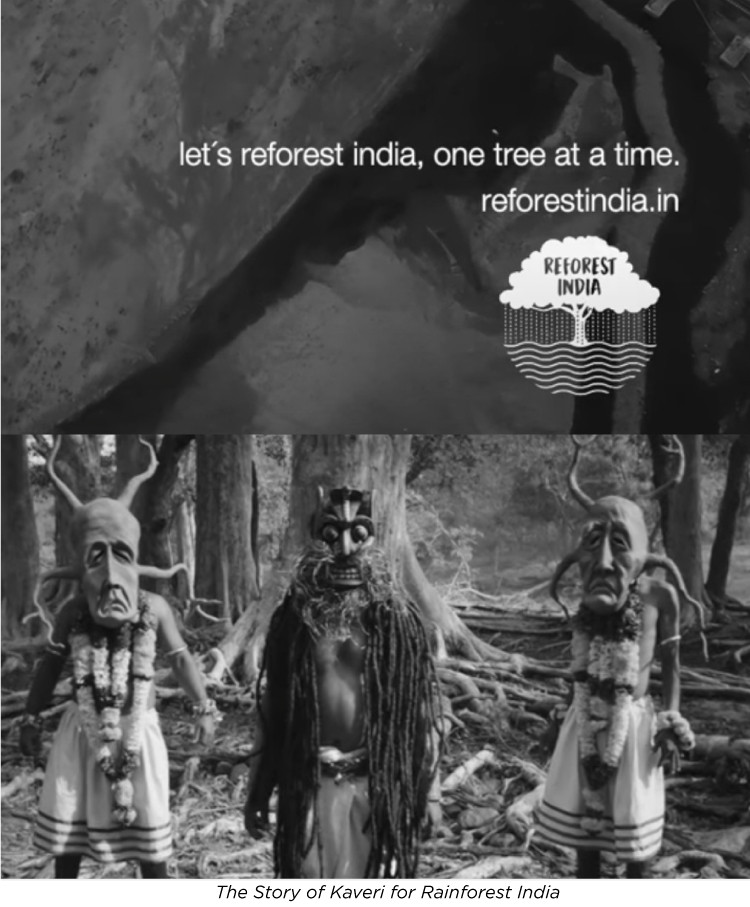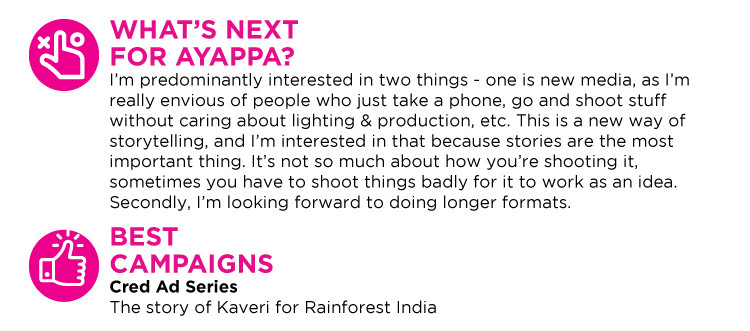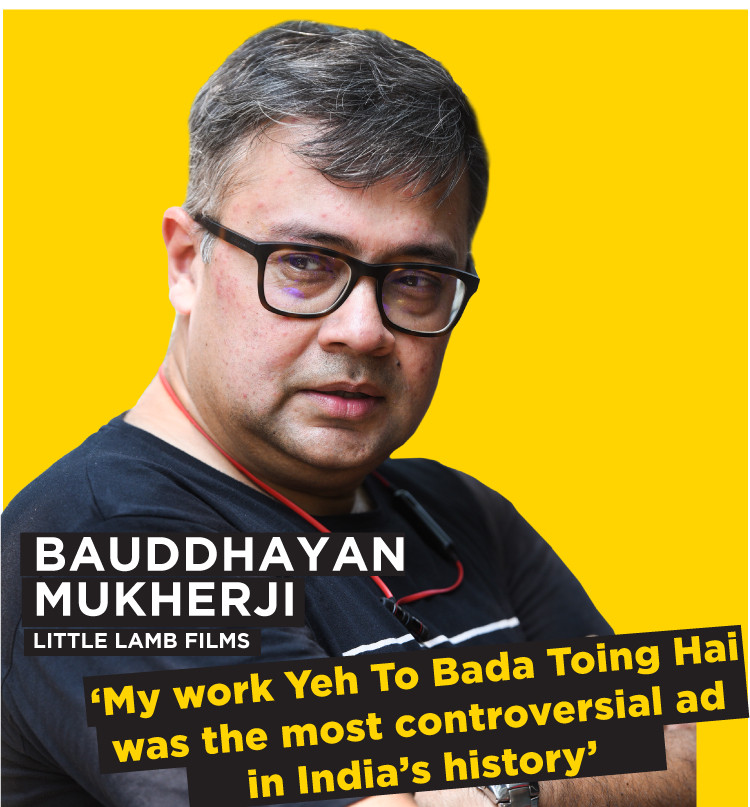 Getting into ad film making
Satyajit Ray was the reason why I decided to make films. I was 11 years old when I read his book - 'Ekei Bole Shooting,' meaning, this is what shooting is all about, reading which I decided that's the only thing I would want to do in life. And as bizarre as it may sound, I was also following his career path, so I had studied economics, because Ray had studied economics. When I got out of college in Kolkata and got into JNU, and was about to leave for my Economics exam, there was a newspaper advertisement in The Telegraph, which changed my life. Clarion, the advertising agency, was starting its first advertising college in India, and it was in Kolkata. So, I gave up Economics, got through to Clarion. And I was the only unemployable student of my batch, but Clarion finally did help me get my first job at Audio Visual art in Kolkata. Later, I joined Abhijit Chaudhari (Dadu) and Arjun Gourisaria at Blackmagic. I assisted them, became their partner and the rest is history.
There was one particular incident from where there was no looking back. That one film was Amul Macho's 'Yeh To Bada Toing Hai.' So the script had come for Dadu, but he refused to do that. And I was badly out of work at that time. Every morning, I used to come to the office and go through the piles of paper which were on Dadu's desk. And I saw the script on Dadu's desk, there was a small two-line brief. So, I asked Dadu if I could be considered to do the film. Dadu, as usual, shrugged and introduced me to Pushpinder Singh of Saints and Warrior. And the rest is history, I never looked back. It became the most controversial film ever made in this country.
Love for Advertising
The most important thing that works for me is that it makes me a nervous child at the beginning of every single film that I make. Every film is a new film, and every script needs a new approach. Every shoot is a new experience. So, if there's something new for me to try out, I'll always pick it up. Basically, I need to be challenged on every single script. I have to feel nervous, and I need to look forward to learning something new. And ad films do give me all of these.
Akhand Jyoti Campaign
We set off on this journey of Akhand Jyoti hoping that the impulse buyers in the country would donate at least 4000 bucks and would help people get their eyesight back. But for that we needed to be honest, in the sense that we wanted to create a three-film campaign which had to look exactly like the teleshopping shows because the basic idea was that teleshopping shows also generate a lot of impulse buying. So, Harshad and Kainaz wanted me to make it look like a teleshopping show, with the set, the lighting, the over-the-top performances. I literally turned the world upside down to get people on board who would make the films look like real teleshopping films. So, we got the same DOPs who have worked on them, the art directors and actors. But the biggest challenge was getting the visually challenged non actors to play their role as the disruptors. One thing that we decided is that we will not have actors with black sunglasses, they won't be actors, they would be real visually challenged people. And street casting in the times of Corona is a huge task. So, we went to colonies where visually impaired people lived. We went to blind schools, contacted NGOs. And finally did the casting and it was very good.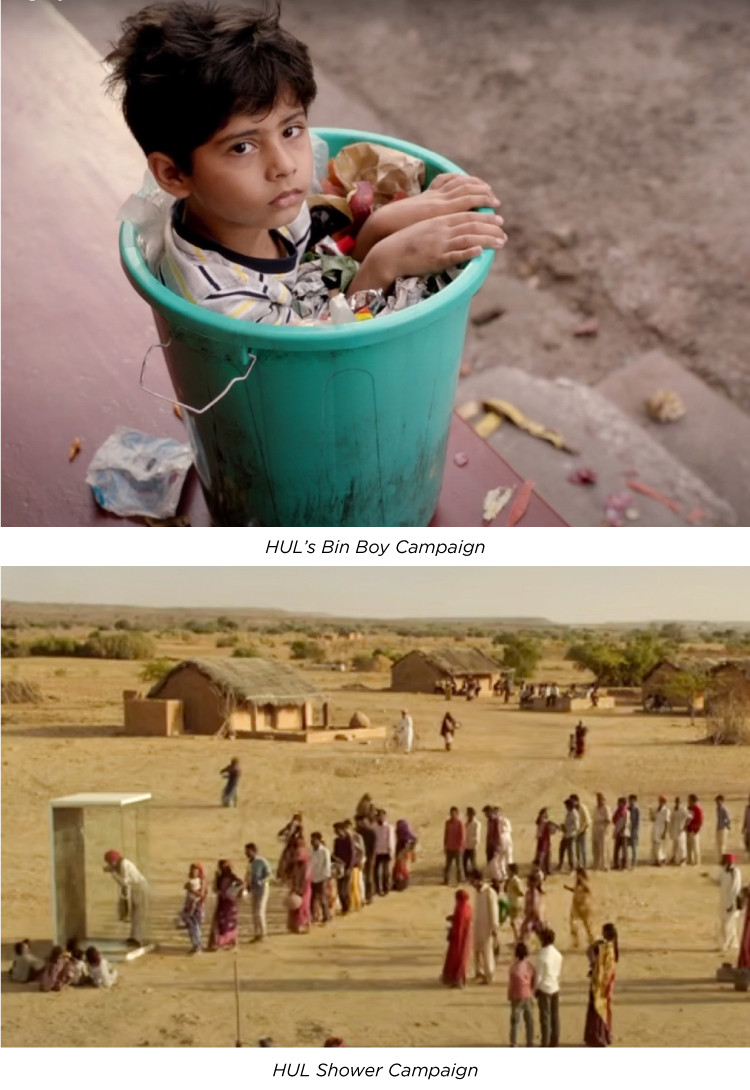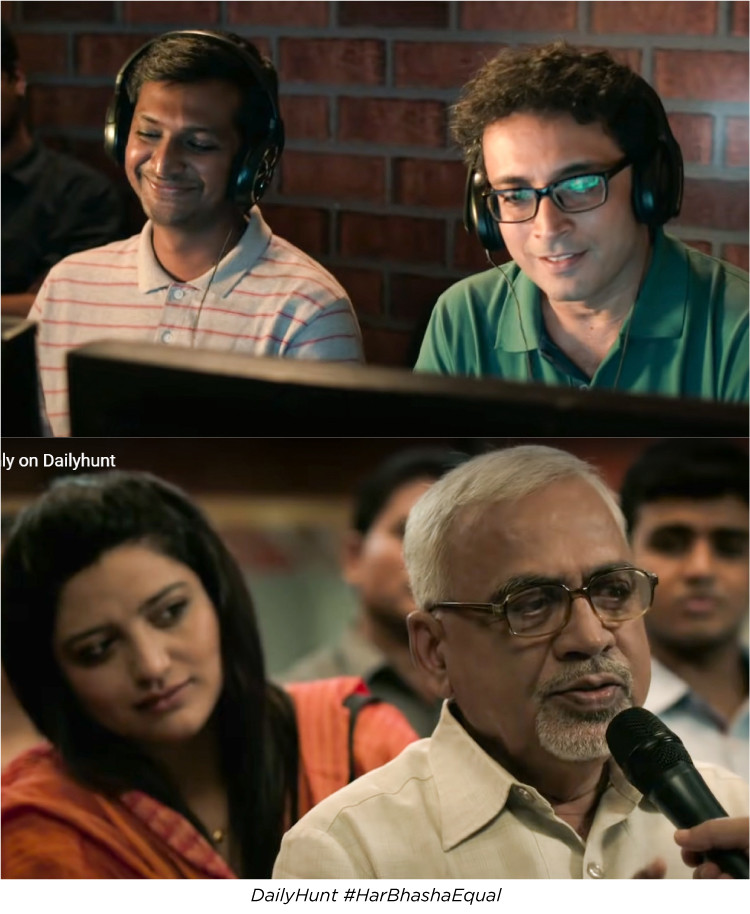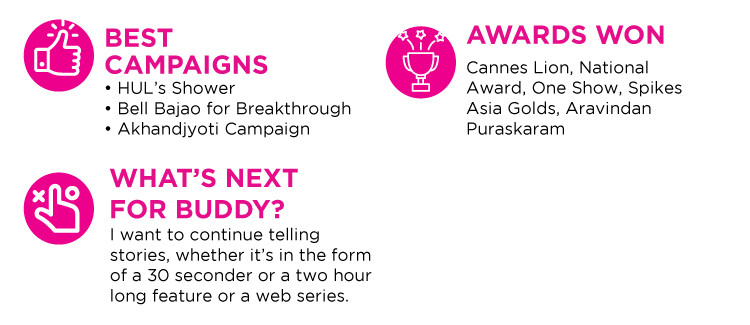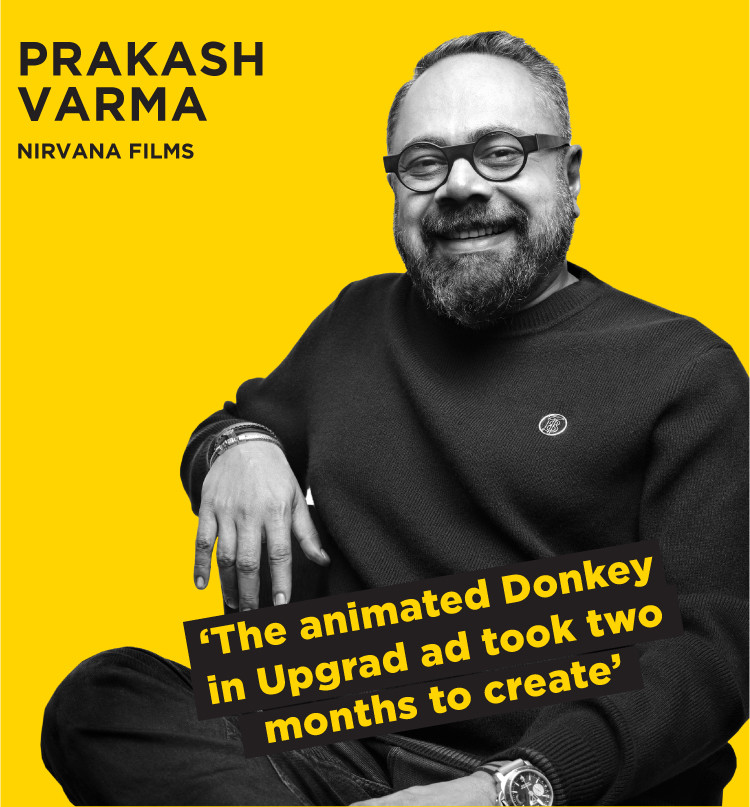 Advertising Journey
From early college days, it was very clear that I wanted to make films as I could tell stories. I started working as an assistant in the Malayalam film industry with a couple of good filmmakers. These directors generally took a year and a half to make another and breaks are not good when one is young. So, I used to fill the gaps by joining ad film makers as commercial ad films are much faster to make. In a year I could assist them with six or seven commercials, which also might give you better exposure, dealing with more technical stuff. My life basically drifted completely into advertising, and I have not done even a single feature film. I've been in the advertising industry for the last 22 years. So, that's the beauty of life.



Campaigns
'Khud Ko Jagaa, Thandaa Lagaa' was the most difficult shoot. It was supposed to be on top of the terrace, and in pictures everything looked fine. But the difficult part was that every actor was in a different building. So, every time whether it was for briefing or for shooting, we had to climb those buildings. I think I lost 10 KGs in that shoot. And then every single building was painted by our team to get that look and feel. So, there are so many things that went into it and thankfully, it went off well.
In the UpGrad specialization campaign, the most exciting thing for me was actually to create the donkey in that space. When I get that kind of a brief, I normally get excited because I can do a lot more in art. I had an open space to create the tent, the kind of detailing inside it and the attitude of the donkey, etc. But the only challenge was that the donkey is completely animated, I didn't want to go wrong in terms of the look and feel, texture and performance. So that was done by a circus based in Hyderabad. And the set design was done by a Malaysian production designer, who is brilliant. It took a long time, the animation itself took two months, but it was interesting.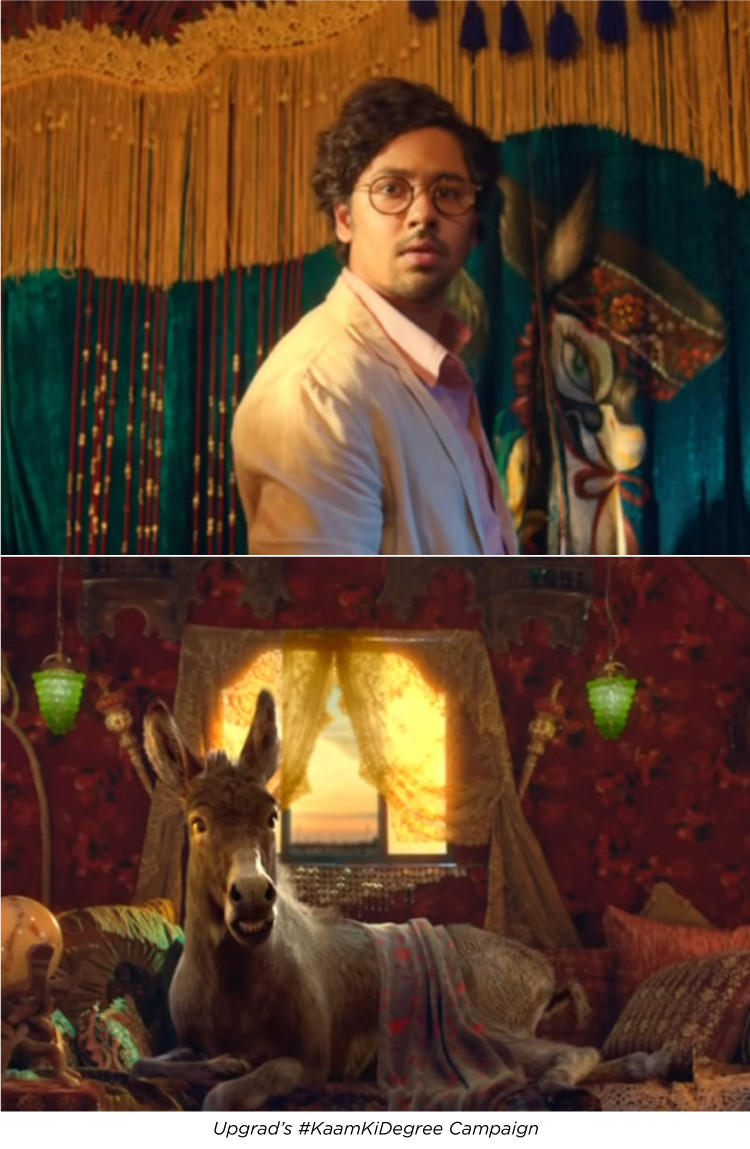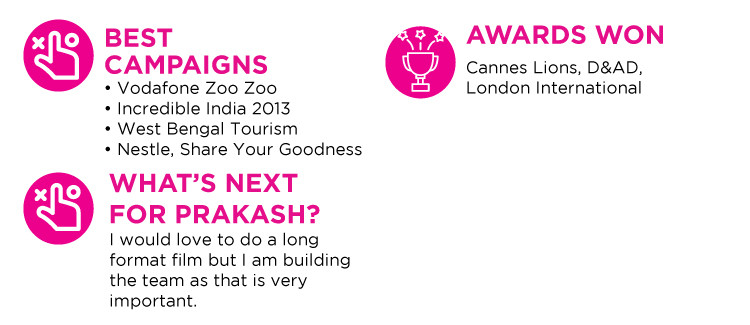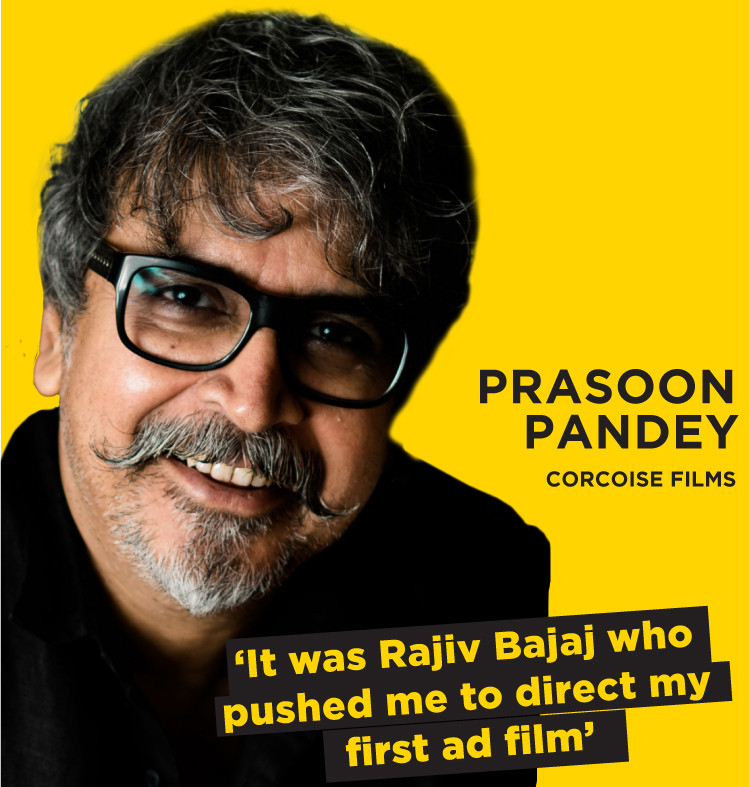 First Break
I was lucky because I was actually a creative director at Lowe, which was called Lintas in those days. And I wrote a film for Bajaj Sunny, and presented it to Rajiv Bajaj in Pune. I narrated the script to him. I like narrating the script rather than writing it and reading it out. So, I enacted it for him and he loved it. He said, "So who's going to direct it?" And I said, "Well, the first thing was to get you to like it, and now I know that you love it. So, I'll go back in, and let me see which director is most excited to hear the script." And he said, "I doubt, the way you narrated it, I doubt anybody can be more excited than you were. So why don't you direct it?" And that's it, it became my first film. And I was lucky because it was a great script, because typically what happens is that new director gets a smaller film to work on initially, and then you've to keep upping your game slowly, but I was lucky that I gave myself a really big script.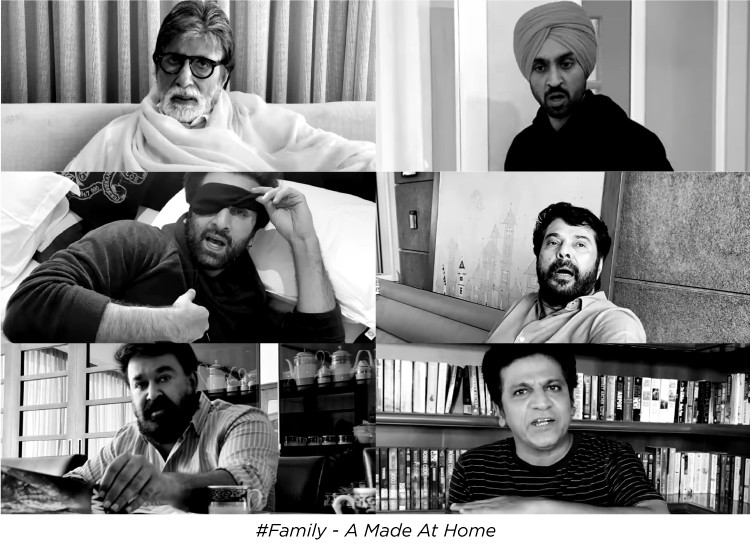 Love for Advertising
What I enjoy about ad films is that they are really short stories. And I've been fortunate that I've only got to work on short stories, always. And I find them really fascinating because they're sharp and like Haiku poetry. And I find that really exciting, in a way it is like playing a T20 game vis-à-vis playing a test cricket game, both are valid in their own ways. But I find the thrill of a T20 quite compelling.
How was Corcoise Films born?
My son Ayushman was six years old and he would draw really crazy figures, but those figures were really fascinating. So, I asked him one day, "what is this animal that you've drawn?" It was really colourful and freaky with multiple legs and everything. So he said, "This is a cross between a caterpillar, and a dinosaur." And at that moment, I said, "Wow, this has to be our logo." The name came later from my daughter, because she used to call cockroaches a Corcoise.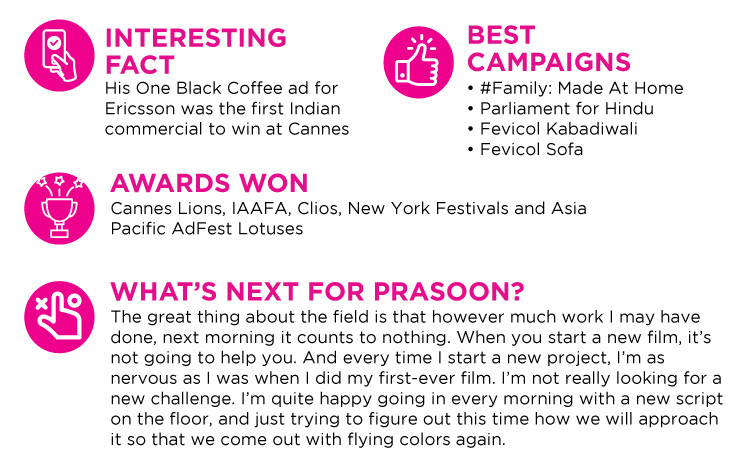 Campaigns
When the first lockdown was announced, I thought in a complete lockdown where nobody ever steps out of their house, can a piece of drama be created. So that was the challenge that excited me and in that moment I wrote that #Family - Made At Home film. And then I called up Mr. Bachchan, Ranbir etc, and everybody got excited, that'd be great fun because it's not a collage of images. It is a piece of drama where they're interacting with each other. So, what drove us in that moment was the challenge, that it has not been done before. And we made that film in six days' time and put it on air.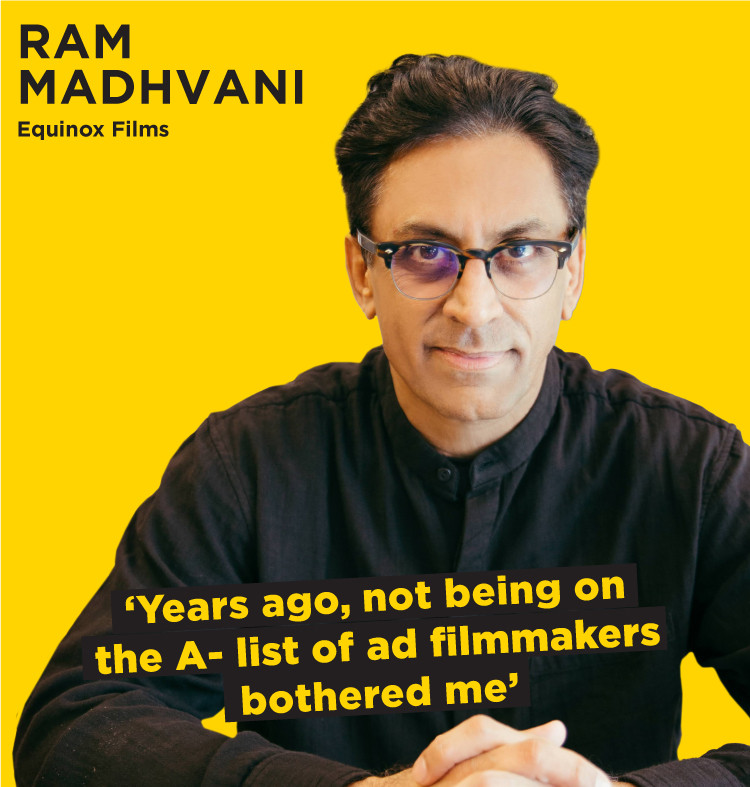 Getting into Ad film making
Some years ago, I had done Tata Steel – Ispat Bhi Hum Banaate Hai; Thums Up- Bungee Jumping; Dunlop Spectra Wide-- basically many ads that I thought would get me some kind of recognition. But somehow, I wasn't on the A list. If not a chapter heading, at least I wanted to be a footnote when they write the history of advertising filmmakers. It really bothered me. So, I stayed with my friend who had a rudimentary farm in Kodaikanal and wrote down the names of all famous ad film makers who are doing great work or work that I wanted to do, and said, how do I make work that actually had my voice where the industry feels only Ram could have done it? So that day I decided that I will become a visualist, and not a humanist. Post that every script that came my way, I would turn it into a visual script.
When did you finally arrive
When I started my journey I did an organ donation film that got me my first Cannes, then I did Adidas with Sachin Tendulkar. And that journey culminated many years later with Happydent. Then I knew that I had now conquered, and by the time Happydent came, everybody obviously had recognized that. My work was getting a certain signature so then I decided now that I've got here, I better reinvent myself.
The ad that is close to your heart
The ads that stay with you are the ads that didn't work out. There is work that you're remembered for, but there are many other things for which you beat yourself. There are days when I'm re-working with my creative director friends who I did that work with, and still apologizing for stuff that didn't go well. So those are the ads that I remember. And those are the ads that I wish I could have done differently.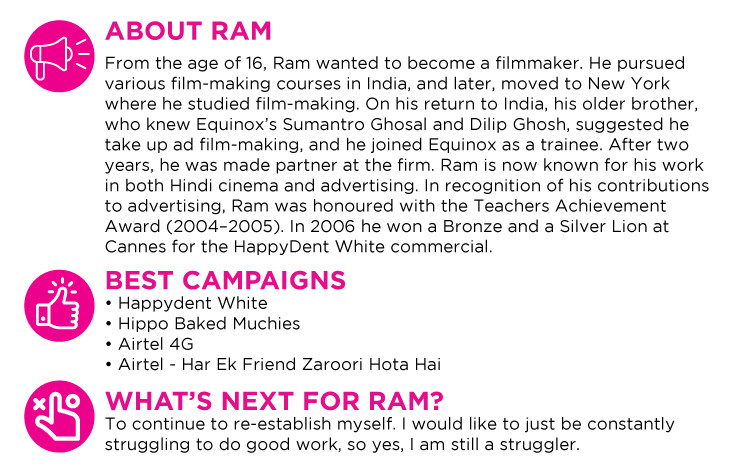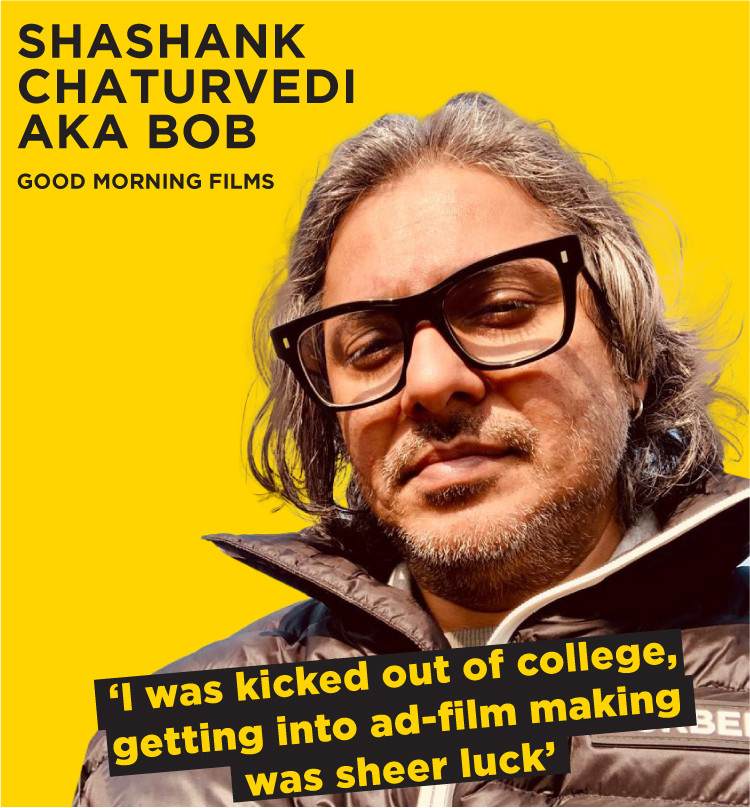 First Break
It was sheer luck getting into ad-film making. I was kicked out of college and was aimless till a friend got me into Channel V. I spent some time learning there and eventually my partner Vikram, who at that time just an acquaintance to hang out with, got me a job at Ambience and then at Adfilmvalas. My most constructive years were at Adfilmvalas where Kunal Kapoor, my Guru, gave me my first break into Film making. The first job I did was for Ogilvy, and the team was Rajiv and Mahesh. We did a bunch of Animation films for Hutch (now Vodafone ) and then we did the Irfan Khan series which became very popular.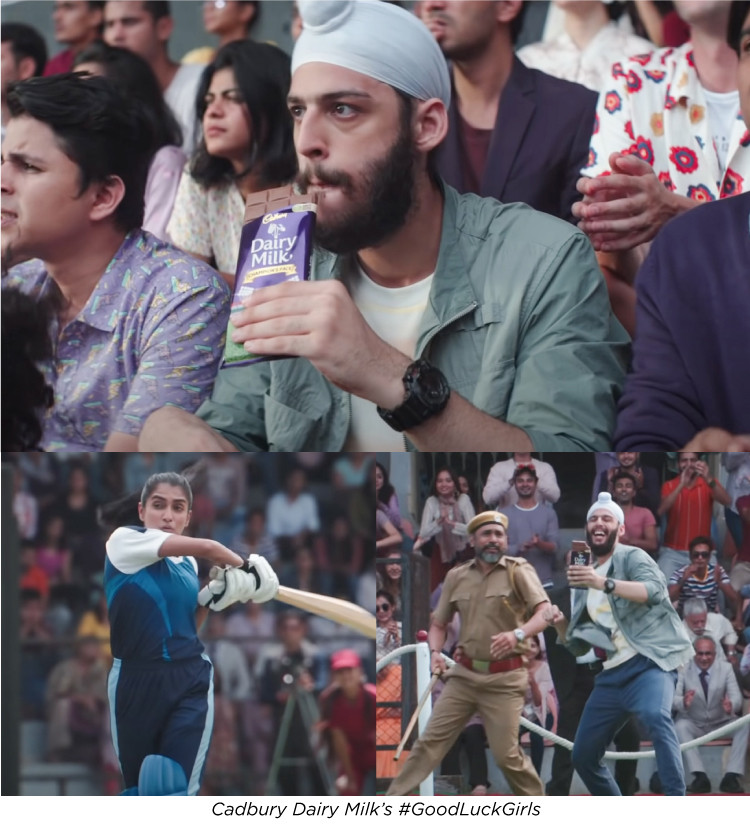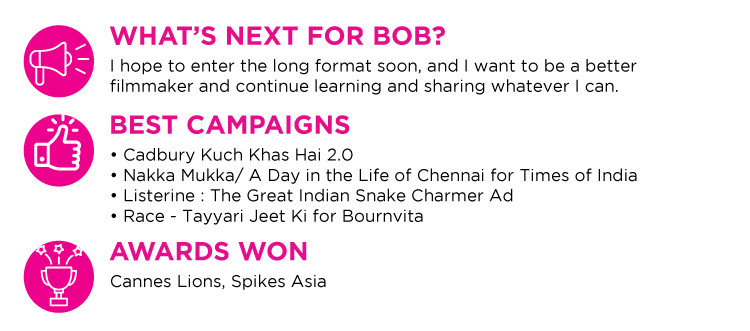 Love for Ad-Film Making
There is a lot of finesse and craft when it comes to ad film making, every aspect has to be spot on. The duration you get to tell a story is very little so you have to be extremely precise with your story telling. A lot of detailing goes into making a commercial. I remember when I used to see commercials made by Tony Kaye, Tarsem, Jonathan Glazer, Joe Pytka, there was something so unique in the style their stories were told, the craft was larger than life and the visual narration / music / set designs, etc. were at par or sometimes even better than a lot of movies I had seen. That's what drew me into ad film making.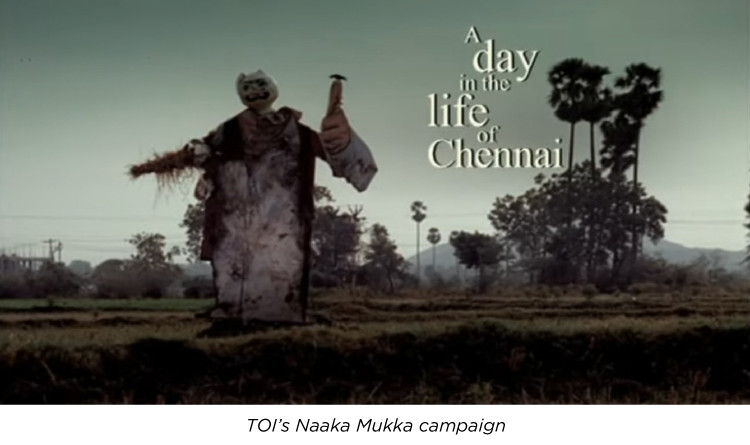 Beloved Project
Nakka Mukka for the Times of India is special. Not because we won the First 2 Cannes Gold Lions for India, but because we made the film purely with love. Good Morning Films was just about a couple of years old and we did this amazing film for Senthil and Aggie. It was a very topsy turvy ride on the film. From the execution plan to finding the music, the PPM itself was a disaster! Senthil and Aggie came to the rescue very quickly. The budgets were not great, and we knew we would end up going down financially. But my partner Vikram Kalra and I were absolutely clear that this is the film for us! It needed a bunch of crazy folks to do a film in the style we did. We shot for more than the days we had in mind. We had got Chennai on their toes and ended up in the underbelly of the city to get Authenticity! It was a dream project.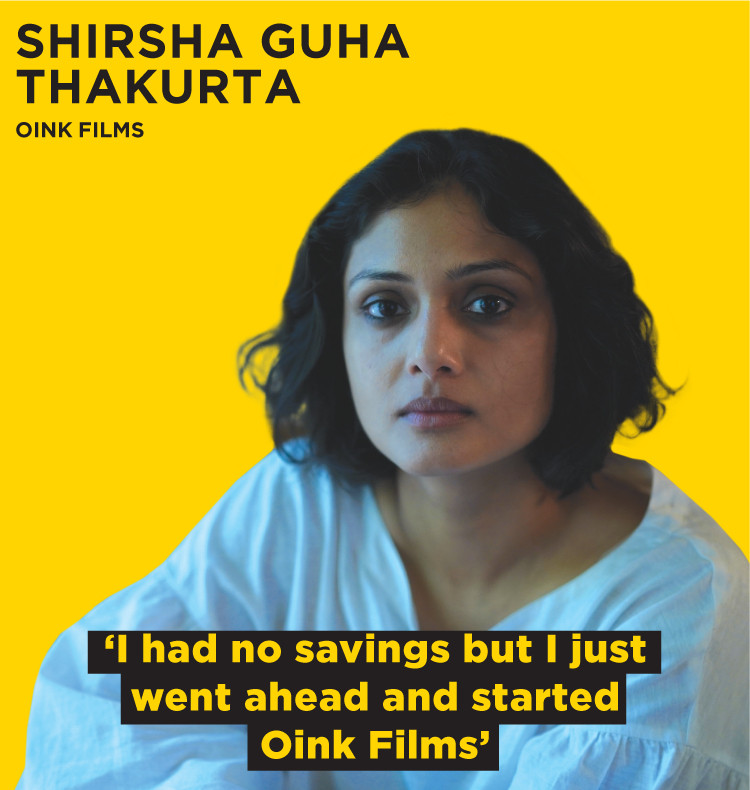 Beginnings
I started directing way back in 2009 with Little Lamb Films. Bauddhayan (Buddy) was extremely encouraging. At that time, we were still shooting on film, and there were no digital ads. So I started by making 5 second tags for films that Buddy was directing. I remember making a whole bunch of them for Horlicks. Then I graduated to 10 second tags, and slowly (very slowly) clients started trusting me with their main films. Basically, I went through the whole grind.
Birth of Oink Films
Oink was born because I wanted to take risks without feeling guilty about losing a producer's money. I wanted to try new things and choose the kind of work I did. I wanted to have certain principles which today we as a team stand by. We started small, and honestly I was foolish to start the way I did. I had no savings but I just went ahead and made a logo and started the company. But we as a team were fearless, and only took up work that interested us and worked with people we enjoyed working with. Money was always secondary. We started working with a lot of non-actors and new talent. We were flying actors from other parts of the world even though we couldn't afford them. But hey, we were having fun! Some of the work we did stood out from the clutter, and people started noticing us. As we continued to be pig-headed about the quality of our work, more clients and agency creatives started trusting us. We then started winning awards both in India and internationally. And more importantly, we made some great friends. Friends who trusted us with their best scripts and let us have fun with it.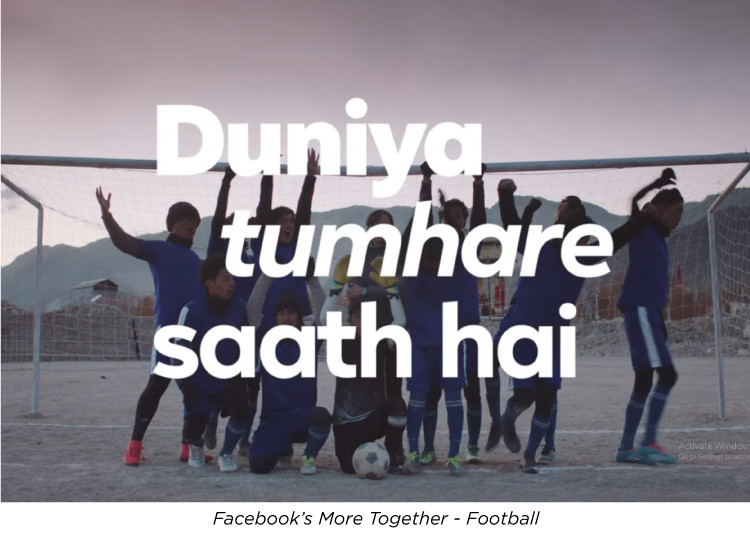 Campaigns
We once shot a football film for ISL where a storm followed us from one city to another. It was flooded wherever we went, and we had to continue to shoot in the rain. It was absolutely crazy, but we shot what we could. We would write new sequences every day and then change them again because most of our locations were either flooded or washed out. But we shot a lot of stuff and Prakash Kurup, our editor, took all of that and magically turned it into a film that eventually went on to win multiple awards.
For the WhatsApp campaign, it was for the first time that WhatsApp was advertising globally. They had never made an ad till then. So we had to figure out everything from scratch. How do we want to show the interface? How much branding is enough? The app designer was constantly in touch with us and helped us in the designing aspect. The client was a lean team of three and the agency was a lean team of three. We would have multiple meetings and together we tried to make a campaign that was addressing a very relevant problem.