Consider this, an FMCG brand allocates Rs 100 crores for marketing on Digital, and wants to set the frequency cap for exposure of his ad to three times for each consumer he is targeting during the course of the campaign, yet he may end up showing it to them twice that number of times simply because that person might be part of the universe of more than one walled garden, for e.g., Google and Facebook, leading to wastage right from the outset. Even if the ad manages to increase the brand search queries, website visits or purchases on Amazon, the marketer will have little to no information about at what stage and owing to which platform the viewer may have decided to make that purchase, leaving him in the dark about what really works for his brand on digital. Things would have been different, of course, had there been a common measurement system for Digital media today.



Elaborating on that, Ruchika Varma, CMO, Future Generali India Insurance Company says, "Brands need a common measurement framework to ensure consistency and informed decision-making for improved digital performance. An example we always struggle with is how a platform like X (Twitter) works on an impressions model while others work on reach. In this case, calculations become skewed because the denominator isn't standard. Another example is, success metrics of YouTube and Instagram is video views, however discoverability of videos on both platforms works very differently. In this case it's not easy to judge which platform has been more successful for videos."

She adds, "Without standardisation, comparing and analysing data from various sources is challenging, leading to inefficient resource allocation. Benchmarking against competitors becomes difficult. Additionally, cross-channel analysis is limited, and that impacts the ability to optimise marketing efforts effectively."

The growth of digital in the current times is unprecedented. The year 2022 saw a whopping 58% AdEx growth being contributed by the Digital sector. And in 2023, the Digital share is further expected to rise to 41% of AdEx from 38% after overtaking TV and Print. But all is not rosy on the digital front, as there is a looming dilemma of measurement for advertisers. What's the score? No one is quite sure.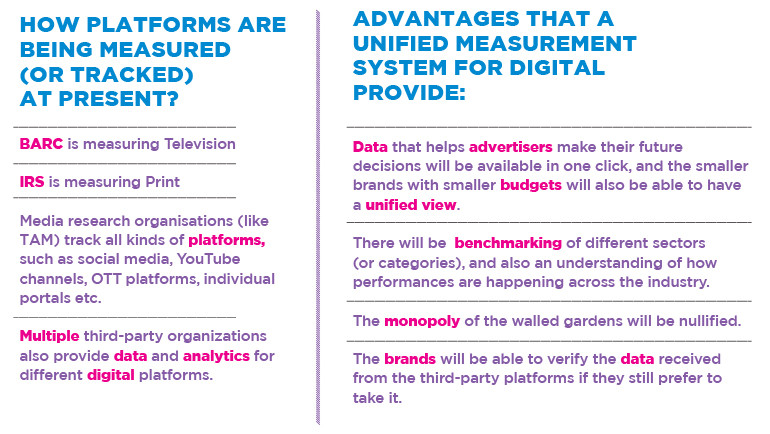 Currency to measure Digital – a need of the hour
It should be noted that the Broadcast Audience Research Council (BARC) had announced plans to come up with a unified cross-media measurement system to measure both Digital and TV videos by 2023. But that still seems like a distant dream, as BARC has not disclosed much about the system yet.

Accentuating the need for a unified measurement system for Digital, Umesh Shashidharan, Media Director at FoxyMoron says, "In Digital, there are walled gardens (Google, Facebook, and Amazon are the top three), and a majority of the spends are happening on these walled gardens. Now Google does not talk to Facebook, and Facebook does not talk to Amazon and vice versa. Therefore, a unified measurement system is absolutely required."

"Due to the lack of such a unified measuring system, the data that helps advertisers make their future decisions, and which has to be available in one click is now not available for most brands. The major brands that spend heavily (Rs 50 - 200 crores) may use advanced analytics (like Adobe Analytics) or marketing clouds etc. for this purpose. But common brands with smaller budgets (Rs 1 - 2 crores) cannot afford the advanced analytics to have a unified view. So, they end up making decisions in silos," he says.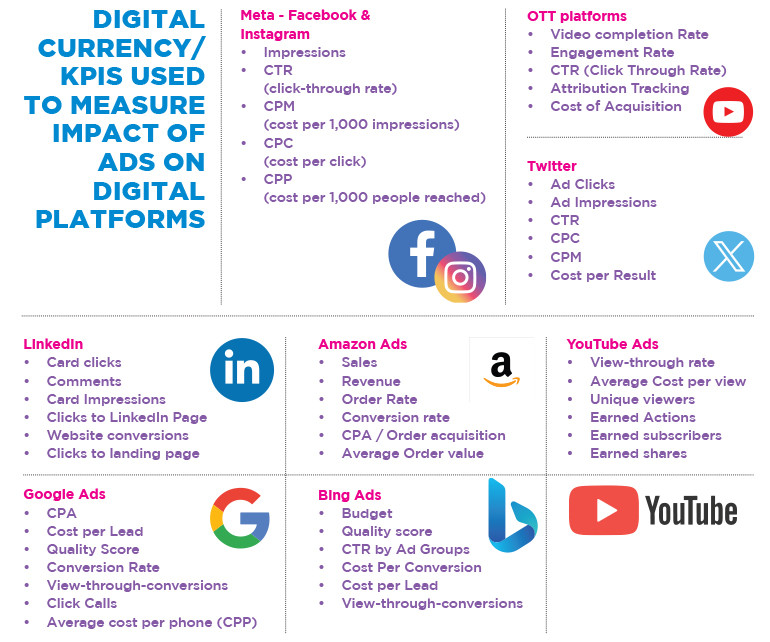 Echoing similar sentiments, Akshay Gurnani, Co-Founder of Schbang says, "In digital marketing, we have access to a lot of data and are able to report every kind of metric. But what is lacking at present is benchmarking of different sectors (or categories), and the understanding of how performances are happening across the industry. For example, if I am working with 20 clients, my scope of understanding is limited to those clients. That's happening because I am not able to get data on different categories outside the realms of the brands that I am working with. A centralised body or authority will be able to ensure standardisation and data points across categories."

LV Krishnan, CEO, TAM Media Research Private Ltd. believes that while an industry body is required, the actual requirement is to create an ecosystem that allows every digital platform owner to share individual data.

He says, "What is now required is not a measurement system, but a way to harness and unify the large set of data received from multiple sources, and a validator for industry usage. Traditional media does not provide for in-built systems to leverage audience data, and hence it requires some kind of external measurement systems. In Digital, the data is already available in multiple silos. Every platform provides data of its own network. So here, what we need is an industry recognised body that enables aggregation or unification of data, and acts as a third-party validator before releasing it to the industry users. The actual requirement is now to create an ecosystem that allows each platform owner to share individual data without violating the privacy of subscribers."



However, things are not as simple as they appear on the surface, as Shraddha Agarwal, Co-Founder and CEO at Grapes says, "There has to be a lot of transparency in the entire system. The Internet and Mobile Association of India (IAMAI) has been requesting Google and Facebook to become a central body for ensuring regulations among the advertisers, publishers and agencies. Now let's say, we partner with IAMAI. But there are several others who may not join hands with it. So, nobody is centrally controlling the entire Digital world, and hence, there is no such body that can create a consensus between large publishers, advertisers and agencies, and then do the tracking or introduce some sort of regulation."



Elaborating on the measurability tracking from a Digital point-of-view with more investments going into it, Rahul Vengalil, Executive Director, Everest Brand Solutions says, "If I were to divide the digital investments, there are three buckets. One is a Google ecosystem where we really don't know what is happening. Then there is the meta ecosystem, which is also another walled garden, and then you have the rest of the media investments, which go into digital." Of the overall investment happening on digital, Vengalil says, about 60 to 70 percentage of the investment goes into Google and Meta. The rest 30 to 40 percent is what all the other platforms get.

He further notes that when you use third-party technologies or ad serving platforms like Seismic, it is based on millions and billions of ad impressions, so, the sheer volume of things that are being tracked is huge. "Now you compare that with the BARC data (for TV), where the sample size is about 40,000 or 50,000 households. So, approximately 50,000 households are what are providing all your measurement and planning input for roughly 650-700 million devices."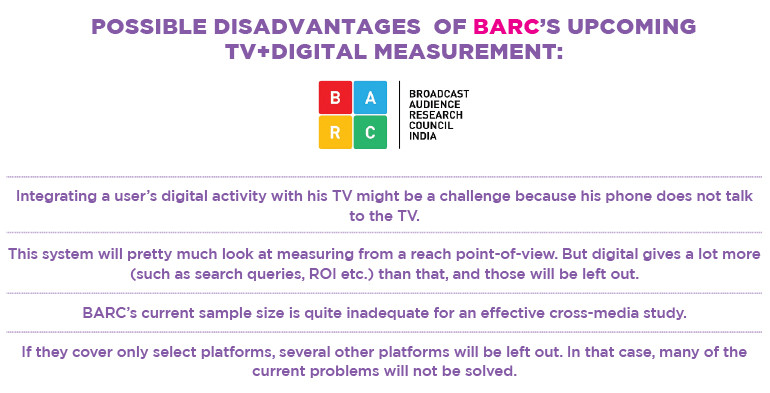 Whereas on digital, he further adds, you have trackabilty and measurability for every ad that is served, if served by a third party.



Measuring marketing effectiveness across platforms can be challenging given the vast digital ecosystem and the variety of key performance indicators (KPIs) available for measuring return on advertising spend (ROAS), says Ganapathy Sankarabaaham, CEO, Vajra Global Consulting Services. "Further, there is always the conversation around ROI vs ROAS. Measuring ROI can be challenging, especially when factoring in the cost of producing creative assets and executing campaigns. Measuring ROAS may be simpler, but it doesn't provide a complete picture of marketing effectiveness. Arriving at a holistic approach thus becomes critical," he affirms.

While Digital is climbing the ranks to become the top medium for advertisers and marketers, this gap in the system is making things increasingly ambiguous for all.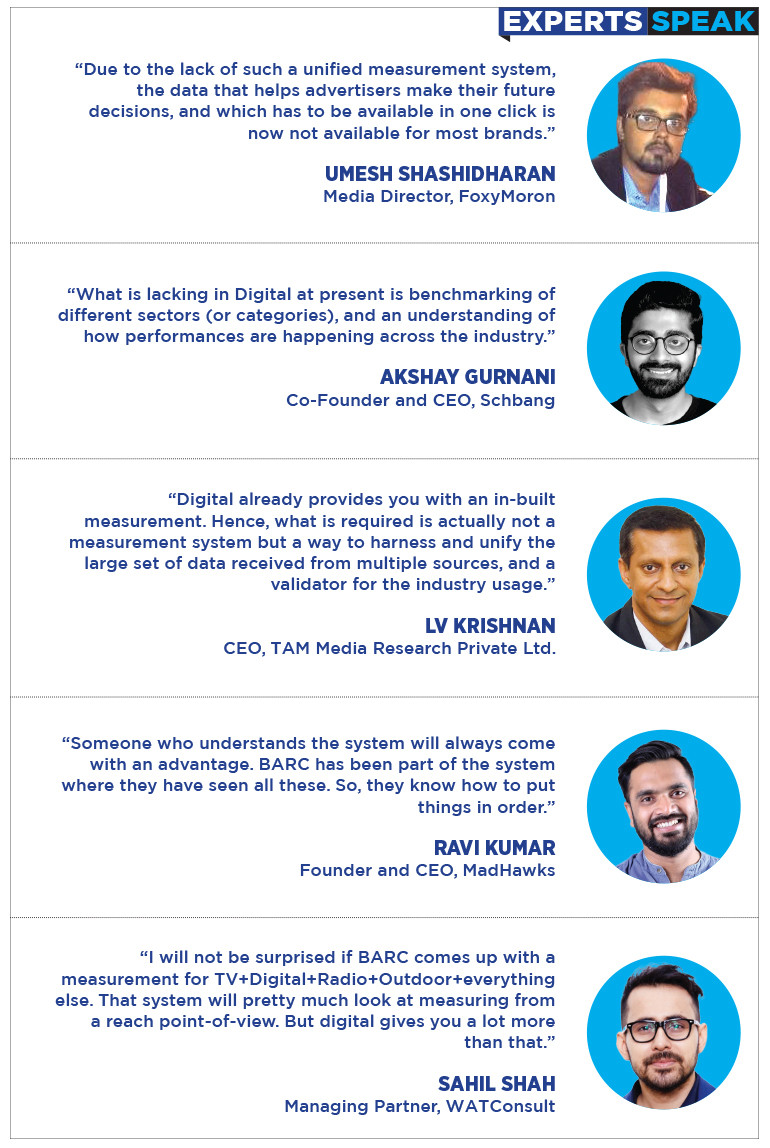 ---
WHAT DO
BRANDS

WANT

Shashank Srivastava, Executive Director at Maruti Suzuki India Ltd. says, "There are actually two points when it comes to the measurement on Digital. The first point is pre-investment. For example, I have launched Grand Vitara, and I want to get the message across, and I also have some audience in mind as a target group. Then I must have some scores pertaining to different platforms. I must know - How many people are coming to each platform? How much can be my reach? What will it cost me? For this, apart from taking data from the publishers, we can also use Comscore, which is a third-party system. The second point is post-investments. After I invest, the publishers will say that I have got so many views or so much reach, etc. Then too, I must have a third party to verify it."

"Now the important question is, whether that is sufficient? As an advertiser, I feel that we need to have a better system that can give us more details than what Comscore and other third-party platforms are currently providing. A unified measurement system will definitely be helpful for it," he says. Last year, Maruti Suzuki India Ltd. increased spends on Digital by 5-6%, and presently it is 27-30% of their overall spends.

P Madhavan, EVP-Sales and Marketing, TVS Eurogrip believes that a unified measurement system for Digital is important from an integrated media selection, response and delivery standpoint. He says, "As far as measurement on Digital is concerned, there are some gaps that need to be addressed. The first is Gross Rating Points (GRP) vs Impression. Presently, the integrated overall response to campaign investments is missing. We convert Impressions to eGRPs, which do not give the right picture. Secondly, for measuring incremental reach, we largely use the random duplication methodology to project the digital increment over TV plans. But the system lacks clarity. Thirdly, due to the walled gardens on Digital, marketers are unable to get a clear view on the cross-effectiveness of the plans."

TVS Eurogrip's spends on Digital were quite low over three years ago. Today, they are spending close to 10% of their marketing budgets on Digital. Madhavan says, "A unified measurement system for Digital will encourage us to provision significant budgets for this medium. It will also help us invest confidently on the medium, as we will be able to measure clear ROI and category SOE (Share of experience). However, for our category, it is critical to activate marketing campaigns with an integrated 360-degree approach."



Shirish Agarwal, Head - Brand & Marketing Communications, Panasonic Life Solutions India says that effective measurement benefits marketing in particular, and the entire business in general. Therefore, a unified measurement system is the need of the hour. He says, "Measurement can be helpful at two levels. First, marketing optimisation – from the standpoint of calibrating creative and media to the overall marketing objective of ROAS (Return on Ad Spend) and efficiency on investment. Second, business growth – from demonstrating the contribution of marketing investments to the business outcomes to distilling insights from platforms to build a customer-centric approach."

"The need for a unified measurement system is further amplified by the rapidly changing trends in Digital consumption. The Digital world has seen an increase in the time spent, more immersive ad formats, and last but not the least, Digital pivoting from performance to addressability," he further says adding that approximately 40% of their overall spends are going into Digital media. Their Digital spends are growing at an average of 20% YOY over the past 3 years.

Kapil Grover, Chief Marketing Officer, Burger King India, says, "Companies are increasingly spending media money on Digital platforms. More importantly, consumers have moved there. Some of the crucial things that marketers should know on digital platforms are - where is the right audience aggregation, how to attribute the right channel for the traffic that's coming to the platforms, how to measure the impact, etc. For all these, a unified measurement system needs to be created for Digital." Burger King India's spends on Digital was just 5% before the pandemic and now it has increased to 15%. For certain campaigns, it goes up to 20%.

Accentuating the need for a unified measurement system, Mehernosh Pithawalla, Senior Vice President & Head of Brand and Strategic Insights, Godrej & Boyce says, "Digital giants may be able to deliver the view through attribution, however, it's in their walled gardens and not at the media agency level. This leads to the point where we have to utilise multiple models to get an accurate representation of the customer journey, and the touchpoints that played the biggest role in conversion. With billions of dollars spent annually on TV & Digital, reliable audience information is required to evaluate and maximise the effectiveness of this investment." Godrej & Boyce has increased its media spending towards digital from 20% in the last three years to 40% in the current year, which includes spending on e-commerce.

Poulomi Roy, Chief Marketing Officer, RSH Global says, "The digital universe comprises a lot of platforms. Apart from social media, OTT, YouTube etc., there is also app advertising and gaming. The technicalities of each platform are different, and so are their demands and dynamics. So, I don't know how it will be possible to have a unified measurement system, but if it's possible, then there's nothing like it. Because then the measurement metrics become much more defined, it would help a lot to bring some method to the madness that is happening in the Digital space as of now." Much like many other brands, RSH Global's media spends on Digital has grown to 40% from its earlier 30%, and it's still growing.



Deba Ghoshal, Marketing Head, Voltas says, "From 5% we have increased our contribution toward Digital marketing to 30%. Today, we are dependent on our aggregating agencies or the buying agencies that give us the data in terms of returns on our investment or a third party, which is genre-specific. The different genres of Digital investments have different avenues of measurement, there's no syndicated research that tells you that this is how effective they are. So, we are dependent on different genres who gave us data from different investment perspectives."



Ram Mehrotra, VP, Decorative Sales & Marketing at Kansai Nerolac Paints Ltd. also underlines the pressing need for a standard measurement system for Digital. "More and more companies and spends are going into Digital Marketing. The better the measures you can have, the more conscious the decisions that you'll be able to take in terms of which media to use for better cost, and how efficient it is in terms of reach."



Talking about how the brand has recently started investing in digital, Saket Todi, Executive Director, Lux Industries says, "We have moved to 15% budget for Digital now. So, we are still very new to this. Right now, we are using the third-party system to analyse this, and are relying on our immediate, internal stats for data."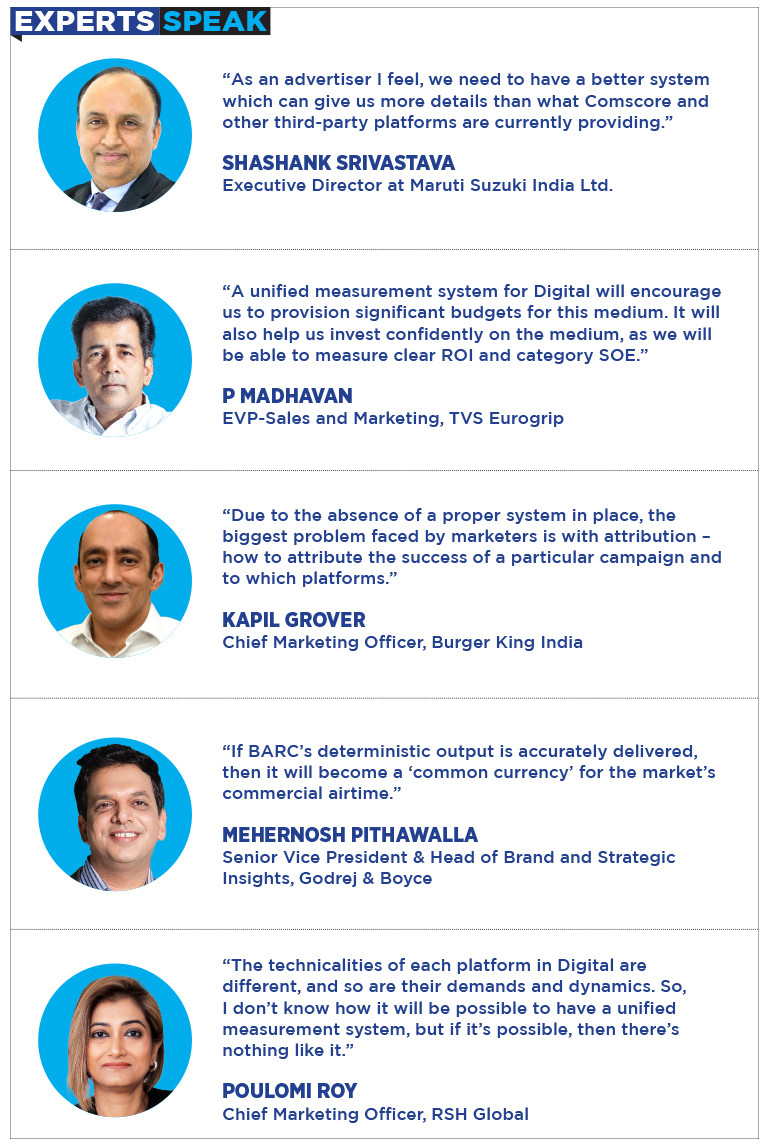 ---
The
CTV

opportunity

India emerged as the fastest-growing Connected TV market in the world in 2020. In 2022, CTV's reach increased to 10 million in India and will reach 45 million by 2025, estimates a FICCI-EY report. An increasing number of people are transitioning from pure linear audiences towards connected TV consumers. As a result, the medium is attracting all kinds of advertisers. Last year in April, WPP's media investment arm GroupM announced the launch of Finecast in India, a first-to-market addressable TV service that enables advertisers to target households with relevant TV ads across multiple TV channels, pay-TV platforms, set-top boxes, a range of video on demand (VOD) services, over-the-top (OTT) providers, and game consoles.

Where traditional television advertising used to target viewers based on the programmes they were watching – from which they inferred their demographic – addressable TV advertising is now able to target specific households via household IP addresses. The households in question can be segmented according to their geographic, demographic, and behavioural characteristics. They are then shown relevant ads while they watch their regular TV programming, when they live-stream content, or when they watch on-demand TV. However, while the Connected TV audience keeps growing, the industry is yet to solve the 'measurement issue' in the space.



Karan Taurani, Senior Vice President - Research Analyst (Media, Consumer Discretionary & Internet), Elara Capital says, "I think some sort of measurement around connected TV would be the need of the hour and many of these companies have already started to work on that strategy. The universe is very small in terms of connected TV. Secondly, if you look at what has been happening around CTV measurement, even that is something new, and in experimentation mode right now. So, I think, it will take some time for confidence to build from the advertiser's side."



Pooja Baid, CMO, Philips says, "Our experience tells us that Connected TV for some categories really works for us. But Connected TV and OTT platforms are all walled gardens, and you do not get a lot of comparable measurements across all of these as you go forward. Also, you cannot retarget audience that you've already reached. We at Phillips are an extremely ROI-focused organisation. As a company, we do believe in optimising our spends continuously for higher and higher ROI as we go forward."



Vishal Subharwal, CMO, HDFC Life also shares his experience of advertising on CTV. "We experimented with Amazon Fire TV two years ago, before it became a trend." The brand collaborated with their agency partner Logicserve Digital to reach Fire TV's audiences for driving impactful awareness for their insurance solutions. Subharwal says, "We might do it in specific markets, geographies, and look at multiple things in terms of likeability of the films, trace the awareness of the product category and on whether the audience were able to correlate it to HDFC Life insurance company, and so on."



To optimise and drive higher media efficiency, an absolutely critical metric that brands seek today is Deduplicated Reach across all platforms. Nielsen's Digital Ad Ratings (DAR) has been powering this measurement for the past seven years in India, according to Vishal Kamath, Executive Director - Audience Measurement, Nielsen India.

Nielsen had announced the launch of its cross-platform Nielsen One Ads – its latest innovation in measurement, that claims to provide a "consistent, comparable and deduplicated view of ads across screens". "Using Nielsen ONE Ads, advertisers, brands and publishers will be able to understand reach and frequency, deduplicated across linear TV, Connected TV, desktop, and mobile. It will be able to accurately measure: On target percentage, average reach by age and gender, average frequency by age and gender, gross rating points, tracked ads by age and gender, inclusive of co-viewing for linear TV and CTV and demo efficiency rate," says Kamath. However, the service is yet to be launched for the India market and is initially available only in the U.S., he disclosed, while adding that they have received huge interest from their clients in India. In fact, from November 2023, Nielsen plans for its Digital Content Ratings Solution (DCR) in India to be powered by Nielsen's Identity System. It will provide census-level data for an online property's digital audience.

Tools like Google DCM, Nielsen, Seismic, and more are serving ads from a unified user perspective. "But the output is not entirely comprehensive, as they haven't yet been able to get all the platforms together," says Shraddha Agarwal. "For instance, Google won't be able to serve ads on Facebook, while Nielsen's tie-up with Facebook allows them to do that in addition to serving ads on Google and several OTT platforms. But there are still numerous apps and websites that don't have any such SDKs (Software Development Kits) available, thereby barring them from attaining a unified viewpoint. So, with the help of serving platforms, we're somewhere around 60-70% synchronised and we still have a considerable way to go to make it to 100%."