With the Indian government recently setting off the process for 5G-adoption in the country, we unravel the immersive experiences that marketers can create using high-speed wireless networks, and the odds that telecom operators have to overcome to roll out the next generation technology.
India is getting ready to hop on the 5G bandwagon in 2022. The Finance Minister in her Budget speech put all speculations about the timing of the 5G rollout to rest. "Telecommunications in general and 5G technology in particular, can enable growth and offer job opportunities. Required spectrum auctions will be conducted in 2022 to facilitate the roll-out of 5G mobile services within 2022-23 by private telecom service providers," said Nirmala Sitharaman.
The telecom regulator had recently concluded the process of consultation on the 5G spectrum auction with all stakeholders, and sought the industry's views on the base price, quantum of the spectrum, band plan, and other aspects.


How 5G will transform the marketing world
Gaming
Smartphones populated gaming fans across India, and 5G technology along with cloud gaming infrastructure and web 3.0 are going to push the growth further. According to the Boston Consulting Group (BCG) and Sequoia India report, the gaming market in India is expected to touch $5 billion by 2025. AR, VR, and XR will make gaming more immersive and real-time. Telecom operators can tap into gaming to diversify revenue opportunities. Airtel is already focusing on gaming and conducting cloud gaming sessions as part of the 5G trials. "High speed 5G will mean that phones won't be restricted to typical mobile games. Any game can be played on a cloud server and streamed to a phone in real-time. Even lower-end phones will have access to the same games as higher-end devices," says Higgins of Netcore.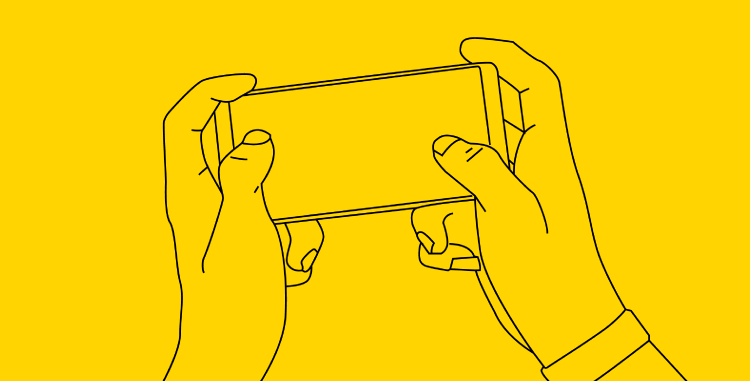 Live streaming
It is expected that live streaming will evolve by leaps and bounds on 5G networks with a 10 X reduction in end-to-end latency and 20 X faster speed, which will make 4K and 8K video streaming possible. The technology will redefine the way content will be created and watched, with multiple camera angles, and even shared across geographies in no time.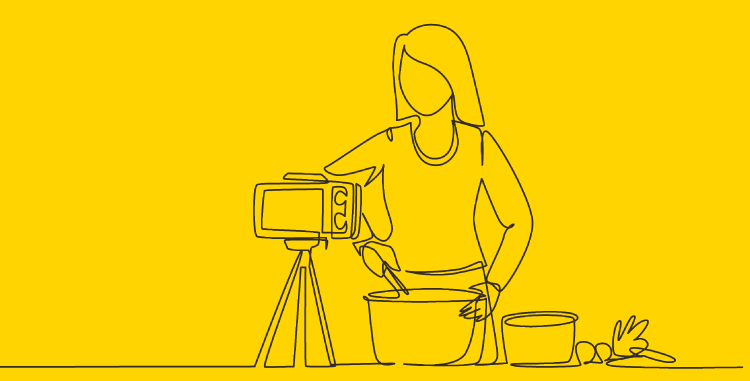 The fifth generation of wireless technology can conjure images in the blink of an eye, create mesmerizing visuals, and make content appear and disappear like a skilled conjurer. 5G is indeed a revolutionary technology. It has the potential to transfer data up to 10-60 Gbps, unlike the currently dominant 4G technology that can transfer only up to 20 Mb data per second. Its promise of immersive experiences is backed by Augmented Reality (AR), Virtual Reality (VR), and Extended Reality (XR). Its ultra-low latency (<1 millisecond of latency) can deliver sensory experiences like touch in real-time. Its stability, reliability, and potential to enable 100x more connected devices can indeed be a game-changer. How exhilarating it would be to download a 2-hour long movie in less than 60 seconds, or check out a car you have your heart set on through VR from the comforts of your home!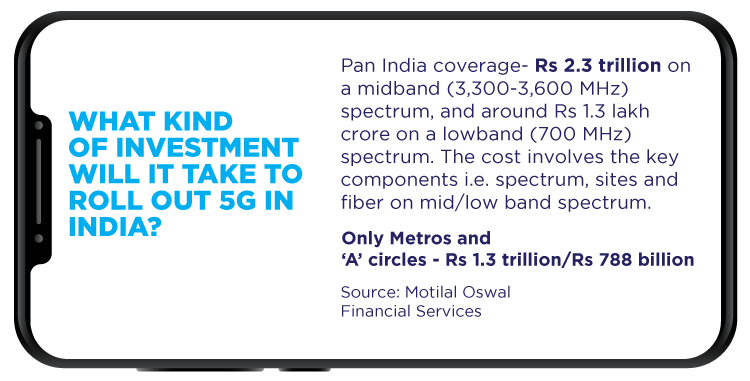 "The advent of 5G is sure to transform communications – for our industry, it will help the creation of better AV, voice, and AR/VR experiences. It will also fuel digital

payments, streaming entertainment, gaming, e-commerce, telemedicine etc, which in turn will aid more Unicorns!" says Anupriya Acharya, South Asia CEO, Publicis Groupe
The speed and efficiency that the 5G technology will provide can significantly help businesses boost performance, and revenue growth. This transformation will not be limited to how business will operate, but will also extend to how they engage with consumers and create high-impact advertising with new genres of immersive and interactive content, compared to what the 4G LTE technology can offer.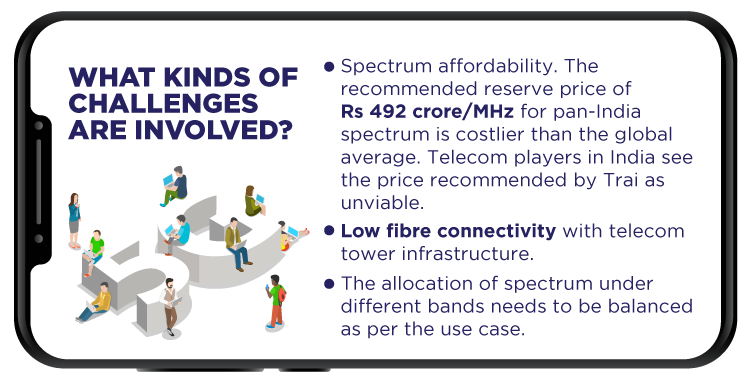 "With the rollout of 5G, digital advertising is expected to take huge strides - proving to be transformational to the advertising landscape. The accelerated growth and

adoption of 5G will offer companies and advertisers a vanguardian opportunity to create unparalleled yet timely immersive marketing moments," says Monaz Todywalla, CEO, PHD India
As per industry experts, consumption of data by 5G subscribers is 2-3 times higher than that of 4G users. The technology will not only result in increased content, but also open up opportunities for more innovative advertising.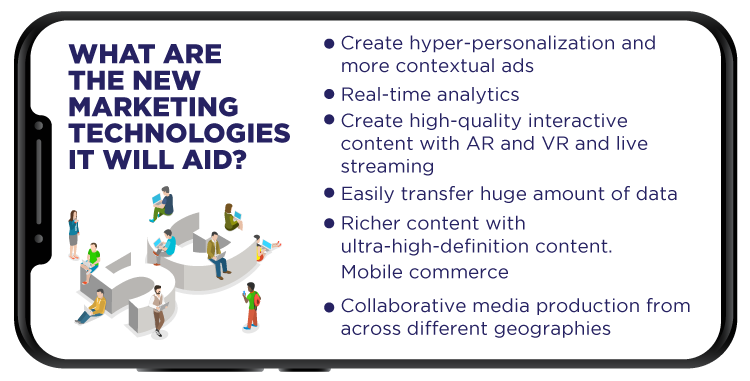 "5G is offering a glimpse of the future in media, advertising, and entertainment. The high capacity and real-time response of this technology will enable IoT and machine-to-machine data interactions. This will soon allow for multifarious wearables and sensors that will churn out an inordinate amount of data, giving a peek into the consumer's current state of mind or mood. This level of personalization will be backed by amazing life-like visualisations overlaid on the real world with AR, paving the way

for next-gen digital experiences that are closest to what you are feeling at that very moment," said Manish Sinha, Chief Marketing Officer, Sterlite Technologies Ltd. (STL). The company offers homegrown end-to-end 5G solutions to enterprise and telecom partners.



How 5G will transform the marketing world
Live commerce
With the use of 5 G networks, opportunities to check out products through AR or VR will transform shopping into an extremely convenient, fulfilling, and fun-filled experience.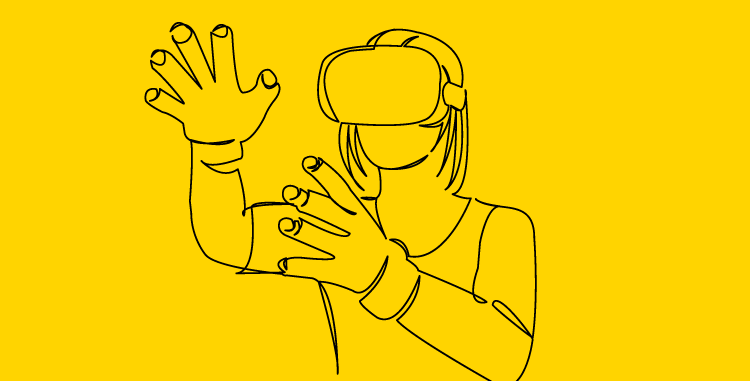 OTT
Opportunities for OTT players with a focus on vernacular or culture-specific content will significantly rise. As per PwC's report, Global Entertainment and Media Outlook 2020-2024, 5G will result in an exponential growth for the OTT market. The OTT revenue from subscription-based streaming in India is expected to be the sixth in the world by 2024.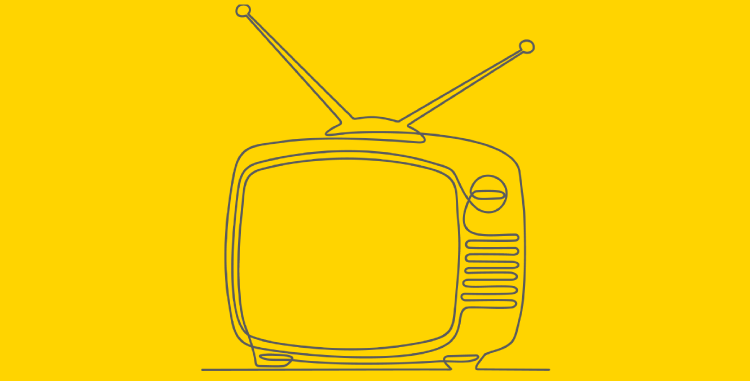 Creative advertising
Promotional content on Metaverse will usher in innovation by making the content available in three dimensions, paving the way for interaction with the target audience. The impact will be instant in terms of multiple times increased recall, and brand connect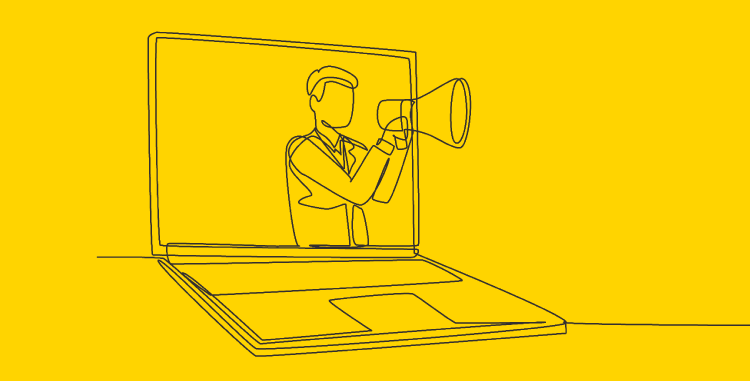 "From the marketing standpoint, you'll have a big impact because overall content consumption is going to go up, time spent on mobile will increase, consuming more content, so advertising opportunities increase significantly. This will have an impact on advertising online, media online, and eCommerce and m-commerce. You'll see a lot

of ad budgets going up", says Prashant Puri, CEO & Co-Founder AdLift, a digital marketing agency.
Advertisers can look forward to more interactive and breakthrough creative formats. "Ultimately, this new generation of digital experiences will redefine brand relationships with consumers. Brands and advertisers that understand 5G's capabilities will be able to unlock new ways to invite audiences into their narratives.

Digital will evolve from 2D to 3D, and interactive and live content will become the norm," says Vishal Mukesh Parekh, Director Monetisation, Yahoo India, a subsidiary of Verizon media.
Marketers will have the opportunity to offer content-rich advertising across multiple screens, starting from connected devices, cars, homes, billboards, to connected AR glasses, opening up the way for interactive advertising.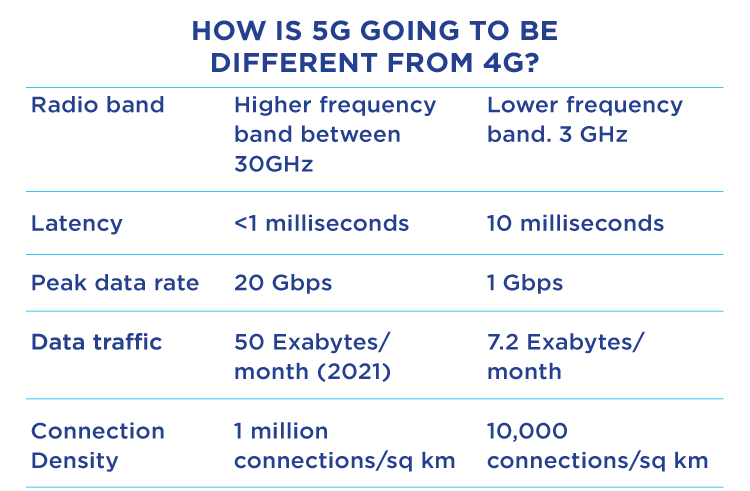 "It is highly likely that news and entertainment will primarily be viewed as live feeds on the smartphone lock screen, and attending meetings or meetups will be done in the

virtual space. This will mean that brands will have to invest and build deeper virtual experiences, as consumers supplement their day-to-day activities with newer habits," says industry analyst Neil Shah, Partner, Counterpoint Research.
"5G will enable brands to adopt native advertising seamlessly. It will extend an immersive, engaging, and life-like experience for customers through interactive use-cases like product try-on, mixed reality portals, and product demonstrations right in their homes. For instance, in the case of cricket, 5G can revolutionise sports broadcasting. Broadcasters could stream multiple video feeds simultaneously and give control of multiple cameras to the consumer due to the bandwidth

and latency that comes with 5G. This will offer a greater immersive video experience to audiences anytime, anywhere," according to Adarsh Nair, CEO, Airtel Digital.
The sixth edition of the State of Marketing report by Salesforce, released in 2020, states that 60% of marketing leaders believe that greater speed and innovations like VR brought on by 5G will majorly influence marketing, and the customer experience in the decade ahead.
"Marketers and their partners need to be cognizant of the winds of change that 5G will bring to the table, and be prepared to embrace mixed-media strategies with an enhanced focus on Digital," says Monaz Todywalla, CEO, PHD India.
"With high-quality interactions, live content, and brand immersive experiences set to blur the lines between offline and online worlds, consumers will get to experience

improved personalised marketing across touchpoints," adds Todywalla.
Dia Kirpalani, VP, and Head Strategy at Blink Digital, a full-service digital agency, expects audience demographic definitions to widen as well as 5G democratisation. "On the TAM (Total Accessible Market) front for marketers and advertisers, we can expect audience demographic definitions to widen as 5G democratisation brings more consumers into the fold of the internet, from smaller towns and cities, and even rural India over time."
Creating a new generation of digital experiences will become more possible than probable, as brand and consumer relationships get redefined for not just the urban, but even for rural population online, who will be looking for voice-driven, vernacular content.


"Hyper-personalised experience that merges communication, user data, and real-time analytics will take the communication possibilities to new heights," adds Vishnu Sharma, Founder & CEO, Efficacy Worldwide, a full-service marketing agency.
Even as the digital ecosystem flourishes, some voices believe that the non-digital media may see a gradual decline. "With Digital becoming the second biggest channel for advertisers last year and almost 60% of digital advertising expenditure going to mobile in India, it appears that 5G will accelerate the decline of

non-digital media. India is already mobile-first in its approach (almost 90% of consumers access the internet using mobile as their primary device) but 5G will cement this," says Vasuta Agarwal, SVP & Managing Director for the Asia Pacific at InMobi.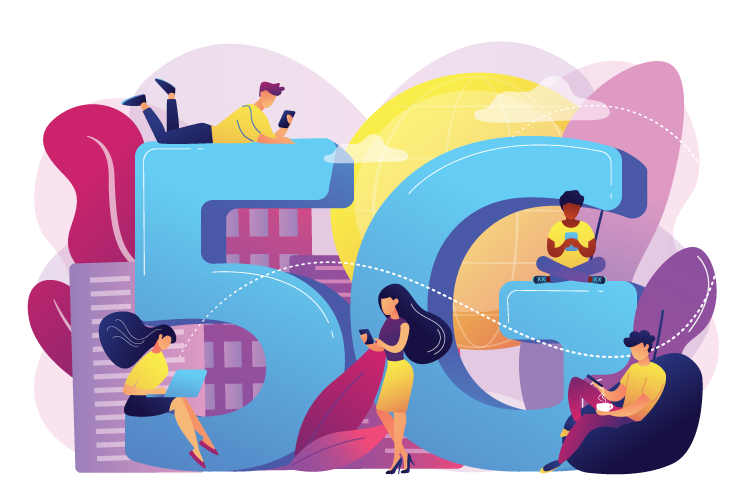 "Globally, non-digital media has been declining. India is one of the few countries that still hasn't followed that trend, but it will certainly happen. 5G will still take time to roll out, but yes all forms of faster and more accessible internet will contribute to the shift to digital media,", says Chris Higgins, Senior Vice President,Marketing at Netcore Cloud, who strongly believes that technology has put marketing at the most exciting phase, which will continue to reinvent.


On the contrary, Harikrishnan Pillai, CEO & Co-Founder, TheSmallBigIdea, believes that considering the sheer size of the Indian market, there is enough dough for all. "The projected active digital users at the end of 2025 are 900 million, which leaves a large market untapped. As far as TV goes, there are 90 million households that are yet to own a TV set. It's going to be a competitive game, where both mediums will chase the untapped to adopt them. And the untapped, which in this case can be classified as laggards, chose functionality over sass. That doesn't mean that a non-digital medium like satellite television would die a natural death. What will happen is that the current digital content experience will get enhanced and hence make the digital content space more competitive and creative. The action will largely be within the digital ecosystem and not traditional vs. non-digital medium," he says.
While Pillai believes that the Radio segment may get adversely impacted by the next-generation technology, the industry players are hoping to gain from the 5G rollout in the country.
"The use of 3D sound & usage of ASMR over Radio waves may become more viable and hence Audio Branding may become a more powerful tool with faster and more data

transmission per second. On the consumer front, this will however lead to more connected devices, and result in a large competitor set for Radio to monetise beyond radio to podcasts to Digital views," says Abraham Thomas, CEO, Reliance Broadcast Network Limited
"5G will also allow us to broadcast rich audio and video content in high-resolution format, with sound quality comparable to CD, rather than the current

compressed format. It is thus needless to say that 5G technology is set to benefit the radio industry as well as users owing to features such as lightning-fast data, speed, massive bandwidth, and low-network latency," adds Ashit Kukian, CEO, Radio City
Fighting against odds
5G is expected to change how advertisers or marketers approach data-driven marketing. The marketers will be compelled to unlearn and learn, and to navigate the evolved advertising ecosystem.
"With the advancement of technology comes a new set of challenges. For instance, to offer interactive, immersive content through 5G, companies will need to effectively manage and solve new threats to customer security and privacy. Similarly, a new set of measurement tools will be needed for monitoring performance and trust for the evolving ad formats," says Nair of Airtel Digital.
Telecom operators have already completed their 5G trials on the bandwidth provided by the telecom regulatory authority of India. In December last year, the Department of Telecommunications had named 13 cities in India, Delhi, Mumbai, Kolkata, Chennai, Gurugram, Chandigarh, Bangalore, Ahmadabad, Jamnagar, Hyderabad, Pune, Lucknow, and Gandhinagar, which would get 5G first.


"We have embraced Cloud for our core network to gear up for 5G services. We have methodically upgraded our transport and radio networks to cater to the huge traffic demand that will arise out of millions of connected devices on 5G, in the future," says Ravinder Takkar, MD & CEO, Vodafone Idea Limited. Vodafone Idea Limited (VIL), a leading telecom operator, demonstrated a range of 5G-based technology solutions as part of its 5G trials in Pune, Maharashtra, and Gandhinagar, Gujarat
The telecom industry has a stiff task cut out. According to a report by Motilal Oswal Financial Services, the pan India rollout of this technology will require a solid investment of around Rs 1.3 to Rs 2.3 lakh crore, mainly for spectrum, laying out the optical fibre cables, and building the tower infrastructure.
Telecom operators have already shared concerns that the recommended reserve price of the spectrum at Rs 492 crore per MHz for Pan India is steeper than the global average price. They have requested the authority to slash the price by 90% and fear that high spectrum prices may result in furthering the delay of its roll out. There are multiple other challenges related to the technology itself as well as the last mile telecom connectivity in the country.
"While the cost of the spectrum will be critical, the rollout will be a function of the type of spectrum an MNO possesses. If it's C-band (3.5GHz) it will be deployed mostly for urban and suburban use and need to clear with the aviation authority as well. If mmWave (26GHz+), then it will see more hotspot deployments as these higher-order frequencies can't easily penetrate the walls. The lower order spectrum 700MHz, 2100MHz, etc will be for suburban and rural targeting broader coverage. In some cases, sharing infrastructure would be prudent, else it could be challenging especially in urban scenarios," says Neil Shah, Partner, Counterpoint Research.
5G is seen as a catalyst for change. Even if 5G technology starts rolling out in different cities by the end of 2022 or in 2023, considering the staggered rollout, brands and businesses may accrue the limited benefit of the smartest, fastest, and most immersive wireless technology that promises to transform the consumer experiences across the industries.