Amidst the gloom and doom in the global economy due to higher than expected inflation, the Covid-19-induced lockdown in China, and the spill over effect of the Russia-Ukraine war, there is one sport that has bucked the slowdown trend. Often described as the gentleman's game, Cricket has seen a massive fund infusion in 2022 headlined by the record media rights bids attracted by the Indian Premier League (IPL) and the International Cricket Council (ICC).

In June, the Board of Control for Cricket in India (BCCI) sold IPL media rights to Disney Star (TV) and Viacom18 (Digital) for Rs 48,390 crore ($6.02 billion) for five years. Two months later, the ICC sold the media rights for India to Disney Star for a record sum of Rs 24,000 crore ($3 billion) for a four-year period. Between IPL and ICC rights sale, the Cricket Australia and England Cricket Board (ECB) sold their media rights for $250 million each (roughly Rs 2000 crore each). The Cricket Australia media rights have been sold to Disney Star for seven years while Sony Pictures Networks India (SPNI) retained ECB rights for the next six years.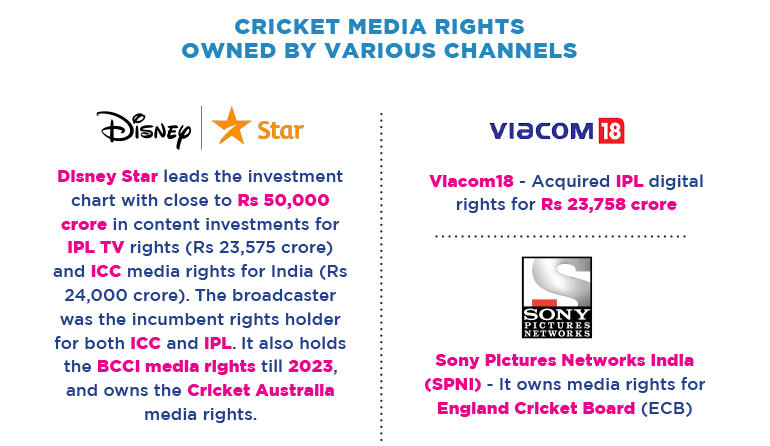 Between these four properties, broadcasters Disney Star, Viacom18, and Sony Pictures Networks India have committed upwards of Rs 76,000 crore ($9.5 billion). The media rights fee will be paid over the next few years depending on the duration of the media rights cycle. With the Board of Control for Cricket in India (BCCI) and Asia Cricket Council (ACC) media rights expected to come up for renewal, experts reckon that the total cricket media rights value could possibly reach Rs 100,000 crore ($12 billion). In 2018, Disney Star acquired the BCCI media rights for Rs 6138 crore ($944 million) till 2023. Going by the bidding frenzy during the IPL and ICC rights, the expected value of BCCI media rights for the next cycle is anybody's guess.

Disney Star had the upper hand during the IPL and ICC media rights bidding. The Walt Disney-backed company bagged the IPL TV rights and ICC media rights. In the process, the broadcaster has committed close to Rs 50,000 crore for the two properties. It acquired IPL TV rights for Rs 23,575 crore while it paid Rs 24,000 crore for the ICC media rights for India. Viacom18, the new player in the sports broadcasting ecosystem, bagged the IPL digital rights for Rs 23,758 crore.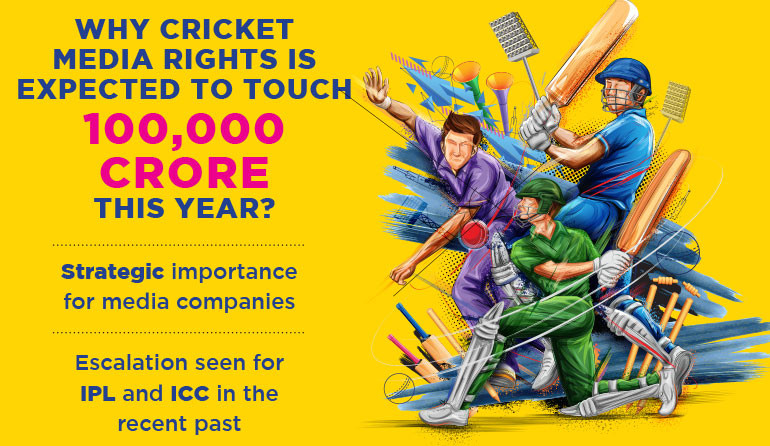 Media Partners Asia VP Mihir Shah believes that a Rs 100,000 crore kind of number for all the major cricket rights is very much in the realm of possibility. "We could see roughly Rs 100,000 crore going into sports. Given the kind of escalation that we have seen for IPL and ICC, even BCCI wouldn't be a surprise. By the end of this year, everyone will have visibility on their content investments. Next year, companies will accordingly recalibrate their content spends on entertainment," Shah said.

Shah feels that the BCCI media rights will see a bidding war as Reliance Industries-Paramount-Bodhi Tree backed Viacom18 and Sony-Zee combine will challenge Disney Star to bag Team India's home matches. "Jio-Viacom18-Bodhi Tree has got a play on IPL. Disney is secured with IPL TV rights and ICC digital rights. Sony and Zee might go for BCCI rights since they have already created a war chest," he added.

Bhairav Shanth, MD, ITW Consulting said that this whole $10-12 billion playground over the next five years is to establish the platform to serve cricket's digital-first audience and find new ways to engage and then monetise them. "Think of this spend as an investment on a highway network on which Indian sport's broadcast commerce will run over the next decade," he stated.

According to Shanth, the common thread in both the bids is what happened on the digital rights front. "In the IPL they were valued at par with TV rights, and in the ICC one Star sub licenced its TV rights and retained only streaming rights. It is a great indicator of the inevitability of digital overtaking TV in this cycle. So a key driver in value is the race for the next 100 million subscribers - In both the rights auctions, the real play has been in terms of digital rights, driving the growth."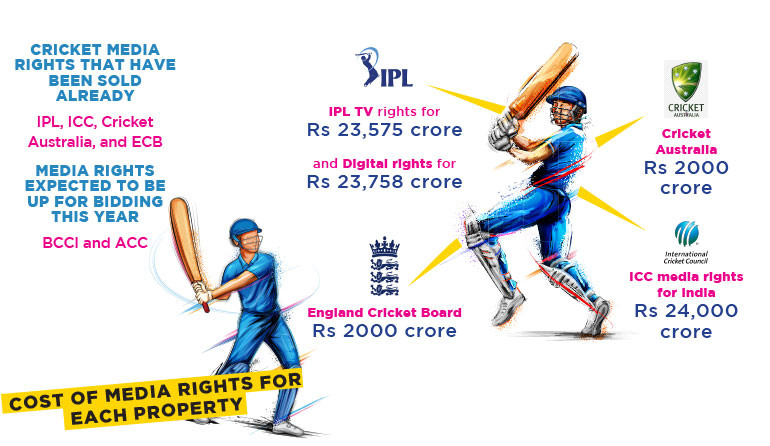 Reacting to the multi-billion dollar investments in cricket rights, Kunal Dasgupta, Founder & CEO, Triplecom Media iTap asserted that the sport has finally got its due. "Cricket has just begun to realise its true potential. The value of cricket rights will continue to rise further due to its strategic importance for media companies," he asserted.

According to Dasgupta, the company that has the maximum amount of cricket content will have better bargaining power when it comes to ad and subscription monetisation. He also said that the cricket investments being made by broadcasters should not be viewed from the lens of profitability. "None of the broadcasters are looking at these investments from a profit or loss point of view," he averred.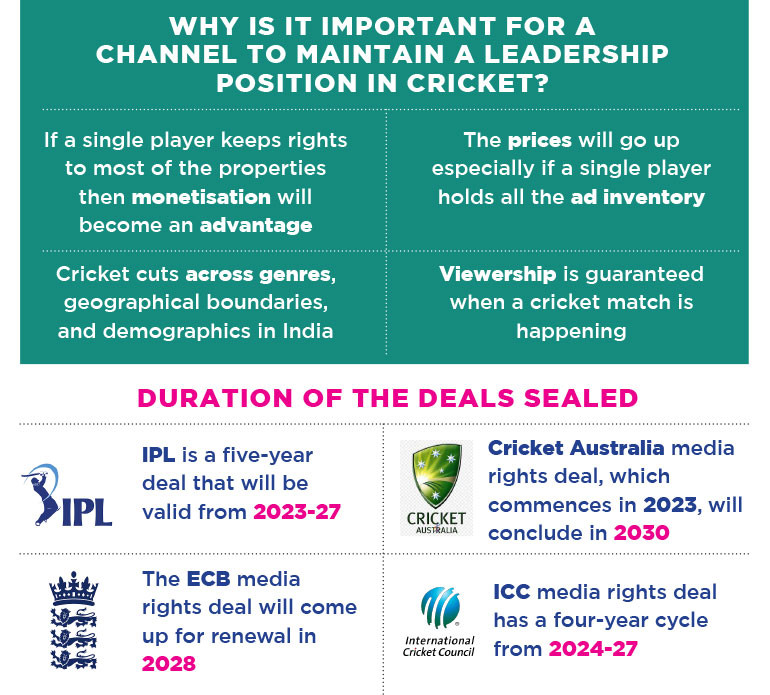 ICC TV rights googly by Disney Star-ZEEL
Shortly after bagging the ICC media rights, Disney Star entered into a one-of-its-kind partnership with Zee Entertainment Enterprises Limited (ZEEL) for the ICC TV rights. Under the strategic licencing pact, Disney Star retained the digital rights while licencing the TV rights to ZEEL which will be the exclusive home of all ICC men's events from 2024-27. ZEEL is believed to have committed $1.5 billion for the deal.

According to media watchers, the strategic partnership will take some burden off the shoulders of Disney Star and help it clean the balance sheet. For ZEEL, the ICC TV rights are an opportunity to get a foothold in cricket. Together with other sports properties of Sony, the broadcaster will look to build a strong sports portfolio in the country.

Punit Goenka, MD & CEO, ZEEL noted that this is a first-of-its-kind partnership in the Indian media & entertainment landscape. He added that the association with Disney Star reflects the company's strategic vision for the sports business in India.

"As a one-stop television destination for ICC men's cricket events until 2027, ZEE will leverage the strength of its network to offer a compelling experience for its viewers and a great return on investment for its advertisers. Long-term profitability and value-generation continue to be our areas of focus across the business, and we will always evaluate all the necessary steps that will enable us to make sports a compelling value proposition for the Company."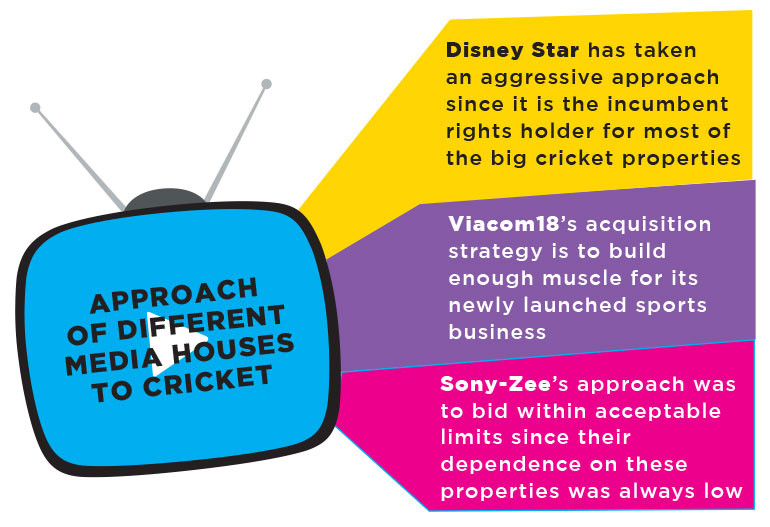 K Madhavan, Country Manager & President, Disney Star said that the company will now have a balanced and robust cricket offering for audiences across linear and digital. "Over the years, Disney Star has strengthened the appeal of international cricket in India, enabling it to reach diverse age groups and cultural demographics across all parts of the country. As India's leading media house, we will continue to do so with our strong portfolio of cricket properties across television and digital."

Speaking about the Disney Star-ZEEL deal for ICC TV rights, Sandeep Goyal, MD, Rediffusion said that the deal is good for both networks. "Star can now concentrate on the selling of IPL while Zee can put its fullest might behind the ICC offering. The arrangement is a bit unusual but cooperation is the new norm across industries," he explained.

Concurring with Goyal's view, a sports broadcasting expert said that the ICC TV deal with Disney will give ZEEL a foothold in cricket while providing a lever for Disney Star to continue its strategic focus on digital.
Sports broadcasting - A three-horse race
The split in IPL media rights between Disney Star and Viacom18 and the strategic deal between Disney Star and ZEEL for ICC media rights has meant that sports broadcasting will become a lot more competitive. Disney Star's Star Sports and Disney+ Hotstar were the home of cricket in India thanks to their ownership of ICC, IPL, and BCCI rights. That will change when the new cycle of media rights kick-in from 2023 onwards.

Having invested billions of dollars in acquiring media rights, Disney Star, Sony-Zee, and Viacom18 will slog it out in the fast-changing sports media landscape. Disney Star will have IPL TV rights, ICC digital rights, Cricket Australia and Cricket South Africa media rights along with other non-cricketing properties. Sony-Zee will have ICC TV rights, and England Cricket Board (ECB) media rights besides other sporting properties. Apart from the IPL digital rights, Viacom18 will also have a strong presence in football.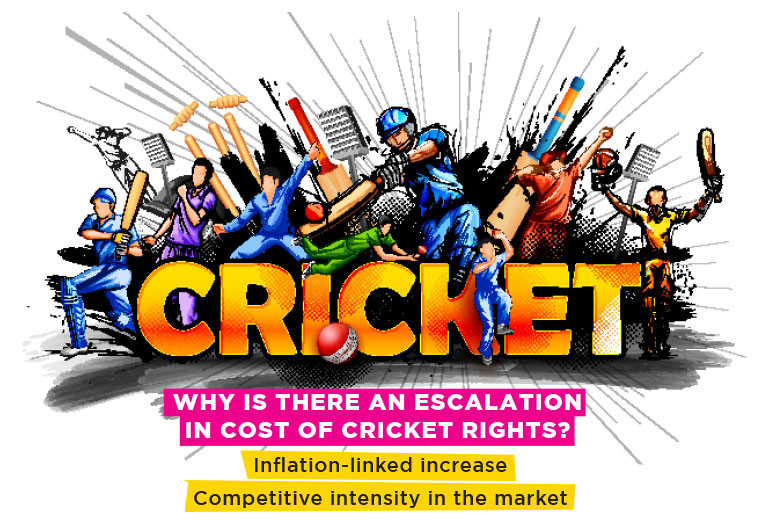 Kunal Dasgupta said that the escalation in rights cost has meant that a single broadcaster cannot digest all three rights. He also said that the ICC is an overpriced property when looked at from the lens of the lesser number of India matches. He also said that Disney Star will strengthen its balance sheet due to this strategic partnership with ZEEL. "Sports rights will get divided between the three broadcasters. This is how it should be anyway, otherwise, it's difficult to digest all the rights," he stated.

A sports broadcasting expert said that the two parties must have agreed on the deal beforehand. "It has to be a prior agreement. It cannot be done after getting the media rights," the expert said while adding that the swag of being the home of cricket is a thing of the past. He noted that sports media rights globally are getting fragmented and the global trend is now getting replicated in India.

ITW's Shanth noted that the broadcasters might now look at other, non-cricket sports properties to distinguish themselves as there are a limited number of cricketing properties.

"The number of players in the media landscape has increased in the last few years while the biggest properties remain the same (even if the number of games might go up, the rights are sold together/have more value in exclusivity). Nothing garners audiences and interest quite like live sports and cricket is the king of sports in India. This means that advertisers are willing to pay more to tap into this audience - further driving up the value of these rights," he explained.
---
How having more cricket content will impact ad and subscription of a media house?
The company that has the maximum amount of cricket content will have better bargaining power when it comes to ad and subscription monetisation
In TV, there is a challenge on subscription revenue due to the pricing embargo
The ad rates will have to be increased significantly considering the fact that the annual pay-outs will be in the region of Rs 15,000 crore for ICC and IPL
On digital, the challenge will be to grow the viewer base rather than the pricing
---