Thomas Cook recently launched a number of programs including Assured Safe Travel program, Holiday with Confidence and Holiday Safe portfolios to bring back customer confidence in travel. Abraham Alapatt - President & Group Head – Marketing, Service Quality, Value Added Services & Innovation, Thomas Cook (India) Ltd talks about the new trends in the travel industry and how the brand is geared towards fulfilling such unique requirements.
Q] Travel has been one of the worst affected sectors due to the on-going pandemic. Tell us how Thomas Cook is bringing back customer confidence in travel.
Travel has been one of the worst affected sectors due to the pandemic. However, keeping in mind the safety of the customers, we created a 'Virtual Holiday Store' where we could actually harness the power of highly trained experts in travel selling with virtual platforms that ensured customers had a contactless safe way of interacting. To instil confidence in customers, we also started something called the 'Safe Holiday Helpline', a service where one could get free advice on how to plan a safe holiday, with no compulsions to buy our services. This was introduced at the time and for a while when guidelines were changing rapidly across countries and then states as the lockdown intensified and then reopened. So the Safe Holiday Helpline was our means to clarify, to give direction as leaders do, and reassure customers as they wanted to make either necessary travel plans or eventually as lockdowns ease, even their first holiday plans. Customers were apprehensive about financial investments in travel so we introduced flexible rescheduling, date change and easy refunds in our services. We also introduced insurance which covers hospitalisation and quarantine.
Q] Tell us a bit about your association with Marriott and Accor and how it has benefited your brand?
We work a lot with partners like Marriott and Accor for the outbound piece and a lot for domestic as well, as we grew the business. So it was important for us in our initial product offerings and launches to go out to customers and say - Not only do you have an assured safe travel program but also a double reassurance, because not only do you have a Thomas Cook and SOTC assured safe travel program backed by Apollo, you also have our newly launched products like staycations, especially with Marriott and Accor. Marriott's 'Commitment to Clean' and Accor's safe stay program are global programs with very strict protocols, global standards of safety and hygiene.

Q] Since work from home has become a regular phenomenon with professionals travelling to remote locations and working from there, what is your take on such unique requirements?
Yes, we're seeing quite a bit of interest for staycations (extended alternate accommodations or resort stays, where people were effectively staying instead of being locked up in a little apartment in cities) and workations (people working from a hotel or resort). We are seeing families with a marked preference for extended weekends and alternate accommodation as well, partly because they have a work from home sort of regime right now. And obviously one of the things they will look for is stable & robust connectivity, good mobile signals for voice calls. So that's again something that the pandemic has taught us, that you can work from anywhere as long as your connectivity is good. And that's also going to drive the ecosystem.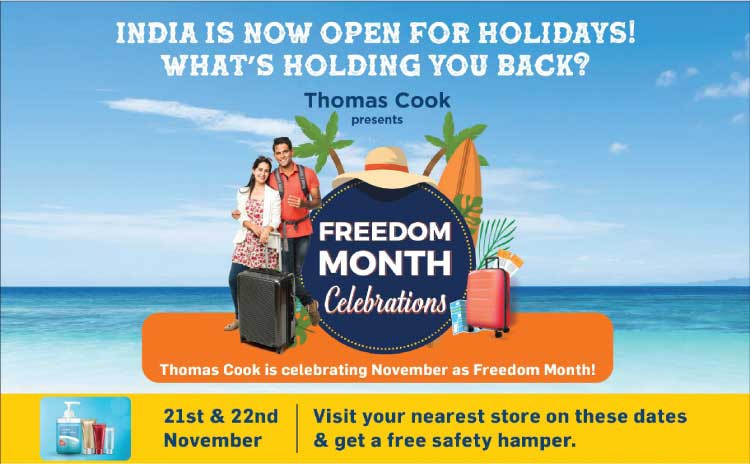 ABOUT THE BRAND
Set up in 1881, Thomas Cook (India) Ltd. (TCIL) is an integrated travel and travel related financial services company in the country offering a broad spectrum of services that includes Foreign Exchange, Corporate Travel, MICE, Leisure Travel, Value Added Services, Visa and Passport services and E-Business.
FACTS
Creative Agency: In House
Digital Agency: In House
PR Agency : In House

PROFILE
Abraham Alapatt is the President & Group Head – Marketing, Service Quality, Value Added Services & Innovation at Thomas Cook (India) Ltd. Alapatt brings with him 25 years of professional experience at senior strategic levels.
MARKETING TIP
Customer is always going to be your ultimate teacher. So listen to the customer.



Q] Recently, we have seen that homestays have also become quite popular because of longer duration of stays and workation, do you have tie-ups with properties to cater to such requirements ?
Yes, we do. We have contracts with several properties. And in fact, we've gone one step further with a lot of private villas and private homes that you could rent for extended stays. We curated some of these, because one of the challenges with private stays is that you're not really sure what you're going to get unless you know somebody who has been there and can confirm it.

Q] In recent years, many local standalone companies have been posing as potential competitors with flexible & affordable travel options. How are you positioning your brand against such competition?
There are no regulations and minimum investments needed for a travel aggregation service and anyone can set it up. The decider comes in two things - One is your ability to reach scale so that you're able to offer competitive aggregated products at a competitive price. Two, is to be able to ensure a standard of quality at every stage of the travel experience. And three, is to be able to offer backup and support should something go wrong. I think these are three key differentiators that travel operator leaders like us believe give us the edge. And the pandemic has actually increased the power of these differentiators. Today, our focus is not on selling components but on selling the aggregated product and service experience. And in that, there's probably nobody who can compete with us.
Q] How will you move ahead with your marketing activities in a volatile market where COVID-19 still poses a threat?
I believe travel is going to come back stronger than before. There is a lot of pent up demand, we're already seeing that with bookings. Given the options available, we're seeing a healthy funnel for travel going forward, especially as people know that they have had both vaccine doses, etc. So travel is going to come back. And the focus is going to be on continued safety and reassurance of the assured safe travel program, ensuring that we look after our customers and extend every possible assistance in whatever form, whether it is insurance or hospitalization, whether it's quarantine support or getting them out of a tough place if something happens, whether it is flexibility and reassurance or money being safe, with flexibility of rescheduling their changes, refunds if necessary, giving them value additions and experiences.