Q] What was the rationale behind DHL Express' renewed association with Indian Super League (ISL) for the sixth consecutive year, especially given the pandemic context?
At DHL, our purpose is connecting people, improving lives. ISL strongly represents our brand values of passion, speed, teamwork and a can-do spirit. Any partnership has to be a sustainable one for it to be fruitful. Sports partnerships like those with ISL have given us the opportunity to take our brand into the living rooms of our current and potential customers. This has in turn led to DHL becoming a part of people's boardroom conversation. This association has helped us showcase our mission of 'excellence, simply delivered', all the while building an unmatched brand recall value. This season is set to have a completely virtual audience. And to ensure maximum engagement, our visibility and outreach initiatives have been designed with a digital focus. Even with no in-stadia audience this year, ISL is expected to reach a wider target audience which will help DHL Express drive continued engagement with audiences through digital campaigns and engaging contests. It is expected that the league will draw more young audiences and fans from across the nation, clocking an expected viewership of over 200 million virtually.
Q] In-stadium promotion plays a big role in sporting events. How are you looking at driving brand activations and conversions with the digital-focused approach that you have adopted?
COVID-19 has made it a level playing field for brands. The conversations are now almost exclusively virtual. We see an opportunity to create open, immediate and involved conversations with the audience. Instead of pushing out advertisements, we can now talk directly with the sports fans and meaningfully engage with them. We have worked on an extensive and engaging digital campaign to talk to our viewers, during the course of ISL. To keep the buzz alive, we as the Official Match Ball partner will deliver the match ball for all 115 games of the league through drones and remote-controlled cars. In addition, the 'DHL winning pass' will be awarded to the best player supporting the winning goal for each match. This association will also include various on-air and digital media integrations. We are also rolling out virtual engagement programmes with our existing and potential customers and employees through several digital activations. These include fan contests and influencer-led outreach, among others. We will also deliver match day packs to our customers for all 115 matches.
Q] What are the synergies you see between brand DHL and brand ISL?
ISL gets its fans to go through the entire gamut of emotions, the very emotions that we deliver across the nation and globally as well. This is the inherent synergy between brand DHL and brand ISL – the unmatched connect with the people. ISL is India's most-watched football league and helps us engage with our exact target audience that is the young, dynamic and ambitious fans. The league provides a platform for young Indian talent to pursue their international football careers. This is in line with our business that enables Indian entrepreneurs to grow their businesses in the global marketplace by seamlessly connecting them to international markets.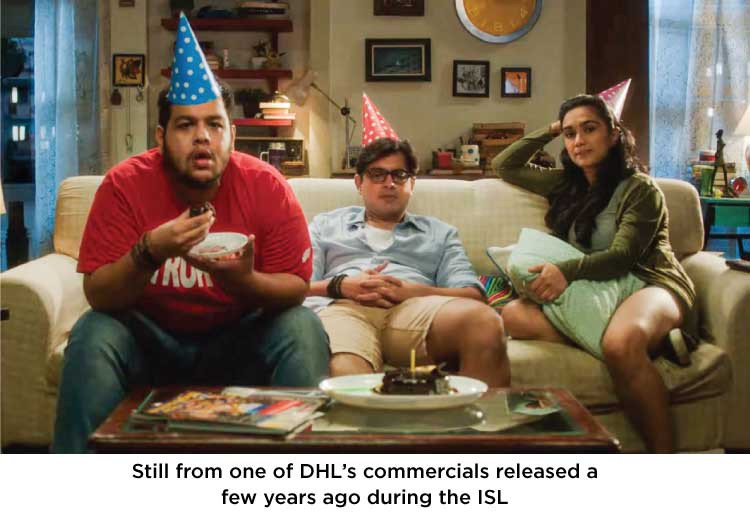 ABOUT THE BRAND
DHL is a global brand in the logistics industry. Its divisions offer a portfolio of logistics services ranging from national and international parcel delivery, e-commerce shipping and fulfilment solutions, international express, road, air and ocean transport to industrial supply chain management. With about 380,000 employees in more than 220 countries and territories worldwide, DHL connects people and businesses securely across the globe.


Q] How does sports marketing fit the larger marketing strategy of an express service providing company like you?
Sporting culture in India has dramatically changed over the last decade. The youth look up to their icons and associate easily with the brands around the game. Thanks to sports associations, we have top recall amongst our existing and target customers. Our intention is to build a strong supply chain along with a meaningful relationship with entrepreneurs and a potentially loyal customer set. We intend to be just as household as any sport in India is.
Q] What will DHL's core marketing strategy be going forward?
At DHL Express, we have always adopted a 'people first' approach, across stakeholders, be it our customers or employees. In line with this and with our customers at the centre of our operations, we will continue to utilise innovative avenues to consistently communicate with them. The pandemic has ushered in an era of uncertainty amidst consumers. And as marketers, it is our responsibility to curate campaigns that are both empathetic as well as transparent. Our focus this year is on digital innovations and connecting with fans, customers and employees on various digital platforms through multiple campaigns and contests throughout the season.
Q] As a marketer, what is the biggest challenge you face and how do you see marketing evolving in 2021?
Social distancing does not have to be translated into consumer-distancing. It has become essential to be connected with our customers as we embrace this new normal. Brands must recognise and lay emphasis upon three key aspects amidst this time – agility, sensitivity and innovation. Customers are increasingly looking at brands which are catering to their demands in line with this new normal while also upholding high safety standards. Marketers need to understand that consumer behaviour is evolving and realign their strategy.