After foraying into gyms last year, health and fitness platform cure.fit recently changed its brand identity, renaming itself as cult.fit. Naresh Krishnaswamy, Growth and Marketing Head, cult.fit shares insights into the rebranding effort, its renewed positioning and its overall marketing strategy
Q] What was the key objective behind the rebranding? What kind of consumer response have you seen so far?
Over the past few years, cult.fit has become a well-known name in fitness and is recognised as a leader in this space. Under the cult banner, we have grown to offer a host of facilities such as group workouts, online fitness classes, gym and equipment-based workouts, swimming, and sports, amongst other things. We want cult.fit to become the one destination people think of going to when they have anything related to health and fitness on their minds. Our renaming effort is a step in this direction. We want to amplify our already popular identity and devote more efforts to expanding the platform further under a single brand name. So far, customers have welcomed this transition. They already have a strong connect with the name 'cult.fit' and we only expect this resonance to strengthen further.
Q] How will changing your brand identity at this point of time benefit your brand?
After cult.fit's foray into gyms last year and the acceleration of our cult.fit live offering, we are well on our way to become India's de facto leader in fitness. We have a widespread network of fitness centres and gyms all over the country. Thus, keeping our growth in mind, having a single brand name helps us tie it all together. We want cult.fit to be the go-to fitness brand in people's minds and we believe this name change will help us achieve that especially as we continue to diversify our products and offerings.

Q] How do you plan to promote this new brand identity? Do you have plans to roll out a campaign for this in the near future?
We made the rebranding announcement through social media, PR and reaching out to our base through e-mailers and CRM channels. Going forward we do not have any campaign on the rebranding. All upcoming campaigns will naturally reflect the rebranding changes.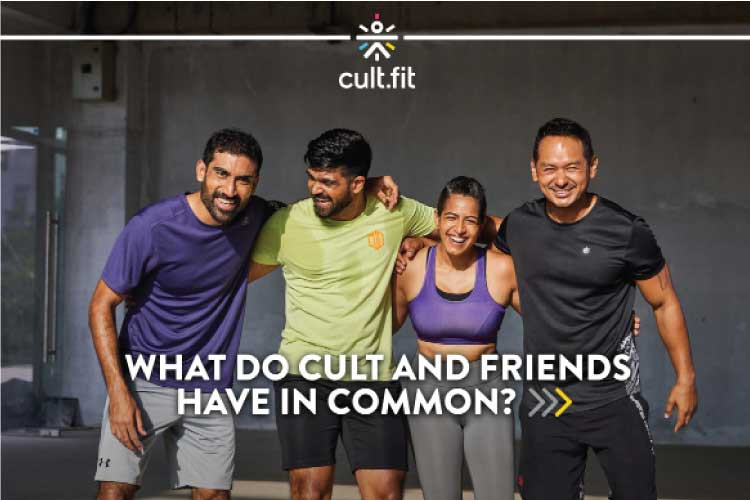 ABOUT THE BRAND
cult.fit is a health and fitness platform by Cure.fit Healthcare Pvt Ltd and is headquartered in Bangalore, India. Founded in 2016 by Mukesh Bansal and Ankit Nagori, cult.fit caters to living a healthy life through critical dimensions of physical fitness and wellness. The platform provides fitness-related services through a mix of online and offline channels. These include offline group workouts at cult.fit centres and other gym or equipment-based workouts at partner gyms and fitness centres across the country. cult.fit also offers online personal training, group workouts, and live fitness classes across various formats.
PROFILE
Naresh Krishnaswamy is the Growth and Marketing Head at cult.fit. He joined cult.fit in 2018 from Myntra where he was the Chief Revenue Officer in his last role. Krishnaswamy brings expertise in growth, planning, digital marketing, customer retention, pricing, profitability, store merchandising, payments/partnerships, creative/graphics, growth products/tech and leadership/team management.
MARKETING TIP
"A brand now entails a conversation with customers and is not restricted to one-way advertising. Customers want to interact and actively communicate with brands across mediums rather than just being spoken to. Campaigns have to be redefined to incorporate digital mediums, newer immersive technologies, and engaging experiences so that customers feel part of a conversation."


Q] This move also comes during a highly challenging pandemic. How have you been navigating through these times and how do you see the road to recovery emerging?
From the business perspective, our pivot to online workouts helped us focus our bandwidth and efforts. This encompassed content planning, production and marketing. Once offline started coming back we were focused on ensuring safety for our members and team and slowly getting back traction. Overall health and fitness is very important in these times and our focus has been to provide the best quality access to health and fitness. We derive a lot of purpose from inspiring people to devote time and effort towards their overall well-being. This has kept us going on the business and personal front.
Q] What kind of growth have you seen on your platform in the last 12 months? By how much has the subscriber base increased?
After pivoting to Digital in the last 12 months, we have seen immense traction on our platform. Our digital business continues to show strong growth with many users opting to work out from home. The live fitness classes, personal and group training options on our app are becoming increasingly popular alongside our other digital services like therapy, tele-consultation and meditation. As such, we have also been investing in and improving the technology behind the app. Our gym business was also showing strong recovery after the first COVID wave. We are confident we will rebound soon once lockdown restrictions are lifted.
Q] What marketing strategies have you planned going forward? What are your key focus areas?
Going forward we plan to do a big 360 campaign every quarter, reinforcing our stature in fitness and taking a higher order stand. Over the next couple of years, we want cult.fit to become synonymous with fitness.