Q] Titan Eye+ has been constantly innovating post pandemic, be it anti-fog lens while wearing masks, audio sunglasses and recently a smart eyewear offering called Titan EyeX.What kind of response have these got in the market?
The response has been quite positive. We are quite excited about what we are seeing and innovation is one of the central tenets of how we'd like to approach the business. It's not just technology and feature rich products that we have led with, it's relevant and adds disproportionate value. So, if I were to give you an example, when we did the anti-fog lenses, it was right in the middle of the pandemic and everyone we knew had their spectacles fogging up due to the mask. So, it was a real relief for people when we introduced the anti-fog lenses. Similarly, EyeX is not just a smart eye wear product with great audio, it's also very comfortable on the nose and we are the only retailer who is able to do an end-to-end job with it, from testing your eyes and giving you a great lens to making sure it sits on the face well.
Q] Organised eyewear market in India is at nascent stage, comprising only 10-20 percent of the market…what kind of challenges do you face at this point to get people to a 'branded' eyewear store?
What we sense is that, the customer criteria today is restricted to style and price. And our perspective is that, this is the wrong question to ask because you have only one pair of eyes. So, why would you go to anybody but the expert in this area and that's probably the central challenge around it. Basically, how do we enrich the customer vocabulary to go beyond style and price and that's what we have done with our latest campaign this time, with 'expert who cares'. My real point on this is that we are not experts by chance.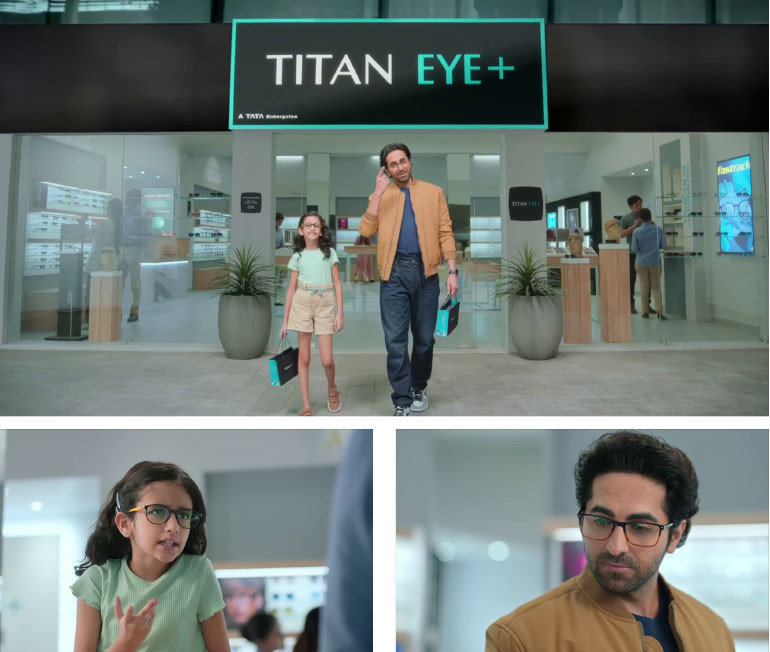 It's a very deliberate effort at our end to get mastery in the category and there's an entire ecosystem that works on selection, training and monitoring of our operations and staff to ensure that we are able to deliver on this. The people who test eyes in our store are qualified, trained, and certified optometrists, which is not the norm in the industry at all. Our staff has the educational qualification to test eyes, they are sent to our training centre near the Bangalore airport as well as certified by Shankar Nethralay to be able to do the job well.
Q] From smart looking frames to affordability and now the service at your store, you have kept changing the marketing plank at Titan Eyecare. Tell us about the marketing mix for the latest campaign with Ayushman Khurrana on this?
In today's context, there are many retailers who are able to present stylish products and we have our own share of such award-winning products, but what's new and not common is for people to ask questions about who's testing the eyes and where the recommendation is coming from. Our customers appreciate the expertise, warmth and patience we bring to eye testing. We are rated by over 5 lakh consumers on Google at 4.9 out of 5 stars. Empathy and expertise have translated for us into advertising as an expert who cares. This campaign is led by Television and we are advertising on cricketing and footballing properties, general entertainment and the usual suspects.
Q] You've been associated with Ayushman Khurrana for many years now. Tell us how he has added to the brand value?
Titan is known as a grounded brand, an authentic brand with mastery in the category and the same goes for Ayushman Khurrana, he keeps pushing the boundary on what mainstream Bollywood content should be. It's a very natural fit and we see him as a partner for our brand in future as well.
Q] Who do you consider as competition in the space for Titan Eyecare?
I really don't have a clear view about our competition. Let me instead tell you about the opportunity we see. There are over 50 crore people in the country who need vision care and only about a third of them know that they need it and they are continuing to live their lives with blurry vision, not realising that they can see better. So, that's a huge opportunity just to be able to educate people and prevent further deterioration of their eyesight and solve that problem for them. The second opportunity is that, out of the 50 crore who need vision, 17 crore already wear spectacles and as you rightly pointed out, the organized share is very small within that. So there is much opportunity to provide great service.
Q] But you also sell sunglasses in addition to vision correction glasses, where do you have more sales coming from?
It is significantly skewed towards spectacles and prescription eye-wear and that's reflected in our store. In our sunglasses business, we have two offerings--regular sunglasses and powered sunglasses. We offer the facility to test your eyes and add power to any sunglasses that you like. Predominantly, we retail our own brand Fastrack in sunglasses, but also have other leading international brands.
Q] Last year Titan Eye+ CEO, Saumen Bhaumik, said that he was looking to add 50 stores in the next one year, is that on track and are sales still driven by your retail stores in an era of online purchase considering you also have your own online store?
We have the opportunity and headroom to add that many, in fact by 2023 we shall have a thousand stores. We don't think of online & offline as two separate strategies, it's really unified in our mind. Buying vision glasses is still a physical process and is triggered if you have blurred vision, a headache etc and there is no digital variant for that. Therefore, we have over 800 stores which serve as primary touchpoints but simultaneously even the customer who comes to the store often discovers our services online first and therefore the app, our website all continue to be equally important. So, our sales are still driven by brick-and-mortar stores.
---
ABOUT THE BRAND
Titan Eye+ is one of India's leading optical retail chains with over 800 stores across 400+ cities and towns. The brand is also available online. The Titan Eye+ stores host a variety of over 1000 frames and sunglasses from 40+ brands and a customized range of lenses for every prescription power and lifestyle need.
FACTS
Creative Agency: Ogilvy
Media Planning: Madison
PR Agency: Adfactors PR
PROFILE
Maneesh Krishnamurthy is Head of Marketing, Eyecare Division at Titan Company Ltd including brands Titan Eye+ and Fastrack Eyewear. Maneesh joined Titan in 2010 and has been part of Titan's Watches and New Business divisions in the past across Sales & Marketing roles.
---