Q] What was the prime objective behind Housing.com's new campaign 'Parr…Se Perfect,' and how was it conceptualized?
The objective was to raise awareness of the brand in our core TG, but at the same time, also to increase the preference of the brand. So, it's both increasing awareness and preference of the brand among our core TG, which remains 25 to 35 in Metro and Tier 1 cities.

The home buying and renting journey can be very tough, and as a company, we do not want our consumers to compromise on their doubts and niggles, or struggle to buy or rent a house. So we are saying don't compromise on the doubt and come to Housing.com. We have more than enough choices to ensure that you find your dream home. And that is why we are playing with the word 'Parr,' which signifies the doubt, and 'Parr... se Perfect,' means from doubt to finding the perfect home that you want.

Q] With #YahaSearchKhatamKaro campaign, Housing.com featured Bollywood actors Rajkumar Rao and Manoj Bajpai, and many other celebrities joined the bandwagon with their fun and banter on Twitter. Why don't you have a celebrity this time?
It's a big debate that we had internally. If you see the last two campaigns, one was with Vicky Kaushal and Kiara Advani, and the other with Manoj Bajpayee and Rajkumar Rao. However, for the third one, the way the scripts and situations were, it was quite relatable and funny, and at the same time, it was very natural. So we felt it's important to keep the purity and innocence of the situation, that's why it was important to keep lesser-known faces instead of Bollywood celebrities.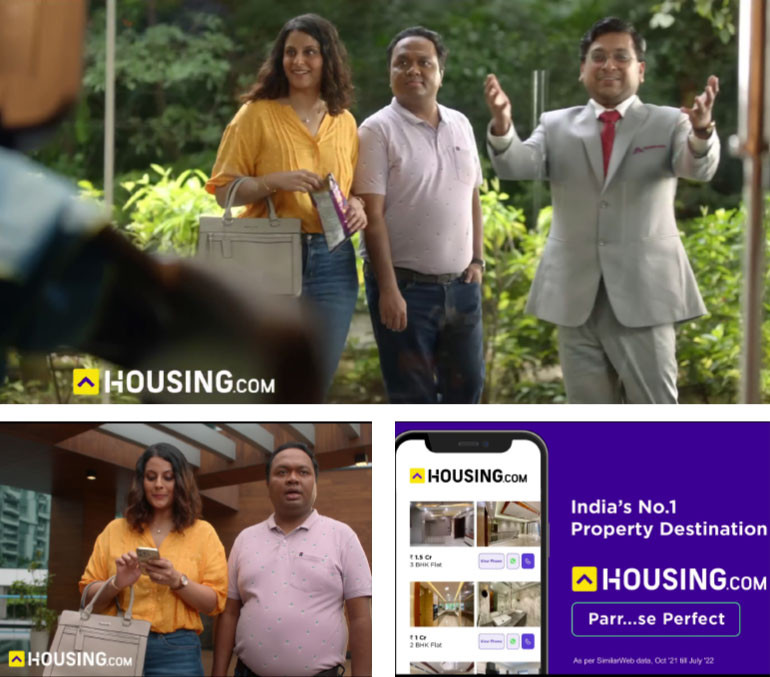 Q] What does your marketing mix look like and what budget have you allocated for the overall campaign?
The budget that we are going ahead with is around 40cr this year. Earlier, our campaigns were more centered on television, and now we have taken an approach of 50-50, which is 50% on television and 50% on digital. We launched the campaign during the India- Pakistan match in the Asia cup and have seen a significant jump in our app installs, direct traffic on the website, but these are still early days.
Q] How are you positioning your brand against both offline and online competitors?
In terms of positioning, Housing.com is the number one property destination. Our competition has taken different positioning routes, for example, no broker has taken a direct route on 'no brokerage.' We believe that we are more about choices. On one hand, we have no brokerage properties, and on the other we have properties with brokerage, and in general, consumers prefer both. There are cohorts who want no broker, there are cohorts who want both no brokerage and brokerage properties, while there is a segment of users who want only brokerage properties because they believe in convenience.
So, we believe that's the right way of doing real estate online business, and we will keep working on that. So, that's why maximum choices is the positioning route that we have taken. For other competitions, they have taken a very low funnel approach of talking about the product-led features, that's their call, but we believe that we are in the right space. We are talking about the right thing. We are talking about the right feature in the user journey funnel, where we can attract both and more sellers to our platform.
Q] What kind of traffic are you seeing on your platform and how much of it gets converted?
We are the number one real estate player in terms of traffic. In fact, as per Similarweb, we are way ahead than our competition in terms of monthly traffic. The number is 18 million, though in reality, the numbers are much higher. Similarweb numbers are the right metric to compare the competition in terms of ratios. Our conversion numbers on the rental side in general are higher compared to the buyer side. Our conversion rate is generally within the range of 5% to 10%, which is a very healthy number for any classified business.
Q] Who are your target audience? What do millennials or Gen Z consumers opt for - house buying or renting a home?
Our core TG remains 25 to 35. On the seller's side, we extended it to 40 years, who adapted to the technology. In tier one cities, which is our core market, that was an emerging trend, maybe even before COVID, wherein lots of gen Z and millennials were of the opinion that home renting is the preferred choice. But COVID has changed a lot of those things. People have understood the importance of houses during these lockdowns. Sales, transactions, launches, all have been going up after the lockdowns, and we are seeing a great momentum in this sector. So yes, lots of trends have changed, even in tier 2 cities we are seeing great momentum in terms of people coming online and searching for homes, buying and renting homes online.

In India, houses have such an emotional quotient that we will always see this sector doing quite well. In real estate, we have a longer bear cycle and longer bull cycle. We believe we are at the cusp of a bull cycle now and this momentum will stay there for the next 10 years.