Q] How will Uber's new mobility option, Uber Rentals, benefit your consumers? Tell us about it.
At Uber, we are always looking to reimagine the way people can move. Our product and tech team designed this breakthrough product for our consumers who are everyday hustlers, trying to maximize a lot out of their time so that they can achieve their ambitions. This product is called Uber Rentals, where you can rent the car from one hour to upto 12 hours. Also, you can add as many stops as you want throughout the day. So if you have multiple errands to run, Uber Rentals is the way to go.
Q] Could you elaborate on Uber's latest campaign - #RentalHealthDay?
Through our #RentalHealthDay campaign, we are targeting stressed out hustlers. We are asking them to take their seats at the back of our cars for their health and well-being, and take a break from driving with Uber Rental Health Day. Because health is not just about physical health, but it's also about skipping the stress. Anil Kapoor was the most obvious choice for this campaign, his youthful grace is well-known to all. The message here is that we are revealing the secret behind Anil Kapoor's ageless look. It's a Digital and social-first campaign. We are leveraging a lot of celebrity influencers and social media platforms to amplify this campaign, thus driving awareness and adoption for Uber Rentals.
Q] How is your brand leveraging IPL? Any collaborations for the cricket season?
As a media touch point, we are leveraging IPL for our Hailables campaign that we had recently launched, because that's the audience that we want to reach out to. For IPL specifically, we are just leveraging the influencers and celebrities around IPL, including some cricketers to talk about this campaign and really amplify this, but not specifically on media.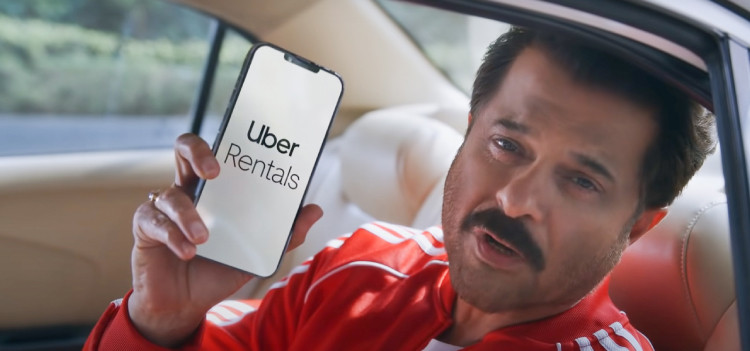 ABOUT THE BRAND
Uber is a technology company started in 2010 with an aim to create opportunity through movement. It is based in San Francisco with operations in approximately 72 countries and 10,500 cities. With technology, the brand develops and maintains multisided platforms that match consumers looking for rides and independent providers of ride services, as well as with other forms of transportation, including public transit, bikes, and scooters.
FACTS
Creative Agency: Dentsu Webchutney
PR Agency: Genesis BCW
PROFILE
Ameya Velankar is the Head of Marketing at Uber India and South Asia. Velankar comes with a rich experience across Marketing, Sales and Operations. He has been the interim lead for INSA since Nov 2020, and has played multiple roles at Uber in these 2.5 years, including leading the Product Marketing mandate for Rides. Before Uber, he has worked with SC Johnson
& Marico.
MARKETING TIP
Being consumer obsessed and insightful about their problems, solving their problems, and taking it to them in a way that they will like, is something that a marketer should be doing.



Q] What are some of the key growth trends that you're seeing in your industry? What have been the major growth drivers for Uber in the last one year?
During the early part of the pandemic and the lockdown when people were scared to move, we had committed to important issues. This included initiatives like Uber Medics, Uber Essentials, Driver Care Fund, and then the entire safety proposition with Safer For Each Other. But as the pandemic situation got better, we saw that a very new set of consumers started adopting rideshare and Uber. Our India-first products like Uber Auto and Uber Moto, were the two products that really drove recovery for the business. In fact, these products have almost delivered 2x growth than the pre-pandemic levels, while some cities have even grown more than 2x. This along with our Uber Intercity and Rentals, which are our premium car products, have really grown and recovered the business for us.
Q] What kind of growth have you seen in the last one year? If you could share some figures.
Uber Auto is currently at 200% more than the levels prior to the pandemic. Uber Moto is almost equal to the pre-pandemic level in terms of growth, and Uber Intercity and Rentals have grown almost 1.5x more than the pre-pandemic level. So that's the kind of growth we've seen on Uber.
Q] According to a recent survey, 79% of app taxi users say "Driver Cancelling Ride" after finding a destination or non-cash mode of payment as the top pain point. What is your take on this, and what steps are you taking to tackle the issue?
Just to be clear, drivers cancelling trips definitely fall short of our promise to deliver a magical experience for our riders, and that's our ambition each time they book an Uber. So we are doubling down on our efforts to ensure a reliable service through driver education, and through some significant improvements made on our apps and procedures. In fact, from November last year, we began displaying the destination of trips to drivers before they can accept the ride, so that they don't have to ask the rider for the destination, and we are scaling this up across all cities as we speak. We are also paying drivers to travel long distances just to pick up riders so that they are adequately compensated for their efforts. As a result, we are definitely seeing a big improvement in the experience, and as we go ahead we are very positive that driver cancellations will reduce.
Q] Tata and Reliance have partnered with BluSmart, an all-electric cab operator, and a lot of cab aggregator start-ups are coming up in India. How are you looking at the emerging competition? How do you plan to position your brand against such competitors?
We are not necessarily competition obsessed, we are consumer obsessed. We always welcome competition, which is good for the rideshare category to grow. We'll continue to position ourselves as a reliable, comfortable service for our riders, and give them the connectivity and confidence so they can continue to rely on Uber for their mobility needs. Also, we'll continue to engage with communities and drivers in a way that improves their livelihoods
and lives.