Q] Tell us about the #ReconnectWithStarbucks campaign. How has that worked for the brand, especially in these challenging times?
Starbucks stores are familiar places of connection for coffee lovers around the world. Starbucks' mission and values focus on creating human connections that inspire and nurture the human spirit – one person, one cup and one neighbourhood at a time. During the COVID-19 lockdown in India, we devised an innovative social media campaign called #ReconnectWithStarbucks to recreate the experience of visiting our stores, taking a cherished offline experience online to reaffirm our relationship with customers, and help them re-visit their favourite Starbucks moments beyond just coffee. We rolled out the campaign in multiple phases, with each one aimed at strengthening our connections to our customers and brand advocates.
Q] How are you amplifying this campaign? Have you roped in influencers and celebrities?
First, we encouraged social media followers and coffee enthusiasts to share their favorite Starbucks memory, hobby or passion as a way of reconnecting with themselves. We also collaborated with social media influencers to generate positive conversations to spread cheer amongst our customers despite the challenging times. Next, we launched 'Cup Half-Full', an initiative to create a refreshing surprise for our customers. We asked our followers on social media to share a comment with their favourite beverage, and then delighted them by sending personalised voice notes of partners (employees) calling out their names along with their favourite beverage; a familiar ritual enjoyed by every Starbucks customer! Finally, we invited customers to celebrate Mother's Day with our #StarbucksCelebrateMoms initiative. Once again, our baristas wished our customers and mothers across the country a happy day with personalised voice messages. As working from home and video calls have become the new normal, Starbucks also recently launched seven virtual backdrops that reflect the in-store ambience to brighten up online meetings. These backgrounds offer another way for our customers to feel connected to their favourite moments spent at a Starbucks within the comfort of their homes.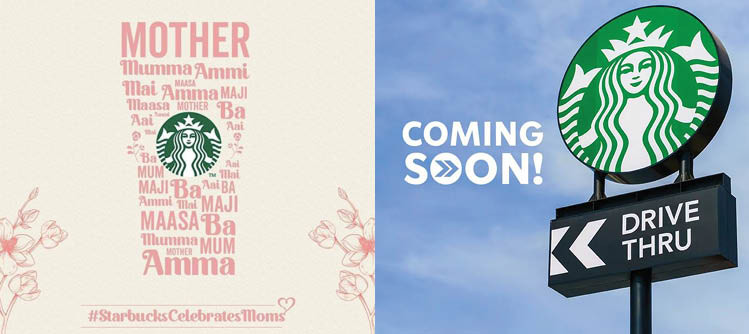 ABOUT THE BRAND
With stores in more than 80 markets, Starbucks is the leading roaster and retailer of speciality coffee in the world. The company entered the Indian market in October 2012 as part of a 50/50 joint venture with Tata Global Beverages. The stores are operated by the joint venture TATA Starbucks Private Limited, and branded as Starbucks Coffee - A Tata Alliance. Today, the brand has a pan-India presence, with over 186 stores across 11 cities in the country and a network of over 2,000 partners (employees)
FACTS
Creative agency : WATConsult
PR Agency : Golinopinion

Q] The current need for social distancing and hygiene have required several companies to innovate and reinvent their business models. What are some of the steps you're taking to ensure safety in these extraordinary circumstances?
We continue to look for ways to provide our customers the unparalleled Starbucks Experience through new experiences and expanded digital platforms. To offer our customers more ways to enjoy their Starbucks Experience on the go, we plan to launch our first drive-thru outlet in India later this year. This new store format is also in line with the Tata Starbucks vision to expand its business offerings in India, in new and innovative ways. We will also be launching a mobile app for customers in India to place and customize take-away orders, and pick them up later from their local store. In the last few months, we have seamlessly transitioned to offer new delivery options like kerb-side and take-away, and encourage the use of digital payment modes like UPI, to create a low-contact experience for our customers and ensure a safely delivered Starbucks Experience. In addition to our contactless delivery options with partners like Swiggy and Zomato, we are launching various contactless order options in stores.
Q] What have the challenges been in terms of transitioning into an delivery-only or only take-away model? How are you meeting the challenge of ensuring safe pick-up and delivery for customers and staff?
In accordance with expert guidance from local health authorities, we are responsibly re-opening select Starbucks stores across India with elevated cleaning and sanitizing protocols that meet or exceed public health guidelines and can help to reduce the spread of COVID-19, as well as temperature screening for partners and customers.
Some of the measures we are taking include mandatory temperature checks for partners, delivery drivers and customers prior to entering the store, designated waiting areas and social distancing markers for take-away customers and sanitization of stores every 30 minutes with partners wearing masks and gloves all the time.
Starbucks kitchens in each store meet or exceed global safety standards, and café restrooms are temporarily closed to the public. In dine-in stores, tables are marked to help customers maintain social distancing. In every community Starbucks serves, partners are the foundation of the company's fundamental mission to inspire and nurture the human spirit. As part of our deeply grounded commitment to partner care, we have extended various partner benefits and resources to support partners and their families in response to the unprecedented impact of COVID-19. Globally, Starbucks has announced a commitment of $10 million to establish the Starbucks Global Partner Emergency Relief Programme, which offers grants for partners facing extreme hardship as a result of COVID-19. In India, partners in areas where stores are closed are being supported with pay and access to medical assistance. Any partner diagnosed with COVID-19 will be granted paid leave until they recover
fully are medically cleared to return to work. Partners who need to self-quarantine will be granted an additional 14 days paid leave.
Tata Starbucks is also extending additional medical and mental health assistance to its partners and their families as needed.
Q] Like many other F&B companies, Tata Starbucks too would have seen some impact on account of the pandemic and lockdown. What have some of your big learnings been during this time?
At Starbucks, we have always believed and worked towards creating a positive impact on the communities we serve. Our mission is to inspire and nurture the human spirit - one person, one cup and one neighborhood at a time. Learning from the pandemic, we will continue to build stronger human connections with our customers, partners and with the community, while maintaining the highest levels of safety and sanitation.

PROFILE
Deepa Krishnan heads Marketing, Digital, and Loyalty at Tata Starbucks Private Ltd. She oversees all aspects of the brand related to Digital and other media communication, manages the brand's loyalty programme (My Starbucks Rewards) and is responsible for all the Digital initiatives undertaken by the brand. Prior to joining Starbucks, Krishnan was the Executive Director, Strategy at Kantar and before that Head of Branding and Marketing Communication at Idea Cellular Ltd for two years. She has also played a key role in shaping the innovation strategy at Diageo India.
MARKETING TIP
It will always be about understanding your customer, providing differentiated experiences and making them feel special through all interactions.