Q] EatFit recently signed Mithila Palkar as a brand ambassador, what message does the campaign featuring her deliver?
Our core mission is to make eating healthy and fun so the purpose is to make honest food that customers love. A year ago, we launched Kulcha Burger and that took off well and we realized that there is a great scope for entertainment foods like burgers and pizzas. But we are making them a lot healthier. Mithila Palkar is an ideal brand ambassador for what we stand for. She is a very authentic, honest and straightforward person. That is exactly what we wanted the product, Mithila Palkar and EatFit to signify. The intersection of these three things ensures an authentic product that is good for you with a happy vibe attached to it.
Q] What was the marketing mix you used for the campaign in order to reach the right target group?
Our target group is predominantly millennials, so they have a high affinity towards sports. We are using the combination of OTT and sport platforms. 70% of our spends would be on digital platforms and the remaining will be on Print but a lot of the marketing and advertising will be done through Instagram, YouTube and certain other programs that millennials love.
Q] While the pandemic has been a double-edged sword, it has made consumers more health conscious, how are you using that to your benefit?
In this whole pandemic scenario, food has taken a center stage. People look for entertainment and like to take a break from their everyday life by ordering food, etc. It was owing to this understanding that we launched the entertainment food category. People like to have a happy association with the food products we provide. The Kulcha burger we launched a year ago became very successful and so we launched a new product for pizzas. We intend to go much deeper into the pizza category. We will be further innovating the products in the entertainment meets health space.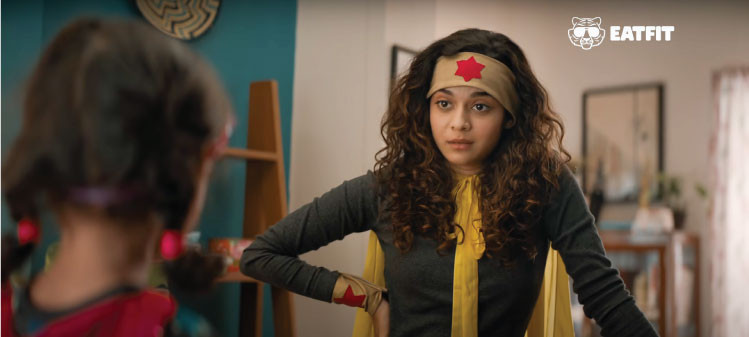 ABOUT THE BRAND
EatFit is one of India's largest healthy food platforms housed under Curefoods - a leading Indian cloud kitchen player. The company serves a wide range of bold & fun food options while retaining the honest, clean, and healthy aspect that EatFit has been known for since 2017. EatFit currently operates 50 cloud kitchens and is headed by Ankit Nagori. In 2020, EatFit was hived off as a separate entity from Curefit. Since then, it has been operating under the umbrella of Curefoods, to capitalise on India's growing cloud kitchen segment.
PROFILE
Gokul Kandhi is currently the business head at Curefoods and his resume brims with significant expertise in product marketing, go-to-market strategy, and market development. Gokul's sharp industry acuity has come in handy during his stints with various multinational giants such as Apple India and Pepsi Co. He is an alumnus of IIM Indore, from where he obtained his MBA.
FACTS
Creative Agency: Purplemango
Production House: Footloose Films
PR Agency: Weber Shandwick



Q] In what way are you building awareness and asking the cost conscious Indian consumer to choose quality and healthy food?
EatFit's philosophy is built on honest foods. Honest food is defined by couple of things, one by high quality ingredients and saying no to MSG, Aspartame and Trans fat, etc. The second important aspect involves the process involved in making the food. We don't deep fry the products. So, the food we make is fully balanced and consists of macro and micro nutrients. The current demography we address is fairly aware of what is healthy. We just create more avenues and choices for them so that they can eat their loved food in a healthy format. Eat the food you love with the comfort that we have built a product which is healthy.
Q] After burgers and pizzas, what new food items will EatFit introduce for the Indian consumers?
For the next couple of quarters, we will go deep into pizzas. We will come up with different variants of pizzas. Right now, it's multi-grain pizzas. We will get into assorted food category like stuffed garlic bread, etc. and also start exploring food items like pastas where we can continue to create honest and healthy food variants that people love. We already have successfully launched smaller categories in the areas of rolls and pav.
Q] What growth has EatFit reported in terms of revenue and how much is it expected to grow in the upcoming year?
We are doing phenomenally well. Since the last 6-7 quarters, we have been clocking upwards of 50% growth. We are looking to get to 100 million Annual Recurring Revenue (ARR) by October.