Q] This has been a great quarter for Spotify, you now have 433 million monthly active users (MAUs), up 19 million (year-on-year) and above the company's estimate by 5 million… what has helped the brand do well in India?
Spotify was a little bit late to the party, but our three-year run has been awesome, where we reached the leadership position in consumption of music. We didn't shy away from playing to the category codes in spite of being the eighth player in the market. We stand for music and are focused on bringing more music to people's lives while talking from a leadership position. In a cluttered market we could make the user feel that we as a brand get him/her. Our brand films were strongly rooted in consumer insights. The third formula that worked very well was to acknowledge that India is many Indias. So, there can be no one pan India communication and pan India creative. There are about 80 million songs and we are curating in most of the local languages now. The nuances that you need to bring out for a Tamilian user versus the Punjabi user is very different.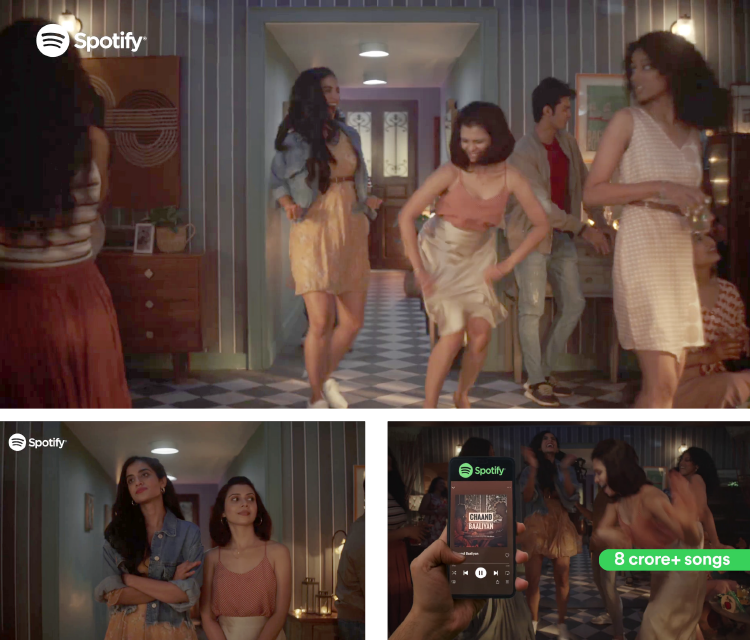 Q] Spotify's ad campaigns have attempted to bring to fore the real essence of a music lover be it 'Shopping mode on' or Spotify Sunte Ja featuring Anil Kapoor. To what extent has your creative agency – Leo Burnett, helped in making brand Spotify what it is in India?
We work closely with all our partners, be it artists or agencies like Leo Burnett and don't just involve the agency when the brief is fully crafted. That takes your relationship a little bit deeper than sharing the brief at the last stage. So, we're in a pretty happy marriage for the past three years. They've done a pretty good job of making sure that the role of the product is brought to life. Bringing out that intelligent humour and ensuring that there is aspirational value to the brand while talking to 200 million people is a tough task and the creative team has done a great job of doing that.
Q] A lot of song discovery today happens via short form video content platforms like Instagram Reels, do you have tie-ups with them?
Yes, you are right. We have recently partnered directly with Instagram and built a playlist called 'Discover on Reels' on Spotify. I'm sure a lot of people want all the trending songs on Reels to be in one playlist. There is a mega marketing plan conceptualized to make sure that this reaches the audience.
Q] Indians like free content over paid services but as far as music is concerned, I do remember in the 1990s people bought music cassettes of new releases costing 30-40 rupees, at least three four per month ...today how can you compel them to do the same with subscription?
Yes, we have grown up making these mix tapes. But times have changed and the Indian consumer has become used to getting a free product. Thus, India was one of the first countries where we brought in a free on demand product. But we also understand that there are a lot of evolved music streamers. For them, there are products that are way beyond what the free user gets, like the Group Session where 6-7 people can stream the same music which is kept in mind using the Gen Z user, the Radio feature etc. Also, we brought to India localisation of plans which did not exist in the Spotify world. Like the one-day or one-week plan which is reminiscent of the sachet business and a very India market specific product. We also have a plan for every kind of family, for two, six members, for students costing 59 rupees etc.
Q] You've just launched a new campaign, which highlights how the positive impact of music can change the listener's mood. What kind of ads spends were dedicated to it?
The insight was that music helps in enhancing your mood. For e.g. if you have a bad breakup, it always helps to listen to music. We have dramatized moments like this in the creative. Like always, it is a multimedia mix. We will be looking at TV, Digital, social media, OTT, and of course working with a few influencers as well. Also, it is a pan India campaign, so there is Tamil, Telugu, Malayalam as well in the kit.
---
ABOUT THE BRAND
Spotify is an audio streaming platform which has over 8 crore songs and 400 crore playlists across moods and moments, including user-created playlists that have become increasingly popular in India. More than 150,000 playlists are created by Spotify users in India every day, making it one of the most popular features on the platform.
FACTS
Media agency: UM Lodestar
Creative agency: Leo Burnett
PR Agency: Ruder Finn
PROFILE
Neha Ahuja is the Head of Marketing for India at Spotify, and responsible for the overall Marketing and Consumer Communication Strategy for India. She is instrumental in designing and delivering all tent pole Consumer Campaigns. Prior to Spotify, Neha had worked for brands like Procter & Gamble, and Vodafone.
---