Q] What are your expectations from 2023, and what's in the pipeline?
We are gaining a lot of momentum right now. As this year is an election year for India, we know that there will be a good number of subsidies in the middle India belt, especially in semi-urban areas. As a mass brand, we see a lot of opportunities to grow owing to various factors like more disposable incomes and better economic conditions. Therefore, we are very optimistic about the fact that 2023 will see huge growth in terms of our market share as well.
Q] What is your current market share in the personal care segment, and what are your strongest growth markets today? Also, what kind of growth have you seen for RSH Global in the past one year?
As per Nielsen 2019 data, RSH Global was ranked the sixth largest skincare company in India. Northern markets (Hindi speaking markets) and West Bengal are the strongest growth markets for the brand at present in India.

As far as growth is concerned, we have seen a growth rate of 20-25% CAGR in the last one year.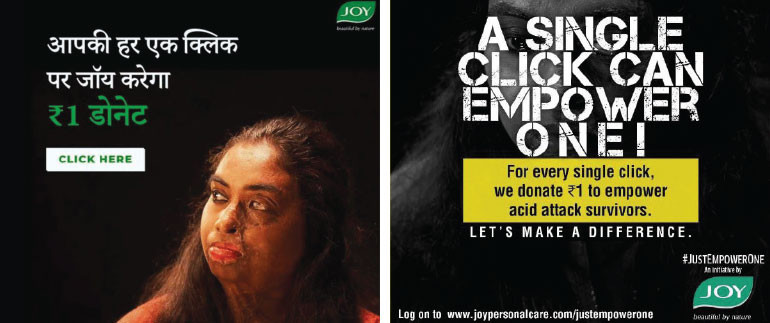 Q] Tell us about RSH Global's #JustEmpowerOne campaign. What was the objective behind it?
The journey of #JustEmpowerOne began in 2019 with the 'Skin of Courage' campaign. It started off as a purpose-led initiative and went on to become a cause-based campaign. The purpose of RSH Global is to make high quality products at an affordable price point. In the skincare space it is very important for us to have a purpose in order to differentiate our brand. Most skincare companies look into four types of skin, but we came across this fifth one, the most sensitive skin - that of people with extreme acne or scars as in the case of burn and acid-attack victims. So, the first step was to start making those products suitable for acid attack survivors, and make them available at an affordable price.

We also collaborated with Deepika Padukone's film 'Chhapaak' as it was related to our cause and something that we genuinely believe in. We worked with an NGO, Atijeevan, to distribute our products to acid attack victims. In the first phase, we promoted the 'Skin of Courage' campaign and in the following year, we came up with #JustHireOne, encouraging corporates to hire such victims. We too hired an acid attack survivor in our company. She was made the face of the campaign.

However, during the second phase we realised that hiring for corporates will be difficult because most victims are not qualified for such jobs. That is when the third leg of the campaign #JustEmpowerOne, took shape. We have adopted a three-pronged strategy for it, wherein we are requesting corporates to hire qualified graduates like Pompa who is currently part of our organisation. In the next phase we will populate the campaign, and get people to support and finally contribute a certain amount of our sales to the NGO Atijeevan to help these girls complete their education. The idea is to empower them so that they can be financially independent and lead a dignified life.
Q] What kind of budget have you allocated for the overall campaign?
Over the last three years, we have been spending approximately three-and-a-half to four crores on the overall campaign, which also includes media associations. Keeping aside the other monies like the contribution that goes from sales, almost all associations and media budgets will be four to five crores approximately.
Q] Joy Personal Care has launched its sensitive range especially for acid attack survivors. How has it been received in the market? What kind of sales have you seen so far?
The sensitive range was not done for the purpose of achieving a certain number. Of course, it is being picked up by a lot of people because if it is good for acid attack survivors' skin, then it is good for all of us. It was never the intent to have a monetary aspect to it. The whole idea was to ensure that we demonstrate the purpose. Though it is part of our e-commerce space, we did not set out with the idea that we need to sell X number of products.
Q] Tell us about your collaboration with Sharechat and Moj? How are you using the platform?
We collaborated with ShareChat and Moj to have a wider reach in the middle belt of India, the Bharat of India, as we call it. The frequency of acid attacks is higher in the semi-rural and rural belt, especially the semi urban areas. That's what we have seen over the years, and so we felt that Moj would play an important role here. Through ShareChat and Moj, we want to make people aware. Additionally, they also give us the ability to go regional. So, a lot of the campaign assets have been done in Hindi, Gujarati, Bengali, and southern languages. That is one of the reasons why this partnership has worked beautifully for us. We have also promoted our campaign on Meta platforms, which has helped us to reach out to a lot of people.
---
PROFILE
Poulomi Roy is the Chief Marketing Officer at RSH Global. She oversees business and marketing operations in multiple geographies, while also handling the international business. Roy is responsible for drafting strategies for revenue generation and growth. She is also in charge of developing markets and strategizing communication for Joy Personal Care.
ABOUT THE BRAND
RSH Global PVT Ltd. is a personal care company established in 1988 in Kolkata. It delivers consumer hygiene and personal grooming for both men and women globally with its brands like JOY, X-MEN, and Karis. It has a turnover of 450cr, and is the sixth largest skincare company in India.
FACTS
SOCIAL MEDIA AGENCY: MADISON WORLD
PR AGENCY: ADFACTORS PR
DIGITAL AGENCY: MADISON WORLD
CREATIVE AGENCY: IN-HOUSE
MEDIA AGENCY: MADISON WORLD