Q] The #HumKarkeRahenge campaign by Edelweiss Tokio celebrates the spirit of its advisors; how important has the role of advisors been in brand-building over the last 10 months?
The way our entire agent fraternity has managed to tackle the pandemic head on is admirable. Almost 90% of life insurance is bought by customers when there is an intermediary (somebody who explains the product) involved, regardless of what we may think about people buying insurance online and consumption happening online. For years, agents were used to selling insurance products in a face-to-face meeting. When we knock on 10 doors, one will end up buying probably. I salute the way in which agents have adapted to the Digital way of selling in the wake of the pandemic.
Q] One of the interesting aspects about this campaign is it leverages the social media reach of the brand's sales team; what made you decide on this approach?
The advisors face rejections, procrastination and excuses from customers constantly but they keep doing their job which is why we wanted to celebrate their spirit. Once we got our communication sorted on the way ahead, we ran it past a couple of our advisors and sales people. We realised that it was striking all the right chords. The ownership was there because they see it happening in their lives. The moment the acceptance was there, we got our entire people on social media to talk about it. It was not mandatory; they had the option of opting out but we are happy with the response as everyone has gone ahead and posted it.

Q] What is the marketing mix for this campaign, considering that social media is such an important element? Will Digital be the pivot upon which the brand will strategise its marketing campaigns in the future?
Digital has always been a part of our marketing mix. The pandemic has led to two things: we have become a little cautious about our spending because we don't know how the future is going to pan out. This situation has told us that we cannot plan for everything. Once we decided to be cautious with our spending, we decided to focus only on two elements in our mix. We focused on Digital and on TV.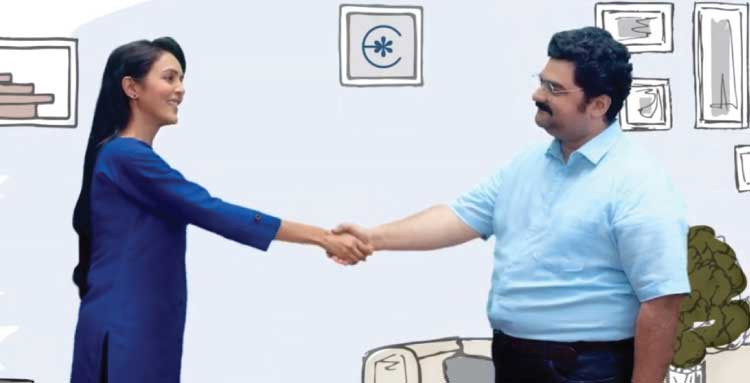 ABOUT THE BRAND
Edelweiss Tokio Life Insurance is a joint venture between India's Edelweiss Financial Services Ltd and Japan's Tokio Marine Holdings. The company established its pan-India operations in July 2011 with a focus on protecting people's dreams and aspirations. With a customer-centric approach, the company endeavours to build a multi-channel distribution network to effectively serve over 4 lakh customers across the country. As of March 2020, the life insurer has established 121 branches in 93 major cities.
PROFILE
Abhishek Gupta is the Chief Marketing Officer at Edelweiss Tokio Life Insurance. In his role, his aim is to co-build a life insurance company with a difference. Gupta is an experienced marketer with a demonstrated history of working in the BFSI and retail industry.



Q] What has the response been towards the COVID Life Insurance policy that was launched in November last year?
When we decided to launch this product, we were very clear as an organisation about why we are into this business. We have committed ourselves to protection. We realised there is a need for a product which addresses the biggest concern that we would see in our lives specifically. The conversations for a vaccine were picking up at the time when we launched the product. There was indication that a vaccine will be out in one or two months but we decided to launch this product because I think it is our responsibility. The response for the product has been extremely encouraging because it is a very topical product. It's high on everybody's radar. It is easier to create conversations around the product. It gave our distributor community a huge talking point as it became a conversation starter and augmented engagement with our distributers. We will continue with this product for as long as there is a need for it.
Q] Sonu Sood, as we all know, was very active during the pandemic. How has your association with him helped the brand?
We were launching a product at a time when many people had lost their jobs and by extension, their source of income too. So this product we launched (Active Income Plan) would create a second source of income for people. We had to spread awareness about the product, and Sonu Sood mirrors the values we stand for. I always look at two things as a marketer: engagement with the customer and with the distributor. It went up several notches with him on board. It is one of the most successful product launches that we have done; we had approximately 15,000 people from our advisor community joining the virtual launch, which is not something we have ever had at a physical launch.
Q] How do you see products like Saral Jeevan Bima (for low income earners) shaping the category and the brand in the coming years?
We were the first life insurance company to launch this product after which others followed suit. This product will open up insurance sector to the segment with low incomes. They were not getting covered adequately up until now because of the design of underwriting guidelines. With this cover, the penetration in terms of reach and the number of people will go up drastically.