PROFILE
Rahul Deorah, Vice President –Marketing, Urban Clap comes with over 10 years of FMCG and entrepreneurial experience. He joined UrbanClap in its early days to lead the ATL marketing efforts and quickly rose to his current position in the organization. Rahul has been an integral part of the brand's growth story and is now responsible for the growth of a number of key business verticals at UrbanClap across various channels.
MARKETING TIP
Marketing is a mix of art and science. Both need to go hand in hand.
Q] Tell us about the latest campaign that you have launched…
Diwali is the time when most of us Indians actually wake up to home upkeep and want to get everything done together, from cleaning to repairs, and general house cleaning. Given that UrbanClap has multiple use cases for beauty and for home upkeep, our campaign 'Tyohar Ki Tayari' encapsulates how UrbanClap helps the consumer with everything, from getting ready for the festival or getting your home ready for the festival.
Q] What kind of growth surge are you expecting from the festive season?
Given that we are a supply-side business, during the festive season supply becomes a slight constraint to our growth. Since we are not a warehouse business where we can stock up in bulk on items in preparation for festive demand, our growth is usually restricted to 1.8 to 2X at this time, because we can't add supply overnight. Ours is a largely people-centric services business model. However, this doesn't bother us too much as we believe our responsibility is to ensure that our associates get a steady stream of income throughout the year and not just in these three-four months during the festive season. Many of them have left their jobs to join UrbanClap full time and since we don't throw in any incentives, what they earn through our platform is solely by virtue of their work, and this is their primary source of income.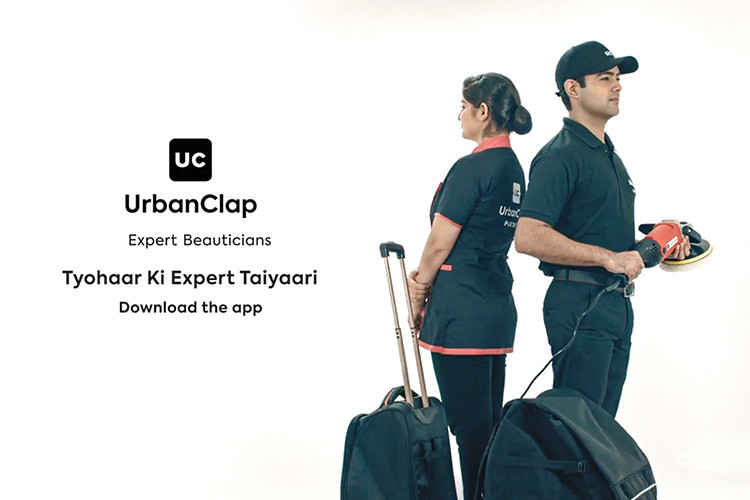 ABOUT THE BRAND
Founded in November 2014, UrbanClap is India and the UAE's largest home services company. The company offers services such as beauty and spa at home, cleaning, plumbing, carpentry, appliance repair, painting and allied services through its mobile app and website. It operates in 14 cities in India and in two international markets, namely Dubai and Abu Dhabi. It has a partner network of over 20,000 hand-picked service professionals, providing financing, training and product or consumables support.
FACTS
Creative Agency: SIDEWAYS
Media Agency: MINDSHARE
PR AGENCY: BORING BRANDS
Q] Which are the categories that pick up during the festive season?
In terms of beauty and wellness, it would be 'Salon at home' and in terms of home upkeep, it would be repairs and cleaning services. Cleaning is actually the biggest number driver in this season because there aren't many other organized players who offer home cleaning, and Diwali is a time when users are generally elastic about their spending on home upkeep.
Q] What is your marketing mix?
It is primarily TV and Digital because we prefer mediums that are more audio-visual in nature, given that we have fairly new categories, around which we need to tell a story. About 40% of our ad spends are on Digital which may increase going forward as most of our audiences are on that medium, and we are fairly heavy on Instagram, Facebook as well as YouTube.
Q] You launched recently in Lucknow, and three other cities. How has that worked out for you?
We launched in four new cities in the last one month - Lucknow, Ludhiana, Vishakhapatnam and Vadodra. All the cities have scaled fairly well, with good customer response. We had honestly not expected Jaipur and Chandigarh to do so well when we launched there eight months ago, and that gave us the confidence to launch in these four other cities as well. We are looking at launching in 10 new cities in the next three-four months.
Q] What is the kind of reach thatUrbanClap has today?
In any month we have anywhere close to 700,000 to 750,000 users across India who come to our platform to experience our services. This month we may cross the 800,000 users mark.
Q] I believe your revenues have jumped 150% in the last year…
A:We don't really trackour growth in percentages because the base is so small right now. However, the number you have mentioned is correct – which is a growth of 3X as compared to October last year. Every year we are growing by 3X-4Xevery year. Out of the total revenues, about 40-50% is spent on advertising. However, we don't rely heavily on advertising, because being a services-led platform, most of our business comes through word-
of-mouth.
Q] What is your brand USP?
Our USP is the fulfillment experience. In India, the problem has always been asymmetry of information. Good customers don't get good professionals. And good professionals generally don't get enough good jobs. However, UrbanClap provides professionals with a clear visibility on the number of jobs available in a week or month and they are expected to maximize the consumer experience on each job to ensure good ratings and subsequently their place on the platform. This has helped us to maintain a leadership position in the industry, even as we continue to invest in this experience to spread awareness of our services through satisfied customers.
Q] How do you distinguish yourself from a Housejoy, Quikr or Justdial which operate in the same kind of space?
We don't track competition and we believe the market is very big for everyone to co-exist currently. That said, we believe it is the service experience that speaks for the brand. Ours is also a fulfillment-oriented first track company, which means that every service professional on our platform works with us exclusively. In this way, we are able to control, as well as facilitate a lot of behavioral and financial instruments for them, leading to a more controlled consumer experience. So the only thing we invest on heavily is the consumer experience through training, re-training, through tracking provider's ratings, tracking the fulfillment experience, and the service experience. So, that would be the differentiator that makes us stand out from the others. Just Dial is a fundamentally different business and in the future there may even be a possibility of UrbanClap getting listed on Justdial so that consumers can book our services from there as well.
Q] What are the key challenges you face?
Finding and onboarding more supply is the biggest challenge. The skilled supply pool in India is shrinking day by day. Besides, we also have a certain benchmark at UrbanClap on the kind of supply pool we want to get on board. So, we are doing multiple things like migrating the supply pool from one place to the other, or creating supply from scratch, from identifying talent to onboarding them to training them end to end and then testing them before they start actually serving real consumers. We also need to keep a lookout for a big player who hopes to enter this industry considering the home services industry is very attractive, estimated to be worth over $30 billion.Hence we need to definitely keep working on both the demand and supply side of our business over the next couple of years. We see an opportunity to create a truly global company out of India which is a reliable household name for home services.
Q] Are you looking to introduce ads as a revenue stream on the platform?
Not in the near future. We want to focus on our core business, which is delivering a service to the consumer and we have a certain take rate which varies from service to service, but on an average is 20% of the overall service revenue that's recorded on the platform.
Q] What are your expansion plans globally?
We are looking to enter Australia in a couple of months. The services industry faces the same issues throughout the world as it does in India; asymmetry of information, uncertainty of supply and of getting the next job, and this uncertainty keeps the prices fairly high for the current job. Australia as a market has a ticket size which is at least five-six times that of India, which shows its tremendous potential. We have also got a great response from the UAE market where we are among the top two players. So we are fairly confident about our execution capabilities and looking forward to what the future holds for us.