Q] Tell us about HDFC Life's latest campaign #SkipNahiInsureKaro and what kind of response have you received on your 'Buy Online' series so far?
#SkipNahiInsureKaro is a series of campaigns that we are doing traditionally, and this is the third attempt. The first time when we did the campaign, it was all about driving traffic to get consumers to come online, experience our website, and understand the product. Subsequently, we had gone deeper into various product categories. Today, the attention span of people is very low and they tend to skip a lot of things. The awareness level for life insurance is way too high, by 95%, however, people procrastinate and skip. So that is how we got the tagline #SkipNahiInsureKaro for this new campaign. We have signed four films and three of those films are focused on the Sanchay family of products, which includes Sanchay Plus, Sanchay Par Advantage, and Sanchay Fixed Maturity Plan, so that's the primary focus of Sanchay from product chart category. The fourth product that we have is Click2Protect Health, which is a combination of life insurance and health insurance. The numbers generated on the website are higher than what they were prior to the campaign. People coming to the website to see Sanchay products are higher now.
Q] What media mix and budget have you allocated for the campaign?
It's a fully Digital campaign including social media platforms, but a lot of the other things are on video driven platforms like YouTube, etc. Apart from that, the display campaigns will continue running over the next couple of quarters.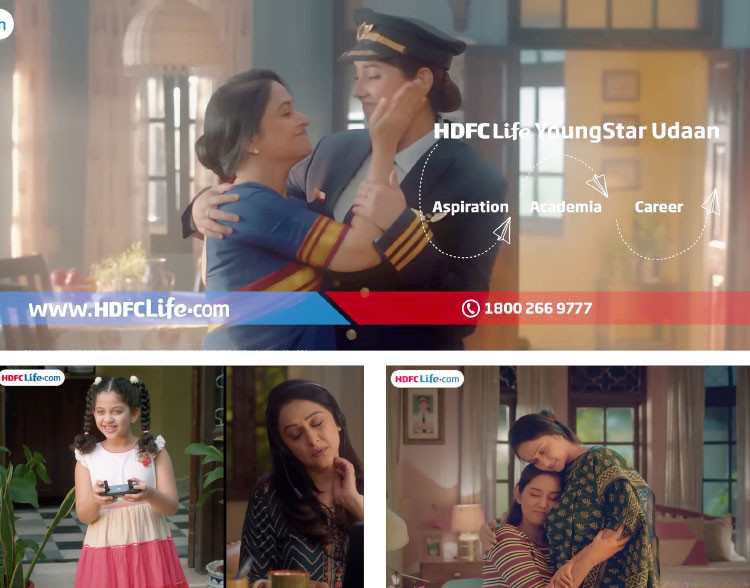 Q] What new avenues or formats are you exploring on Digital, considering it is now taking up a larger share of your spends?
Yes, Digital is growing well enough, where we have the typical platforms - Google ecosystem and Facebook ecosystem. So about two-thirds of our spending pretty much happens on these platforms. But the other one-third is outside big tech platforms and more local platforms, so we are talking about podcast oriented or voice oriented platforms. These could also be ad platforms by telecom companies or by some of the Indian tech institutions. Last financial year, we came up with our 'Bounce Back' campaign, wherein we hosted a convocation for the batch of 2022 on metaverse. We hosted an event on metaverse where our MD & CEO spoke about career, and we had footballer Sunil Chhetri and Swati Bhargava, Co-founder of cashkaro.com in the metaverse.
Q] How has the insurance sector transitioned and evolved in the last 2 years?
Since the start of Covid and the lockdowns, demand for protection oriented products have risen, especially through Digital platforms. The demand for insurance increases whenever a Covid wave hits the country, and as the wave starts to subside, the demand shifts from immediate security to long term security, it becomes all about guaranteed products and medium to long term saving oriented products. This behaviour pattern was witnessed during both the waves. People are always on the edge as far as insurance is concerned, and tend to postpone it. Also, consumers have moved up the digital maturity curve significantly in the last 2 years. People are now more comfortable buying high value insurance products online but during pre-covid that was not the case. Nowadays people are willing to put a substantial part of their corpus in annuity or a pension plan, which they would usually buy closer to their retirement age. It's not just the millennials, but also the more experienced investors or the retirees, who have become digitally comfortable in the last 2 years.
---
ABOUT THE BRAND
Established in 2000, HDFC Life is a listed, long-term life insurance solutions provider in India, offering a range of individual and group insurance solutions. As of March 31, 2022, the Company had 39 individual and 13 group products in its portfolio, along with 7 optional rider benefits, catering to a diverse range of customer needs. It has a wide reach with 372 branches and additional distribution touch-points through several new tie-ups and partnerships.
FACTS
Media Agency: Logicserve Digital
Social media agency: Schbang
PROFILE
Vishal Subherwal is the Chief Marketing Officer & Head of ecommerce & Digital Business at HDFC Life. He comes with over 2 decades of professional experience in industry and consulting roles and is currently heading the marketing, e-commerce, digital business and sustainability initiatives at HDFC Life. He has diverse responsibilities such as brand & consumer insights, digital experience, performance marketing, customer funnel & value management, technology integrations, business operations & underwriting, and CSR.
---
Q] How is your brand changing the narrative to bring positivity around life insurance?
It is the way we are speaking to consumers about life insurance. We don't speak about death very proactively to scare consumers and make them buy our products. For example, 'The Memory Project' is one of our campaigns that gives us all an opportunity to take a moment and look at our lives and everything that we've achieved, despite the losses we've suffered. Another important point is that as a consumer, how can you protect against interest rates, and the way to do it is by purchasing a life insurance policy, but if you get the guaranteed returns, the interest rate risk is transferred to the life insurance company. You don't have to worry about such a thing here, and especially for those life goals that you can't afford, so we provide a guarantee or indirectly help the customers. We also talk about the risk of people outliving their savings or not having enough money during their retirement period.
Q] What kind of growth have you seen in the last one year?
As a company, we have pretty much done a diversified product mix and in some sense gave the customer an opportunity to make a decision based on their life stage, life goals, and the risks. So we have a lot of conversations around protection against the uncertainties in life like death, health issues or unemployment.