On World Photography Day, memory brand Sandisk (of Western Digital) rolled out a special campaign for photography enthusiasts to showcase their best work, using the hashtag #ShareYourMasterShot. Jaganathan Chelliah Director, Marketing, India region for Western Digital tells us more about the campaign and the consumer response to it. He also tells us how the current pandemic has fuelled the growth of content creation and consumption, thereby increasing the need for storage solutions from Western Digital


Q] Tell us a bit about the #ShareYourMastershot campaign. What kind of response have you seen from consumers so far?
We all love clicking pictures be it professionally or as an amateur photographer. Photography is a digital expression of ourselves.

And the SanDisk brand has been a trusted companion of photography aficionados for the past two decades. Therefore, we launched a SanDisk brand campaign to celebrate World Photography Day (August 19) under the theme #ShareYourMasterShot.

The concept of the campaign was simple, we wanted consumers to share their best shot under a relevant theme on a specially created micro site and showcase their master shot to the world. The response for the campaign has been phenomenal and above our expectations. We received over 10,000 unique photo entries, with a total reach of over 40 million photography enthusiasts.
Q] How are you amplifying the initiative? Are you roping in influencers, and are you looking primarily at picture sharing platforms like Instagram?
We promoted the campaign through digital and social media, with Instagram as the lead vehicle. We created a special video to communicate about this campaign. We also introduced a series of digital assets like carousel ads, theme-based posts to create awareness about the contest and encourage participation.

Additionally, we have roped in seven top photography influencers to promote this campaign on their Instagram handles. They are also running photography classes on our platform to increase mindshare.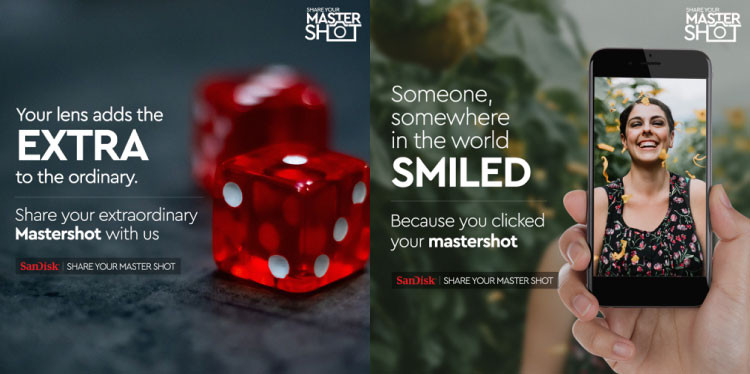 ABOUT THE BRAND
Western Digital is a leading global player in data infrastructure, creating environments that help data to thrive. The company drives innovation that enables consumers to capture, preserve, access and transform an ever-increasing diversity of data. Western Digital data-centric solutions are comprised of the Western Digital, G-Technology, SanDisk and WD brands. Western Digital, the Western Digital logo, SanDisk, the SanDisk logo, and SanDisk Extreme are registered trademarks or trademarks of Western Digital Corporation or its affiliates in the U.S. and/or other countries.

FACTS
Media, Digital and Creative Agency
for the #ShareYourMasterShot
campaign: FoxyMoron
PR Agency: Genesis BCW



Q] What else is the brand doing to stay connected with photography enthusiasts?
SanDisk as a brand highly resonates with photography enthusiasts. Depending on what kind of device a consumer is using for capturing images and videos, we provide the best possible solution. For professional photographers, we provide SanDisk Extreme Pro CFexpress Card Type B and SanDisk Extreme PRO SDHC and SDXC UHS-I Card.

For amateur photographers and anyone who is interested in mobile photography, we offer SanDisk Extreme microSD cards that support 4K. We offer trusted, reliable, convenient solutions and storage essentials for photographers that deliver a powerful, fast performance.

Another flagship product that we have is the 1TB SanDisk Extreme Pro Portable SSD that is designed to transfer and back up content quickly while the consumer is on the go. SanDisk enables photography enthusiasts to never put a stop to their imagination.
Q] The lockdown this year and the fact that people are still staying at home presents a great opportunity for players in the gaming/animation/ space. Are you seeing a greater demand for SanDisk SSDs, SD cards and other products in the portfolio?
Yes. The stay at home situation has fuelled the growth of content creation and consumption, thereby increasing the need for internal and external storage solutions from Western Digital.
Considerable growth is seen in the gaming sector as individuals are now indoors and multiplayer PC gaming is gaining momentum.

Modern games come with high-quality graphics and motion. This in turn has given rise to the growth of our internal and external SSDs as consumers expect a seamless experience today. Also, as consumers get savvier by spending more time on gaming, there is a clear expectation to integrate AR and VR into 3D content, and the animation industry is looking for performance hungry SSD based storage solutions that can work in tandem with high end CPUs and GPUs to create high quality content. The ultra-fast WD Black SSDs provide the necessary horsepower to meet their needs.
Q] How are you meeting the demand that comes in from gamers/photography professionals/animation experts? What are the challenges you're facing during this pandemic?
We clearly understand the data storage and data management needs of these customer segments. Gamers consume high-end 3D graphic content and their computers should be very responsive. For them we have the WD BLACK SN750 NVMe SSD, which delivers top tier performance for gamers.

For animation professionals or content experts, who want high productivity and good support for their content creation, we have WD BLUE NVMe SSDs. Like any other brand or organization, the challenges we face is the limited ability to engage directly with our consumers. We are our overcoming this with highly flexible and innovative Digital-led brand awareness and engagement campaign.



PROFILE
Jaganathan Chelliah is the Director – Marketing for India region at Western Digital Corporation. He leads the marketing function for the entire portfolio of Western Digital brands across consumer, commercial and enterprise segments in India. His experience in both sales and marketing functions has helped him in successfully conceptualising and running large-scale integrated marketing campaigns across brands and customer segments. He has played a lead role in enabling tech adoption and building new categories that address latent needs of Indian market. Chelliah also pursues sports actively in his free time and enjoys basketball and cricket.

MARKETING TIP
For the current environment, find a middle ground between brand and performance marketing. Give customers an opportunity to interact with the brand.