Online real estate platform Housing.com has recently launched a quirky song as an extension to its "#YahanSearchKhatamKaro" campaign. Ideated and created by Red FM, the song aims to reflect the sentiments of millennial home seekers in India. Snehil Gautam, Head of Growth & Marketing, Housing.com, Makaan.com & Proptiger.com, shares his views about the campaign, in particular, and the real estate market in India, in general, while highlighting the key growth drivers of the online business.
Q] How has 2021 panned out for Housing.com? What kind of growth have you seen during the year?
For Housing.com, 2021 has been a fabulous year. The good thing is we have grown holistically — whether it is the top line, bottom line or audience. Housing.com has been the top player in the real estate sector for the last three to four months. We have achieved higher double-digit growth in topline. In terms of product, we have launched a vertical, Housing Edge. We have always envisioned Housing.com as a full stack player and the launch of Housing Edge was a step toward achieving the goal of becoming a full stack player. We are witnessing 56% year-on-year growth in audience acquisition.
Q] In terms of marketing and communication, how has it been for Housing.com?
We launched 'Yahan Search KhatamKaro' campaign in 2021 and the responses were extremely well. The two things that stood out for us were, first, the campaign and the ads were really entertaining and, secondly, the actors we chose made lots of difference. Manoj Bajpayee as the seller and Rajkummar Rao as the buyer have really helped the ads stand out in the clutter of ads on television, or in the digital space. The campaign has resulted in 50% plus growth in terms of audience reach. It has raised the awareness level, in general. As a result, we saw an increase in the number of users coming to the platform from tier-I and –II cities. Our app installs have now crossed one crore mark. On the digital front, we segmented our users into small groups. We have translated Housing.com into several regional languages to cater to people from tier-II cities.
Q] What was the objective behind Housing.com's new 'search song'?
The song is based on the concept that the search radar is always on, in all of us. When it comes to home, buyers, sellers and renters have to face lots of hardships to find a perfect one. But, we believe that your search of finding the right tenant or home will come to an end if you come to Housing.com because we have all the necessary information and services that will suit your needs. The song echoed the thought that our search radar is always on. It was an extension of our TV campaigns with Manoj Bajpayee and Rajkummar Rao. This was a digital campaign created by Red FM.
Q] The pandemic has definitely impacted the real estate sector. To what extent are you seeing recovery now?
The pandemic has helped the real estate sector in a distinct way. Every sector, including the real estate, suffered during the lockdowns. But, in general, what we see is that real estate bull are not a one or two year phenomenon. They last for four to five years. On Housing.com, we have released IRIS (Indian Residential Index for Online Search) that basically tells you how the online searches are trending over the last 18 months. So if you compare November 2021, the rent index is almost 29 points higher compared to November 2020. The buy index is almost 10 points higher compared to November 2020. So online searches are happening, rather the searches are at all-time highs, both for buying and rent. This is great news for the real estate sector because the searches will eventually translate into transactions in the coming months. We are highly optimistic for this quarter and the next as far as real estate transactions are concerned.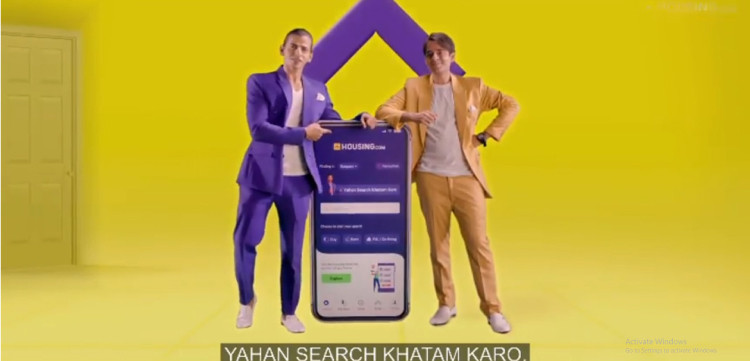 ABOUT THE BRAND
Founded in 2012, Housing.com is owned by REA India, a full stack real estate platform that also owns Makaan.com and PropTiger.com. Housing.com is a real estate advertising platform for home owners, landlords, developers, and real estate brokers. The company offers a wide selection of verified listings for new homes, resale homes, rentals, and co-living spaces in India through a trained team of data collectors, analysts, and auditors.
FACTS
Creative Agency: Red FM (Campaign Song)
PR Agency: ICCPL
PROFILE
Snehil Gautam is the Head of Growth & Marketing for Housing.com, Makaan.com and PropTiger.com. He is responsible for the planning, execution and monitoring of the organisation's marketing strategies across verticals. He also brings to his role rich experience in various spheres of marketing across branding, performance and content marketing.



Q] What are the key drivers of growth for the real-estate sector, specifically the online business?
Home loan rates are at an all-time low now. People were mostly at home in the thick of COVID-19, so consumer behavior has also changed a lot as they have realized the importance of home. For the first time, we are seeing a trend among people to upgrade — those living in 2BHK apartments are buying 3BHKs. Because of the hybrid working model of work from home and office, people are presently in need of bigger spaces. This is also the reason behind the significant jump in sales in the luxury and mid-luxury segments. So, the behavior has changed for the good at least for the sector. Macro-economic indicators show that the GDP has been growing significantly, so there's more money in people's hands and they can think of buying houses. Deeper internet penetration has led to a jump in traffic from tier-II and –III cities, and this has happened mainly because of the pandemic.

Q] What marketing strategies have you planned for 2022? Which medium have you planned to invest in the most?
The focus of our strategy has been largely television and digital platforms as we believe that these two platforms influence our core audience in their decision-making. Our mantra has been very simple — Housing.com should be present wherever our core audiences are. So, you will see us during the IPL, other major cricket tournaments to happen this year and during popular general entertainment programmes like The Kapil Shama Show. We also plan to expand into tier-II cities after witnessing significant growth in the awareness levels in tier-I cities.
You will see Housing.com brand penetrating into tier-II cities through all mediums, whether radio, outdoor or digital.