Q] Tell us about OPPO's newly launched - F21 Pro and F21 Pro 5G. How do you plan to market the new offerings? What is your marketing strategy?
The F21 series is our industry-disrupting launch in the mid-segment category of smartphones. Along with some amazing industry-first features, such as fiberglass leather design, in addition to a high-resolution camera, and great performance, the new series guarantees unmatched consumer experience. How this campaign differs from the previous ones is that we adopted a Digital-first approach. So the choices that we have made around this campaign were driven by how consumers are behaving right now, especially the Gen Z, and how they're consuming content. This being the IPL season, it was important for us to go Digital first.
We launched the campaign #FlauntYourBest with Varun Dhawan, our brand ambassador. We also roped in celebrity influencers like Raghav Juyal, Shakti Mohan, Dhanashree Verma, and Avneet Kaur.
Collectively, the five of them have a reach of close to 100 million consumers, so they became our broadcast channels. We also had a launch event that allowed fans to be a part of Varun Dhawan's birthday bash, virtually. With OML, our agency partner, we create different kinds of assets, therefore, we ended up creating about 44 different main video assets, including teasers, film, launch film, Instagram stories, and reels. There was even a community challenge at the end of it, a hook step. All in all, we've had close to about 100 different pieces of communication that we had crafted. We've had over 10 million views for just the first teaser, over a million likes for the teaser, and more than 10,000 comments.
Q] What was the thought behind roping in dance influencers when you had Varun Dhawan on-board for the campaign?
Influencer marketing is the future, and it is the most powerful tool if you're able to have a clear sense of how you want to tell your story and your message. What influencers do is that they give you authenticity and a real connection with the viewers. So if I talk to you specifically about the F21 series, the reason why we selected the aforementioned influencers is because we felt that they can add a lot more value to our campaign. They also have a good relationship with Varun, as all of them had worked with Varun in the past, and dance is the common connecting link amongst them. We wanted to be true to the story we were telling.
Q] What percentage of your budget is allocated to influencer marketing?
If I look at this project, the amount of money that we spent on getting the influencers on board was not massive. So they don't necessarily constitute a big percentage of our overall marketing budget. What costs more, especially in a campaign such as this, is the process of creating the content and putting together a storyline that is authentic, and which is executed well.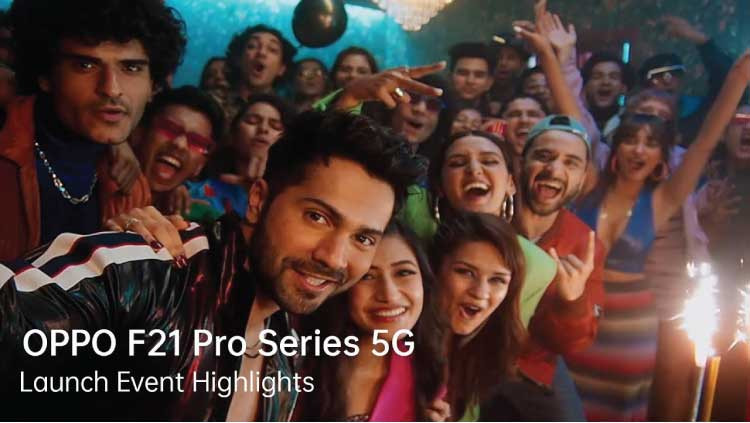 ABOUT THE BRAND
OPPO is a global smart device brand, providing a wide range of smart devices, spearheaded by the Find and Reno series. Beyond devices, the company provides its users with the ColorOS operating system, and internet services like OPPOCloud and OPPO+. The brand operates in more than 40 countries and regions, with six research institutes and five R&D centers worldwide, as well as an international design centre in London. The brand also launched its first overseas 5G innovation lab in Hyderabad.
FACTS
Creative Agency: Only Much Louder (OML)
PR Agency: Adfactors PR
PROFILE
Damyant Singh Khanoria is the Chief Marketing Officer at OPPO India. In his current role, he leads the marketing team and has been entrusted with strategizing the marketing operations for the brand, across India. Khanoria is an industry veteran with over 20 years of experience with compelling marketing portfolios across leading consumer brands.



Q] What are the emerging trends in the smartphone and tech industry, and how is your brand leveraging the new trends to drive growth for your business?
The big trend really came around, along with the pandemic. For us, it was how do we drive innovation and how do we think differently about every product launch? It's because we're in a market where product innovation isn't necessarily going to be the massive differentiator, it's going to be about the context you're able to build around your product with the consumers. So for us, it was about how we have been able to push the boundaries, how consumers are seeing our marketing, and how we are telling our story.
Secondly, how do we embrace Digital to support our hybrid multi-channel marketing and sales? Historically, OPPO has always been a very offline heavy brand, and we want to continue leveraging those channels, while also harnessing the power of e-commerce, and start curating a social media strategy.
Thirdly, we need to start prepping up for the post-pandemic world in terms of how the consumers are going to behave once things are completely back to normal. As a brand and a marketing team, we're figuring out how we want to behave and interact with consumers once everything settles down.
Q] What is your key focus and marketing approach this year?
We are embracing Digital and figuring out how we can tell powerful stories for our products, using social media platforms. We will aggressively continue with that. One of the things that we do really well at OPPO is that we pilot new ways of marketing.