Q] The new ad campaign of Huggies was recently released, what message does the ad campaign deliver to the audiences?
As a brand, we have always tried to bring positive difference in the life of parents as they navigate through the new journey with the little ones. As part of this we do a lot of consumer work by speaking to consumers. One of the things we have learnt is that consumers are looking at a lot more choices and want baby care products containing natural and organic ingredients in them. The key objective of this campaign is to create awareness amongst consumers about the innate goodness of organic cotton which is a vital ingredient for Huggies nature care. Our intent is to provide a product which has no added chemicals like Parabens, Chlorine and Latex. We want to make consumers aware that the product which a parent is looking for their babies is now available in the market.

Q] What is the marketing mix of the campaign to reach the right target group?
We have got a great product with superior quality of packaging and design to promote our organic product. The objective is to spread awareness by leveraging different mediums. Over the last couple of years, there has been a dramatic change in the ways users consume content and Digital media has become a crucial part of it. With the growing footprints on various social media platforms and parenting portals, it has become imperative for us to engage with consumers at digital touch points. We have initiated this campaign heavily on digital mediums as our product caters a lot to millennial parents. We have seen a growth in online business but offline business continues to be a significant part. Having said that, even if a consumer is purchasing the product offline, a lot of content is consumed by him/her online.
Investing in relations with consumers is important for us as we build our journey in India. We want to build a bond which is not only functional but also emotional. We want to support them in the journey of parenthood. Our last campaign 'Sahi Waali Feeling' was all about boosting confidence of parents and reassuring them that they are making right choice for their babies. We have also understood that today, consumers are making well informed choices and opt for natural products for their babies. We are building a bond with parents like in the ad campaign a mother has a bond with her child.
Q] The Indian consumers are going back to earthly and natural products in several categories. Do you think organic products are the next big thing in the market?
Consumers will always want choices. As a brand, we fundamentally do our innovations and identify different trends that the consumers are looking forward to. There are multiple different aspects that consumers require today and so as a brand we continue to do innovations. We provide consumers with different products across different needs and this being one of them.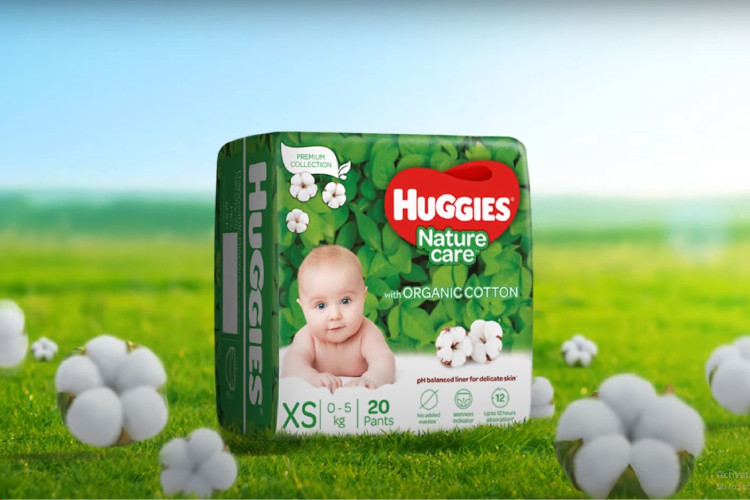 ABOUT THE BRAND
Kimberly-Clark and its trusted brands are an indispensable part of life for people in more than 175 countries. Fuelled by ingenuity, creativity, and an understanding of people's most essential needs, products like Huggies, Kotex, Depend and Kleenex help individuals experience more of what's important to them.
FACTS
Creative Agency: Ogilvy
Media Agency: Mindshare
PR Agency: Fleishman Hillard
PROFILE
Saakshi Verma Menon is the Marketing Director, Kimberly-Clark India, she is a seasoned industry professional with nearly two decades of progressive marketing experience. She has worked extensively with global brands including Colgate Palmolive, Coca-Cola and Uber.



Q] What innovative strategies will be used to increase reach of the brand and revenue growth?
We have been a pioneer in product and packaging innovations and that remains our priority. When we realized that our consumers were buying products in bulk quantity, we launched our Sumo monthly packs. Our two new portfolios Huggies Nature Care and Huggies Premium Soft are exclusively launched for E-commerce platforms. So, we are identifying requirements of consumers and providing them with the right product.
Q] With new player like Dabur entering the diaper segment, do you see competition intensifying?
I think all kinds of competition is good competition, thus respect it. We have our strategies in place and know how we want to grow our business. We have been doing a great job in the last couple of years and therefore for us our strategies remain what they are and we are looking at the consumers to define it for us.
Q] How much growth is Huggies expecting in the upcoming year?
We have been growing steadily over the last couple of years and intend to continue with that growth momentum. Our Nature Care campaign launch is a testimony that we are focused on growing our upcoming brands as well. We are looking at a very robust growth in the next couple of years.