Home interior and renovation platform Livspace is working towards defining the category by educating and inspiring customers through its content marketing and digital campaigns. Kartikeya Bhandari, Chief Marketing Officer, Livspace, explains the insights behind the brand's maiden campaign and approach to consumer engagement
Q] Livspace has just launched a series of digital campaigns highlighting the pain points of getting home interiors done in a humorous way. Can you tell us your observations about the market and the consumers, and the insights that formed the basis of your campaign?
95% of the home interior and renovation market is unorganised. And in the remaining 5% you have sites like us and independent design studios, etc. where we are the market leaders. Now, for us to grow, it is important to grow the category and therefore it was imperative that we show consumers the pain points that they go through in conventional renovation methods. Secondly, the category has long buying cycles with high involvement because it's a high order value purchase and there is a bit of one's own personality in every home. So, it is not something that one is very casual about. Cookie cutter homes don't necessarily work. So, when we were talking with our consumers, it came down to predictability of timeline and the amount of money they will have to pay. They look for convenience and they want transparency in every component. And we realized that the current consumer experience is so broken that somebody needs to fix it. That is the story we put out through these campaigns.
Q] Did you also encounter the perception that such a service is more expensive than getting it done locally?
Yes. A few years ago, interior designing was something that was done by people who would have too much money to spend. It was an extravagance and not a necessity. And to be honest, that perception is still prevalent. But today, there is also a huge chunk of people who are willing to pay to bring their vision to life.
Q] So, how do you define your key target audience? Is it specific to those cities that you are present in right now?
From an operational perspective, we restrict our services to the cities that we are present in which are Bengaluru, Hyderabad, Chennai, Pune, Mumbai, Thane and Delhi NCR. So within these geographies, we have observed a couple purchase behaviour patterns. It is truly a joint decision making that happens there. From an age perspective, it is usually people who are moving into their first homes, and typically in their early 30's. But we constitute our target segment to be between the 30 to 50 year age bracket, because this whole cycle of interior designing renovation is very dependent on life stages.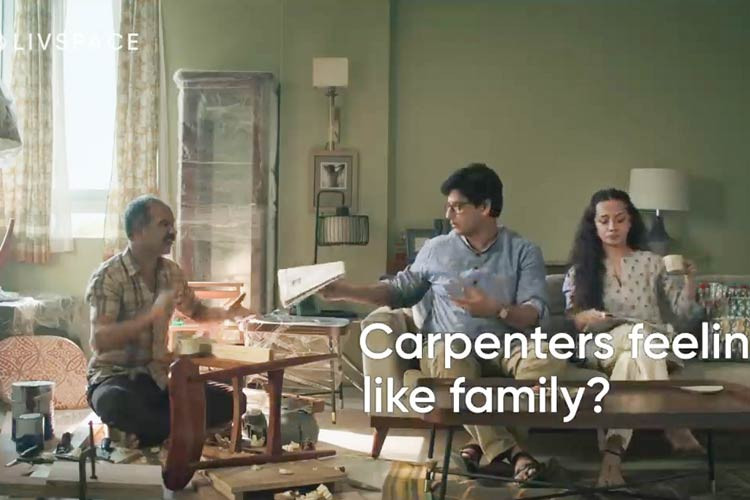 ABOUT THE BRAND
Livspace, a home interiors and renovation platform, launched operations in Bengaluru, India in 2015. Its three-sided marketplace brings together home-owners and a curated community of designers and vendors. Livspace currently serves nine metro areas in India including Bengaluru, Delhi, Noida, Gurgaon, Mumbai, Thane, Pune, Hyderabad and Chennai. The company has a network of 20 design centres and experience apartments all over the country.
FACTS
CREATIVE AGENCY: TILT
MEDIA AGENCY: ESSENCE
DIGITAL AGENCY: PERFORMICS
PR AGENCY: MSL
SEO: RISEMETRIC
SOCIAL MEDIA/ DIGITAL CREATIVE: DENTSU SLINGSHOT
Q] How are you reaching out to your audience through this digital campaign?
Our focusing is very sharp, based on landing one message crisply at a time. Since video is our lead creative, we have relied a lot on the audio visual medium. So essentially, we are focusing on YouTube, Facebook and OTT platforms such as Voot, Sonly LIV and Hotstar. Very soon we will be present on Hotstar as an associate sponsor for the India – Australia cricket series. We feel that the audience that we are going after is extremely digital savvy and therefore most, if not all of them, will be able to see our ads play out on one or many of these digital platforms.
Q] What is the core positioning of the brand? And what are its key elements?
This is the first time that we have attempted to tell our narrative. We have gone with the brand theme that says, 'this is how we make a difference in the consumers' lives' or 'these are the things that we can do better.' Before brand positioning, it is important that people understand what the category well. And therefore, we are working towards creating the category. Because if as a brand I can define that category and I can own that category in the minds of the consumer, I will become the definitive brand of choice to begin with.
Q] Is there also a perception of lack of trust that you have seen? Do people trust an online brand providing such service because so far they have only been dealing with local, known people?
Yes, for online brands, trust is always an issue because one of the requirements for people is to be able to speak to someone directly and have a face to the transactions. That is where we are a bit different because ours is not completely an an e-commerce purchase. It's a long cycle – once you come on to the site, you become a prospect or a lead. After that, we assign a designer who understand your requirements. The designer will work with the consumer to define the vision and the way forward. Then we have dedicated project managers who make sure that the execution is taken care of, along with their project executives. We also have experience centres where you can actually walk into a 'live space' and speak with someone. Obviously, trust takes a lot of time to build but we have made a good start.
Q] How do you differentiate yourselves from competition, and how are you leveraging data analytics, predictive capabilities, AR and VR?
From a campaign perspective, we are talking about category creation. However differentiating on the basis of our tech platform, we have Canvas which is a cloud platform through which we connect with consumers, designers and vendors in the most seamless and integrated way. Augmented Reality and Virtual Reality are great tools from an experiential marketing perspective. We use it to give a virtual walkthrough for a possible home for our consumers at our experience centres.
Q] You were assigned the task of spearheading the evolution of the brand Livspace. What was the first task that you had in mind in terms of taking this brand ahead?
Well, the first thing was to understand the consumer, the business and the buying cycle before anything else. This being a non-standardised industry, there is a huge content play to educate people in terms of things they should be looking for when they are getting their home done, judging certain things, etc. A lot of the brand has been built through these content marketing initiatives.
Q] What is your way forward for the brand? Do you plan to go ATL, or do you plan to keep it digital?
As far as going Digital and ATL is concerned, it is essentially about the markets that we are present in currently. As long as we can reach our target audience effectively, both in an impactful way and with the right frequency on Digital, it is fine. Going on TV will have a huge spillover and while it would help the brand, since we are not present in every market, it will be like a half promise. So we will have to look at it from a distribution availability perspective before going wide. Once we feel that we have the optimal balance, right presence in cities and cost effectiveness in terms of media, we will go wide. But at present we will certainly do a whole lot more on Digital than we have in the past. The intent is to build awareness, recall and brand consideration.
Q] What is the key challenge for the brand right now?
Category creation is definitely one of the challenges and it is something that will take our dedicated time and effort. But our true challenge at a business level is to provide great customer experience, scale and to grow aggressively. At the end of the day we have a lot riding on us in terms of expectations from people, disrupting the current market, the amount of time, money and effort that we and consumers are putting in to deliver to the best results. Good customer experience, which will come from delivering to the best of our abilities, and consumer's vision will get the right virtual cycle going in terms of affinity towards the brand. And the challenge is to keep doing it better.
MARKETING TIP
Focus on creating relevant content to engage with audiences, using the right mediums and platforms at all times.
PROFILE
Kartikeya Bhandari joined Livspace as its first Chief Marketing Officer in February, 2019. He got on board with the brand, after having moved from Flipkart, where he was the Senior Marketing Director. Bhandari, an IIM Calcutta alumnus, has also worked with Nokia across sales and marketing roles in India and Finland.