The latest film Heartbeat from Imperial Blue Superhits Music CDs carries forward the brand's successful 'men will be men' tagline. Ishwindar Singh, General Manager Marketing, Pernod Ricard India tells us how the brand continues to mine fresh insights for their campaigns in order to stay relevant
Q] What was the insight behind your latest campaign for the 'Heartbeat' film?
The focus has always been to provide a complete experience to the consumer when it comes to the lighter side of a man's life. The campaign plays on the universal insights that whatever the situation and environment, men will always behave like men. Therefore the commercial's tagline, 'men will be men'. This time around we have taken this insight to a different level that not only consciously but even in their unconscious state, a man will always behave like a man. We took a creative leap, where we exaggerated the situation to make it humorous to the consumers.
Q] What kind of response have you seen towards the campaign?
In just five days of the launch, the campaign saw 20 million impressions on social media. The campaign wasn't promoted at all and went viral within a day, especially in WhatsApp groups across four continents and has been appreciated globally. A great learning has been that if you have kickass content, it will go global and run across all mediums.
Q] How has the 'men will be men' proposition evolved over the past two decades or so?
If you look at our history and the initial set of commercials, women have been a critical part of the script. Over a period of time, we decided clearly that this campaign had to have very strict guidelines. We are a responsible brand and people should take pride in sharing the content we put out. We ensure that objectification of women is not allowed at all in our campaigns. Women are at the centre of our campaign and we keep it simple, humorous and male-centric.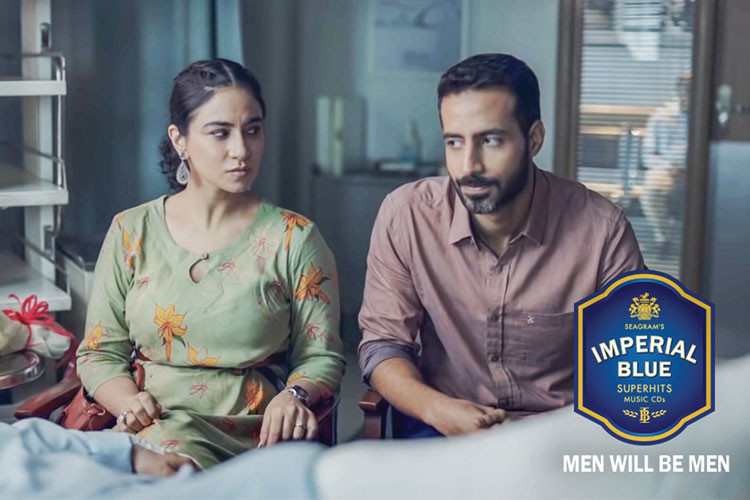 ABOUT THE BRAND
Seagram's Imperial Blue is the largest brand from the Pernod Ricard Group by volume. The brand was born in 1997 and has become synonymous with the word men, thanks mainly to its communication line, 'men will be men'. Pernod Ricard holds a brand portfolio that includes Blenders Pride, Royal Stag, Imperial Blue, 100 Pipers, Absolut Vodka, Ballantine's, Chivas Regal, Royal Salute and The Glenlivet Scotch whiskies, and a host of other prominent alcohol labels. Pernod Ricard employs a workforce of 18,500 people globally and operates through a decentralised organisation.
FACTS
CREATIVE AGENCY: OGILVY
MEDIA AGENCY: WAVEMAKER
DIGITAL AGENCY: RIVER
EVENT AGENCY: STICH
PR AGENCY: WEBER SHANDWICK
Q] What are the brand guidelines set by the team at Pernod Ricard for the 'men will be men' campaigns?
What we tell the agency (Ogilvy) is to keep it simple and relatable. No matter what the language, consumers should be able to relate to it and at the end of the day, it has to make them laugh. While it sounds very simple as a brief, it is extremely tough for everybody to crack. We've also told them that the script should always have an insight from a man's life. We've also drawn clear guidelines that the ad should have subtle, yet intelligent humour. The 'aha' moment should never lead to objectification of women or have crass humour. The ad should be a nice slice of a man's life which makes the viewer smile at the end of it.
Q] Your brand's communication theme hasn't changed over the years. How do mine fresh insights in order to keep the brand fresh?
The pressure is immense in terms of improving the standard and maintaining certain standards. The challenge is in keeping it fresh and relevant. Even when we did the 'Heartbeat' film, we saw a lot of scripts, which made you smile, but at the end of the day, we knew this the Heartbeat film was near the zone of what has been done historically. What we wanted is that when the consumers see the film, they should always feel that they are looking at something fresh and new. It does take us a lot of time because for every success, a lot of rejections have happened on scripts, but at the end of the day, we're happy with the output and the response from the consumers. It's a big challenge for the agency, but they've been coming back with flying colours and that's something we are really proud of.
Q] 'Pyar ki raah mein chalna seekh, Ishq ki chaah mein jalna seekh,' these two lines along with the tagline have become ingrained in the consumer's mind. But does it eclipse brand Imperial Blue?
No, it doesn't eclipse the brand at all. If anything, it only adds to the brand. The ghazal is an integral part of all our films because it exaggerates the moment when the men behave like men. Despite the brand using it for over two decades now, the ghazal has not aged but rather remains contemporary and fresh.
Q] While the TG for your ads is clearly men, how do you target women consumers?
Our commercials are attitude commercials. What we really want to do is celebrate the lighter side of a man's life in a humorous manner. This also has immense appeal with women. Our commercials get a lot of love from women who often say tell us that their husbands behave like that. In all our commercials the woman is the protagonist and the whole film is centred on a man's interaction with the women. While we say 'men will be men', it's poking fun at men and women love doing that.
Q] What is the positioning of the brand when compared to others in the category?
We own a unique positioning. If you look at the category, and all the commercials that have been done, they have taken a serious positioning, usually based on friendship or ambition. The only brand which brings humour upfront is Imperial Blue. Our message to men is, at the end of the day guys, relax, chill out and enjoy the lighter side of life. It's a differentiated and unique position and it stands apart from the positioning of other brands.
Q] What is your media mix like?
We obviously have the classic Television. However, this time we made Digital the hero and because of the quality of the content, we went viral. In fact, we didn't even release a TV commercial for the first two and a half weeks. We released our commercial on Digital first and saw it go viral and got a lot of impressions before we started on TV. The mix this time leveraged Digital and that is something which will continue going forward. TV and Digital will continue to be dominant in our media mix. Our property, Imperial Blue Superhit Nights is currently in its sixth season with its new theme called ROCK & LOL. We have musicians Vishal-Shekhar, comedian Sunil Grover and many other artists, who have come together for the event. We have taken this property across markets and thousands of people have flocked to see the concert live. Events are an important part of the marketing mix and key in our outreach to consumers across both the metros and tier II markets.
Q] How has the brand performed in the last one year?
We don't give out numbers. However, I can tell you that we've been growing very, very successfully. The brand has grown well over the last one year and we gained share and have grown ahead of the industry. We had a strong challenger as our competition in this segment. The brand has also been the winner of Monde Selection Gold awards for its product quality in 2018. That's something we celebrate because not only is it a great and growing product, it's is also something which has seen global recognition and has been recognised for its product quality.
Q] Looking ahead, what can we expect from the brand, Imperial Blue?
You've already seen the first commercial and we have another commercial which we will roll out a little later in the year. Last year, we brought out the commercials together but this year we believed that the individual commercials were so strong, we released just one and have seen a great response. I am confident that when we release the second commercial, we will see the love play out again as we did the first time around.
PROFILE
Ishwindar Singh is the General Manager, Marketing, Pernod Ricard India with more than 20 years of experience working with prominent brands like Pernod Ricard, Ab-InBev, SAB Miller, United Spirits and Gillette. His experience pans across multiple domains of strategic planning, brand management, trade marketing and sales.
MARKETING TIP
Unravel a unique consumer insight which has high empathy. Collaborate with your teams and partners to create clutter-breaking campaigns.