The ongoing pandemic has everyone confined to their homes. With more people doing household chores, Godrej Appliances is urging both men and women to extend a helping hand and be home-makers in their very own way. Swati Rathi, Marketing Head, Godrej Appliances tells us about the brand's latest campaign, marketing challenges in the lockdown and the way forward
Q] Tell us more about your newly launched #HumSabHomeMakers campaign...Given the dearth of resources due to the outbreak, what were the challenges you faced in the making of the campaign?
We did not need much persuasion since the protagonists in our campaign were our own employees. The coordination part was most challenging since there were too many people and we had to connect with each one of them and explain the whole concept. However, we did not want to extend the timeline for this and planned to run the campaign quickly after conceiving the idea. We wanted to go live with it before the lockdown lifts, so as to keep the topicality of it alive. The entire footage was internal and involved shooting with a raw camera. We had the footage stitched together, but getting artistes to narrate and do the voice-overs was also a task. All of this was largely in-house, even at the agency WATConsult's end.
Q] What was the budget allocated towards the making of the campaign? Do you have any other lockdown-related campaigns in the pipeline?
There was practically no budget to it. The campaign idea came up as a need of the hour, since the lockdown has led to an increase in household chores. Our teams were all working from home and there was a standard joke of 'Bartan dhul gaye kya?' going around, since everybody is genuinely sharing the load. Even in March, we did a whole theme around home-makers and the whole point was to speak about gender equality. This seemed like an extension of our previous idea and we used this insight right away. If we find an insight that resonates strongly with us and the brand's cause, we will definitely go ahead with other campaigns relevant to the ongoing pandemic.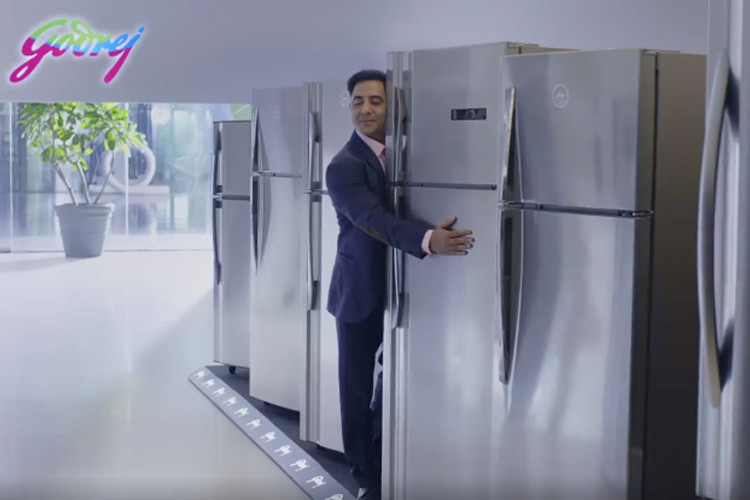 ABOUT THE BRAND
Godrej Appliances is a business unit of Godrej & Boyce Mfg. Co. Ltd., and one of the leading players in the Indian home appliances space. The brand has a pan-India presence with over 100 exclusive brand outlets and more than 23,000 dealer and retailer outlets, backed by a wide service network having over 660 service centers and more than 4,500 smart buddy technicians.
FACTS
MEDIA AGENCY: STARCOM WORLDWIDE
DIGITAL AGENCY: WATCONSULT
CREATIVE AGENCY: CREATIVELAND ASIA
PR AGENCY: ADFACTORS PR
Q] Though important, home appliances do not qualify as essential goods. Has this hampered your sales in any way? What are you doing to counter that?
Sales are definitely impacted. The month of April is one of our key cooling category months and a peak revenue month for us. We are unsure about the sentiments right now and in May, and are doing scenario planning by looking at scenarios depending on when and how the lockdown lifts. We are also working on extended warranties, etc. and having conversations about what consumers would expect, the position they would buy into and what would be more relevant to them. It is difficult to predict how much of the revenue impact can be made up, because it's still very uncertain. We are banking on May, but we do not know what kind of social distancing norms would emerge, whether the malls would open up or if stores would allow to run as usual.
Q] Have you adopted a change in your marketing strategy, owing to the ongoing pandemic? If yes, can you tell us a little about it?
There are two parts to our marketing strategy. One part consists of the biggest consumer concerns and the other is made up of the brand and organizational parts. It is all about marrying the two. The key concerns that our consumers would be facing is the whole issue of our marketing strategy. When it comes to service, we have questions regarding the hygiene of people who come over to do the service, since that can put customers at risk. We also discuss if the products can be bought remotely and with minimal contact. There is a lot of uncertainty about economic conditions, which brings out doubts about the prices and warranties and if we can buy into a lucrative finance. These are all value propositions. Houses which were not having a washing machine or a larger sized refrigerator had to put in more effort in dealing with certain chores and we need to minimize that kind of effort, going forward, since we are unaware about another occurrence of a situation of this magnitude. A lot of people want to prepare themselves for eventualities. In terms of content generation, we are going more digital and allowing a better remote buying assistance, digitally. We are amongst the few brands who have in place a call centre operation, with working website, e-mail assistance and demo videos. It goes far beyond promotion for us, and training our people and trade partners about our products and customers is a fairly important set of our marketing plans right now.
Q] On the brighter side, has the company seen a rise in demand on e-commerce? What is the consumer approach towards the home appliances category, ever since the lockdown?
We anticipate a lower decline on e-commerce, than on traditional channels. The decline is everywhere, due to lack of revenue generation, even going forward. Just like in the case of China, we are preparing for more traction online for the cooling industry, since right now there has been a decline, both in the offline and online channels. We have been talking to our partners and are looking at ways to enable them to have a play online, since it is the need of the hour. The entire ecosystem will have to move more towards digital, but we must recognize that although online will see a lower decline and might even see greater traction, offline is still a huge part of our business. There have been queries largely on refrigerators, washers, freezers and all storage related products. With the temperatures expected to go up, demand for air-conditioners is also expected to lead to certain amount of traction. However, there is economic uncertainty and if the lockdown continues for long, AC sales and revenues will also be impacted. Pre-booking is being done on a small scale, since consumers have still not warmed up to the concept.
Q] What is the way forward for Godrej Appliances? Which products from the Godrej Home Appliances stable do you think will be the first to pick up, once consumer purchasing power is restored?
Increase in digital play with our existing and potential online partners or any offline sales partners will be key. We will also enable our offline trade partners to move online and improve our own online presence. We anticipate more digital influence even for offline because people will want to do their buying in as small a timespan as possible, which means that digital influence will go up again. Sale of our products completely depends on when the shop floor sees traction. If the lockdown ends early in May and comes to normalcy very fast, ACs will see traction. However, if it happens late, then there is a chance that refrigerators and washing machines will see more traction than ACs.
PROFILE
Swati Rathi joined Godrej Appliances in the marketing function in 2006 and was promoted to Head, Marketing in 2015. In her current role, she oversees all aspects of marketing communication and media, public relations, digital and ground presence, apart from driving conversions through exclusive brand outlets and a force of 2000+ store front customer advisors.
MARKETING TIP
Marketing has to move beyond promotions at this point of time. It has to see what is most relevant for the business, consumers and for the brand.