Q] Tell us about your newly launched brand, Denim Labs and what the insight was behind its inception.
Van Heusen has been a leader in the formal wear segment and talks to the working professionals. There is also a special occasion dimension where we have our suits, blazers and evening wear line. Over the last seven years, with the advent of new-age industries, start-ups, and the IT industry, casual wear is becoming a very acceptable dress code. Apart from the comfort it offers, it has also given an opportunity to working professionals to reflect their personality. There is a very strong movement towards casual wear and denim as one of the codes to work wear. There was definitely a need to create a casual dimension, in line with the way consumption is shaping up from a consumer point of view. As our fourth casual dimension for Van Heusen, we have been working on this initiative Denim Labs which is a special denim line from the brand over the last two years. COVID has only hastened the process because that moment of casualization in terms of dress code is becoming more and more prevalent.
Q] What was the insight and objective behind the campaign 'Move In The New Blue' for the new sub-brand?
When we think of denim, we think blue or indigo. We have created a new tone of blue, which is the house colour of Denim Labs. We have woven that tone of blue into our line as key consumer-facing products as well as key signature elements in the whole of our line. We have created a concept that talks about this new blue, fundamentally rooted in the tech world. This tone of blue is used to depict technological visual language. Moreover the campaign for this new line talks about a new blue that defines the denim offering from Van Heusen. It's a 100% digital campaign. The key campaign objective is to drive awareness because it's a new initiative, and then drive traffic to our website and to our app. We are also targeting a minimum reach of 80% of our CRMs. We are going to leverage Google search and smart shopping. We'll use mediums like social media, YouTube, and OTT channels like Hotstar and SonyLiv to drive visibility and also to drive call to action. And lastly, we will also use news mediums and news platforms like Inshorts and Dailyhunt to further build up the campaign.
Q] Tell us what are the synergies between brand ambassador Jacqueline Fernandes and the brand? How will you leverage this association?
Jacqueline comes on board with a great deal of energy. Jacqueline as a brand, and as a personality is about modernity. Sharpness is another key value of Jacqueline's personality. Van Heusen as a brand is all about modernity, sharpness, energy and heritage. There is a bang on synergy between these two personalities. The core TG that loves the brand will be able to relate to its core values and also fundamentally relate them with her personality. Jacqueline should be able to do huge justice to what exactly we want to talk about the brand.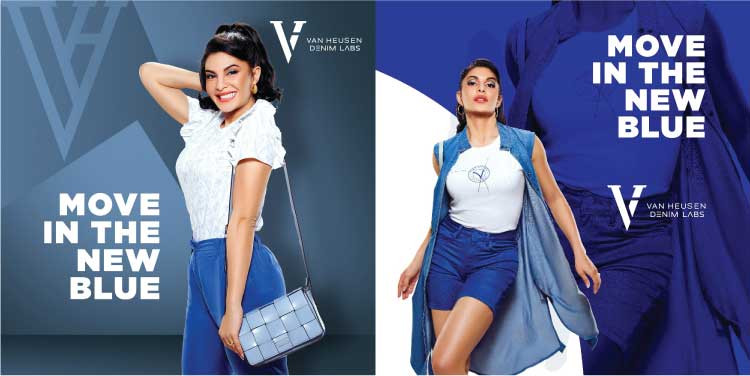 ABOUT THE BRAND
With a legacy of 128 years in USA, Van Heusen entered India in 1990. It has today emerged as a preferred work wear brand, but also straddles across the spectrum of occasions like casuals, ceremonial and party wear.
PROFILE
Abhay Bahugune is an experienced Chief Operating Officer, currently working at Van Heusen with a demonstrated history of working in the apparel and fashion industry. He has been associated with Aditya Birla Fashion and Retail for more than a decade and has been actively managing operations for the brand, Van Heusen in the last two years.



Q] Tell us about the demographic that you are targeting with this offering. What is the approach you will use to reach the TG?
We will be talking to consumers in the age group of 20 to 35 years. Our key pocket is going to be first jobbers and mid-level and senior-level professionals. We would also want to reach college grads slowly. We also expect a lot of new consumers to come to the fold of Van Heusen with this new line. Fundamentally, the reason we've gone Digital with the first campaign is also ability to focus better in terms of the target groups, whom we want to talk to rather than getting into a lot of leakage or wastage in terms of communication. We will be looking at communication with our CRMs, which takes care of the existing Van Heusen TG, and then go through Google or social media in terms of targeting a specific group of consumers who will be determined on the basis of certain attributes.
Q] Is influencer marketing on the cards in terms of the larger marketing strategy for Denim Labs?
Influencer marketing is definitely something that is going up and signing up with Jacqueline is one of the ways we are doing it. She has got a large fan base, and she will be able to influence that fan base. We deeply believe that there is a commonality between her fan base and the brand's, and we will be able to do a lot of cross-pollination between these two families. Apart from that, there are a lot of micro-influencers who are the really important in the online world, from a styling point of view and from a new product development point of view. Consumers today connect with these micro-influencers, and we'll definitely look at a few of these suitable micro-influencers, along with Jacqueline, who can influence and work on creating an opinion about Denim Labs in particular and Van Heusen in general with our TG.