Qualcomm Snapdragon recently launched a new advertising campaign for the Indian market. Being a technology provider, the campaign's objective is to not only bring consumers towards making more informed and knowledgeable purchase decisions with smartphones but also create a pull for partners who bring technology in mobile phones to consumers. Anand Subbiah, Director, Marketing and Communications, Qualcomm India explains the rationale behind the campaign and the way forward for the brand
Q] Qualcomm Snapdragon is an ingredient and technology brand and not really a high involvement product for masses. What is the rationale behind your latest campaign?
Yes, we are an ingredient brand, which then becomes part of a consumer product. But when you actually look at it from a consumer point of view and all of us have smartphones and use them a lot in our day to day lives, we get a number of experiences from them. And with Qualcomm Snapdragon we bring in cutting edge technology right into consumer's hands to make these experiences really great. So we are already impacting the lives of millions of people around the world through these smartphones. While consumers are looking at all the features that a phone provides, everything essentially comes down to the technology platform on which it is built. That is what we provide. We want consumers to look beyond just the features of the phone and consider the processor and platform on which the phone is based. It helps them make more informed purchase decisions when it comes to buying the phone.
From a partner point of view, we are providing a pull for them from the consumer which also helps their marketing efforts. We have a number of initiatives through which we connect with consumers and get feedback. We have a gaming initiative called Qualcomm Snapdragon Conquest. We recently concluded a tournament through which we engaged with a number of gamers and got feedback from them. We are also able to inform these gamers about the future of technology when it comes to smartphones and other areas we operate in.

Q] Within this category, what is your positioning and are there other players? What is your USP among other players in the market?
Very simply put, Qualcomm Snapdragon stands for premium performance. There are a lot of things that we bring to the table, but the single biggest thing from a positioning standpoint is premium performance. So when you have Snapdragon enabling your device, you can rest assured that you're going to get a very high quality experience from that device. That's our positioning, and the campaign essentially goes on to reinforce this. We do have competitors in the market. And clearly our differentiation is in performance, and bringing the absolute latest technology to consumers.
Q] How would you define your target audience, specifically?
Our target audience is fairly broad actually. Anybody who uses a smart device would become our target audience. So when we start with phones in India, we are targeting huge population. And then, when people are aware about Snapdragon powered smart phones, there are also other devices, like Snapdragon compute platform through which we power, 'always on PCs'. That's a category that's really coming up in other markets, and soon will become pretty big in India as well. It is a hybrid between a phone and a laptop and brings in all good things of a phone into a laptop such as a high battery life, great camera and so on and so forth. Then we have Snapdragon wear, which is where we power a number of smart watches, trackers, etc. Then we have Snapdragon sound which brings in immersive high quality audio experiences to consumers. There are number of other Snapdragon devices that we power.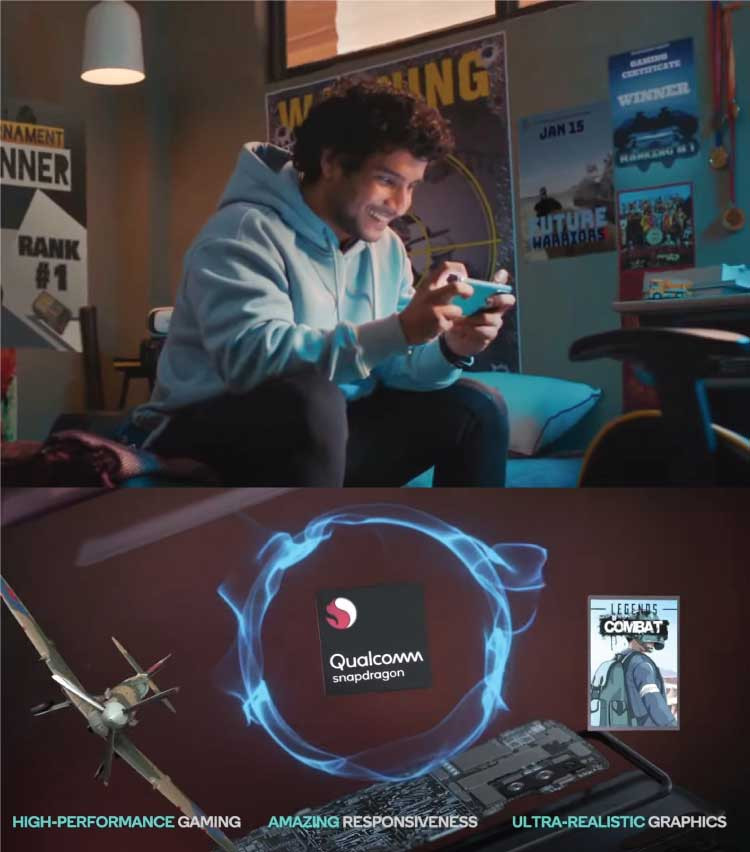 ABOUT THE BRAND
Qualcomm is a global wireless technology innovator and the driving force behind the development, launch, and expansion of 5G. Qualcomm Technologies, Inc., a subsidiary of Qualcomm Incorporated, operates, along with its subsidiaries in engineering, research and development functions of the products and services businesses, including QCT semiconductor business.
FACTS
Creative Agency: McCann
Media Agency: Neo Mindshare
Digital Agency: Edelman
PR Agency: Edelman
MARKETING TIP
Take an 'outside in' approach to marketing as opposed to 'inside out'. In other words, evaluate everything from a customer perspective to see if it makes sense instead of using your own perspective.



Q] In terms of taking across your message to your audience, what's the media that you're using?
Being in the forefront of technology ourselves, as a brand and as a company, we are leveraging the latest digital media in a big way. We started off with a gaming tournament, and for this campaign we have Television as part of the media mix but not in a big proportion. We also have Print. And within Digital we have social, display and search content marketing. So, we're using a fair mix of all media.

Q] What is next for the brand from here?
So we already are doing a number of things on our own and also with our partners. For example, we are doing co-marketing campaigns with our partners like Xiaomi, One Plus and others where we jointly highlight a consumer experience and do a programmer around that. So while this advertising campaign is good at getting the message at a high level, we really want people to experience. There so many ideas that we have of how we want to showcase these experiences to consumers so that they actually feel them and then feel the brand in that sense.